In Forspoken, you can scale up mountains using Frey Holland's magical parkour abilities. However, the game actually allows you to climb higher by unlocking a specific set of powers that extends your traversal height. Here's a guide on getting spells to climb higher in Forspoken.
How do you climb higher in Forspoken?
In Chapter 2, the first magic ability you get is Flow after defeating the Forspoken Chapalania boss fight. This spell allows Frey to sprint around the map at incredible speeds. While this mechanic allows you to jump and climb on top of many obstacles, you will quickly learn that it's not enough to scale up tall buildings and mountains. Thankfully, you can climb higher with the Leap ability. The earliest of these skills you can obtain is Leap, which is unlocked in Chapter 3. Below is a breakdown of the locations where you can find these parkour abilities.
Where do you get Leap in Forspoken?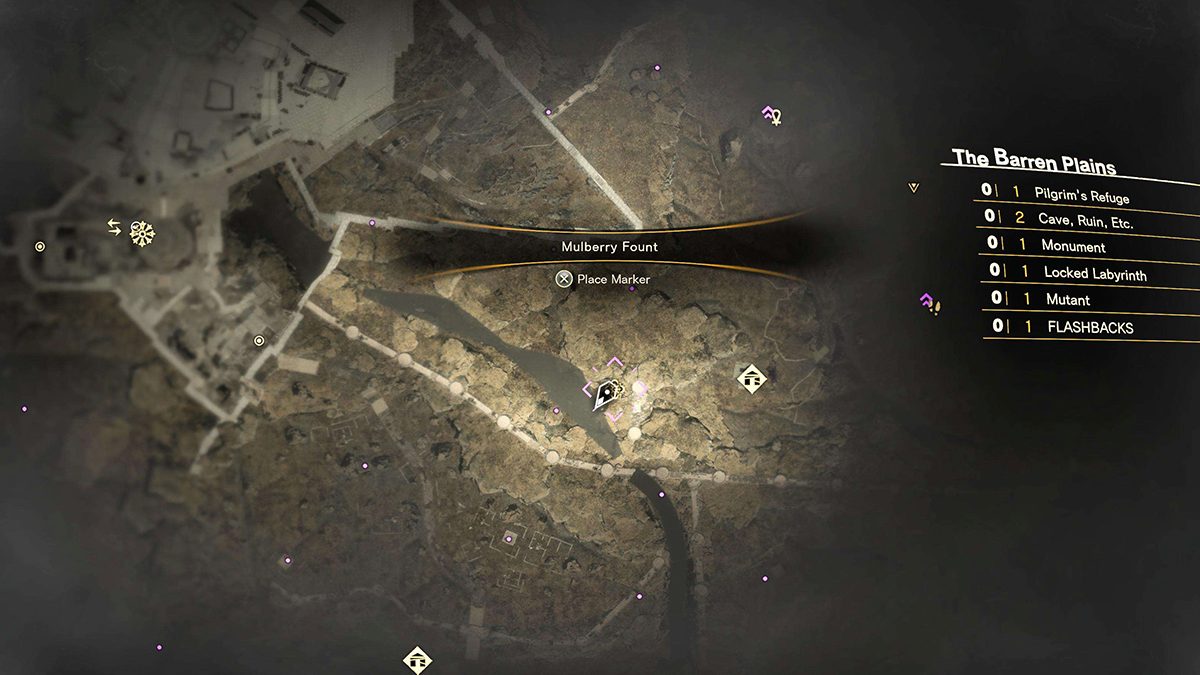 Leap is unlocked in Chapter 3 by jumping into the Mulberry Fount of Blessing, located in the Barren Plains. The fountain can be found just outside the gates of Cipal, and is actually automatically marked on your map after leaving the city. Once you've obtained Leap, you can use Flow to sprint up the side of a mountain. However, now, if you press the L stick and circle button while in midair, you will get an extra jump. Using both Flow and Leap together will give you more height and will allow you to reach most early-game chests.
Related: Forspoken Preorder Guide – All Bonuses and Editions
How to climb even higher in Forspoken
Frey can learn other spells/abilities to climb even higher in Forspoken, but the whereabouts could be considered a spoiler. So read on further only if you wish to know more information.
As you progress through Forspoken further, you'll be able to unlock more moves that will improve Frey's climbing abilities to climb even higher. After Leap, you learn Zip after defeating Tanta Sila, which allows you to swing on poles or anchor points on the wall and gain instant vertical height. Zip can be used with Leap.
The next climbing ability isn't obtained until you head to Tanta Prava in Avoalet. After you jump off the right side of Merveil Bridge, you can find the Avoalet Rosewood Fount of Blessing, where you'll obtain Soar. The magic spell allows you to have multiple jumps against walls in succession. When paired with Leap, you will be able to scale tall obstacles with ease.
Lastly, the Scale Ability is unlocked automatically from Tanta Ola's magic tree, which allows you to soar higher using phantom footholds when holding the Triangle button down. Although Scale can't be combined with any other parkour ability, it's another spell that will help Frey traverse to greater heights.
Lastly, you can get Float from Tanta Prav's magic tree. This allows you to defy gravity and float for a few seconds but stay more or less at the same height, allowing you to continue wall jumping on an adjacent wall. It's also perfect to avoid all fall damage/stamina loss from a great height.
Want to read more on Forspoken? If so, check out All Forspoken Voice Actors and Cast List on Pro Game Guides.