Halloween is getting closer, so we're looking like we might be getting the Fortnitemares event really soon! One of the big clues to that is we've just seen some new leaks that pertain to skins and information that will be part of the event. They aren't a ton to go on, but the details seem to confirm a lot of the previously leaked information we've shared in the past. One of the recent new leaks is a new skin that is tentatively referred to as the Dancefloor Soldier.
While we don't know yet what the outfit will look like, it appears to be apart of some kind of party that will be taking place on October 31st. The leak was brought to everyone's attention by HYPEX, and the official description of the event and skin is as follows:
He showed up to the party a couple of centuries earlier than expected. Dancefloor Soldier owners who take part in the Nightmare Party on October 31st will receive an exclusive J Balvin style!
That doesn't give us a whole lot to go on, but the fact that the character showed up a couple of centuries early, means it will probably be some kind of zombified skin. That or he will be from the future... it's hard to say at this point, but all we know is it is another cosmetic that you can look forward to. We're hoping once the patch for Fortnitemares arrives, that there will be some free stuff to earn, because while new skins are great, it's nice to save some V-Bucks and get some themed loot from challenges!
Based on other leaks, it appears that the Fortnitemares event will be officially known as Fortnitemares: Midas' Revenge! That coincides with the Midas gold chair showing back up at The Authority location: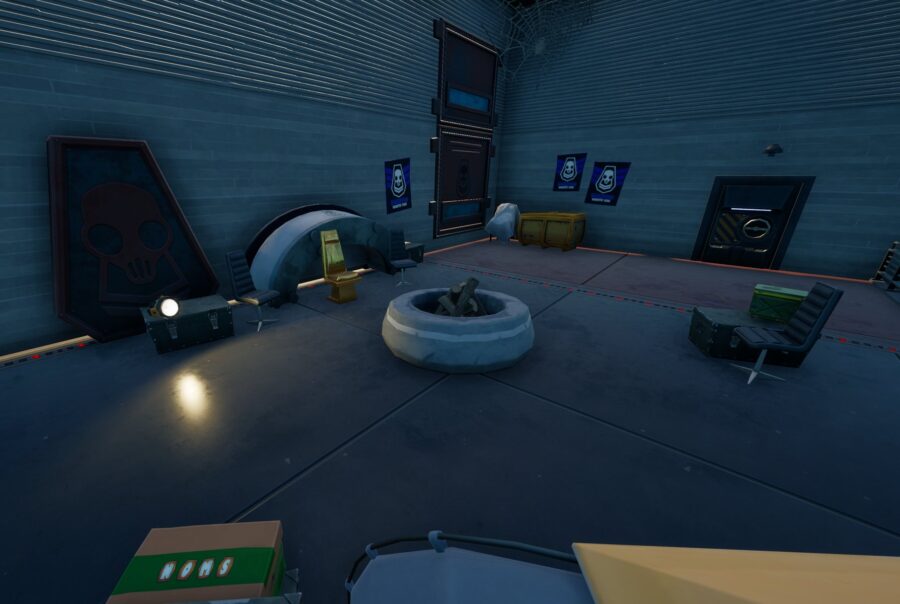 We will have to wait and see what a zombified Midas ends up looking like... or maybe he'll be a shark bitten Midas! It remains to be seen what Epic has in store for the event.