Now that we've entered into October 2020, it is time to start thinking of the spooky things that Epic might add to Fortnite. These events in the past have always been pretty fun, and have featured some crazy new NPCs, and some fun additions to the map that shook things up. In 2018, we saw the addition of Zombies to the game that resulted in some mixed opinions among many. The following year brought us the exciting Storm King LTM, where you could jump in with others and fight the Storm King boss. If you were able to succeed, you would have earned yourself a pretty sweet umbrella for your troubles. Now that we've got all sorts of Marvel characters running around the map, it remains to be see what Epic will bring to the table this year!
Fortnitemares Release Date
The release date for Fortnitemares 2020 is going to be October 21st, 2020. The 14.40 patch revealed a bunch of new information that will be included in the new mode, including new cosmetics that you will be able to earn and purchase. There will be a variety of new items in the game to use, including a broom that you can fly around on!
Official Fortnitemares 2020 Details
Here's a batch of leaked skins that will be available during Fortnitemares 2020!
Looks like a new cardboard cutout outfit, that may or may not be a style.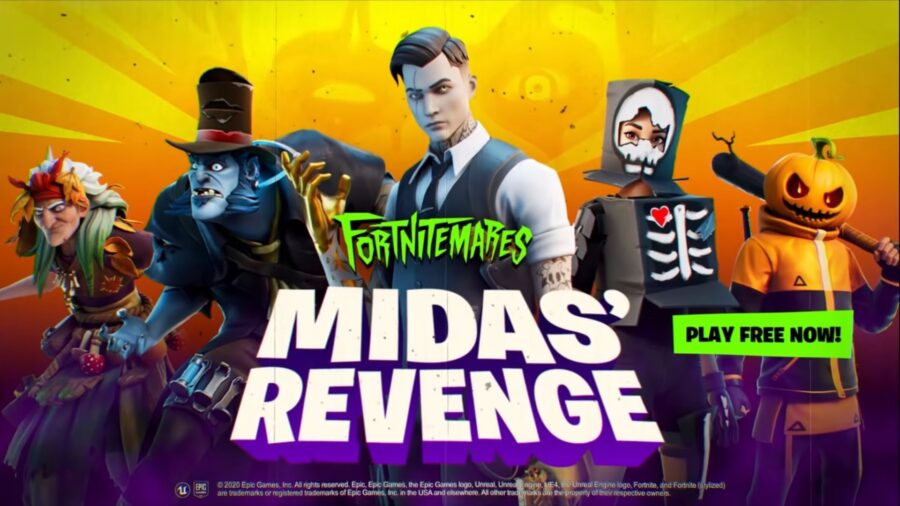 Here are some cosmetics from the trailer that will likely be available soon! Looks like a Skull Trooper Fishstick outfit will be available!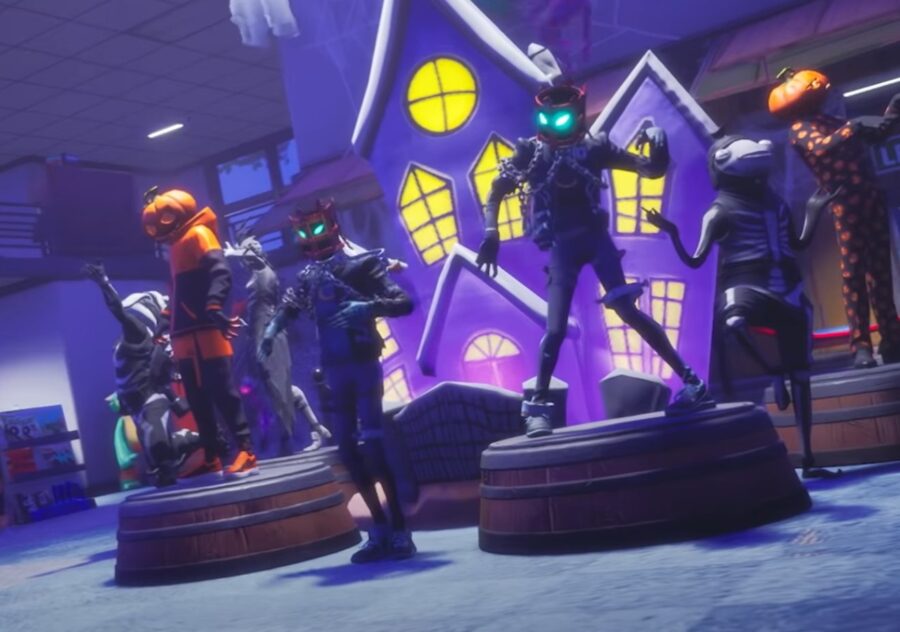 The Party Trooper outfit will be available in the shop through November 1st!
The new Party Trooper Outfit is available in the Item Shop now all the way through November 1 at 8 PM ET. Own the nightlife with neon with this new take on this Fortnitemares favorite!
Fortnitemares Weapons & Items
Here's a look at the candy, flying broom, pumpkin launcher, and crossbow you will be able to find in the game. The pumpkin bucket will drop the candy, I'm assuming it will be scattered all-around the map.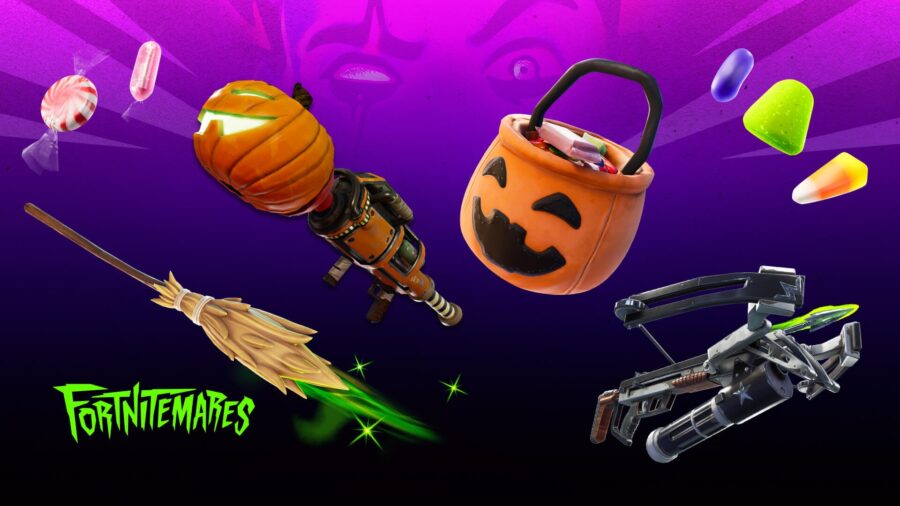 Fortnitemares Cosmetics
Looks like you'll be able to earn some pretty interesting cosmetics:
Over the course of Fortnitemares, complete new Challenges to unlock special rewards, including Midas' Shadow Wrap, the Smash O'-Lantern Pickaxe, Bobo Back Bling, and more! Be seasonally-appropriate or stay scary year-round.
Wrath's Wrap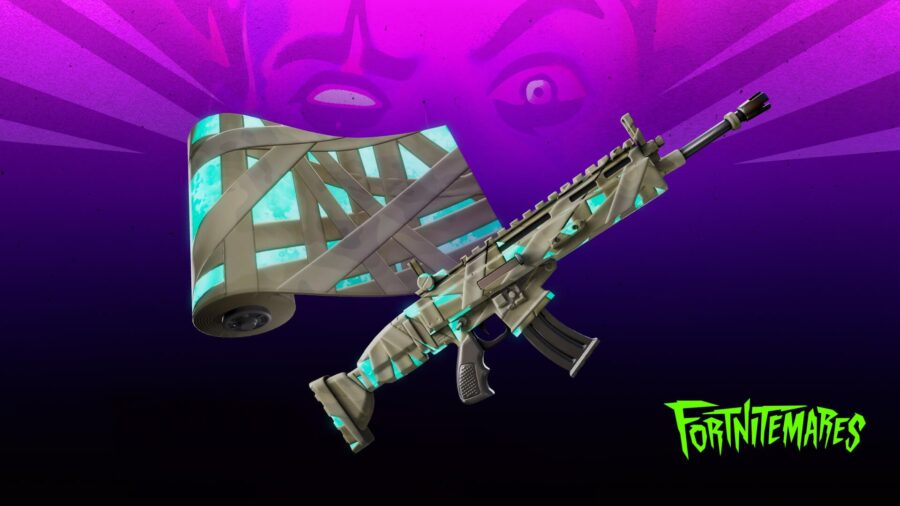 There will be a code you can unlock by playing in Fortnite Creative maps:
Over the course of Fortnitemares, Fortnite Creative will feature four Fortnitemares-inspired featured islands. In each featured island, you'll be able to discover digits of a mysterious code. Explore these haunted islands and combine 20 total digits to get the Wrath's Wrath Wrap.
Fortnitemares Trailer
FORTNITEMARES TRAILER! pic.twitter.com/8tjwUhvjuC

— ShiinaBR - Fortnite Leaks 🎃 (@ShiinaBR) October 21, 2020
Fortnitemares Leaks
According to leakers, it looks like the event is going to be called Fortnitemares: Revenge of the Midas. This is being widely leaked across the community, and has basically been confirmed by Tabor Hill. You can also expect the return of the infamous Pumpkin Rocket Launchers that are well-known to players across Fortnite. What was also confirmed was details from the 14.30 patch. This included some new Loot Boxes in the files, which are the Broom Box and the Candy Bucket. We could only really speculate what they were going to drop based on the following file names:
Wbroom
Pepper Ming
Hop Drop
Candy Corn
Jelly Bean
Thermal Taffy
With the candy, it seemed pretty obvious that they would share characteristics with the fish and other consumables they share names with. What was particularly intriguing was the "Wbroom" item listing. We are getting a Broom Box and a broom item? Well, that seemed pretty obvious that we might be able to make like Harry Potter and hop on a broom. Well, that does seem to be the case, because Tabor Hill, who has been known for very solid leaks, has basically confirmed it in this video:
It looks like there's going to be some interesting NPCs added to the game during the event. There is a Midas NPC of some sort, that will be added to the game that will have 100 health and 350 shields. I'm guessing he is going to be a "spooky" version of Midas, maybe even one that tangled with a shark. The other NPC is called the Ghostly Ghost Henchman, and he will have an Assault Rifle, Pump Shotgun, SMG, or a Pumpkin Launcher. It looks like whatever Fortnitemares 2020 ends up being, there will be some kind of new POI or the old POIs will be infiltrated by some spooky NPCs. I would imagine that Midas being the boss of a new area and him having ghostified Henchmen makes the most sense, but we will have to wait and see.
Here's a look at the animations from the Ghostly Ghost Henchman that might be part of the event:
Pumpkin launcher animations for the upcoming "Ghostly Ghost Henchman" Fortnitemares NPC! (this model is just a placeholder, and thanks to @Sharp_3D for the 3D model help) pic.twitter.com/dFjdaC7i78

— HYPEX 🎃 (@HYPEX) October 4, 2020
We also had a small leak that reference a new skin and some kind of Nightmare Party event that will be happening on Halloween:
He showed up to the party a couple of centuries earlier than expected. Dancefloor Soldier owners who take part in the Nightmare Party on October 31st will receive an exclusive J Balvin style!
The look of the Dancefloor Soldier is currently unknown, but will obviously be released near the end of October 2020!
Fortnitemares Skins
We got a big batch of new stuff in the 14.30 patch for Fortnitemares. Crypt Crasher and The Ultimate Reckoning Pack brought a whole bunch of spookily styled skins to the game. Grimoire was also added, which was not part of a set, so you didn't have to drop a big bunch of V-Bucks to snap it up. We are expecting some additional outfits to be added in the next patch.
Previous Fortnitemares
If you weren't around in previous years, then you missed out on some pretty fun events. In 2019, there was the Storm King LTM that challenged you to collaborate with a random group of players to take down the Storm King to earn yourself a victory. There was also the Gun Fright LTM, which put two teams of two against each other with random weaponry and found out who was the best. You couldn't build in this mode, and it took place in a small haunted mansion area. There were also a whole bunch of new Halloween skins available, this was the biggest batch we had ever seen.
If you want to see what it looked like or get a hit of nostalgia, then check out this video:
There were a whole lot of shenanigans going on in 2018, this included all of the crazy stuff with Kevin the cube. We got zombies added to the game, and a bunch of corrupted zones where they spawned. You could take them out to get some loot, and complete challenges for some pretty awesome prizes. This was also the introduction of one of the first reactive type skins with the Deadfire outfit making its debut. The zombie addition to the game was pretty controversial at the time, which is funny because of how many NPCs are now in the game in 2020!
Take a peak at what the game looked like back in 2018 if you missed out: