Epic Games recently added the Resistance: Week 5 Quests during the v20.20 update in Fortnite Chapter 3 Season 2. The challenges for these Quests are now available in-game and players have to complete them to earn XP. The Resistance: Week 5 Quests will be similar to the previous ones and divided into a few stages.
There are four challenges in the Resistance: Week 5 Quests and players can start with these quests after completing all the Week 4 challenges.
Plant Wiretraps (0/4)
Recover a Data Drive (0/2)
Deliver Paradigm's Message (0/2)
Arming the Looper Army (0/5)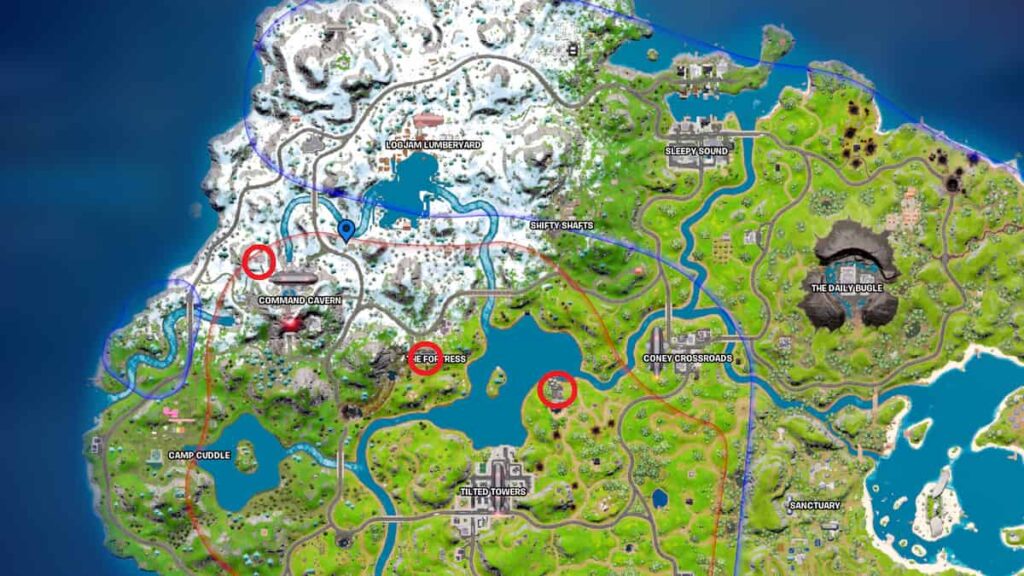 Related: All Changes to Fortnite Creative in the 20.20 update
The first stage of Resistance: Week 5 Quests requires players to establish Device Uplink near Command Cavern, the Fortress, or Loot Lake. After establishing Device Uplink, you will have to place Wire Traps at all of the three locations marked in the map image above. Visit the Fortress, Command Cavern POI, and the District Depot landmark to Plant these Wiretaps.
After this stage, players will have to visit the Daily Rubble landmark to retrieve the Data Drive for the next phase of the Quests. This is at the crashed IO Airship located north of the Mighty Monument landmark. Swim towards the Daily Rubble landmark and collect the Data Drive found on top of it.

The following stage requires players to set up communication with the Paradigm at The Sanctuary POI. After this, you must visit any of the six Seven Outpost locations to start with the final stages of these Quests. Establish communication at any of the Seven Outposts, and mark four different rarities of weapons found all across the map to complete the Resistance: Week 5 Quests.
Wondering where are all the NPCs in Season 2? Check out All NPC locations for Fortnite Chapter 3 Season 2 Pro Game Guides.