Epic Games has established a trend—with every new season of Fortnite, there a quest pack gets added to the item shop that, when purchased, allows players to go on a hunt for Level Up Tokens placed sporadically throughout the map. These tokens award players with a level up in the Battle Pass, helping push them along to reach those exclusive rewards at the end!
Where to find all Level Up Tokens in Fortnite
Seven new Level Up Tokens are placed on the map every week while the event lasts. There will be a total of 28 tokens once the event is over. We have listed each week's tokens below, starting with the most recent.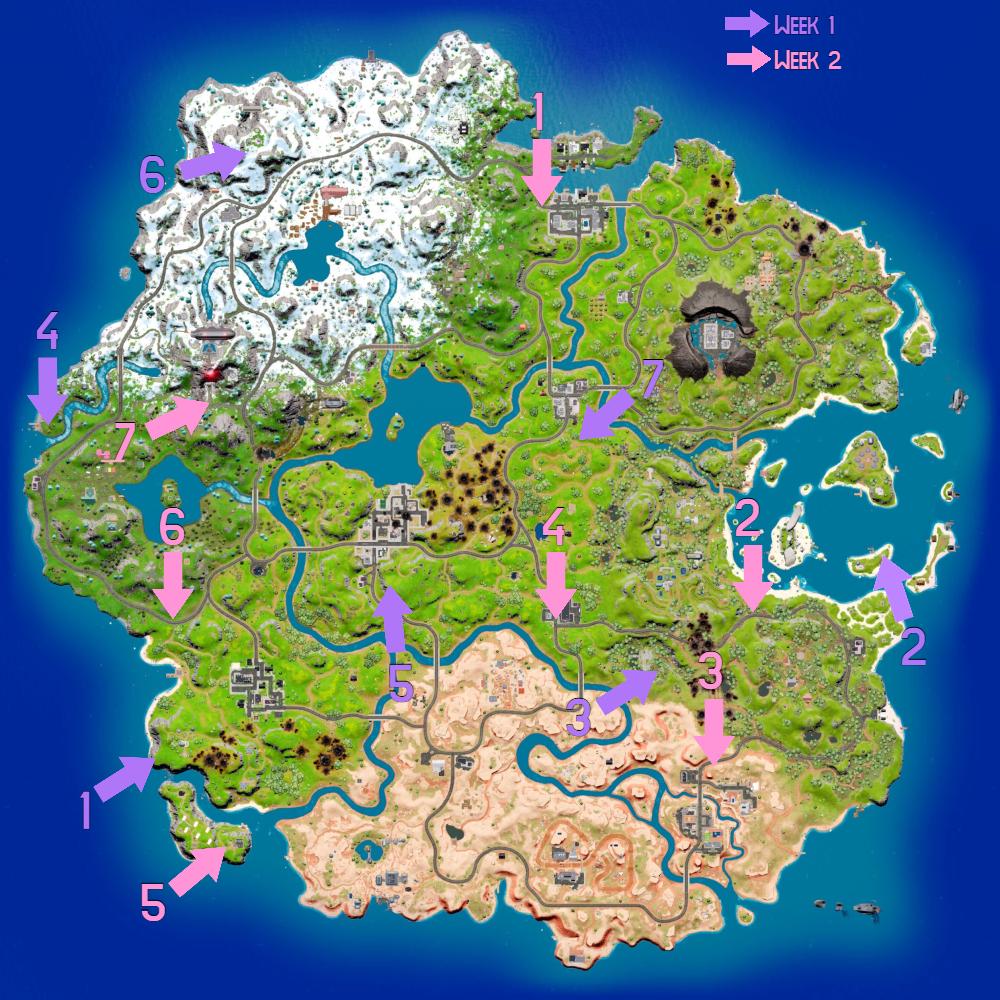 Related: Fortnite Leaked Skins & Cosmetics list (Chapter 3 Season 2)
Level Up Token Locations - Week 2
Sleepy Sound: On the road next to the gas station on the west side of town.
Sanctuary: On the road southeast of Sanctuary and southwest of The Foundation's monument.
Condo Canyon: On the road near the gas station on the north side of town.
Rocky Reels: Near the sign for the gas station north of Rocky Reels.
Windbreakers: Outside of the building next to Windbreakers, the wind farm south of Greasy Grove.
Greasy Grove: On the road directly north of Greasy Grove.
Command Cavern: Next to the Reboot Van just outside the south entrance of Command Cavern.
Level Up Token Locations - Week 1
Greasy Grove: Near the edge of the map, on the cliff overlooking the water.
Sanctuary: On the corner of the islet directly west of The Foundation's monument and south of the Launchpad.
The Joneses: Near the foliage directly southeast of Tumbledown Temple.
Camp Cuddle: Near the far west edge of the island, just north of the shack overlooking the ocean.
Tilted Towers: On the large hill above the road directly south of Tilted Towers, next to a Zip Line.
Logjam Lumberyard: South of Seven Outpost II, on the mountain northwest of Logjam Lumberyard.
Coney Crossroads: At the end of the path leading southeast out of Coney Crossroads.
Once you have collected all 28 Level Up Tokens, you'll have gained a total of 28 levels in the Battle Pass, and you'll receive all the cosmetics in the pack, including the extra styles!
Need more help with this season of Fortnite? Be sure to check out our all-encompassing Fortnite Chapter 3 Season 2 guide for guidance on all the new game mechanics!