Aliens are in a war in Fortnite's IO (Imagined Order) and UFOs are swarming the island. A giant UFO is looking over the place, but the players could drive its mini versions present in the game.
Players can find these Fortnite UFOs in two ways: First way is to look for the blue smokes where the UFOs should spawn at the start of the game. Unfortunately, aliens heavily guard these smokes. Thus, players should plan their getaway plan before they steal the UFOs from them or simply defeat them and earn the UFOs from them.
The second way is to open the mini-map at the start of the match and look at the names of all the Points of Interest (POI). There should be at least three unique points of interest whose names would be purple and glitching in the game. Players can land in one of these POIs, and three UFOs should be hovering over the city with trespassers controlling them. Destroy the driver's bubble or deal 600 damage to the spaceship to bring it down and challenge the Non-Player-Character (NPC) for a fight to gain control of the UFO in Fortnite.
After that, players will have the option (Action key 'E') to drive the UFOs and reign chaos on the island.
Related: How to unlock the Rick Sanchez Skin in Fortnite Chapter 2 Season 7
UFO Abilities Breakdown in Fortnite
UFOs have three batteries and each of the batteries has 600 health. Therefore, they are not as bulky as the cars present in the game, but players can break one battery at a time to down the UFO. Then, the spaceship consumes a battery charge, regains 600 HP and gets ready for another ride until its battery charges expire.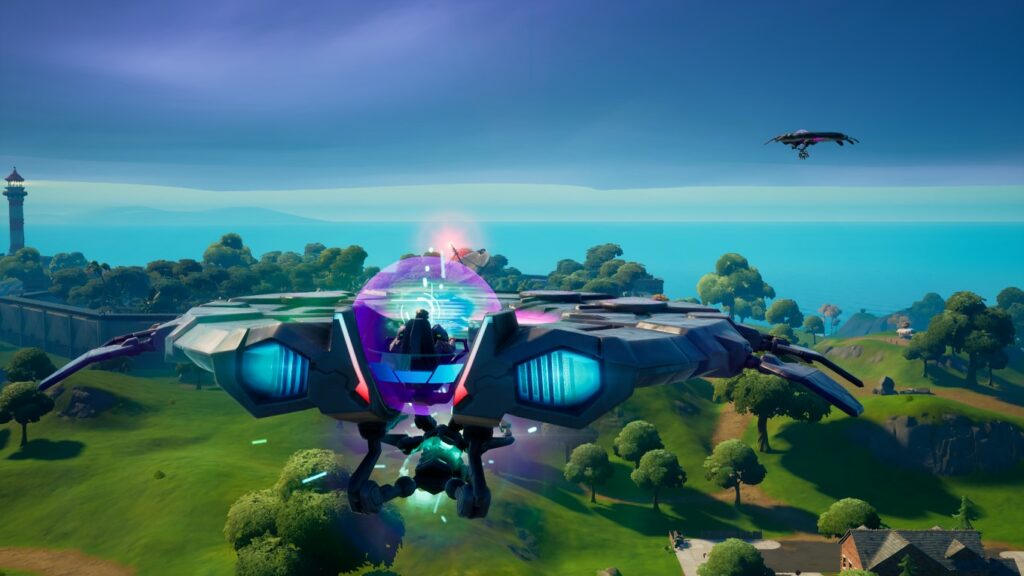 These UFOs have three abilities to use:
The First ability (Left Mouse Button) allows players to shoot energy balls. When charged, it deals damage to structures and other players. The power needs to be pre-aimed at the enemies as players can easily avoid the shots due to its slow projectile.
The Second ability (Right Mouse Button) allows players to abduct inanimate objects/ players and throw them onto anywhere they like in the given proximity. This ability is a great tool for having fun and toying with the players.
The Third ability (Left-Shift) allows players to dash three times consecutively, which goes on a short cooldown after it's usage. Players could use this ability to escape tricky situations or quickly mobilize to other parts of the map.
As the Fortnite war goes on, the developers will add additional weapons and more fun stuff relating to extraterrestrial beings in the future.
We have guides for everything in Chapter 2 Season 7! Go to your Complete Guide for Fortnite Chapter 2 Season 7 to help you master this season and get to the highest level possible!