Fortnite Icon Series adds another star to its existing line to impressive personalities and this time, it is Kyle "Bugha" Giersdorf. There are many Fortnite esports players, but the legacy that Bugha leaves is unparalleled to anyone else.
The solo Fortnite World Cup winner receiving his Icon Series cosmetic makes him the first Fortnite esports player to have it. Moreover, his bundle will have the Bugha Outfit, his Fortnite World Cup trophy based backpack Zoey Trophy Back Bling, dual Bugha Blades Pickaxe, and his iconic World Cup-winning dance 'Bring It Around' Emote. Bugha's Icon Series Set will be coming to the Fortnite Item Shop on Tuesday, July 20, 2021 at 8 PM ET.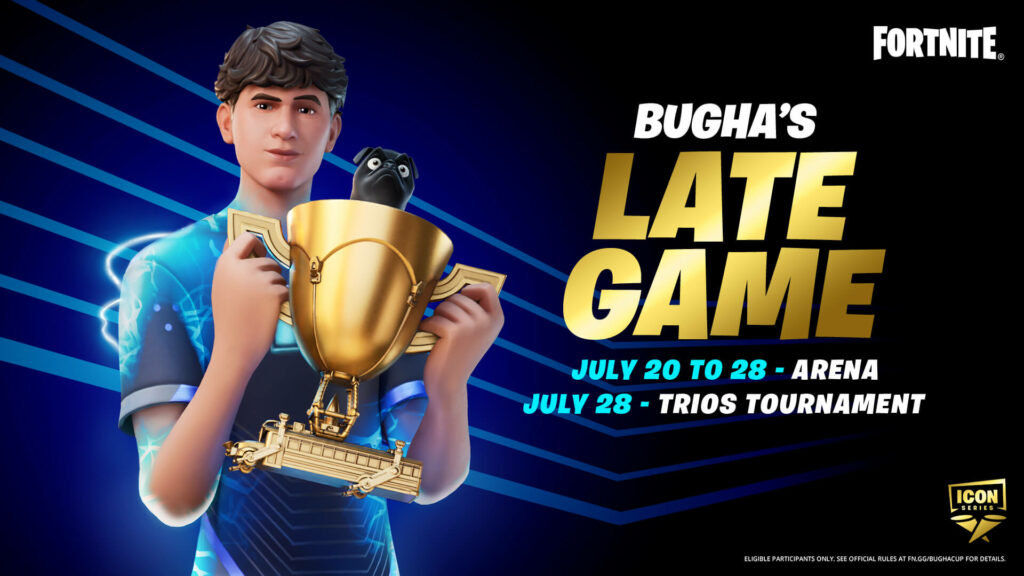 Moreover, he will be bringing a special Trios tournament named Bugha's Late Game Tournament in Fortnite. The tournament will be occurring on July 28 in two rounds. Each round will have around two hours with ten matches each of them.
It's not easy competing in the World Cup matches. Therefore, as the name suggests, Bugha's tournament will test the limits as it will put in the players with the same gear while the storm is closing in. The tournament will force players to be in stressful positions and snatch victory from other players' hands.
Players will have to reach at least 1500 Hype in the Bugha's Late Game Arena starting from July 20 to 28 to be eligible to compete in the tournament. The tournament winners will have a scoop at the cash prizes upto $100,000, which will be further spread into all the region's winners.
Check out our Fortnite Chapter 2: Season 7 Guide – Challenges & Information on Pro Game Guides.