Dropper maps are a popular map type for all games that allow custom content, so Fortnite developers quickly adapted to this trendy game mechanic. The premise is that players start up high and must find a way to drop down to the bottom either as fast as possible or without hitting anything.
Usually, these maps contain thematic elements to draw players in or unique content that set them apart from the rest. In our list, we have picked the best of these maps from the list available, focusing heavily on recently released maps!
Best Fortnite Dropper Map Codes List
Best Fortnite Dropper Maps
Rainbow Dropper
Fortnite Rainbow Dropper Map Code: 5818-4876-6080
Fortnite Rainbow Dropper 2 Map Code: 0196-4943-5490
We try to focus on including newer maps for players, but no Fortnite Dropper maps list would be complete without these two maps Rainbow Dropper 1 and Rainbow Dropper 2 are known by many players as the first significant dropper maps, having gained immense popularity shortly after Creative mode was added to the game. Since their release, these maps have amassed millions of plays from players in the Creative community, and they deserve all the attention and praise given to them.
10 Hard Theme Droppers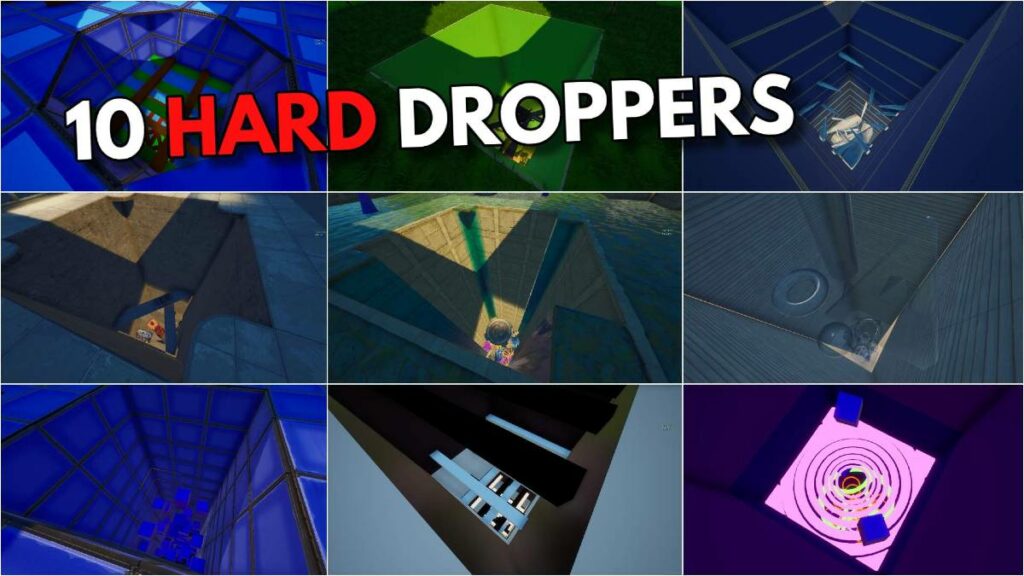 10 Hard Theme Droppers Map Code: 5770-8295-2150
This is a social map that allows for up to 16 players at a time to attempt reaching the bottom of 10 difficult levels. Each level has its own theme, which all provide a completely unique environment and obstacles for you to overcome. This map was made by Lairon, who is a popular map-maker that has designed dozens maps of different types, including the Poppy Playtime-themed horror map!
Variety Dropper
Variety Dropper Map Code: 3547-1699-5825
Variety Dropper is a fun and somewhat popular Dropper map by well-known mapmaker 2xVOID. This map follows the standard "avoid stuff while you fall" format, but the variety of objects that you need to avoid is what gives this map its game. It challenges you on multiple aspects of a Dropper map in that on each level, you must dodge different types of objects and use different strategies. If you are looking to set a standard by which to compare other Dropper maps, this one is ideal!
Dropper De L'Impossible #2
Dropper De L'Impossible #2 Map Code: 8852-0483-3945
Dropper De L'Impossible #1 Map Code: 8747-2781-6999
If you are looking for one of the most challenging dropper maps around, this should be your first choice. There is no rhyme or rhythm to the levels—it seems like the developer just took random objects in the game and threw them all together, making it le Impossible to make it to the end. However, as the video guide above shows, there is a way to get through each level! Do you think you can make it to the end of this insanely hard dropper map? More importantly, do you think you can make it without using the guide?
Related: Best Fortnite Death Run maps
Garden Dropper 4
Garden Dropper 4 Map Code: 4221-0987-2879
Garden Dropper 3 Part 3 Map Code: 1657-3242-2391
Garden Dropper 3 Part 2 Map Code: 4874-3688-0805
Garden Dropper 3 Part 1 Map Code: 8531-6488-9550
Garden Dropper 2 Map Code: 3853-5270-2082
Garden Dropper 1 Map Code: 0941-5376-4247
Garden Dropper 4 is the fourth installment to the Garden Dropper series, which is one of the most popular dropper maps out there. It was developed by well-known Fortnite mapmaker Choupala, who has been featured in many of our other Fortnite map lists. Garden Dropper 4 continues the series formula by providing players with an entertaining, but challenging, Fortnite map that is sure to keep you occupied for hours on end.
Default Dropper + Death Run
Default Dropper + Death Run Map Code: 4392-6608-9942
That's what we have for the best Dropper maps so far! Be sure to check back for updates as new maps become available!
Want to see some of our other lists of great Fortnite maps? Check out some of the best hide & seek maps and the best warm-up & edit maps!