Our Fortnite Warm Up & Edit Courses List guide runs through the best options in Creative Mode for getting ready to play the game. These courses are great for practicing and getting prepared to head into battle. We'll be updating this list periodically to add better ones and remove some of the old ones, so be sure to check back!
Fortnite Warm Up & Edit Map Codes List
Best Fortnite Warm Up & Edit Course Codes
Simple 1v1 Build Fights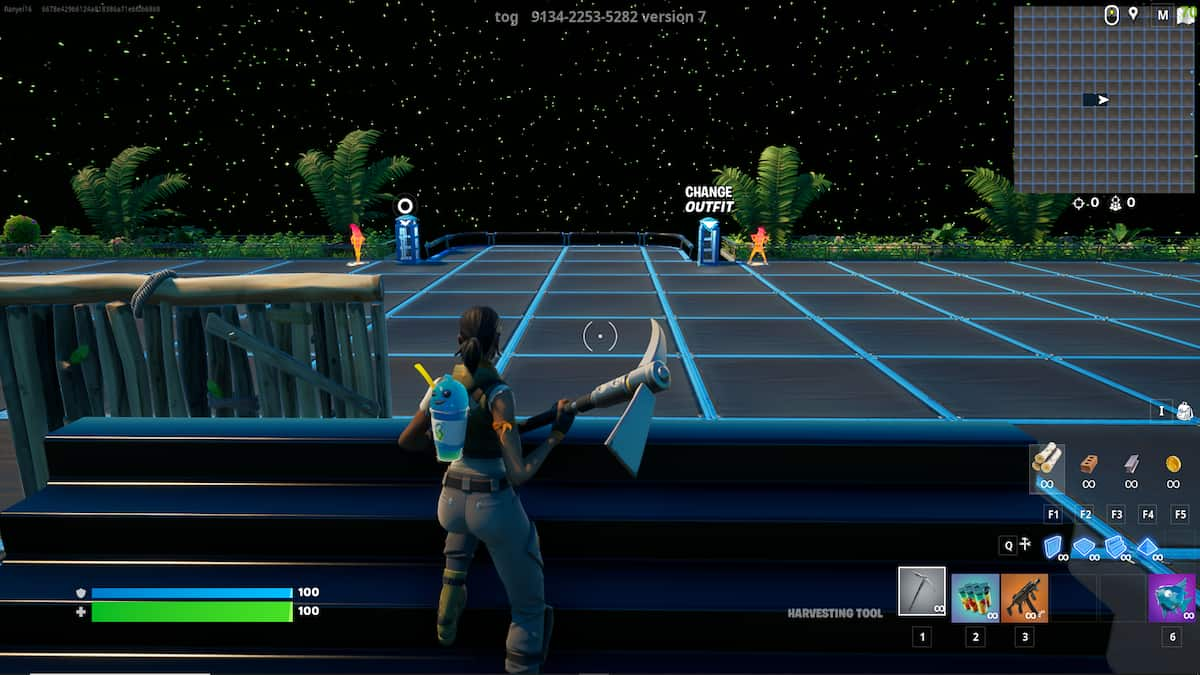 Simple 1v1 Build Fights Map Code: 9134-2253-5282
Indicative of its title, this room is a 1v1 map where players can go against their friends or random players to hone their 1v1 combat skills. Unlike other 1v1 map that only focuses on improving your fighting skills with a single opponent, the map supports up to 16 players. You can fight with these 16 players, practice strategy, improve building techniques or even conduct mini 1v1 tournaments between your discord group. It is a definite go-to map if you are serious about improving your building and aiming skills in Fortnite.
Box PVP Large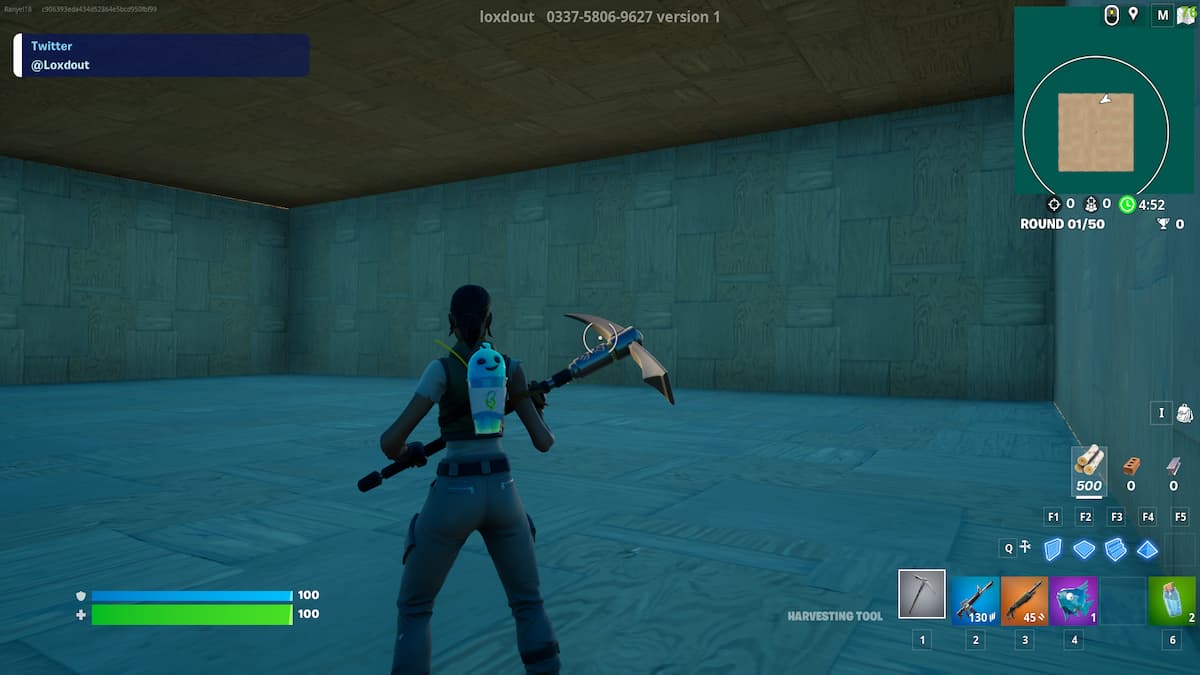 Box PVP Large Map Code: 0337-5806-9627
One of the most vital elements of Fortnite gameplay is the box fights. You cannot win any tournaments or any high rank matches without learning the art of box fights. Thanks to Loxdout. Now, you can master the skill of close-range box fights with the help of his new map - Box PVP Large. Inside the map, players can go against 16 other players in a closed but large environment that allows users to mimic end-game box fighting scenarios. Please make sure to visit the map daily if you are weak in box fights.
The Warmup Facility
The Warmup Facility Map Code: 7820-1707-7185
In aim or warmup training map rooms, it's usually all about practicing your aim on your own. The Warmup Facitlity by Ratedbender deviates from that concept by giving you unique scenarios and mini tasks, helping you refrain from repeating the same old routine of shooting bots. Some of these scenarios range from implementing the Mongraal Class Build to shooting ten hidden sentinel turrets inside a building. The only downside to the map is that the scenarios are few and do not contain the traditional warmup routine, like shooting bots or targets.
Chapter 4 Edit Practice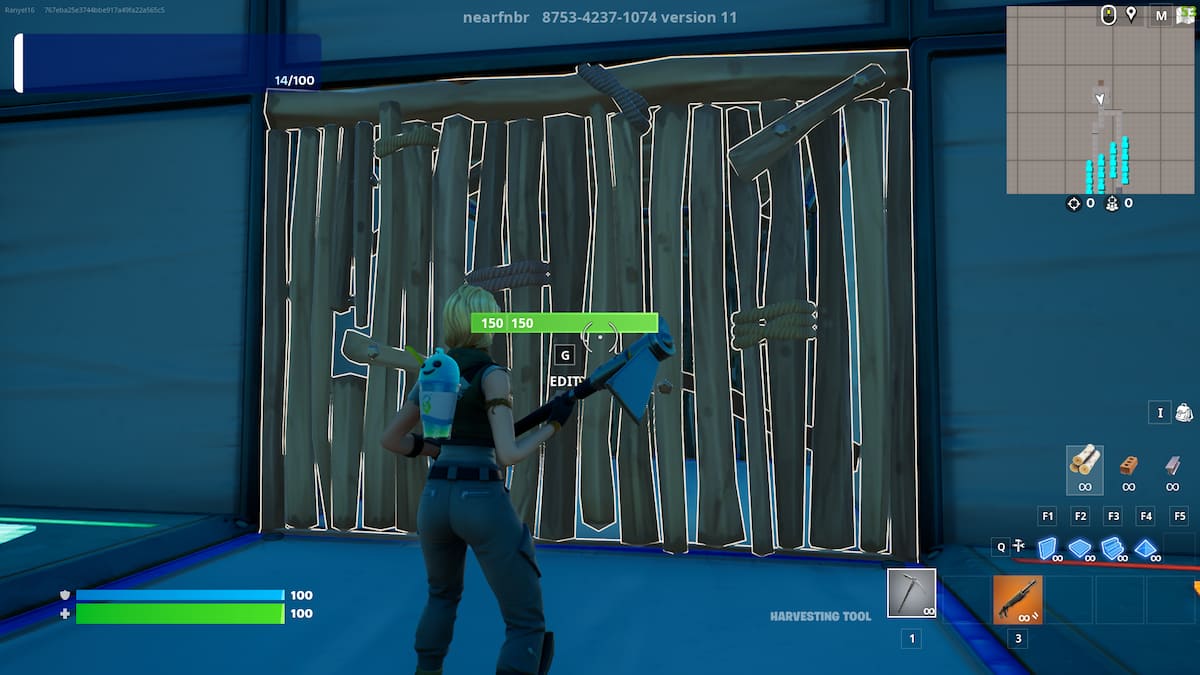 Chapter 4 Edit Practice Map Code: 8753-4237-1074
Quick building and editing have always been a skill that players often desire to improve in Fortnite. While there are many maps for practicing casual building, this map by nearfnbr concentrates on helping the aspect of quick editing and building by providing unique quests associated with it. It's a short map in terms of quest numbers. But an essential map if you want to learn the subtle techniques behind the quick and thoughtful building. We highly recommend you include the map code in your daily routine if you worry too much about your building pace.
Warmup + Aim Training 3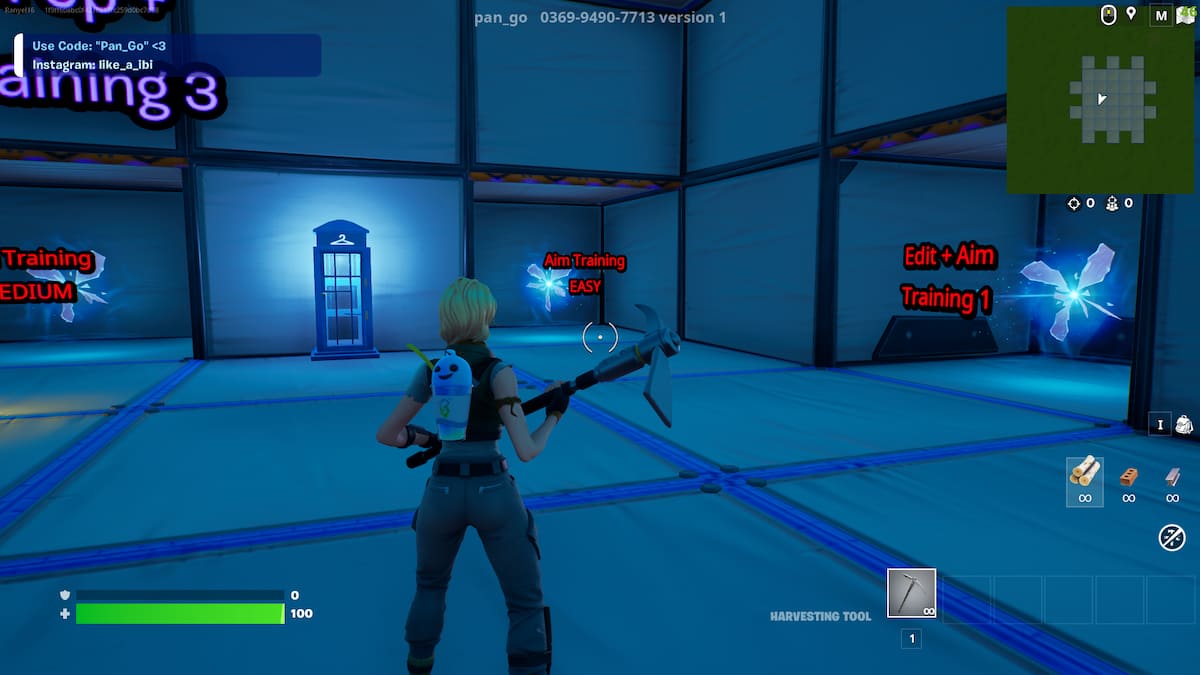 Warmup + Aim Training 3 Map Code: 0369-9490-7713
No edit course list can be complete without the inclusion of a map from the famous custom room creator PAN_GO. Though there are many maps, we have gone with the third version of the Warmup + Aim Training series. It is mainly due to the availability of several training options that a player can choose from the menu according to their experience level, making it one of the few aim trainers that cater to every player willing to improve their skill.
Advanced Free Build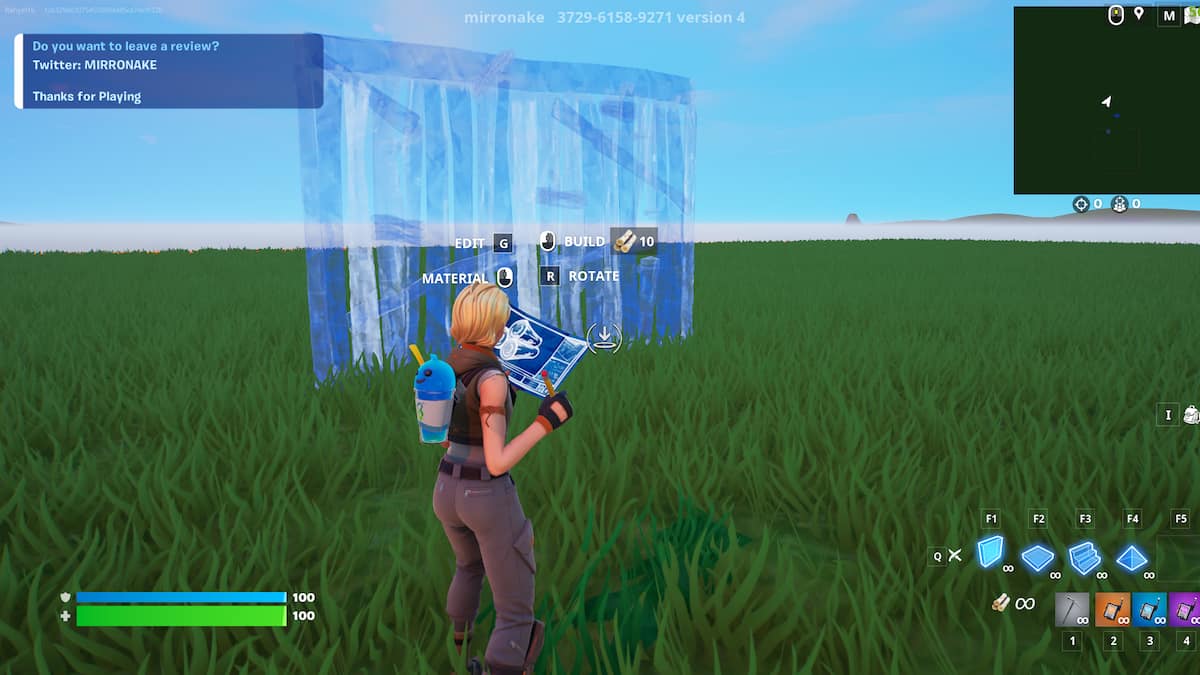 Advanced Free Build Map Code: 3729-6158-9271
Advanced Free Build is the most basic edit builder map in the entire list. Upon hopping inside the server, you will find a large open area to practice building techniques without the restriction of infrastructural interference or natural landforms. Let it be the three-layer ramp rush or cone-building technique, everything single method can be practiced and honed to perfection on the map. Please make the map a daily affair if you are serious about climbing ranks in Fortnite.
Edit Course Chapter 4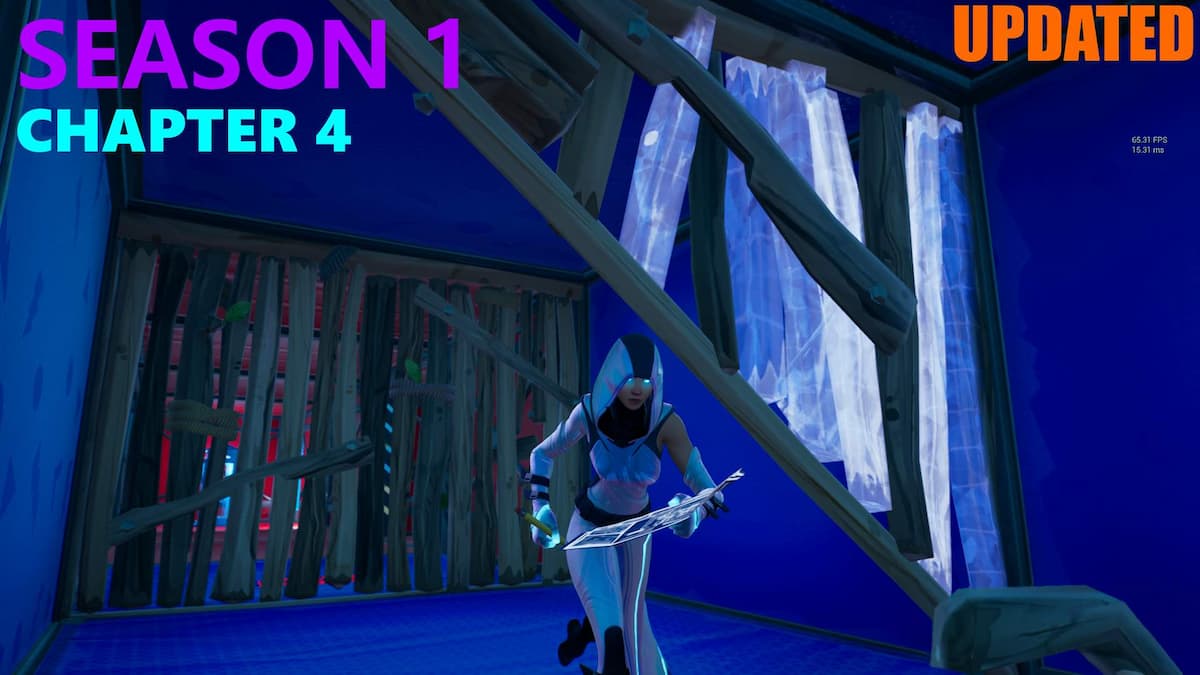 Edit Course Chapter 4 Updated Map Code: 5584-6778-0648
It's not always suitable to load up old aim training courses to practice aim as they often lack vital features available in the current season. As a result, you may not get the required result you may expect from these aim training courses. Here is where the Edit Course by PAN_GO comes as a blessing, as it includes every new game item and mechanical changes introduced in the latest Chapter 4. If you are serious about editing and warming up your practice, then this edit should be a daily affair before hopping into the ranked mode.
Related: Best Fortnite Roleplay Map Codes (January 2023) – Creative RP Maps!
Box PVP 2023
Box PVP 2023 Map Code: 8335-3840-4832
One of the combat techniques or aspects most players overlook in Fortnite is the box fights. Due to this underestimation, people lose simple fights in close quarters that could have been crucial for their squad. So, if you are a victim of such scenarios regularly, you must have a look at the Box PVP map room. The Box PVP map room is precisely catered to improve the game mechanics of players in close combat due to its enclosed architecture that allows room only for close-range fights. We highly recommend the map to players serious about increasing their skills in every combat style.
Pro 1v1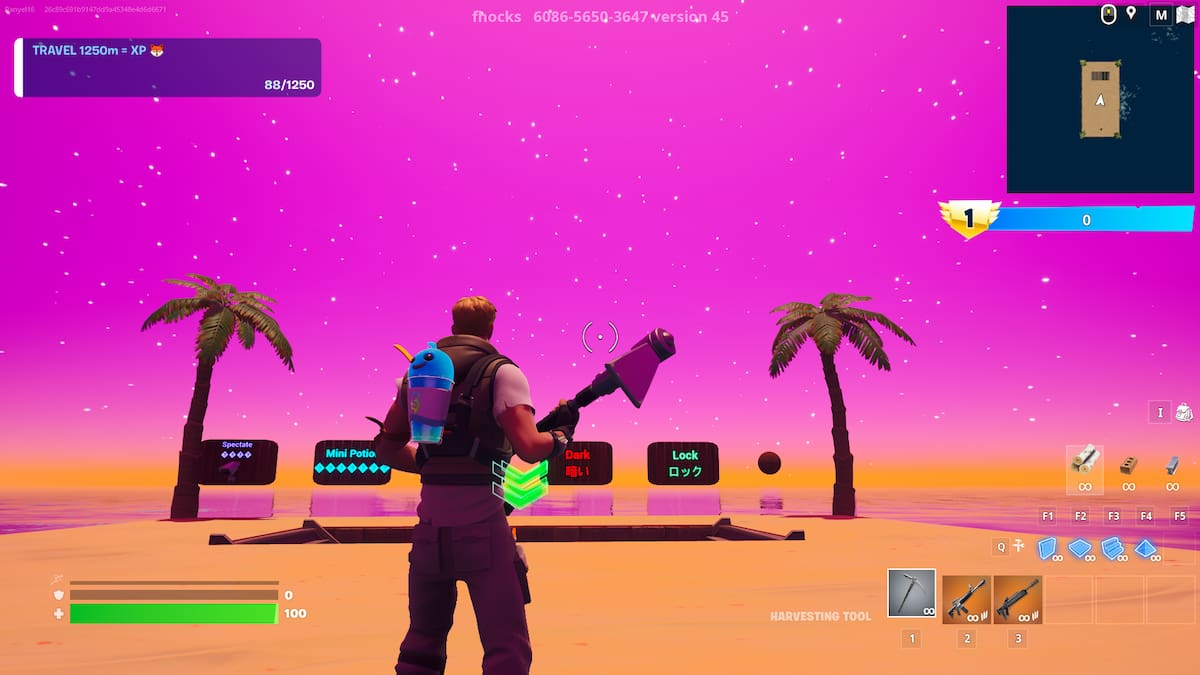 Pro 1v1 Map Code: 6086-5650-3647
Pro 1v1 is a brand-new warmup and edit course game from Fhocks. At first look, it may look like a traditional editing map in terms of gameplay and building scenarios. But what sets Pro 1v1 apart from the rest is its vibrant surrounding themes that players can choose and implement. Let it be the gloomy night-style or the shiny morning skybox. Every little theme makes the map room look fancy and adds an immersion value to the mundane task of warming up/building.
Candook's Ultimate Warm Up Map
Candook's Ultimate Warm Up Map Code: 2338-7889-8904
Candook is a legendary mapmaker on Fortnite Creative that has amassed a cult following with its dozens of quality maps. Edit courses became an instant hit for players when the building became a huge part of Battle Royale, and this all-in-one map quickly reached the top of many Best Of lists due to its versatility—it functions as an Aim Training, Warm-Up, and Edit Course! If you need any practice in Fortnite, you'll want to keep this map on your list of Favorites.
Percy's Edit World
Percy's Edit World Map Code: 1430-2310-1162
This is an incredible map that is full of content—perfect for those of us who need options and want to expand our skill level in multiple scenarios. There are multiple courses to master, regardless of your expertise in the game. Whether you're running as a new player trying to improve your ability to turn the 90s or you simply want to touch up you're already (assumed) perfect editing skills, you'll find what you need on Percy's Edit World.
Edit Pump Wars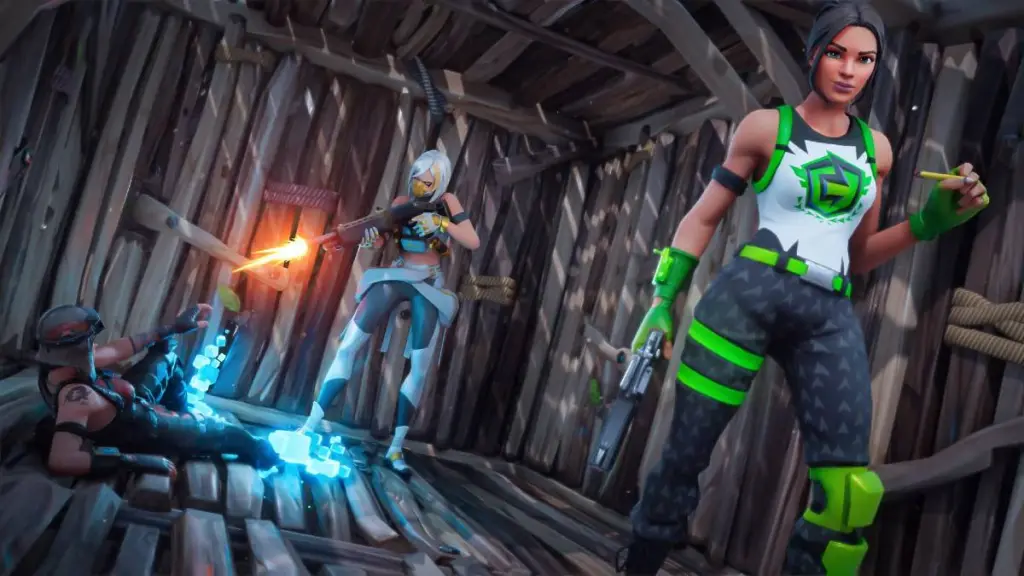 Edit Pump Wars Map Code: 1478-6145-6503
Edit Pump Wars perfectly encapsulates what most players are looking for when they want a Warm-Up Edit map. It has been featured on Fortnite's Discovery menu several times - often for months at a time. It gets your heart racing with close combat each round while getting you in the mindset to quickly switch between fighting and editing, just like you'll often find in those intense situations at the end of a competitive match.
Ultimate Warmup & Practice Map
Ultimate Warmup & Practice Map Code: 1198-7857-6250
The word "ultimate" is frequently seen when searching through Edit Course map titles, which can discourage many players from bothering to try them. But, Ultimate Warmup & Practice Map by Kevzter truly lives up to the name by offering players a massive selection of ways to practice their combat skills in Fortnite. You will find three different levels of Edit Courses, 1v1 skirmishes, piece control training, and so much more!
Edit Piece Control and Aim Warm Up
Edit Piece Control and Aim Warm Up Map Code: 3917-0476-8838
Chapter 3 introduced plenty of new mechanics to Fortnite Battle Royale, which means players have new strategies to master and techniques to use. This map is currently one of the few maps to take the new game mechanics into consideration. It provides a myriad of options courses to its players, including Edit Courses for Sliding, Piece Control, and of course your standard Warm Up edits!
Warm Up | Aim, Edits, Builds
Warm Up | Aim, Edits, Builds Map Code: 3925-1383-1933
The developer of this map seems to be new to Fortnite map-making, but they have entered the creative scene in an impressive way. On this map, you have many options available to you to perfect your Fortnite skills. Although the design would suggest this map is geared towards players who want to warm up on their own, the multitude of edit paths you can take make it possible to compete with your friends more than once and see who can adapt the best and masterfully edit their way through each course!
Tryhard Edit Course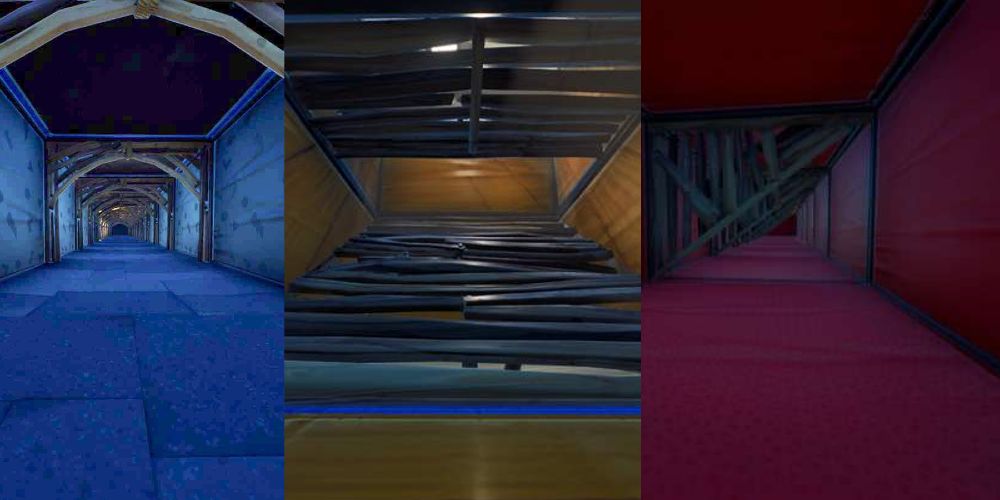 This is a three-part edit course that ranges from easy mode to hard mode for players to practice on. Players can select the course that they think best suits their needs, whether it's just to warm up or to truly challenge themselves and increase their performance while editing. Challenge yourself to get through each course in record time, then move on to the next one when you think you're ready!
Easy Tryhard Edit Course Map Code: 3692-0671-2791
Medium Tryhard Edit Course Map Code: 5044-1947-7391
Hard Tryhard Edit Course Map Code: 7541-8490-7737
For more Fortnite News & Guides, check out Fortnite Best Skins Ranked and Fortnite Leaked Skins & Cosmetics on Pro Game Guides!