Our Fortnite Warm Up & Edit Courses List guide runs through the best options in Creative Mode for getting ready to play the game in Season 11. These courses are great for practicing and getting prepared to head into battle. We've got codes for each of the courses, and we'll be updating this list periodically to add better ones and remove some of the old ones.
With the relatively new Creative mode has come a ton of usable maps that can be played by anyone if they have the right code. Maps are all over the map in what you can do with them. You've got maps for warm up, aim practice, hide and seek, racing, and many more! This mode has added a lot of creativity to the game, and people are finding tons of new ways to get enjoyment out of Fortnite.
Best Fortnite Warm Up & Edit Courses
Here is our full list of warm up courses that were created in Creative mode. Some options focus more heavily on different things. There's some for editing, shotguns, and general aiming practice.
Here's a look at the Best Fortnite Warm Up Course Codes:
Do you have a Fortnite Warm Up & Edit Course you love? Send it to us at [email protected] with a description of why and we'll add it to the list while giving you credit!
Warm Up Course Solo
Solo courses make some of the best Edit Maps because you're able to focus on your skill and not worry about competing or trolling. In this course, you set your own goal for time and try to beat it! Not interested in flash and just need that quick, daily warm-up routing? This is the map for you!
1v1 Edit Race
Or, instead of taking things easy like in the map we listed above, perhaps you thrive on that competition! This map is perfect to play with a friend and see which one of you has mastered Fortnite edits. First one to finish gets to be party leader!
Star's Edit Course
Don't dismiss the simple edit runs! This is quick (if you're a fast editor) and easy, and perfect for getting your fingers ready to take on a day of Fortnite matches. It offers basic extras and doesn't make the map complicated. You have the edit run, a reset button, a timer, and a free-build mode. Get editing!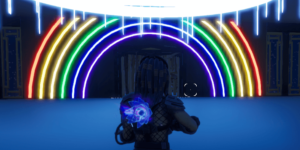 Edit Course Legacy
Simplicity is the name of the game this month. This is a clean, sleek, and much shorter version of the edit course mentioned above. Instead of setting a course that runs about 20 minutes, you're on a race against the clock to beat this course in five. Need just a quick warm-up before you get into the action? Try this map!
Percy's Edit World
Percy's Edit World is one of the most popular edit courses in Fortnite. It is over a year old, but it has withstood the test of time and maintained its status at the top of the list of courses for people to warm up and practice their building skills. Quit asking for edits start taking them in this great edit map!
Candooks Official FNCS Edit Course
This course is a perfect course for a simple run and good practice for situations you mind encounter in the FNCS. It allows you to practice in a map designed for Solos, Duos, or Trios. It challenges you to build efficiently and get the practice you need to make it to the top of the ladder. Candook did a great job with this map!
Ultimate Aim Training Course
This is your go-to course for all of your aiming needs. This course has help for all expertise from beginner all the way to pros!
Raider464's Warm Up Course
Lots of good new stuff in this one for editing and practicing your shotgun aim!
Raider's Box Fight Practice Map v2
This is a strong overall course that gives you a bunch of practice with common edits and flicking shotgun shots onto targets. It's pretty no nonsense, so if you want a straightforward course to just get your warmed up quickly, then this is a solid one to try!
EGO-Hapec's Edit Course
This is a pretty straight-forward course with many different edits to go through. You can time yourself if you want to track your progress and see how you've improved!
How-to Use a Creative Code
Once you load up the game you will be given the three options on what you want to play (Save the World, Battle Royale, and Creative). Click the creative option and then click PLAY and then CREATE (don't start a server if you want to play solo).
Once it has loaded, you will see an Orange Rift that will take you to islands where you can create custom maps. We don't want this right now, so look around for the featured portals. Fortnite now puts you in a custom portal area, so you might need to seek it out a bit. Find the portals with the console in front of them and interact with one.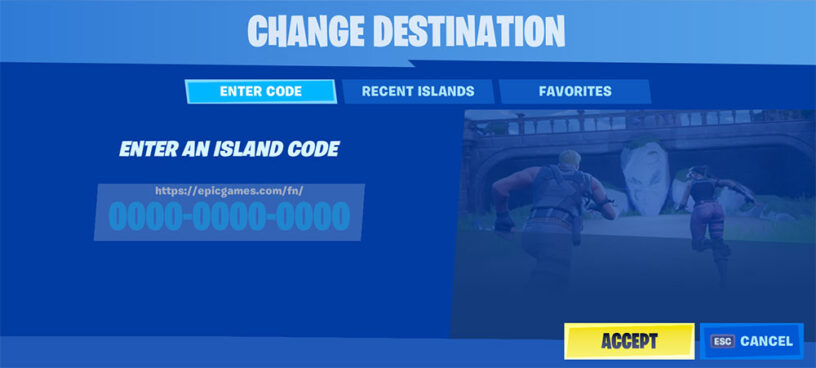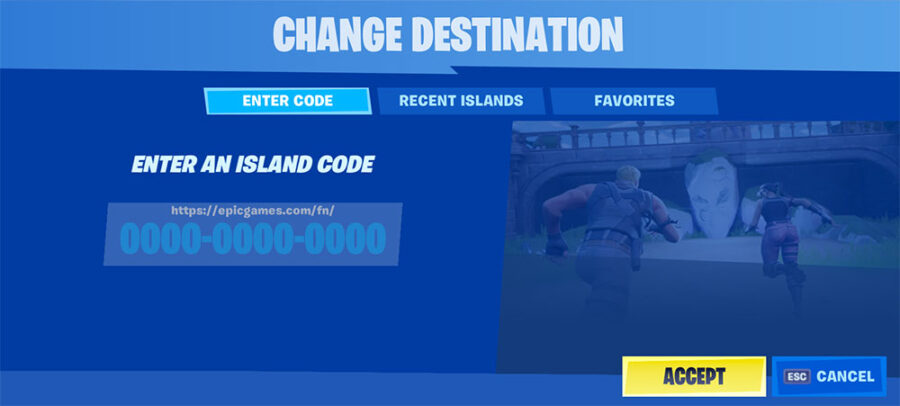 From here you can either select one of the codes you've added to your favorites, or you can paste a code you have at the end of the URL. Click "Accept" and it will load up the island of your choice. You can then run into the rift and it will transport you to it!