Whether you are tired of the same old Battle Royale experience, or you are looking to practice your game in a simulated environment then you should be sure to take advantage of this list of the best Fortnite Creative Codes that the game has to offer! These maps feature a huge variety of things you can do whether it's practice your aim, or just have fun with your friends in a less competitive situation. The creative part of Fortnite is a huge aspect of the game now, so make sure you're trying out some of these map to further add to your experience!
Epic has done a great job in expanding the scope of the game of Fortnite. While the mainstay is still a Battle Royale, you can now play a lot of different types of games thanks to the addition of the Creative mode. This gives you a whole lot more to do if you find yourself either tired of build battles, or you just want to solely focus on enhancing your skill in a particular area. Epic looks to be growing this part of the game more and more, which has enabled players to flex their creativity in a variety of ways.
How-to Use a Creative Code
Once you load up the game you will be given the three options on what you want to play (Save the World, Battle Royale, and Creative). Click the creative option and then click PLAY and then CREATE (don't start a server if you want to play solo).
Once it has loaded, you will see an Orange Rift that will take you to islands where you can create custom maps. We don't want this right now, so look around for the featured portals. Fortnite now puts you in a custom portal area, so you might need to seek it out a bit. Find the portals with the console in front of them and interact with one.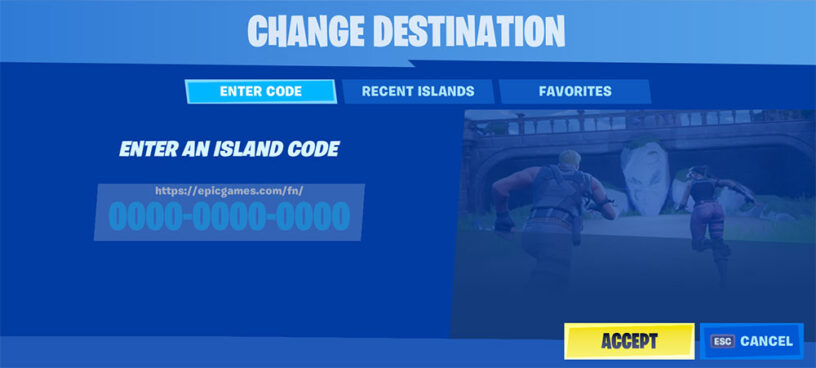 From here you can either select one of the codes you've added to your favorites, or you can paste a code you have at the end of the URL. Click "Accept" and it will load up the island of your choice. You can then run into the rift and it will transport you to it!
Queuing Course Map Codes
If you don't want to bother copy and pasting to add a map, you can queue them up by going to the direct link in your web browser. If you are logged into your Epic account, it will add the map to your queue which you can access in the same area as you pasted the code. You'll find links to these pages on all of the courses suggested below.
More Codes
We have a bunch of other posts that have a lot of great codes for specific categories that you can check out:
Fortnite Creative Course Codes
We've compiled a list of some of our favorite codes from all sorts of different categories! So, without further ado, here's our look at the Best Fortnite Creative Codes:
The Story of Oliver Whitlock
This is a story based map that is kind of horror based, but isn't too scary. It does set up a pretty tense atmosphere that could get you quite jumpy. There's a bit of spookiness in it, but I would call it more of a thriller than anything horror. One of the things I noticed about it is that it's well written which I have found to be pretty rare in these maps. It has a pretty good story, and it challenges you to figure things out! So, while I think you should try to avoid this as much as possible, I've included a video with a walkthrough below if you get stuck!
Spy Tycoon
Tycoon is a pretty different type of map where you seek to collect a particular currency which helps upgrade your base and weaponry. You then use that weaponry to take out zombies and eliminate other players. You can invade your opponent's base for a crystal llama for additional points, and the player that gets to 50 points is the winner! I feel like this type of map is going to really start to take off in the future because it has quite a bit of potential. For now, the Spy Tycoon code is probably the best one available.
Bricks Gun Game
If you want just a very well made map to play gun game in then this is it! A lot of times you find with people who have never made maps before that there's always areas that don't make sense or don't flow. That is not the case with Frya's Bricks map! This map has great lines where you can see to take shots at players, grab cover, or decide whether or not you should risk going down the area. You've also got some elevations, and where some maps will make it impossible to access the from the ground, this one naturally provides a way to access it that looks like it belongs. This map is not overly stuffed with too much decoration, but it gets exact feel of a brick laden village down perfectly! Overall, this is a great map to start your gun game career out on.
Skaavok's Aim Training Course
If you're looking for a ton of variety for aim tracking, flick shots, tile frenzy, and a bunch more. Mongraal, one of the top Fortnite players, uses this map quite often to warm up for the day. So, consider spending some time with some of these little mini-games each day to work up your aim!
Mongraal Classic Edit/Aim Simulator
This is specifically made to practice taking a wall, placing your own, editing it, adding a ramp, and then editing the ramp to hit a shotgun shot. This is really good muscle memory practice for this important box play maneuver.
Geerzy's Realistic 1v1 Simulator Map
If you want to really get some great practice in 1v1 battles then this creates scenarios for you that you will likely experience very often. You get a random load-out that is based on something you'd likely have at the middle of a standard game. You also will start in an area that is very similar to a place you can find on the map currently, which is between Misty Meadows and Lazy Lake. You also spawn in an area at random, so you won't be on the same level as your opponent which also forces you to make the most out of where you happen to encounter the enemy! If you are really trying to focus on 1v1 battles for real game scenarios, this is one of the best maps to do it with!
Scalit's 1v1 Map
Now, this isn't super realistic, but it does have a bunch of features you won't likely find elsewhere. This 1v1 map features the ability to have a double pump, change your skin color, and even turn your character invisible. Some of these are obviously just fun features, but there's also some practical ones.
In addition to those first three I mentioned, you can pick from a bunch of weapons and pickaxe the item type to cycle through the options and choose your load-out! If you and your opponent have built all over the place, there's a button you can press that will destroy everything automatically. If you don't like the background of the map for some reason, there's even a way you can customize it to your liking. So, like I said, there's a lot of features to this one so it's great for fun and practice!
Cizzorz's Deathrun 4.0
Probably the most famous Deathrun maps that have been created are from Cizzorz. He's run some pretty big contests with these, and made some pretty crazy maps. These are extremely hard, and will test you to the max! There's parkour style parts, and sections where you will be boosting for speed and frosting your feet across traps, and even parts where you will be throwing down Impulse Grenades and landing on small platforms! All in all, just a very hard course and a great one to try if you have what it takes.
If you want to try out some of the older versions, then here are the codes for those:
Rainbow Deathrun
A fun newer Deathrun with a lot of creative additions to it. The run starts off fairly easily and continues to increase in difficult throughout the stages!
Geerzy's High-Speed Zone Wars Hotdrops
This is a really interesting Zone Wars option to tryout, because it's not your traditional Zone Wars style of map. It's a Pleasant Park like area where you spawn in the air and basically hot drop into for a quick match with 2-16 players. It gives you more of an early game feel that will allow you to practice getting into quick fights.
Evoked's Team Zone Wars
One of the most popular Zone Wars maps for pro players, it's a no frills option that just pits you against others with a pretty standard load-out. Head into this game against another duo, trio, or squad and battle it out to see who is the best!
Escape Pandora
Escape Rooms have become more popular lately, so it's interesting to see how they've grown. Meep's Escape Pandora map is a great example of this where it takes the theme of Borderlands and utilizes it to tell a small story via this map type. This code also features quite a bit of parkour/deathrun action in it, so you will need to make sure you're on top of your jump game to complete it all! If you're struggling with it, the video below shows how you can complete all of it.
Indoor Water Park Prop Hunt
If you're looking to play some fun games with friends or queue up a really interesting theme map then this indoor water park prop hunt should be a great way to kill some time! The design of this one is outstanding, you've got a great looking water park theme throughout the map fitted out with a huge pool and a ton of slides. There's even a locker room where you'd change your clothes to get ready for the water!
The Simpson's Krusty Burger Prop Hunt
All you Simpson fans should love this one because it's a close replica of Krusty Burger from the show! This is a great little map that you can play that centers around the burger joint which can obviously be one of the places you decide to hide.