Whether you are tired of the same old Battle Royale experience, or you are looking to practice your game in a simulated environment then you should be sure to take advantage of this list of the best Fortnite Creative Codes that the game has to offer! These maps feature a huge variety of things you can do whether it's practice your aim, or just have fun with your friends in a less competitive situation. The creative part of Fortnite is a huge aspect of the game now, so make sure you're trying out some of these map to further add to your experience!
Epic has done a great job in expanding the scope of the game of Fortnite. While the mainstay is still a Battle Royale, you can now play a lot of different types of games thanks to the addition of the Creative mode. This gives you a whole lot more to do if you find yourself either tired of build battles, or you just want to solely focus on enhancing your skill in a particular area. Epic looks to be growing this part of the game more and more, which has enabled players to flex their creativity in a variety of ways.
Fortnite Best Map Codes
There's a lot of great maps out there, but of them all these have stood out among the pack. Here's a full list of some of the top game map codes you can play in Fortnite.
---
Do you have a Fortnite Course you love? Send it to us at [email protected] with a description of why and we'll add it to the list while giving you credit!
---
The Visit - Biohazard
This horror game is pretty much the first opening chapters of Resident Evil 7, but with some creative insights to make it more authentic to the game. The best part about is that they even have a fat zombie portraying Jack, with his welcoming line, "Welcome to the family, son!". This one is 100% worth playing!
The Creekwood Tracks
You're hunting for your missing sister, and like the name says you often go along a set of tracks trying to find her. The text is well written, and it makes you feel on edge. It's generally pretty creepy at times! Of course, there is more than meets the eye to this story! It takes about 20 mins to complete, depending on how well you keep from getting scared!
Shotgun Aim Course!!!!!
Shotguns are always the best close-quarters weapon to use, well when you're up close! Nothing can beat the blast of a Shotgun as your tear into your foes. If you want to get better with your close combat aiming, then the Shotgun Aim Course is perfect for you. This course does require editing knowledge, so beware going into this!
Ultimate Edit & Aim Course
If you want an Aim Course that has everything, well this one is perfect for you! With over 45 training sections, starting from Basic Training to Editing Training, to then of course Aim Training. This is truly is an Ultimate Aim Course!
Town Zone Wars
This is a very simplistic small map, and of course, the Storm will close in on your pretty quickly! The backdrop is of two opposing houses, so basically you are creating a fort that is your very own Town! It might seem familiar to those who have played Call of Duty: Black Ops, as it has a resemblance to Nuketown. It's a war between towns, who's going to win?!?
Box Fight [1v1 2v2 3v3 4v4]
This is exactly what it sounds like in the title, the room is a box. This map is perfect for those who want to train competitively, in a set area, not an entire map. Here you can train your tactics and methods to become the best of the best. It's truly a great map!
The Best 1v1 Map
The title says it all, doesn't it? Who can argue with that? Well, we can't as this map has a hell of a lot going for it. With weapon presents, customizable 1v1 settings, that apply to both players, auto reset upon a player's death, and most important of all, a background changer! We can't put it simpler, we agree with the title!
Tinker's Toystore
Everyone loves a Christmas map, especially one in a store! Explore around the place, which is a perfect place to meet Santa, as well as hunting for your own gifts in the Warehouse! Plenty of places to hide, it's a great map!
Hauntophobia
We hope you are prepared to be spooked! Hauntophobia is a 5v1 escape room experience, where 5 people are trying to escape and 1 person is hunting them down. It's heavily inspired by amazingly scary game Phasmophobia. With a choice of two difficulties, Normal or Extreme, do you have what it takes to escape the haunted house?
The North Pole: Deathrun
As December so the Christmas spirit has descended upon Fortnite, so why not try out a Christmas deathrun? It's a complete Christmas map, jumping over snowballs, over Christmas lights, it's very aesthetically pleasing. The map description says 25 easy to medium levels of difficulty, so why not give it a shot!
Fortnite Dropper v1
Fortnite Dropper V1 is a 10 level dropper, with a twist! In each level there are hidden coins, can you find them all? Overall it's one of the best dropper maps out there, give it a go!
How-to Use a Creative Code
Once you load up the game you will be given the three options on what you want to play (Save the World, Battle Royale, and Creative). Click the creative option and then click PLAY and then CREATE (don't start a server if you want to play solo).
Once it has loaded, you will see an Orange Rift that will take you to islands where you can create custom maps. We don't want this right now, so look around for the featured portals. Fortnite now puts you in a custom portal area, so you might need to seek it out a bit. Find the portals with the console in front of them and interact with one.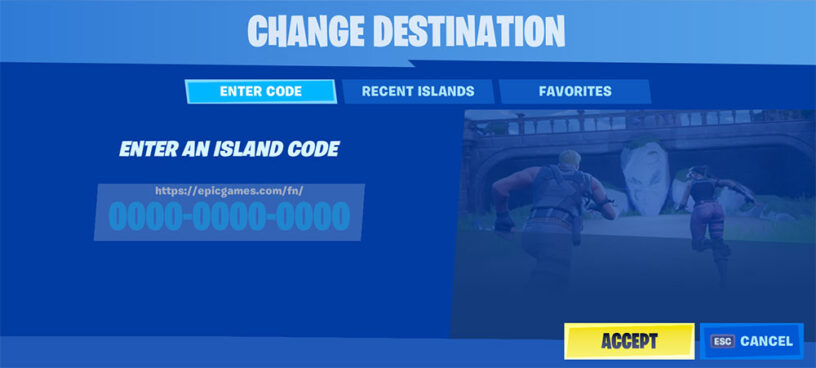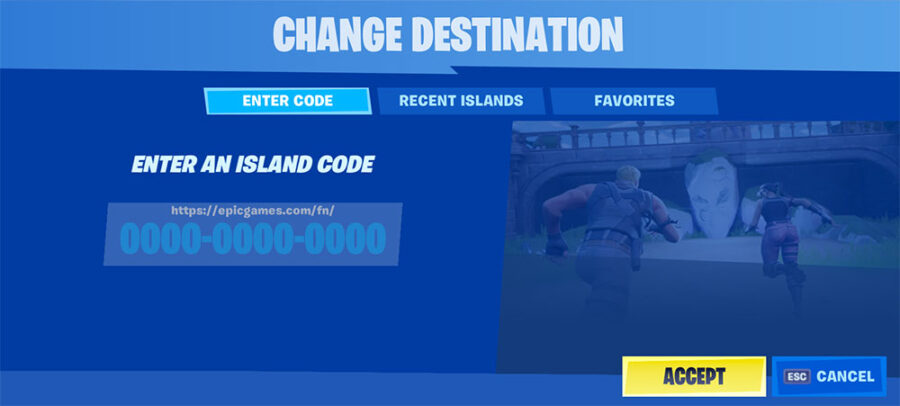 From here you can either select one of the codes you've added to your favorites, or you can paste a code you have at the end of the URL. Click "Accept" and it will load up the island of your choice. You can then run into the rift and it will transport you to it!