Our Fortnite 1v1 Codes List features the best and most popular ways to practice against other players in a structured setting! If you're looking to really improve your solo play, then playing against a single player over and over again is a great way to increase your muscle memory. We'll be taking a look at the top current codes for Chapter 2: Season 2 of the game.
1v1 maps are one of the better ways to get practice in for real in-game scenarios. While this isn't always an exact replica of what you will experience, you can really focus on certain aspects of your game that is lacking in this mode. While edit and aim courses are good for warm ups, there's nothing that gets you better faster than playing against other players over and over again. If you're looking to see how well your game is doing, check out our look at the best Zone Wars Codes!
How-to Use a Creative Code
Once you load up the game you will be given the three options on what you want to play (Save the World, Battle Royale, and Creative). Click the creative option and then click PLAY and then CREATE (don't start a server if you want to play solo).
Once it has loaded, you will see an Orange Rift that will take you to islands where you can create custom maps. We don't want this right now, so look around for the featured portals. Fortnite now puts you in a custom portal area, so you might need to seek it out a bit. Find the portals with the console in front of them and interact with one.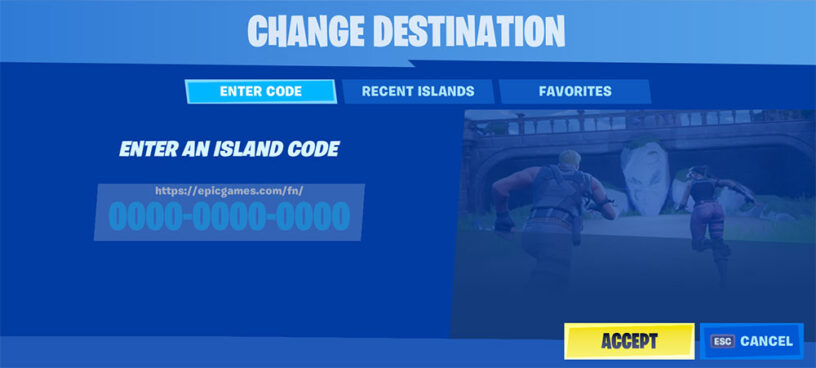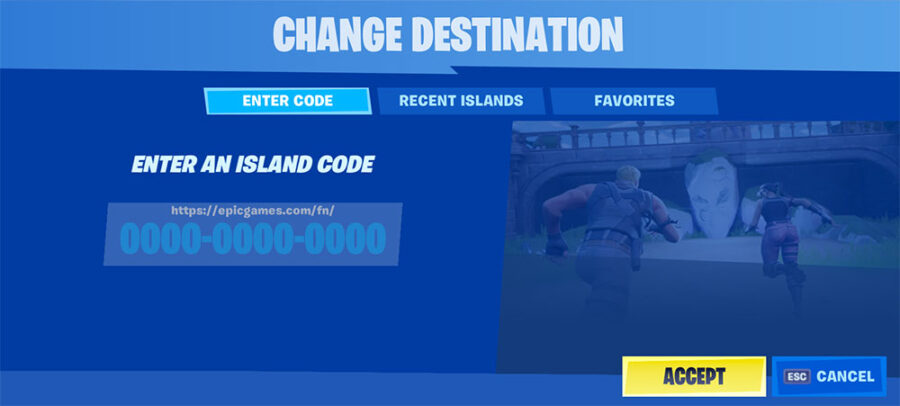 From here you can either select one of the codes you've added to your favorites, or you can paste a code you have at the end of the URL. Click "Accept" and it will load up the island of your choice. You can then run into the rift and it will transport you to it!
Fortnite 1v1 Maps List
Here's our list of Fortnite's Best 1v1 Map Codes:
I will be going into more detail below on each of these maps and including some videos that should explain more about the course when necessary!
Aesthetic 1v1 Map (Chapter 2: Season 3)
This is new for Chapter 2: Season 3, which means you can use the Charged Shotgun. However, it's still not officially available in Creative. So, you will have to open up a bunch of chests on the map. You'll also have to enter the map in Creative fill for it to appear!
The map itself is really clean and super simple, so if you're a player who has trouble with framerates, then this should work well for you. If you're just looking for a streamlined map to practice your 1v1s, then this is a solid option.
BHE 1v1 Build Fights
According to Epic, this is one of the most played 1v1 maps in the game. So, if you want to try out the most popular code to go against other players in fights then this is the one to try. It has all of the features you'd be looking for including your choice of weapons, a button that will destroy all the builds, background selections, as well as launch yourself back to the top of a build if you happen to fall. This is a very well-rounded option that is great for practicing your 1v1s!
Geerzy's Realistic 1v1 Simulator Map
If you want to really get some great practice in 1v1 battles then this creates scenarios for you that you will likely experience very often. You get a random loadout that is based on something you'd likely have at the middle of a standard game. You also will start in an area that is very similar to a place you can find on the map currently, which is between Misty Meadows and Lazy Lake. You also spawn in an area at random, so you won't be on the same level as your opponent which also forces you to make the most out of where you happen to encounter the enemy! If you are really trying to focus on 1v1 battles for real game scenarios, this is one of the best maps to do it with!
Scalit's 1v1 Map
Now, this isn't super realistic, but it does have a bunch of features you won't likely find elsewhere. This 1v1 map features the ability to have a double pump, change your skin color, and even turn your character invisible. Some of these are obviously just fun features, but there's also some practical ones.
In addition to those first three I mentioned, you can pick from a bunch of weapons and Pickaxe the item type to cycle through the options and choose your loadout! If you and your opponent have built all over the place, there's a button you can press that will destroy everything automatically. If you don't like the background of the map for some reason, there's even a way you can customize it to your liking. So, like I said, there's a lot of features to this one so it's great for fun and practice!
Percy's 1v1 Map
So, this map is similar to Scalit's code but it has some different features. There's some preset buttons that will allow you to cycle through different loadouts, there's a scoreboard, the map will automatically reset once a player is eliminated, the build height is very high, and you can set your game to players having unlimited settings. If you didn't like something about Scalit's map, then you should give this one a try because it might give you what you were looking to find.
MaxleonoYT The Gulag Map
If you've heard of or played Call of Duty's Battle Royale called Warzone then you've no doubt heard of the Gulag. This is an area a player will go if they are eliminated in the round and can get back into the game by 1v1ing an opponent. Maleono has brought that concept to Fortnite in a pretty awesome creative map where you can do something similar in the game. An additional feature of this map is that friends or other players can hurl cans at you or your opponent from the sidelines! This is obviously not as practical as some of the other maps, but it's a fun change of pace if you're looking to try something different.
Amin_Sav's Cleanest 1v1 Map
If you want something with a super clean look and ultra futuristic vibe then this map is a great option! It's very stylized with mirror finishes on just about everything, and features super clean lines around the arena. In the center is two fixed ramps where you'll be starting your fight on. Below this area you can choose your weapons and then take a bouncer to the middle to get your battle going. There's also an easy to access button to destroy all the builds so you can get back at it quickly. This is a very simple no frills map that is super clean and stylish.