If you're having trouble getting into the outdoors right now, then it might be worth heading into Fortnite for some fun with friends! What better way to spend time with each other than to play a rousing game of hide and seek. There's a lot of great maps out there that allows for this kind of fun, so we're taking a look at the best hide and seek codes that Fortnite has to offer!
Keep in mind that these are not prop hunt maps. Those are not traditional hide and seek, they are similar but different enough to warrant their own section (which you can find here). Instead of dressing up as various items scattered around the map, you will literally need to find places to hide. You can get behind objects, go into bushes, or find hidden areas on the map to hold up in! While you are doing that, there will be at least one player seeking you out! If they are able to find you, they can shoot you do tag you out of the game. To win the game, you either have to be the last hider alive, or as the seeker you will need to find all of the players on the map!
Fortnite Hide and Seek Maps List
Here's our list of Fortnite's Best Hide and Seek Map Codes:
I will be going into more detail below on each of these maps and including some videos that should explain more about the course when necessary!
One Percent Hide & Seek
If you'd like to see how rich people live then you'll want to try some hide and seek in a one percenter's mansion! This is a huge home with a large backyard and front area where you can hide all over the place. So take in the sights as you look for a place to hide yourself.
Honey I Shrunk the Skins
Seems like not just Grounded is getting in on the shrunken person games! In this hide and seek map, you'll be in an over-sized world that allows you to hide throughout the inside and outside of a pretty typical house. There's bedrooms, a garage, and a backyard and front yard that you can slink around in. This is a pretty fun concept for a map, and is well worth a try if you're looking for something new!
Ruined Remains 2.0
This is an infection based hide and seek map which starts out with a single hunter vs a bunch of time travelers. As the hunter is able to find and hit the travelers, they will turn into hunters themselves! That means you can't trust anyone, because they might know where you are and find you once they've flipped sides. The hiding takes place in a great looking overgrown town map with a ton of spots to hide in and get lost around!
Underwater Labs Hide & Seek
A great idea for a map and has you hiding and seeking within an underwater laboratory! There's sneaky places to hide in this one, like a small area under a rug, and lots of harder to find areas. This one will be great for a lot of players, because there's so many different places to hide. You'll also be able to place yourself in a cardboard box, or even hide in an underwater tank area!
Hide and Seek Mansion
Really interesting map with a whole lot of areas to hide in due to the expansive nature of the mansion. The outside areas are great and include a water-slide, as well as a grotto area that can be hidden in. There's a ton of areas on the interior of the house as well, this is a huge place so there's multiple stories with lots of small spots to creep into. At the top of the roof there's even a movie theater area with an area to hide in behind the screen! This is a really fun map, so it's worth giving a go if you are looking for a new place to play in.
Modern Mansion
Hide and seek maps lend themselves very well to mansions. So, this is another mansion map, but this time we've got a modern take on it. If you want to make sure you're hiding out in a proper modern area, then this is a great map to play! There's quite a bit of corn in this level, so there's some great places to hide. You'll also find plenty of hidden areas to duck into. Make sure to check behind every piece of furniture and object, because this map does a great job of having a ton of places to sneak behind.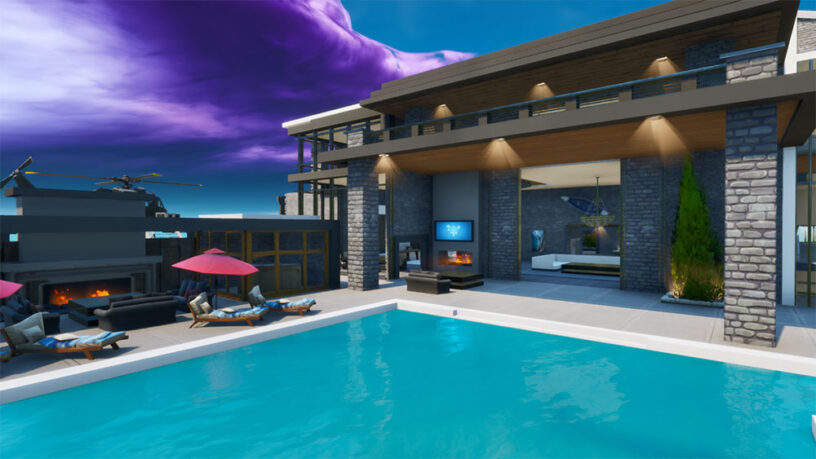 Pea Shooter Hide & Seek
If you're tired of mansions already, then we've got something way different. This area depicts a pretty interesting forest atmosphere that's basically a small little town. There's a firing range, movie set, eclipse tower, hills, factory, slurp bar, log house, library, and killer shack! There's even a bat cave you can enter if you take a portal to it. There's a lot to like about this map, with a ton of different areas to explore and hide in!
The Mall is Closing Hide and Seek
This is a really great concept for a map. You head into a mall that's about to close, but you'd like to stay after hours and mill around the place. Well, you'll need to hide and avoid the security guard (seeker), to enjoy the empty mall! You've got a lot of great areas in this one! There's a Pizza Pit, arcade, DJ lounge, and some other great stuff to explore.
Viking Village
There's a lot to love about this Viking Village hide and seek map! It's supremely detailed, with just stuff all over the place that makes you feel like you're really in a viking village. If you remember the Chapter 1 map at all, you'll no doubt remember the viking area that was on top of the snowy mountain. This is a different take on that, because instead of it being winter, you're clearly in the summer and things are bright and crisp out. The map has nice elevations, and many different areas to creep around and hide in!