If you're having trouble getting into the outdoors right now, then it might be worth heading into Fortnite for some fun with friends! What better way to spend time with each other than to play a rousing game of hide and seek. There's a lot of great maps out there that allows for this kind of fun, so we're taking a look at the best hide and seek codes that Fortnite has to offer!
Keep in mind that these are not prop hunt maps. Those are not traditional hide and seek, they are similar but different enough to warrant their own section (which you can find here). Instead of dressing up as various items scattered around the map, you will literally need to find places to hide. You can get behind objects, go into bushes, or find hidden areas on the map to hold up in! While you are doing that, there will be at least one player seeking you out! If they are able to find you, they can shoot you do tag you out of the game. To win the game, you either have to be the last hider alive, or as the seeker you will need to find all of the players on the map!
Fortnite Hide and Seek Maps List
Here's our list of Fortnite's Best Hide and Seek Map Codes:
I will be going into more detail below on each of these maps and including some videos that should explain more about the course when necessary!
Do you have a Fortnite Hide & Seek Course you love? Send it to us at [email protected] with a description of why and we'll add it to the list while giving you credit!
Blissful Bunny Prop Hunt
In this Easter-themed Prop Hunt map, you get to revisit your childhood and go hunting for eggs! And ducks. And barrels. Well, props. Regardless of whether you are hiding or seeking, this map makes it obvious that Prop Hunt maps are perfect for Easter. Now you get to see what it's like to live like the Easter Bunny!
Jurassic Hide 'n Seek
In Jurassic Hide 'n Seek, players must Camoflauge themselves in nature like our scaly predators friends did millions of years ago. Or, if the dinosaurs look a little too real for you, you can hide in any of the rain-forest themed shacks on the map and hope you're not found there. This map is the perfect way to hide for both Huner and Hunted!
1v1 Prop Hunt
Prop Hunt maps are usually at least five people, but this one is specifically for two players to face off! It's a different take on Prop Hunt maps. As the Seeker, you are alternated between two copies of one room. It's up to you to spot the difference between the rooms to find your opponent! This is good for a couple quick rounds of fun, if you're looking for a good way to pass the time.
Robot Planet - Hide and Seek
On Pro Game Guides, we love a really well-designed map. Even if the content isn't up to par (which does not apply here), they can make a map worth playing just for the visuals. In this map, you get the best of both worlds: fun gameplay and an excellent, thoughtful design. Have you ever played Hide & Seek on a robot planet? Now's your chance!
Area 51: First Person Hide & Seek
In this Hide & Seek map, you gain a different perspective of how to play Hide & Seek, and a different perspective from your character! This is a rarely-used mechanic in which you hide and hunt from your character's first-person perspective. That means it's much harder to peer around corners, and you'll need to be even more careful when trying to hide. However, it also means the hunters will have to look at every nook and cranny more closely! This fits perfectly with the new Xenomorph skin!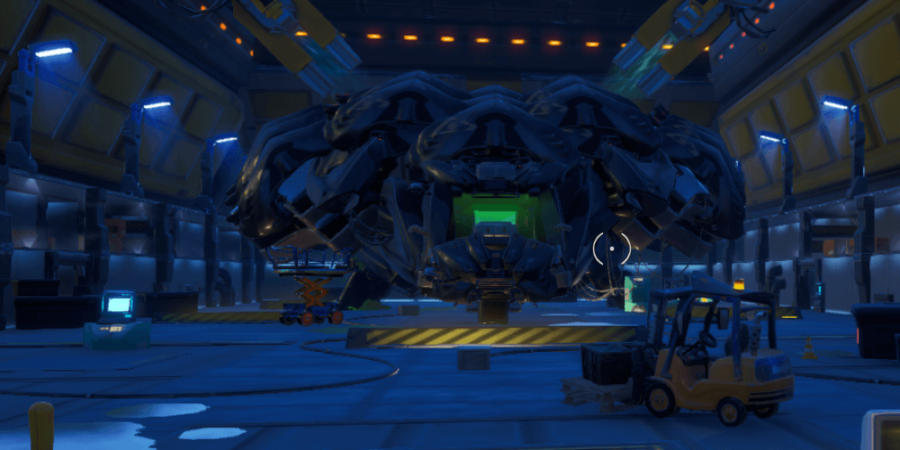 Prop Hunt Infinite
Do you remember those retro arcades with the neon lights, ugly floors, and sticky surfaces? Relive those times in this awesome new Fortnite Prop Hunt map! Become one of your favorite objects from the good ol' days and try to disguise yourself as part of the scenery. You are one with the arcade. Be the arcade.
Mountain Mansion | Hide & Seek
This Hide & Seek map immediately drew our attention this month because of how popular it became in such a short amount of time. After checking it out, we're not longer surprised! Fatal Creations makes great maps (humorously enough a lot of them are mansions) and this map easily follows the previous high standard he set. Feel like a billionaire and make this mansion your home as you find all the secret areas when you hide from the seekers!
Hide & Seek Jungle
This map will make you want to literally visit a jungle. It has an exemplary attention to detail and makes you feel like you belong deep in nature just because of the vast forest of life that surrounds you. Find your own little alcove as you look for hiding spots, and try to reach those hanging houses! That's right! Hanging Houses.
Tinker's Toystore
Everyone loves a Christmas map, especially one in a store! Explore around the place, which is a perfect place to meet Santa, as well as hunting for your own gifts in the Warehouse! Plenty of places to hide, it's a great map!
One Percent Hide & Seek
If you'd like to see how rich people live then you'll want to try some hide and seek in a one percenter's mansion! This is a huge home with a large backyard and front area where you can hide all over the place. So take in the sights as you look for a place to hide yourself.