If you're having trouble getting into the outdoors right now, then it might be worth heading into Fortnite for some fun with friends! What better way to spend time with each other than to play a rousing game of hide and seek. There are a lot of great maps out there that allow for this kind of fun, so we're taking a look at the best hide and seek codes available!
Best Fortnite Hide and Seek Maps Codes
Best Fortnite Hide and Seek Maps List
The Fishy Mansion Hide and Seek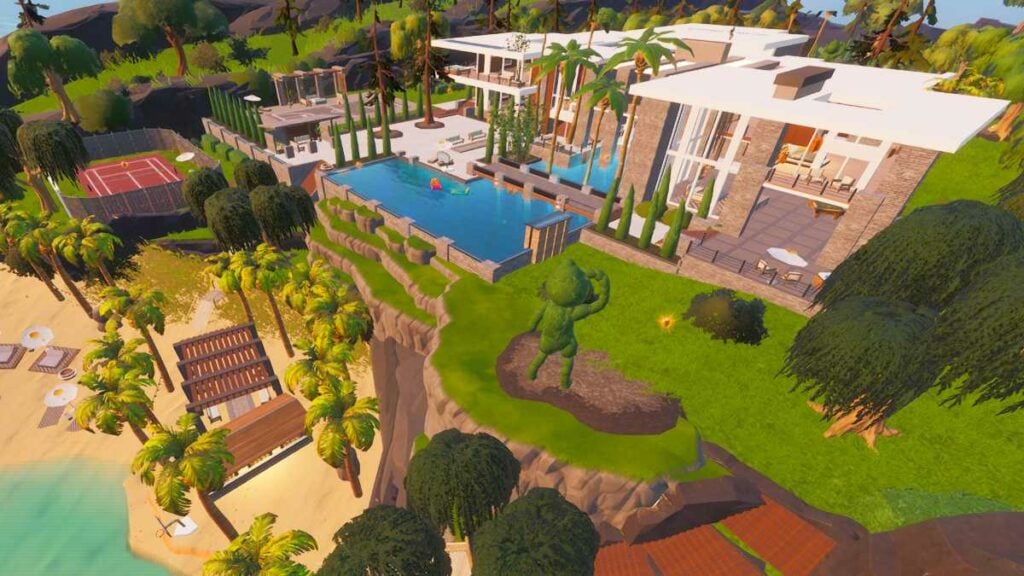 The Fishy Mansion Hiden & Seek Map Code: 0436-7111-2174
This is one of several maps created by Fatal Creations, who has made some of the most popular Hide & Seek maps of all time. It is packed with great hiding spots for hiders, so seekers will find it to be more of a challenge than other maps. Because of its lasting popularity, players will usually find at a couple other players in public matches. So, you'll be able to join a quick game of hide and seek, even without a party!
City Park Prop Hunt
City Park Prop Hunt Map Code: 4760-0262-7171
One of the oldest and most popular Prop Hunt maps is still standing strong! Since the map was first released in 2020, City Park Prop Hunt remains consistently filled with players that are looking for a classic hide-and-seek experience in Fortnite. If you don't have a party to play with, this is the ideal map to join—random people will always be ready to play without need for a setting up a group.
Mountain Mansion Hide & Seek
Mountain Mansion Hide & Seek Map Code: 3548-1991-7161
This map was released during Fortnite Chapter 2, and it became an instant hit among the Fortnite Creative community. Since then, it has been updated to be up to standards for Fortnite Chapter 3, giving it a refreshed hide and seek experience but with the same popularity as the old map. With Mountain Mansion Hide & Seek, you'll have plenty of people to play with due to its already established fame, but with a map built to accommodate to the newest game mechancis!
Hunted
Hunted Map Code: 9664-2134-4038
Work together with a team of other survivors in this asymmetric Hide & Seek game that draws heavy influence from games like Evolve and Dead by Daylight. On this map, you play as the hunter or as the survivors. As a survivor, you must work with the other survivors to complete objects and escape the map before the Hunter eliminates you. As the Hunter, you stop at nothing to prevent your victims from escape.
Borderlands Infection Hide & Seek
Borderlands Infection Hide & Seek Map Code: 4819-8403-7360
Don't judge a map by its title: even those of us who aren't avid fans of the Borderlands franchise will love playing Infection Hide & Seek on this map. The overall level design is not the only thing that puts it on our list of the best recent Hide & Seek maps. The incredible functional design make it easy to get lost in this creative map for hours on end. This map is quickly rising to be in the running for one of the best Hide & Seek maps of the season!
Modern City Hide & Seek
Modern City Hide & Seek Map Code: 7477-6379-1293
Although it was released before the parkour mechanics were introduced in Chapter 3 Season 2, Modern City Hide & Seek is the perfect parkour hide and seek map. You are placed in the middle of city with plenty of buildings and construction going on all around you. Construct sites, as it turns out, are perfect for parkour and hiding from seekers. If you think you're about to be found, you can always try to use your parkour skills again to make a hasty getaway!
Mansion Mayhem Hiding Game
Mansion Mayhem Hiding Game Map Code: 7035-2787-5434
This is a remake of the classic Mansion Mayhem creative map that was released in Chapter 2. While the map seems to be overly simple, it has a huge amount of hidden spots that prove to be a challenge for the seekers to find. This map is heavily favorable for the Hiders, but it still remains strong as a classic, enjoyable map. The video below shows a lot of good spots for the old version of the map, but after checking out the map, we have determined that a lot of them are still there!
Hide & Seek Among the Pharaohs
Hide & Seek Among the Pharaohs Map Code: 7477-6379-1293
This is a map for people who like to explore. It is a large map with several areas that you can investigate to find the best hiding spots. Keep getting found in one area? Try another part of the massive map. Hunters are in for a challenge in this map, and they'll have to keep a keen eye open if they want to find all the seekers across the vast expanse of this desert oasis.
Prop Hunt - Wizards Great Hall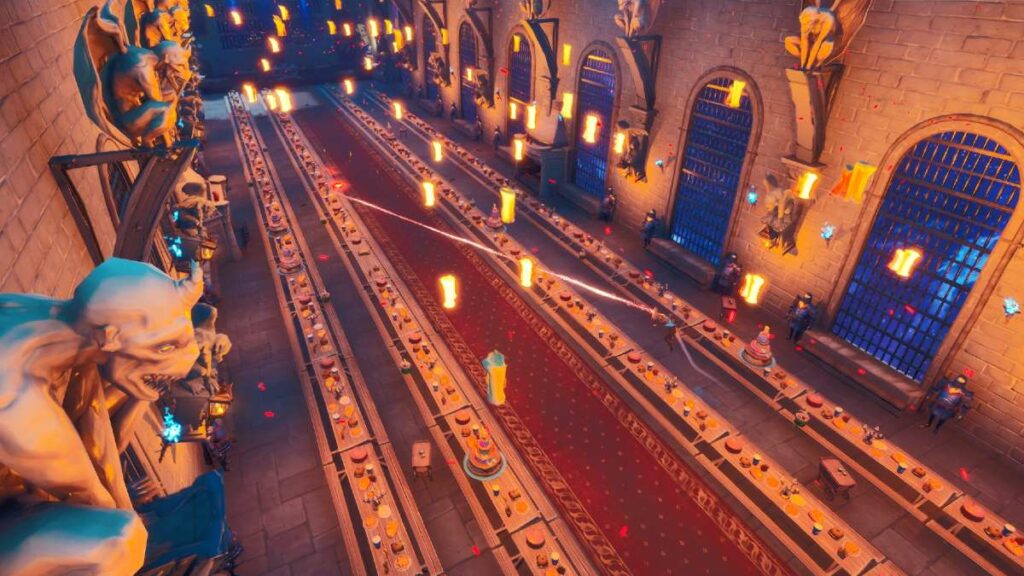 Prop Hunt - Wizards Great Hall Map Code: 1474-2507-3173
Harry Potter fans rejoice! There is finally a Prop Hunt Fortnite map that is based on the popular franchise, and it's of great quality. Up to 50 witches and wizards can play on this map, and the hunters (called Death Eaters) have special magic abilities that give them more of an edge. If you cast your spells at the right time, you can outsmart your opponents and catch them (or get away from them). Basically, this is a Prop Hunt game with abilities!
Alice in Wonderland Hide & Seek Map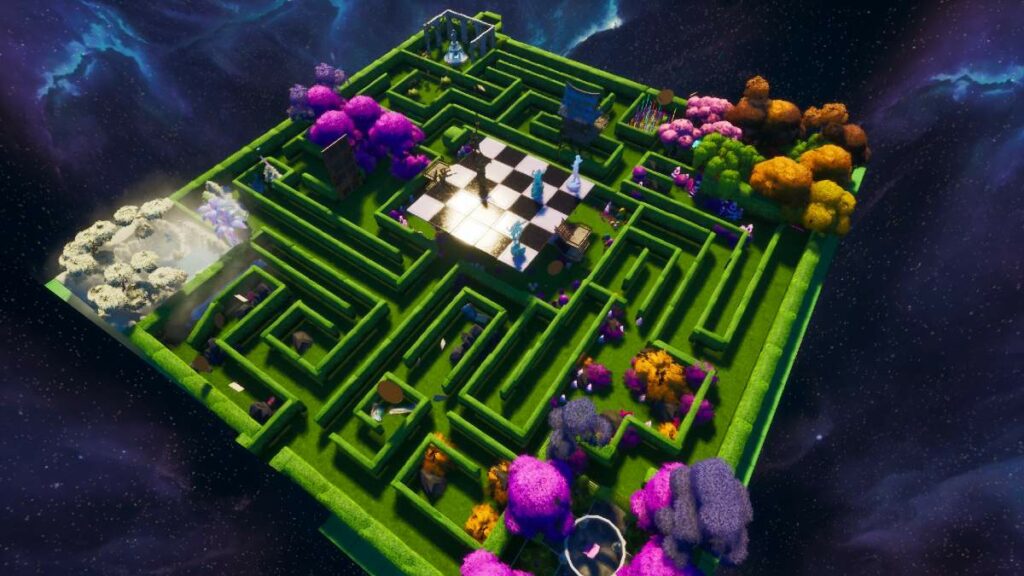 Alice in Wonderland Hide & Seek Map Code: 4816-5553-6324
The Props that Stole Christmas