Our Fortnite Zone Wars Codes List features some of the best level options for players looking to practice for endgame situations. This map type basically simulates the boxing, snaking, and tunneling style of play that is required in late games of competitive games. If you want to get better at that in a focused way, then these maps are a good way to do it.
How-to Use a Creative Code
Once you load up the game you will be given the three options on what you want to play (Save the World, Battle Royale, and Creative). Click the creative option and then click PLAY and then CREATE (don't start a server if you want to play solo).
Once it has loaded, you will see an Orange Rift that will take you to islands where you can create custom maps. We don't want this right now, so look around for the featured portals. Fortnite now puts you in a custom portal area, so you might need to seek it out a bit. Find the portals with the console in front of them and interact with one.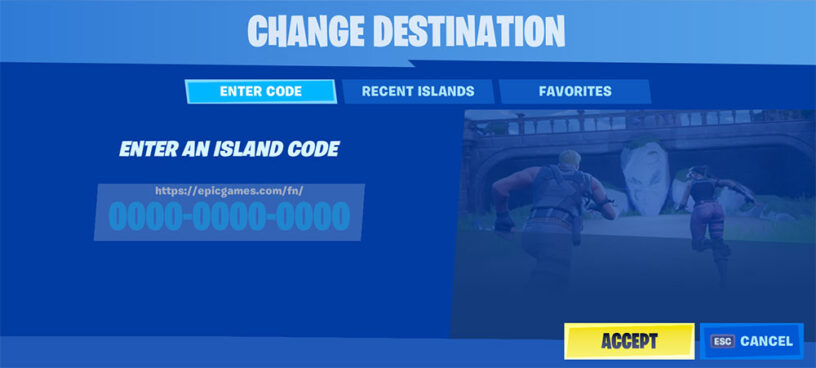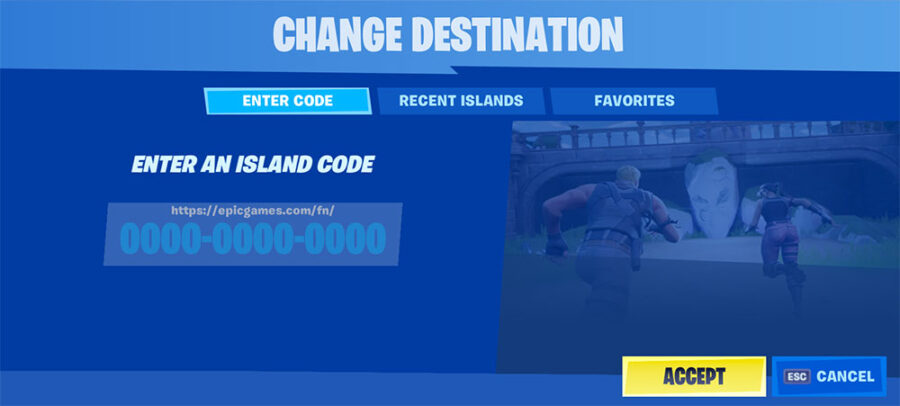 From here you can either select one of the codes you've added to your favorites, or you can paste a code you have at the end of the URL. Click "Accept" and it will load up the island of your choice. You can then run into the rift and it will transport you to it!
Fortnite Zone Wars Maps List
Here's our list of Fortnite's Best Zone Wars Map Codes:
I will be going into more detail below on each of these maps and including some videos that should explain more about the course when necessary!
COMPETITIVE Realistics 1v1 - 4v4
This is a code used by pro players to get some practice in real world type situations. There's no RNG or random loot, mid-game fights only, and Storm Surge. If you want some legitimate practice in competitive type games, then this is a great map for you.
Zone Wars - Mini Resort (No RNG)
This is a simpler Zone Wars map, but it does everything quite well! It has the whole island summer vibe going for it, so you can get in the spirit of the Season 3! There's no RNG, so you don't have to worry about your opponent's getting more powerful weapons than you. The island is on the sparser side, so there's not a lot of natural stuff to take cover behind, so make sure to manage your resources or you could get taken out!
Tilted Towers Zone Wars
A lot of players miss Tilted Towers which is one of the classic locations that was so popular in the Chapter 1 version of the map. If you want to relive those days, this is a good option for experiencing it again while working on your fight strategies.
Donnysc's Ice Mountain Zone Wars
If you want a very clean course with some mountainous terrain to practice against then this is a good one! I watched Bugha playing on this code which made it look pretty nice to play on!
2x Zone Wars
A good mix of realistic gameplay and well-balanced loadouts combine to make one of the most fair versions of Zone Wars you can play in Fortnite!
Evoked's Team Zone Wars
One of the most popular Zone Wars maps for pro players, it's a no frills option that just pits you against others with a pretty standard loadout. Head into this game against another duo, trio, or squad and battle it out to see who is the best!
Geerzy's High-Speed Hotdrops
This is a really interesting option to tryout, because it's not your traditional Zone Wars style of map. It's a Pleasant Park like area where you spawn in the air and basically hotdrop into for a quick match with 2-16 players. It gives you more of an early game feel that will allow you to practice getting into quick fights.
Zero's Vortex Zone Wars
This is one of the most realistic Zone Wars maps you can find. The storm moves around randomly, it shrinks, and it will eventually close entirely. The spawns are also random, so you'll be in different places on the map in every round. The loadout you start with is also random, so you won't always have an ideal set of weapons which is representative of the real game.
Enigma's Zone Wars Maps
Enigma makes quality maps and his Zone War options are some of the best. There's three that were recently updated and have all of the recently added Creative benefits from Season 10. So, if you're looking to change things up and have some different options to play, these are going to be a great place to start.