Our Fortnite Zone Wars Codes List features some of the best level options for players looking to practice for endgame situations. This map type basically simulates the boxing, snaking, and tunneling style of play that is required in late games of competitive games. If you want to get better at that in a focused way, then these maps are a good way to do it.
Fortnite Zone Wars Maps List
Here's our list of Fortnite's Best Zone Wars Map Codes:
I will be going into more detail below on each of these maps and including some videos that should explain more about the course when necessary!
Do you have a Fortnite Zone Wars Course you love? Send it to us at [email protected] with a description of why and we'll add it to the list while giving you credit!
Fox Clan Zone Wars
This is one of those maps that hit the list almost solely because of how well-made it looks. Ducc's maps are usually grand, but this one certainly makes it to the top of our list. This map uses current Battle Royale loot and realistic zone placement and movement. It's also boasted to have been made for Season 6, which was just released!
Sandman's Box Zone Wars
Established map-maker iiiSAndman is back with another great map! In Sandman's Box Zone Wars map, you're pitted in an enclosed, fast-paced environment against other players. The only weapons available are shotguns (Pump, Charge, and Tactical), so you'll have to think fast when you enter the match. Eliminate or be eliminated.
Zone Wars: Chaos Dome V2
If you remember the original Chaos Dome map, you'll see what a huge improvement this map has made. It mixes with classic Zone Wars experience with a confined play area and a weapon loadout that's constantly changing! You'll need to be quick on your feet and ready to adjust to different play styles throughout each match. If you think variety is the spice of life, then this map is for you!
Synchronized Zone Wars
This map makes use of a rare game mechanic called the Storm Surge. Once this feature is activated, any player in the round that has not eliminated another opponent will take 25 damage every five seconds. This means that this map is perfect for people who like to be in the heat of the action and don't want to sit around waiting to steal the kills of people crossing their paths. Make your way to the top of the 16 players this map allows!
OG Fastest Realistic Solos
This map keeps you on your toes by not only cycling your spawn points, but also other POIs as well. As the title suggests, you'll be playing this map by yourself against as much as 15 other players! Standard is the name of the game for this fresh, popular map. If you like to join the fray as fast as possible to shoot and loot, this is the map for you this month.
Exiled Zone Wars
For those of you that enjoy the aesthetics of a match and playing in new atmospheres on the regular, this is a good map to try. Take a trip back to the dinosaur eras and fight amongst a wasteland of bones and desert. This map uses life siphon and random loot spawns, so think fast and act on your intuition!
Town Zone Wars
This is a very simplistic small map, and of course, the Storm will close in on your pretty quickly! The backdrop is of two opposing houses, so basically you are creating a fort that is your very own Town! It might seem familiar to those who have played Call of Duty: Black Ops, as it has a resemblance to Nuketown. It's a war between towns, who's going to win?!?
Box Fight [1v1 2v2 3v3 4v4]
This is exactly what it sounds like in the title, the room is a box. This map is perfect for those who want to train competitively, in a set area, not an entire map. Here you can train your tactics and methods to become the best of the best. It's truly a great map!
COMPETITIVE Realistics 1v1 - 4v4
This is a code used by pro players to get some practice in real world type situations. There's no RNG or random loot, mid-game fights only, and Storm Surge. If you want some legitimate practice in competitive type games, then this is a great map for you.
Zone Wars - Mini Resort (No RNG)
This is a simpler Zone Wars map, but it does everything quite well! It has the whole island summer vibe going for it, so you can get in the spirit of the Season 3! There's no RNG, so you don't have to worry about your opponent's getting more powerful weapons than you. The island is on the sparser side, so there's not a lot of natural stuff to take cover behind, so make sure to manage your resources or you could get taken out!
How-to Use a Creative Code
Once you load up the game you will be given the three options on what you want to play (Save the World, Battle Royale, and Creative). Click the creative option and then click PLAY and then CREATE (don't start a server if you want to play solo).
Once it has loaded, you will see an Orange Rift that will take you to islands where you can create custom maps. We don't want this right now, so look around for the featured portals. Fortnite now puts you in a custom portal area, so you might need to seek it out a bit. Find the portals with the console in front of them and interact with one.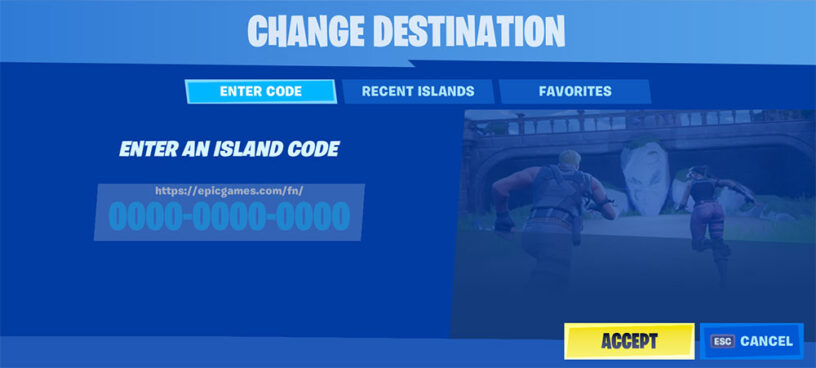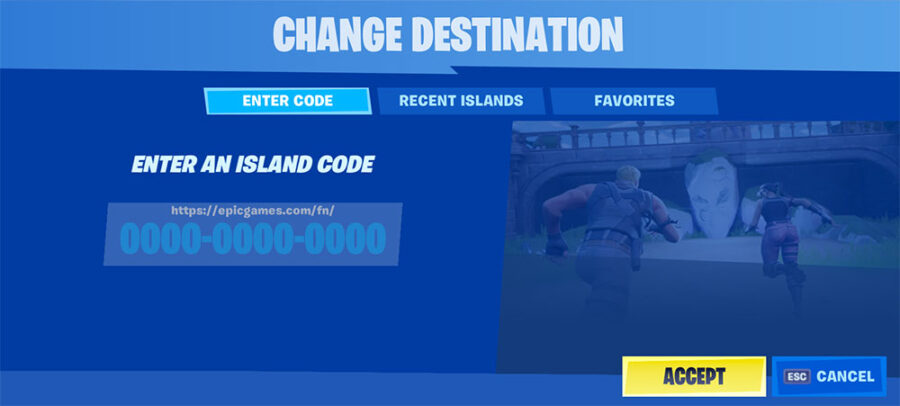 From here you can either select one of the codes you've added to your favorites, or you can paste a code you have at the end of the URL. Click "Accept" and it will load up the island of your choice. You can then run into the rift and it will transport you to it!