If you're tired of waiting for Halloween to get your fix on some scary stuff in Fortnite Creative, then we're taking a look at a great bunch of maps that will send chills crawling up your spine! Our Horror Map Codes post focuses on maps that you can either play solo or with friends that take on a spooky atmosphere that will hopefully have you on the edge of your seat. None of these are too scary, so don't worry about having nightmares. However, some of these might give you a fright, so only play them if you're up for it!
How-to Use a Creative Code
Once you load up the game you will be given the three options on what you want to play (Save the World, Battle Royale, and Creative). Click the creative option and then click PLAY and then CREATE (don't start a server if you want to play solo).
Once it has loaded, you will see an Orange Rift that will take you to islands where you can create custom maps. We don't want this right now, so look around for the featured portals. Fortnite now puts you in a custom portal area, so you might need to seek it out a bit. Find the portals with the console in front of them and interact with one.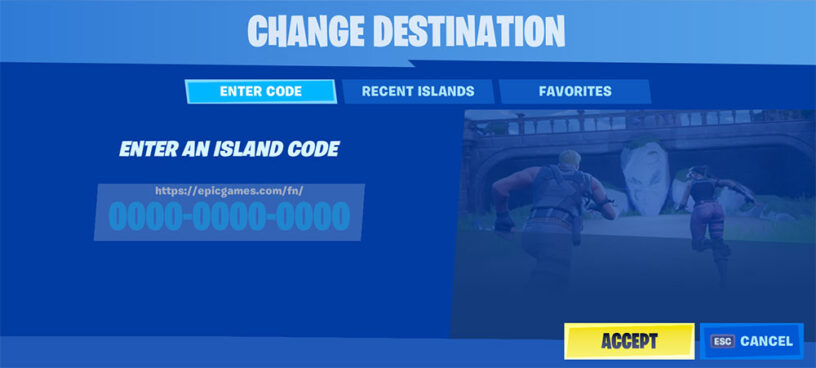 From here you can either select one of the codes you've added to your favorites, or you can paste a code you have at the end of the URL. Click "Accept" and it will load up the island of your choice. You can then run into the rift and it will transport you to it!
Fortnite Scary/Horror Maps List
Here's our list of Fortnite's Best Horror Map Codes:
I will be going into more detail below on each of these maps and including some videos that should explain more about the course when necessary!
Pine City: Afterlife
If you're really looking for a creepy vibe and some scares then this might be the best option for you! Your character starts out after a car wreck and needs to make their way through a spooky forest. You will eventually find yourself in some kind of mansion and that's where things start to go haywire. There's supposed to be multiple different endings in this map, which makes it replayable if you're looking to get that true ending!
Halloween Story
This is a great little themed map that has you exploring a seemingly haunted area for pumpkin tokens. Each level has a certain amount you need to track down so you use your torch and flashlight to find them, but beware of scary things lurking around the corners! There's some monsters to avoid and you will need to bring a bit of parkour skill if you're looking to finish this because some of the tokens are hard to get! If you're struggling at all with this map, check out the video below that will help you get to the end!
Quiet Place
You can play this one with friends or by yourself! This has you attempting to save the Quiet Place from an evil spirit. To do this you will need to go into rooms and find props that only appear in the room a single time. Each time you make an incorrect guess, you will take damage! If you reach 0 shield you lose the game! Once you find the item, offer it to the spirit to move onto the next room. Complete each room to save the Quiet Place from the bad guy.
Evil Awaits Lucy
You've been hoping to get a chance to babysit Lucy and you've finally gotten your opportunity! Well, that might not be so great because some spooky occurrences start to happen once you start the job. Delve into this single player story that becomes a pretty creepy mystery by the end. This one has some jump scares, so either be ready for those or turn out the lights and make sure you've got headphones on to get the full experience! It sounds like there's plans for more parts to this one, so you can look forward to some additional maps based on this story in the future.
The Scarecrow Series
Delve into the story of the Scarecrow series that will take you through three chapters of frightening levels that have a consistently creepy atmosphere and tell the story of a person's journey of attempting to escape from the evil Scarecrow! These maps can be legitimately scary when you've got your headset on and the lights down due to the dark rooms you are put in. Look out for jump scares and loud noises!
Chapter 1: Walkthrough
Chapter 2: Walkthrough
Chapter 3: Walkthrough
The Story of Oliver Whitlock
This one isn't super scary but it sets up a pretty tense atmosphere that will get you quite jumpy. There's a bit of spookiness in it, but I would call it more of a thriller than anything horror. However, this is such a standout to me that I figured I'd include it on this list. For one, it's well written which I have found to be pretty rare in these maps. It has a pretty good story, and it challenges you to figure things out! So, while I think you should try to avoid this as much as possible, I've included a video with a walk-through below if you get stuck!