If you're looking to test your knowledge and solve your way through some new maps, then we've got some of the best Puzzle Map Codes that you will come across. I recommend trying to figure these out before looking for solutions! The most fun part about these is solving something that appeared to be difficult originally. However, if you do get stuck, we've included videos on how to complete each one.
How-to Use a Creative Code
Once you load up the game you will be given the three options on what you want to play (Save the World, Battle Royale, and Creative). Click the creative option and then click PLAY and then CREATE (don't start a server if you want to play solo).
Once it has loaded, you will see an Orange Rift that will take you to islands where you can create custom maps. We don't want this right now, so look around for the featured portals. Fortnite now puts you in a custom portal area, so you might need to seek it out a bit. Find the portals with the console in front of them and interact with one.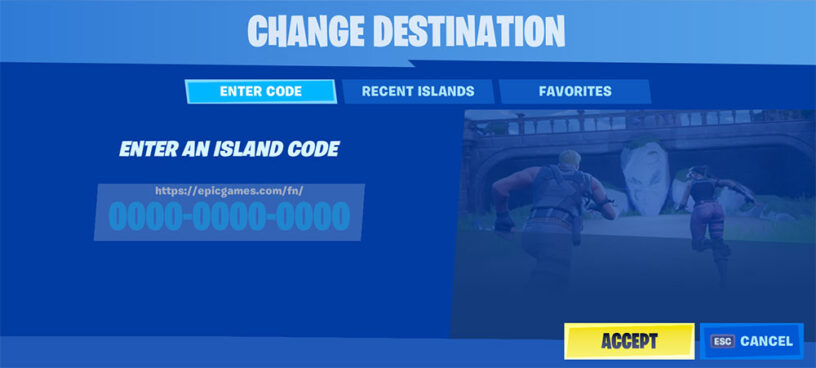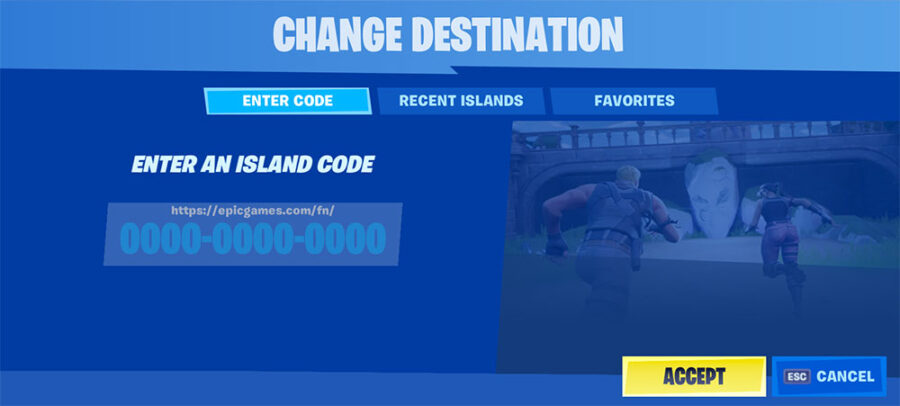 From here you can either select one of the codes you've added to your favorites, or you can paste a code you have at the end of the URL. Click "Accept" and it will load up the island of your choice. You can then run into the rift and it will transport you to it!
Fortnite Puzzle Maps List
Here's our list of Fortnite's Best Puzzle Map Codes:
I will be going into more detail below on each of these maps and including some videos that should explain more about the course when necessary!
---
Do you have a Fortnite Puzzle Map Course you love? Send it to us at [email protected] with a description of why and we'll add it to the list while giving you credit!
---
Detective Stories: Isabelle Map
If you've ever wanted to take the role of a detective then this map has what you need. This is a bit different than the others, because it tells kind of a story and you'll need to use clues that you find to solve the mystery! What you need to do to complete this map will be to take a look at all of the clues and then answer a series of questions. So, make sure to read all of the text prompts, so you have the answers.
The Zombie Shepard
This is another interesting option, because it's again not a traditional puzzler. Instead of looking around to find hidden clues or solve mysteries, this one has you attempting to bring zombies through a maze of sorts. You'll need to figure out how to get the zombies to a particular area so you can shred them with a mini-gun! This is a lot harder than it sounds, because the obstacles will require some patience to get through.
A Riddle Through Time
Time to solve some riddles, find hidden locations, and travel throughout time and get through each part of the map. There's a whole variety of different things you'll need to answer to make it through this map, which will test your reading ability and problem solving skills. If you're looking for a true test of your puzzling skills, this might be one of the best options for you!
Diversity Escape 1
Get your observation skills out, because they will be required to solve the puzzles in this map. You will need to look around each area for buttons and pads that will unlock the next area. These buttons are placed in locations with a diverse set of landscapes, so make sure to pay close attention to anything that looks out of the ordinary! You'll also need to make sure your parkour skills are up to snuff, because some of these locations require some precise jumps.
The Room Puzzle Map
This is a little on the scary side, but it's quite a puzzler and will have you doing some figuring out to complete it. You start off in a room, and you will need to make your way through various corridors and areas by figuring out how to unlock them. There's some enemies around, so make sure to check around corners and take them out before they get you!
Jurassic Park Escape Map
Make your way through a complicated jungle while dodging escaped dinosaurs! This is a little less puzzle based, but you'll still need to find hidden spots to make it through obstacles and get out of the park in one piece! You'll need to search around each area and make sure not to leave any stone un-turned because the solutions can sometimes be pretty well hidden.