If you're looking to test your knowledge and solve your way through some new maps, then we've got some great puzzle maps for you to try. Puzzle maps are one of the most popular map types in Fortnite, and they cover a wide variety of game styles, such as Escape Rooms, quizzes, or finding hidden objects.
In our list, we provide the best recent puzzle maps available and only choose the ones that stand out in some way. Whether it's because of their clever design, difficulty, or uniqueness—you're sure to find something you like!
Best Fortnite Puzzle Map Codes List
Best Fortnite Puzzle Maps
Escape Room - Puzzle
Escape Room - Puzzle Map Code: 9782-7787-4157
The Prison Escape Room has been a trending map in the Fortnite universe for the past few weeks. It is mainly due to the high quality of content on the map compared to other rooms of the same genre. As of now, there are 30 levels on the map, each requiring several hours of dedication to solving. Also, unlike other prison puzzle maps where most puzzles revolve around bringing X object or killing Y opponent, the puzzles here are more observation and stealth-based, bringing a new dimension to the stale prison escape genre. We highly recommend the map to people who adore stealth and assassin-style games.
Duo Deathrun - Cyber Puzzle
Duo Deathrun - Cyber Puzzle Map Code: 9259-8703-2390
Deathrun and puzzle maps are two extremes. But, Fhsupport has tried to merge both genres through his latest map Cyber Puzzle. Here, players must parkour and cross certain stages of the map like a deathrun game mode. At other times, they need to solve some puzzles to open the next set of deathrun terrain. It is a fun map and should be definitely played by fans of both game modes.
The Story of a Thief
The Story of a Thief Map Code: 8113-1665-1273
The story of a thief is an escape room puzzle with an exciting storyline. As the name suggests, you dawn the role of a thief whose aim is to steal valuable jewelry and save the NPC Jonesy. To achieve this objective, you need to penetrate mansions with high security, ride a train and explore various locations to find clues. The actual best part is that the game has multiple endings to its story! Enjoy the game alone, or take three other friends on this epic adventure.
Escape the Matrix
Escape the Matrix Map Code: 2853-0981-6506
Unlike other escape room puzzle map that usually has one or two gameplay elements like fighting or parkouring, Escape the Matrix incorporates more than five different elements into its core gameplay mechanics, making it one of the most complex escape room in the Fortnite ecosystem. As a player trapped inside a virtual matrix, you must solve puzzles, fight enemies, drive safely around the maze, and indulge in many such activities to escape the curse. It is a very challenging escape room and requires a lot of skills to finish the entire game. Do check the room if you want a formidable puzzle room experience with various gameplay elements.
Escape Room: Claustrophobia
Escape Room: Claustrophobia Map Code: 8907-1015-4245
Claustrophobia is an escape room set inside an underground prison. The story revolves around you identifying the reason behind your imprisonment and the various dark forces guarding the area. You traverse this storyline with the help of multiple quests that involve you taking down guards, exploring spooky areas of the prison, and plotting an exit route out of the underground. It has everything you need in an escape room map with great action set pieces, puzzle elements, and a gripping storyline. We highly recommend the map to players who want an eerie experience with action elements.
10 Holiday Escape Room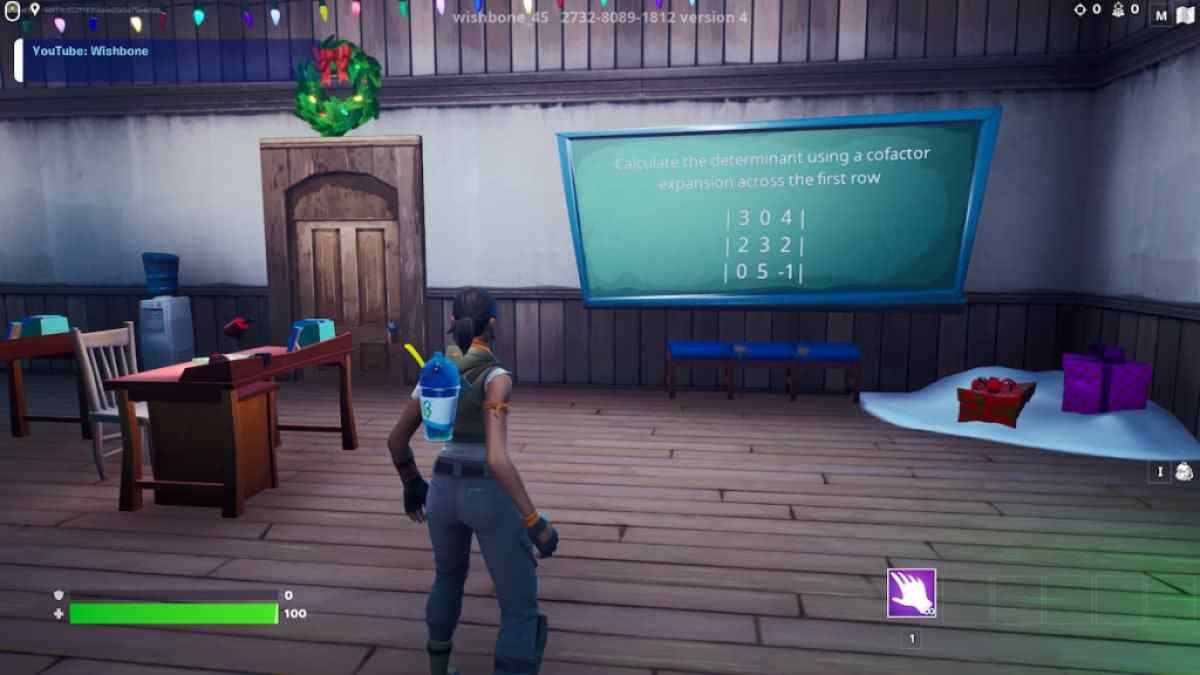 Find the Button Map Code: 2732-8089-1812
It's the holiday season, and what else can be more exciting than playing a Fortnite creative map based on the winter theme? Wishbone 45 exactly helps you to bring that notion into motion through his latest map Holiday Escape Room which features ten different levels with increasing difficulty. Also, unlike traditional puzzles that mainly involve users moving some parts or locating some hidden pieces, the riddles here revolves around mathematical calculation and tricky question, making it a unique map to the regular ones.
Cruise Ship Escape Series
Cruise Ship Escape 3 Fortnite Code: 2798-4561-6810
Cruise Ship Escape 2 Fortnite Code: 4816-5359-0327
Cruise Ship Escape 1 Fortnite Code: 6697-1781-1082
The Cruise Ship Escape is an engaging three-part puzzle room series revolving around the story of a sinking ship. As a passenger, you must solve the various puzzles using clues and make a way out of the sinking boat. Though the premise is the same in each chapter, the puzzle elements are unique and varied from each other. As a consequence, you never feel like you are playing the same game three different times. We recommend you check out the Cruise Ship Escape series if you are a fan of eerie environments and ships in general.
Escape the Experiment
Escape the Experiment Map Code: 8775-5301-3982
Escape the Experiment is another masterpiece by the popular mod creator Wishbone 45. Similar to the Cruise Ship Escape Room, this one also has a superb story setting between its layered puzzle-filled gameplay. Someone has captured you from your house as part of a science experiment and placed you inside a dense jungle. Using all your intellect, you must get out of the jungle by solving the various puzzles around the forest. As you progress along the campaign, the puzzles will keep on increasing in difficulty but will never reach a point that may irritate or confuse you. If you are looking for a good puzzle game with story elements, do check out Escape the Experiment room.
Find the Button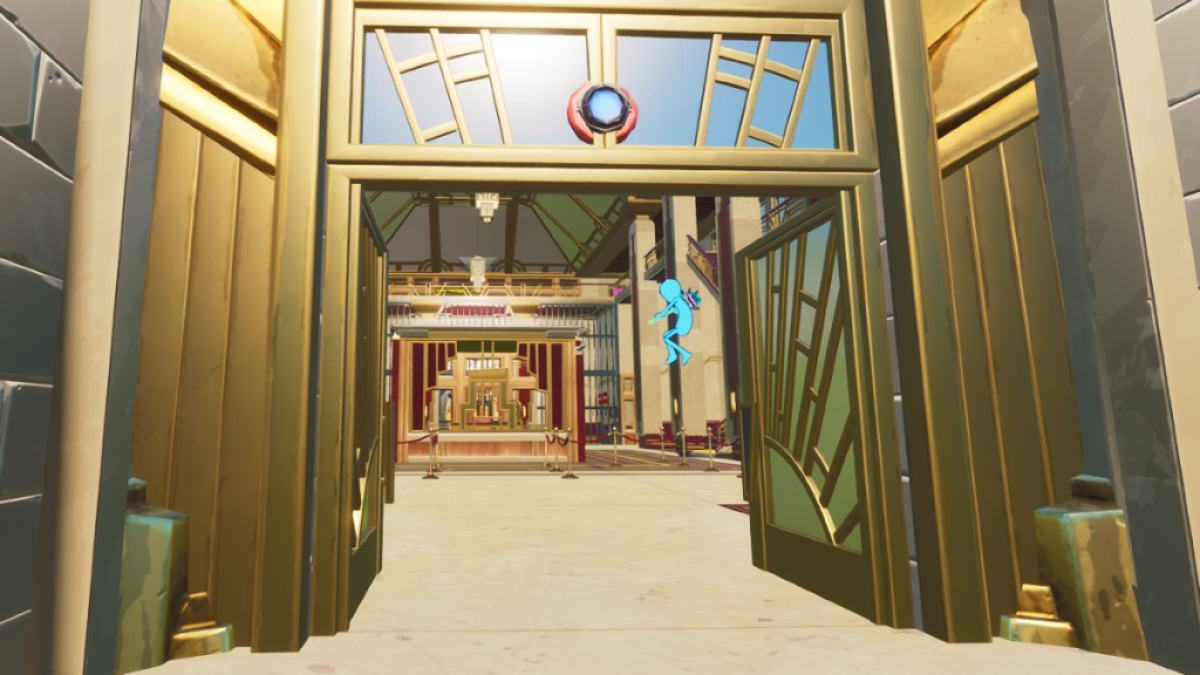 Find the Button Map Code: 8567-7983-0373
One of the classic puzzle games of Fortnite has come back with this new themed Find the Button map. You're stuck inside a bank and the only way to get out is to find the button that unlocks each door. Find the Button maps are less focused on intricate puzzles and put more emphasis on spatial awareness, reading between the lines, and looking between the props. Can you find all of the buttons and escape the bank?
Detective Stories Saga
Detective Stories Saga Part 1 Map Code: 1268-5357-8081
Detective Stories Saga Part 2 Map Code: 4540-8217-9757
Detective Stories Saga Part 3 Map Code: 8276-4374-6091
Detective Stories Saga Part 4 Map Code: 1835-8062-7283
Experience a new perspective on puzzle maps in this story-rich series that places you in a noir detective story. Investigate crimes and interrogate NPCs to determine the truth behind the mystery, and use any equipment at your disposal to uncover what the NPCs aren't telling you. Can you discover what truly happened to Isabelle Russel?
Daily Puzzle Escape Rooms
Daily Puzzle Escape Rooms: 0597-2201-5280
This map features a series of escape rooms that were released one day at a time. It was published during Chapter 3 Season 2 and all the daily puzzles have been added, so no future updates are currently planned. But, that doesn't make the map any less fun! As an all-in-one map, it takes a step above the rest by offering seven individual puzzles of varying difficulty. Don't assume you've completed the map just because you escaped a single room!
Related: Fortnite Warm Up & Edit Courses List – Best Practice Maps! (January 2023)
The Hudson Mansion
The Hudson Mansion Map Code: 4293-5026-9534
Player beware, you might not be able to finish this map. Not because it's too difficult, but because you might be too scared to move on. The Hudson Mansion features plenty of jumps scares to put you out of your element, making it difficult for you to focus on the puzzles spread throughout the house. Your only goal is to escape, but you might not be able to solve the deadly puzzle traps holding you back.
Escape Room - Witch House
Escape Room - Witch House Map Code: 0843-7298-3578
Witch House brings is an eery escape room make that puts you in the middle of your own spooky fairytale. A witch has trapped you in her home, and your own chance of survival is your own cleverness. Can you master the elements of magic and use her own power against her to escape her deadly house?
Related: Best Fortnite Roleplay Map Codes (January 2023) – Creative RP Maps!
The Towering Inferno
The Towering Inferno Map Code: 1941-6128-6815
Having a Detective as a character in a game is often a dead giveaway that the game will be heavily focused on having players investigate clues, solve puzzles, and uncover mysteries. This map is no exception. It could easily be considered the gold standard for Detective/Puzzle maps, even with its (current) lack of popularity. If you are looking for a decent Puzzle map to get you more interested in the genre, then check out this map first!
The Secret of Puzzle Library
The Secret of Puzzle Library Map Code: 4777-2914-5281
This is a difficult map that puts you in a Library that you must find your way through by solving a variety of puzzles. Although the map is a bit glitchy, the puzzles are fun to solve. This map follows a pattern similar to escape rooms, but with fewer code locks to solve. Most of the puzzles in this map (of which there are several different types) require you to draw your own conclusions, which is all too rare in puzzle maps.
50 Ways Out
50 Ways Out Map Code: 5562-0386-0559
What makes this escape room unique is that it doesn't follow a long story for you to unfold as you progress. Instead, it has 50 simple mini-escape rooms that provide a unique challenge with every level. This is a challenging map that forces you to find clever methods to solve 50 distinct problems. If you get stuck while trying to escape 50 times in a row, be sure to check out the video below for help!
Related: Best Fortnite Deathrun maps
Exogenesis: Co-op Escape Puzzle
Exogenises: Co-Op Escape Puzzle Map Code: 8111-8467-7659
The thing that drew us in the most to this map is that you get to enjoy a complex, interesting puzzle with a friend. In it, you must work together and use your combined mental power to solve clues and uncover the mystery of the story. If you're ready for some heavy brain exercise, be sure to grab your smartest friend and try out this map.
Dungeon Prison
Dungeon Prison 3 Map Code: 2523-7785-1762
Dungeon Prison 2 Map Code: 3908-1285-8738
Dungeon Prison 1 Map Code: 6134-1187-5161
This is the third installment to Dungeon Prison, an immensely popular escape room dungeon series. In the series, you are imprisoned repeatedly by a mysterious figure for a crime you didn't commit, and must pull off difficult jumps, discover hidden secrets, and solve complicated puzzles to survive. We have included the code for Dungeon Prison 2 and Dungeon Prison 1 so you can enjoy the whole series!
The Guards Puzzle Keep
The Guard's Puzzle Keep Map Code: 7709-8759-7393
In The Guards Puzzle Keep, you must explore a keep and find a path of escape. Throughout the keep are secret passages and hidden keys you'll need to unlock them. Once you get further into the puzzle, you see a variety of different puzzles that will certainly force you to use your brain. This map requires some serious critical thinking and pattern recognition!
Want to see more great Fortnite maps? Check out our list of the best Fortnite escape room maps and the best Fortnite tycoon maps!