Capture the Flag is a well-known game type, both in person and in games. It almost always appears in games that allow modification, and it's always fun! The premise is simple: Steal the flag from the enemy base, bring it back, and don't get caught! When modded into shooting games, a layer of difficulty is added to this famous classic team battle since you can be taken down from a distance!
Fortnite is no exception. Luckily, we are well versed in Fortnite's Creative Mode and have come up with an excellent list of Capture the Flag maps for you to explore with your friends.
Fortnite Capture the Flag Maps List
That's, of course, just the shortlist. Read on below to see a little bit more detail about each of these great maps.
Capture the Flag - Pirate Edition
On this map, you play on one of four pirate teams who are all competing to be the most seaworthy crew. The only thing better than capturing an opponent's flag is captures an opponent's pirate flag. Raise your Jolly Roger flag and show your opponents that the seas belong to you!
Capture the Llama
Once again, we've found a popular new spin on the Capture the Flag genre. Capture the Llama challenges you to snag a llama before any of the other three times can get to it. On this map, instead of capturing all opponent flags, you're all aiming for one single object in the middle of the map. This map includes six distinct classes for you to choose!
Blood Gulch
You might notice our reference to Halo 3 in the map listed below, but PGG user AwesomeTiger444 steered our attention toward a true Halo 3 Capture the Flag Map! This is a recreation of one of the most popular Halo maps: Blood Gulch. Hit your nostalgic funny bone and re-discover what you've been missing for years. Or, if you've never played any of the Halo games, play some capture the flag on this map to see what made it so great!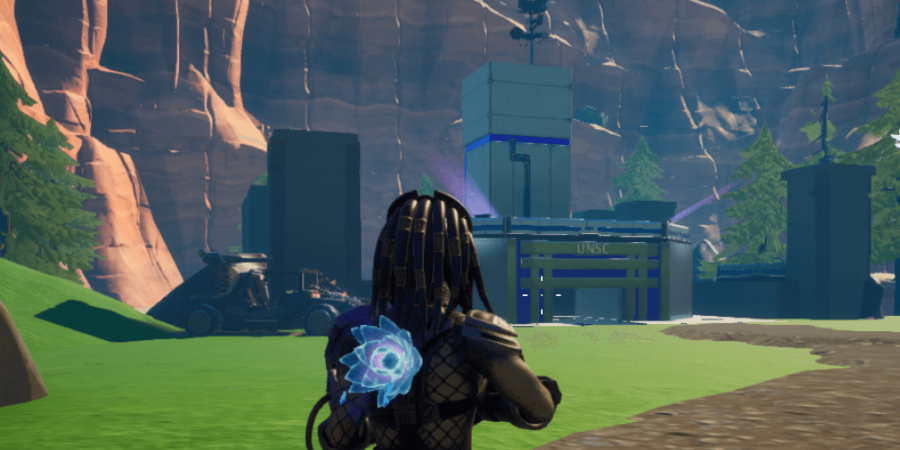 FN-Bombers Capture the Flag Extreme
Capture the enemy team's flag in Space! In this galactic-themed map, you get all the bells and whistles to make the experience extraordinary. You have six classes to choose from and power-ups to collect as you traverse the map. We may or may not be biased towards space-themed maps (in case you haven't noticed the multiple references to Halo on this list), but we guarantee this will be one of the best maps you've played in recent history!
The Passage: Reverse Capture the Flag
For those of us over 30 — Remember playing Capture the Flag on Halo 3? This map will trigger that nostalgic feeling of the classic Red vs. Blue maps you used to play. You'll almost want to buy the Master Chief Fortnite Skin (assuming you don't already have it) to play this map. This map was well designed and is perfect for playing along with some fast-paced rage music. Check it out!
Fire Vs Ice - Capture the Flag
This map is beautiful. You can tell that the creator (popular map-maker Skttlz) put in the excruciating effort to detail to entertain and amaze. It features your raw Capture the Flag game mechanics, challenging players to snag two maps on the opponents' turf and bring them back to base. You'll love exploring this map; just try not to get distracted by how great it looks when you're carrying the flag!
Two Castles - Capture the Flag
This is not the first map to have class selection on the list, but we wanted to give it a special mention because the creator seems to have designed the class selection very well. They're not complicated classes by any means. None of them feel particularly overpowered, which we've noticed can be a common problem with class selection. The map design is straight-forward, functional, and classic, much like the game mechanics themselves. The eight-minute rounds mean you don't lose interest in a match, either!
Greenhouse Capture the Flag!
We wanted to include this map because of its simplicity. If you're looking to party up and drop in for a quick round, this is the best map for it. While having all the bells and whistles on a map can be nice, sometimes you want it to be quick and clean. There isn't a lot to hide behind, as the map is very open compared to the other maps on this list. This adds some challenge if you're holding the flag!
Wizard's Wonderland Capture the Flag
Wizard's Wonderland makes avid use of the Grappler Gun, which we feel is an exciting mechanic in a Capture the Flag game. Clinging your way across the map is a fun feature when you're trying to dodge bullets to net points for your team. In this winter-themed Capture the Flag map, you find yourself on a small map with limited places to hide. That means those Grappler Guns are fun but not overpowering!
Devastation Capture the Flag
We strongly recommend giving this map a shot, if not for the game, at least for the aesthetics. It places you on a decimated block in a ruined city, and you must fight your way to the flag and watch your step on the way back. The environment in this map is dangerous, so you've just got more added to your plate when you're trying to help your team win. Try it out!
How to Use a Creative Code
Once you load up the game, you will be given the three options on what you want to play (Save the World, Battle Royale, and Creative). Click the creative option and then click PLAY and then CREATE (don't start a server if you want to play solo).
Once it has loaded, you will see an Orange Rift that will take you to islands to create custom maps. We don't want this right now, so look around for the featured portals. Fortnite now puts you in a custom portal area, so you might need to seek it out a bit. Find the portals with the console in front of them and interact with one.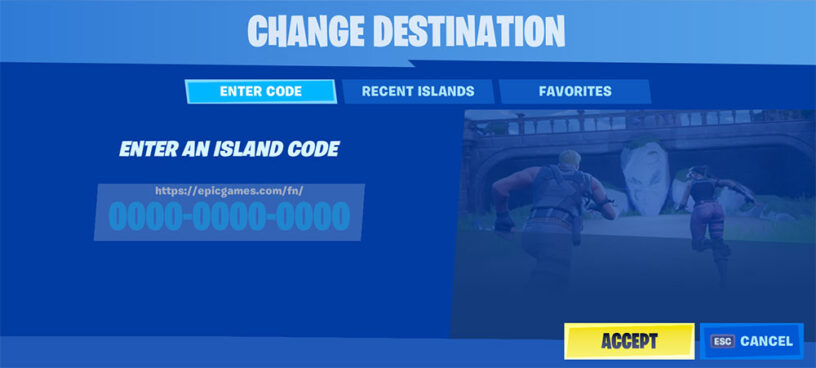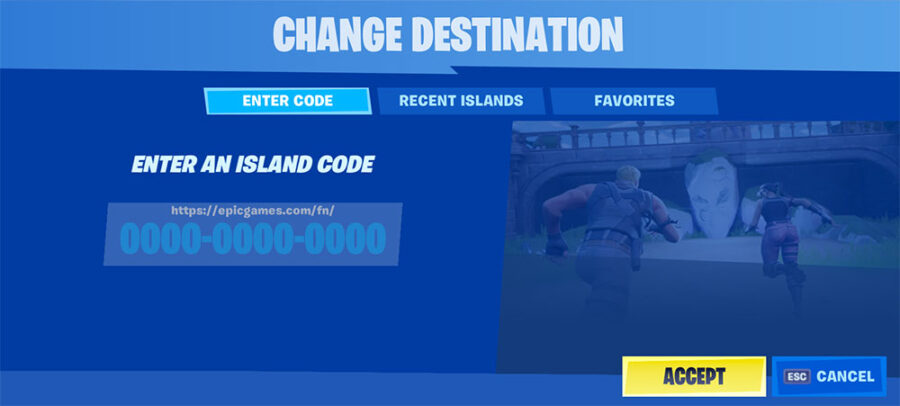 From here, you can either select one of the codes you've added to your favorites, or you can paste a code you have at the end of the URL. Click Accept and it will load up the island of your choice. You can then run into the rift, and it will transport you to the map!