Capture the Flag is a well-known game type, both in person and in games. It almost always appears in games that allow modification, and it's always fun! The premise is simple: Steal the flag from the enemy base, bring it back, and don't get caught! When modded into shooting games, a layer of difficulty is added to this famous classic team battle since you can be taken down from a distance!
Fortnite is no exception. Luckily, we are well versed in Fortnite's Creative Mode and have come up with an excellent list of Capture the Flag maps for you to explore with your friends.
Fortnite Capture the Flag Maps List
Close Encounters CTF - Kami's Lookout: 2349-8788-1195
Nootnu's Halo Maps: Multiple
Temple Garden CTF: 7059-4411-2493
Capture League CTF: 0333-6772-3125
16 Vs 16 CTF/Team Deathmatch: 2305-1432-8599
Capture the Flag - Pirate Edition: 0016-9668-7247
Blood Gulch: 9677-6974-5646
Close Encounters CTF - Kami's Lookout
Code: 2349-8788-1195
Fans of the Anime/franchise Dragon Ball rejoice! There is finally a Capture the Flag map in Fortnite Creative. Even better than that, though, is that it is an exception map that brings skilled acrobatics and close quarters combat to the decades-old CTF game mechanic. You can choose to barge in to the enemy's base to steal the flag, or you can use any of the meticulously placed platforms to bounce, burst, or dash your way in to the base without being noticed!
Nootnu's Halo Maps
Halo: The Pit - King of the Hill Code: 8336-2950-4431
Halo: Battle Creek - Capture the Flag Code: 9563-4573-0185
Halo: Blood Gulch - Capture the Flag Code: 7555-3841-5190
A mapmaker named Nootnu has published three maps based on the classic Halo maps from yesteryear. Although they aren't all capture the flag, we're including all three of them in this list because they're still great maps to play. If you're feeling a little nostalgic for the old Xbox days, get a big party going to give all three maps a try!
Temple Garden CTF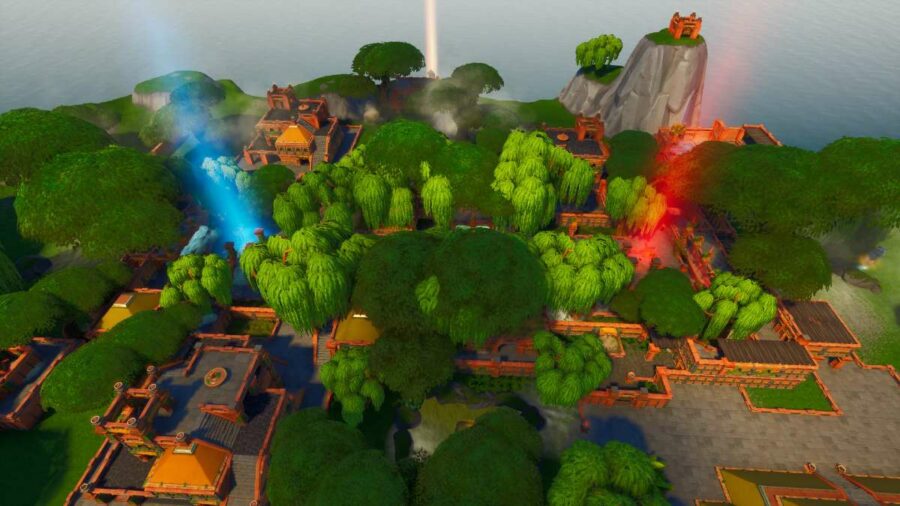 Code: 7059-4411-2493
If you've ever seen the show Legends of the Hidden Temple, this Capture the Flag map may hit your nostalgia button. In this map, you are put in a jungle temple themed battle area and must choose which team you'd like to be on: the Blue Dragons or Red Serpents. Once you do that, you need to fight your way to the other side, take advantage of the gratuitous cover, and return the other team's flag. This is a small map that is heavy on action, especially when you fill out the maximum player limit!
Related: Best Fortnite Deathrun map codes
Capture League CTF
Code: 0333-6772-3125
This is a well designed Capture the Flag map that provides options for play mode and choice of map for its players via a vote system. Once the votes are in (which doesn't take long), players go head to head in their selected game mode. We chose this map as one of the best because it hits all the right boxes for a good CTF map: plenty of choices, high re-playability, and great level-design.
16 Vs 16 Capture the Flag / Team Deathmatch
Code: 2305-1432-8599
The level design may be big and clunky, but this map is perfect for big teams who just want to jump in to the fray and annihilate everything in their path while trying to capture the other team's flag. In this map, you have access to vehicles and equal weapons for all players, which contributes to its balance of fun, simple, and fair. This map is ideal for large parties, as it can host up to 32 players!
Capture the Flag - Pirate Edition
Code: 0016-9668-7247
On this map, you play on one of four pirate teams who are all competing to be the most seaworthy crew. The only thing better than capturing an opponent's flag is captures an opponent's pirate flag. Raise your Jolly Roger flag and show your opponents that the seas belong to you!
Blood Gulch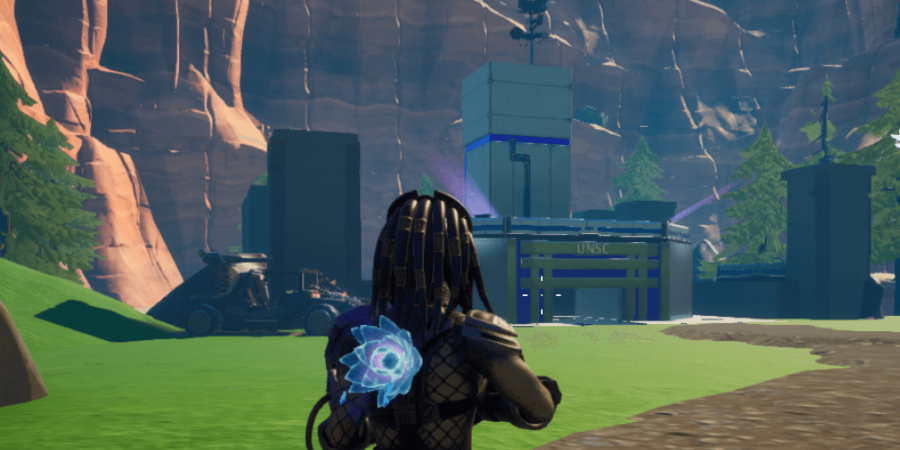 Code: 9677-6974-5646
You might notice our reference to Halo 3 in the map listed below, but PGG user AwesomeTiger444 steered our attention toward a true Halo 3 Capture the Flag Map! This is a recreation of one of the most popular Halo maps: Blood Gulch. Hit your nostalgic funny bone and re-discover what you've been missing for years. Or, if you've never played any of the Halo games, play some capture the flag on this map to see what made it so great!
Want to see some other great Fortnite creative maps? Be sure to check out our list of the best Fortnite Parkour maps and best Fortnite Puzzle maps!