Our Fortnite Parkour Maps Codes List features some of the best and most outstanding parkour style maps that can be found in Fortnite's Creative mode! We've got easier school maps that will help you learn the basics, and also feature some more difficult maps that will really test your platform jumping abilities!
Nowadays, parkour maps are very similar to Deathrun maps, where players need to make extravagant, skillful jumps to progress. What separates them is that Deathruns are typically more straightforward and have a linear path, whereas parkour maps are typically wider and require more planning. Still, there will probably be some Deathrun maps listed below because they prove to have the best of both worlds!
Best Fortnite Parkour Map Codes List
Best Fortnite Parkour Maps
CanDook's Parkour Fun Run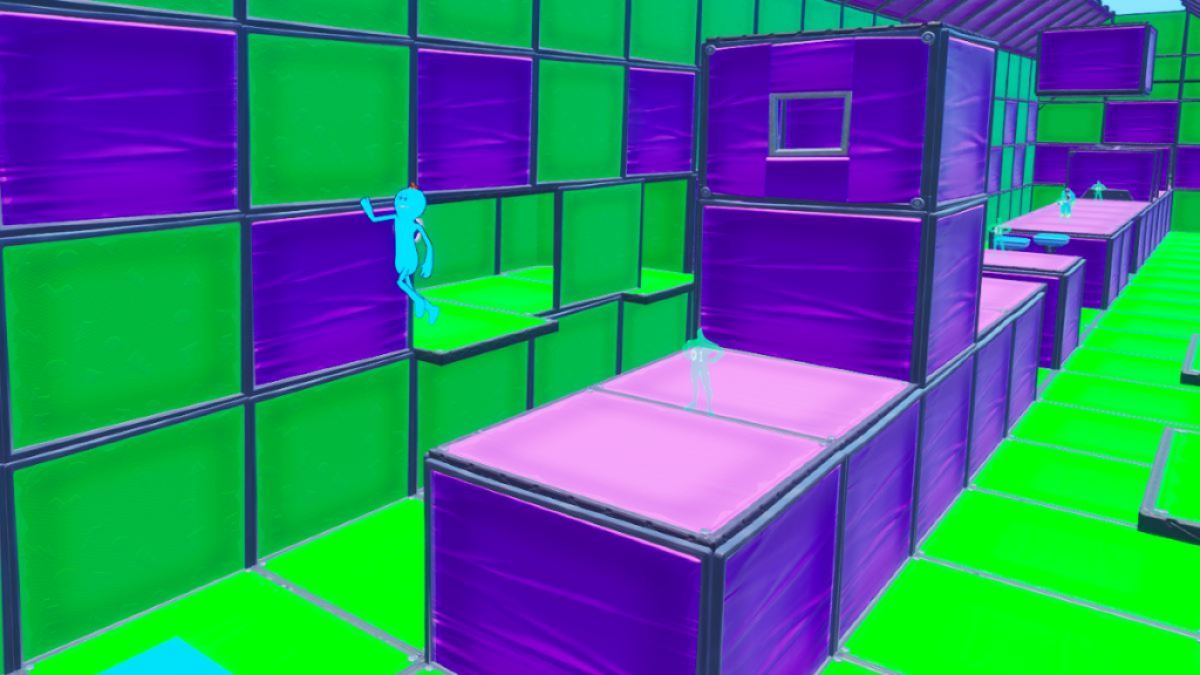 CanDook's Parkour Fun Run Map Code: 1387-7831-4752
CanDook is an extremely popular Fortnite Creator, most well known for their quality Training and Edit maps. This map is one of their best parkour/deathrun maps. What started off as a relatively short map of 75 levels quickly gained enough popularity to get the developer to add more levels. This quality parkour fun run is now over 350 levels!
Fantasy Dream Parkour
Fantasy Dream Parkour Map Code: 0484-7523-3163
Fantasy Dream Parkour is a single-player map where you must escape your own beautifully-crafted fantasy dream world. This map features a unique design that makes you feel both at peace and unsettled at the same time. Although the goal is the escape your dream, you may be tempted to stay in your fantasy dream world by the end!
Beat the Flood (Parkour Race)
Beat the Flood (Parkour Race) Map Code: 3694-4731-4107
Beat the Flood is a unique Parkour Race map where you must not only get to the top to beat the competition, but also to survive! Collect coins and items during your run to give yourself an edge or prove that you're the parkour master, capable of daftly maneuvering through, above, around, and between increasingly difficult obstacles. Don't let the dinosaurs stop you, or like them—you'll be ancient history.
Escape the World Parkour
Code: 6831-5416-6480
Escape the World Parkour has players travelling (and jumping) in different environments around the world in several levels of exciting parkour. The map's design is so seamless and well-designed that it quickly gained massive popularity in the Fortnite Creative community almost immediately after sprinting and mantling were added to the game. Many players also recognize it as a map that has been frequently reached the featured games list in Fortnite's Discover menu!
Parkour Skills Deathrun
Code: 8911-3482-9121
This map was previously called Beauty Deathrun to represent the wonderfully designed atmosphere it provides for its players. However, it has since then been changed to its current name so players don't assume aesthetics are the only thing great about this map. It has made its way to Fortnite's Discovery tab because of its amazing level design and parkour placement that challenges players while they appreciate their surroundings.
Fast Parkour
Code: 0887-5222-3332
If you want a map that feels like a real-life parkour experience and challenge, this map is for you. It is build to accommodate for the new Parkour mechanics, including sprinting, sliding, and mantling. This is a progressive map that you can "beat", but it isn't linear like most deathruns and other parkour maps. Instead, you're encouraged to find the best way around and through the map to find the fastest way from Point A to Point B!
12th Hour's Skyline Parkour
Code: 8179-2745-8881
Skyline Parkour brings strong similarities to Mirror's Edge. You must find the fastest way to get around, all while avoiding the guards who are firing at you. If you think you're fast enough to dodge bullets and are looking for an open-world map in a bustling cityscape environment, you'll want to give this map a shot!
Infinite Parkour
Code: 7004-5908-4189
This map features one of the best concepts we've seen in Creative. In it, you must face off against other players to be the last person standing in a randomly generated parkour course. Each round, a random array of mini parkour courses are selected, and your goal is to make it to the top of each one and be the last person to be eliminated by the rising lava. As you play the game, you are awarded coins you can use to purchase advantages for yourself and sabotages against other players!
Easy Rainbow Funrun
Code: 1025-0916-0505
This is a pleasant ride for players who want a casual game of parkour while they hang out with their friends. This map is better with parties, as it doesn't require the kind of focus you need for the more difficult parkourw. Easy Rainbow Funrun is simple and sweet, and feels more like a well-designed roller coaster than an intense parkour experience.
Ruination Slide/Parkour Deathrun
Code: 1564-5327-0724
Sliding was introduced in Chapter 3 Season 1, and this map is the first popular map to use it as a part of its parkour mechanic. Your challenge is to deploy well-timed jump and speed-boosting slides to reach difficult spots. This map starts off hard, and doesn't provide any sort of learning curve. However, this map is also the first of its kind. Because of the new slide mechanic, parkour maps are likely to make a comeback, and this is the first map to lead us down that path!
High Tower Escape 3
High Tower Escape 3: 1564-5327-0724
High Tower Escape 2: 7459-0705-3637
High Tower Escape 1: 1426-9117-0036
High Tower Escape 3 is technically an Escape Room, but it is on par with the original parkour maps from yesteryear. You must work your way up through a multitude of levels by finding hidden paths, making challenging jumps, and solving clever room puzzles. This series will put your brain to work and your parkour skills. We've included the previous two installments for the series so you have more fun parkour to play!
Want to see more Fortnite maps? Check out our best Fortnite Puzzle maps and best Fortnite Deathrun maps!