If you are looking for Fortnite's best guns then our list features the best weapons for you to run on your way to victory!
I've revised this best guns for Fortnite Battle Royale post to be the absolute best guns in the game. I previously had it as a list that was best guns for beginners and advanced players, but I feel like it's better to just know which is the best no matter what. If you are starting out, some of the guns listed might not be your best option. You might want a Scoped AR rather than the Bolt-Action Sniper because it is far easier to use.
The Best Guns and Weapons for Fortnite Battle Royale
This list isn't ranked in any particular way, each of these guns is really good at what it does. No gun is great in every situation, explosive weapons are better in fort battles, sniper rifles are better in a long distance fight, assault rifles are better in mid-range fights and in general situations, and shotguns are the best for close range battles.
SCAR (Assault Rifle)/Suppressed SCAR

An accurate, mid-range, fast-firing assault rifle that does a good amount of damage. The only real negative about the SCAR is that it can be difficult to get your hands on if you aren't opening supply drops or getting lucky with chests or floor loot. The newer Suppressed SCAR falls pretty much right along the lines of the original. It is more accurate when you are tapping, but the spray is a bit wider and random. It largely depends on which style you prefer, are you a slow firer or are you prone to spraying?
The SCAR and Suppressed version come in Epic (purple) and Legendary (gold) versions.
Learn more about Assault Rifles with our Assault Rifle Tips Guide!
Heavy Sniper Rifle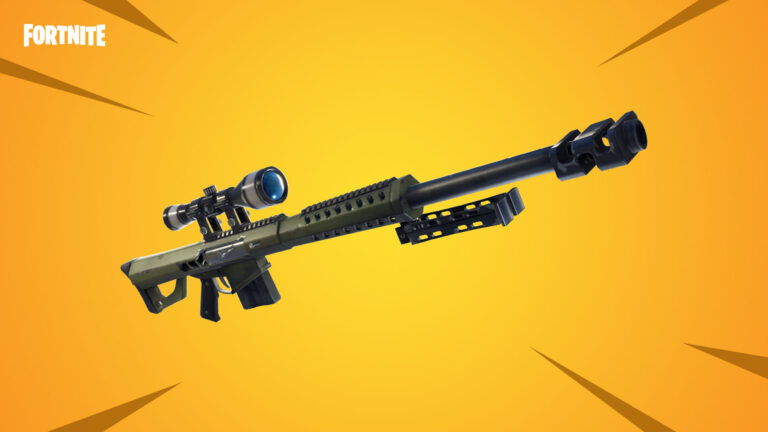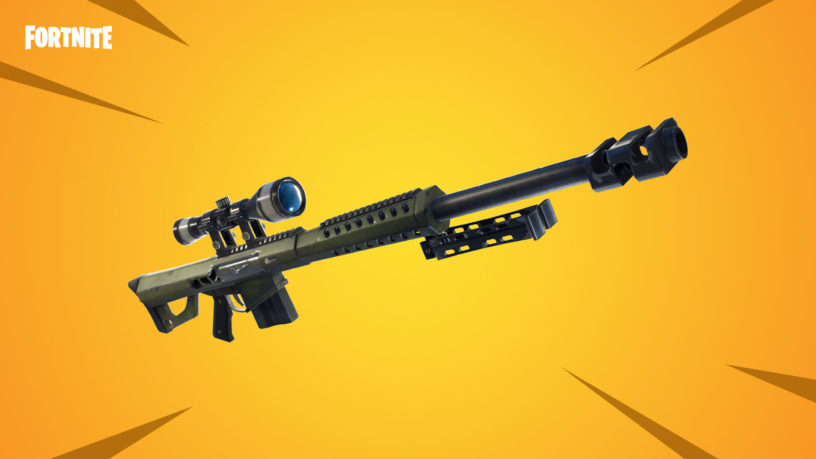 The Bolt-Action Sniper used to reside in this spot, but now due to the power of the Heavy Sniper it has been usurped. The Heavy Sniper is just a super powerful weapon that does enough damage to finish someone in one shot to the body the majority of the time. If you think about it, most players are at around 150 hp (small shields or they might be at 75 shield and 75 hp). This gun does 150 to the body for an Epic and 157 with the Legendary. This means in most cases, you don't even have to aim for the head. This gun also one shots any structural wall, ramp, floor, or roof. Even if it's a fully constructed metal piece, you can still blow it away in one shot. If you are in duos or squads, you can easily time a shot with your friend to knock out a wall and then they can hit the kill shot. You can also surprise people with this in solos, and follow it up with another sniper or any weapon to deal damage or finish them off.
The Heavy Sniper Rifle comes in Epic (purple) and Legendary (gold) versions.
Learn more about Snipers with our Sniper Tips Guide!
Rocket Launcher

The rocket launcher is one of your best options if you can get close to an opponent for a quick kill without too much struggle.
As a bit of a tip, try to shoot INTO a base rather than just shooting at the base. If you can land the rocket over the top of a wall you can destroy more of the fort and potentially kill your opponent. If you just shoot into a wall it can quickly be replaced and it doesn't do any damage. Another thing you can do is shoot a rocket towards a wall and then immediately shoot it out with another gun so the rocket has a chance to land on the interior of the base.
The Rocket Launcher comes in Rare (blue), Epic (purple), and Legendary (gold) versions.
Learn more about explosive weaponry with our Grenade & Rocket Launcher Tips Guide!
Heavy Shotgun

The big nerfs to the base damage and headshot multiplier of the pump shotgun have brought a new top dog to the Shotgun type. The Heavy Shotgun is now the best shotgun in the game, and this does makes sense based on the higher rarity. Now that double shotguns are pretty much dead, having a Heavy Shotgun can be even more dominating due to its power and speed.
Shotguns are one of the important guns to master, so be sure to check out our Shotgun Tips Guide!
The Heavy Shotgun comes in Epic (Purple) and Legendary (Gold) versions.
Compact SMG (P90)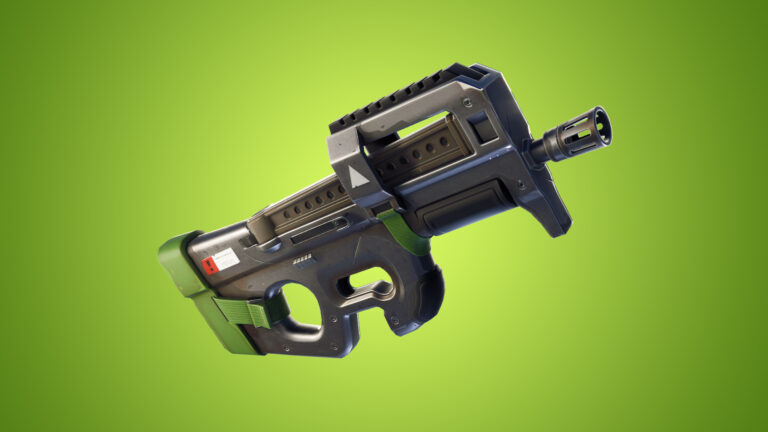 The Compact SMG took a bit of a nerf, but it's still a strong secondary option to your Shotgun. It can tear up walls and as an extremely fast fire-rate that will overwhelm anyone standing in front of you.
The Compact SMG comes in Epic (Purple) and Legendary (Gold) versions.
Hunting Rifle

The Hunting Rifle is one of the best of the sniper options in the game. In some loadouts, it has replaced the need for an Assault Rifle. This is due to the power of the SMG, and that the Hunting Rifle covers for its weakness at long range. The Hunting Rifle is a very strong weapon, it can fire and reload quickly, it is also capable of one-shotting enemies no matter the rarity with a headshot.
The Hunting Rifle comes in Uncommon (Green) and Rare (Blue) versions.