We originally found some hidden gnomes, but this time we're looking for Hungry Gnomes! We've got all of the hungry gnome locations listed below as well as some descriptions to each of the locations.
If you want to know more about this week's challenges, check out our Fortnite Week 8 Season 4 Guide!
Fortnite Hungry Gnome Locations
Here's a map with all of the Hungry Gnomes you can find on the island. They will make a distinct yum, yum, yum sound when you are close.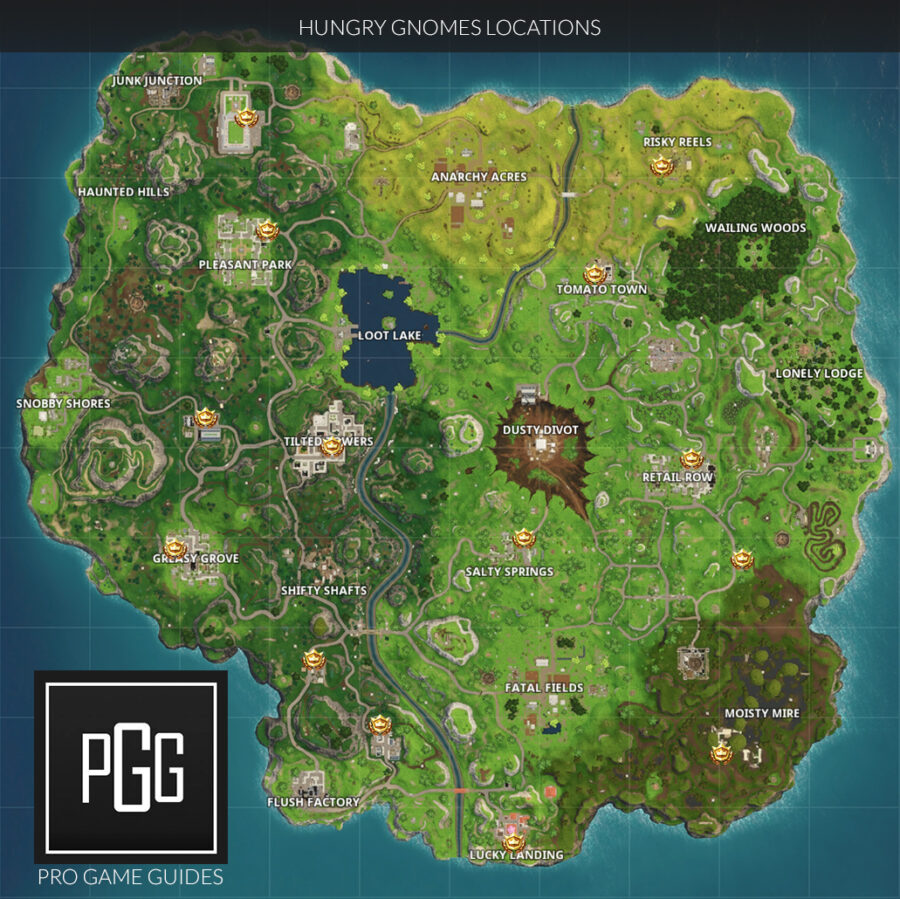 Salty Springs: Head to the gas station and you will find a gnome next to the soda display.
Risky Reels: On the west side of Risky Reels you'll find a concession stand, behind the counter is the Gnome.
Greasy Grove: In the main restaurant (Durr Burger), go into the basement and you will find him next to a barrel and behind some wooden crates.
Pleasant Park: In the gas station again, you'll find him near the back corner near the shelves.
Tomato Town: In the main restaurant again (Pizza Place), you'll find him behind the main counter area on the first floor in the corner.
Lucky Landing: Far back to the south of the area, you can find this gnome in the kitchen area on the first floor right next to the fridge!
Retail Row: Head to Noms grocery store and then to the north western portion where you can find the gnome behind some crates.
South Retail Row Gas Station: In the gas station area, you will find the gnome behind the checkout stand.
Soccer Field West of Tilted Towers: In the taco shop that's north of the soccer field you will find the gnome waiting for his order.
Tilted Towers: In the Noms convenient store (small brick building just north of Trump Tower/Castle), you can find a gnome in the back corner.
Moisty Mire: This is on the film set and the gnome can be found in the food area.
Northern Soccer Stadium: On the north east corner of the soccer stadium, there's a food area and that's where the gnome will be!
South of Shifty Shafts: The small town with the BIG Wooden Chair has a gnome in the taco shop.
North West of Flush Factory: In the big disco area, head to the food area and you will find another hungry gnome behind the counter!