We're getting close to finishing up with Season 4 in Fortnite! Week 8 has us headshotting our opponents, grabbing chests at Salty Springs, searching 7 chests in a single match, finding 7 Hungry Gnomes, looking between a bear, crater, and a refrigerator shipment, eliminating enemies with suppressed weapons, and eliminating players in Pleasant Park!
Season 4 Battle Pass Challenges for Week 8
Deal 250 headshot damage to opponents
Search 7 chests in Salty Springs
Search 7 chests in a single match
Search 7 Hungry Gnomes
Search between a bear, crater, and a refrigerator shipment
Get 3 suppressed weapon eliminations
Eliminate 3 opponents in Pleasant Park
If you haven't already, be sure to complete your Week 7 Challenges! Also, check out our full overview of Fortnite Season 4!
Deal headshot damage to opponents
Well this one shouldn't be too difficult, you can finish it with one well placed sniper shot! Some up close shotgun blasts will also get this one done quick.
Search chests in Salty Springs
Salty Springs is a pretty popular area because it's in the middle of the map and generally always flown over. It's going to be popping this week, so check out the chest locations on the map below!
Salty Springs Chest Locations
The house on the very west portion of Salty Springs has a downstairs area that was added that's kind of a superhero gym space. This is probably the best place to land because of the four possible chests in the entire house and basement. However, it's likely going to be the most popular spot.
Search chests in a single match
You will have to grab 7 chests in a SINGLE match to complete this challenge. If you are a player who makes it deep into games then this will be easy, but if you are starting out, you'll want to head to the some of the low population areas that have high chest counts. Junk Junction, Snobby Shores, Moisty Mire, Flush Factory, and Lonely Lodge are some of the places that will be best for this challenge.
Search Hungry Gnomes
The Gnomes are now less hidden and much more hungry! You can find all these guys in various areas that have food across the island! I've got a map below displaying all of their locations. Here's a full guide with detailed instruction to All of the Hungry Gnome Locations!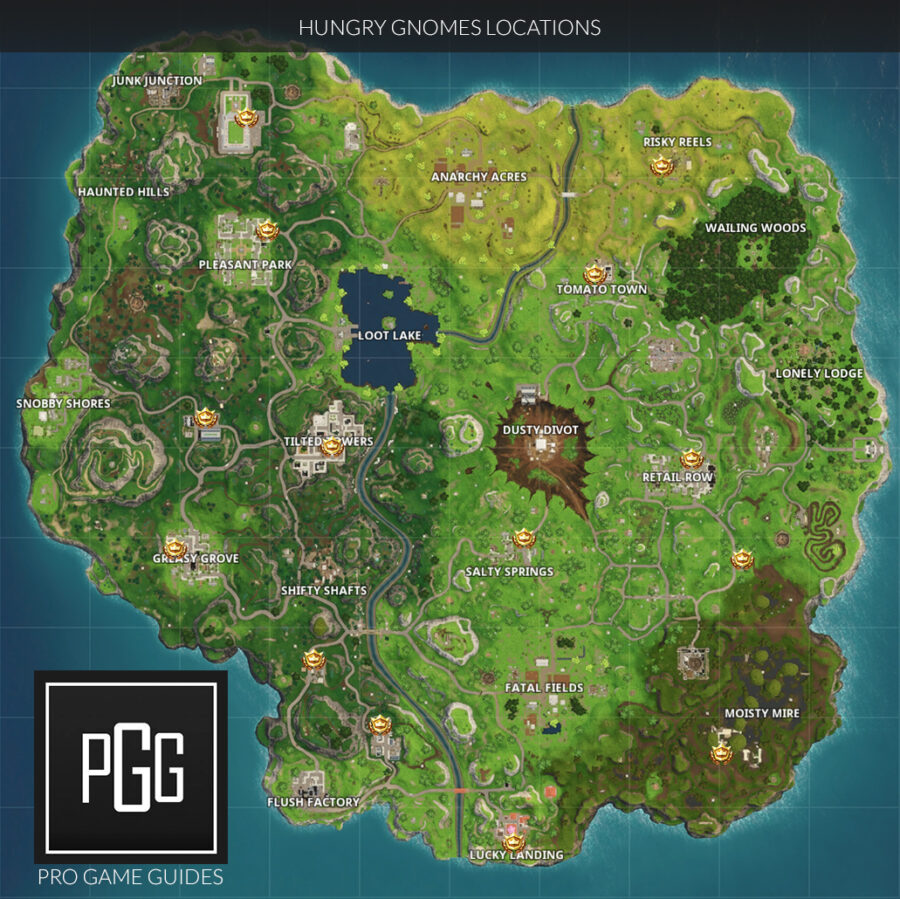 Search between a bear, crater, and a refrigerator shipment
If you are a long time Fortnite player then you will of course remember the bear that is near Retail Row to the east. You can find a crater south east of Retail Row and to the west of the shopping cart racetrack. Finally, a knocked over shipment of refrigerators is close to the unlabeled gas station to the south! In the middle of all of this, you will find a dirt patch that will contain the treasure! Check out the map below for the exact location.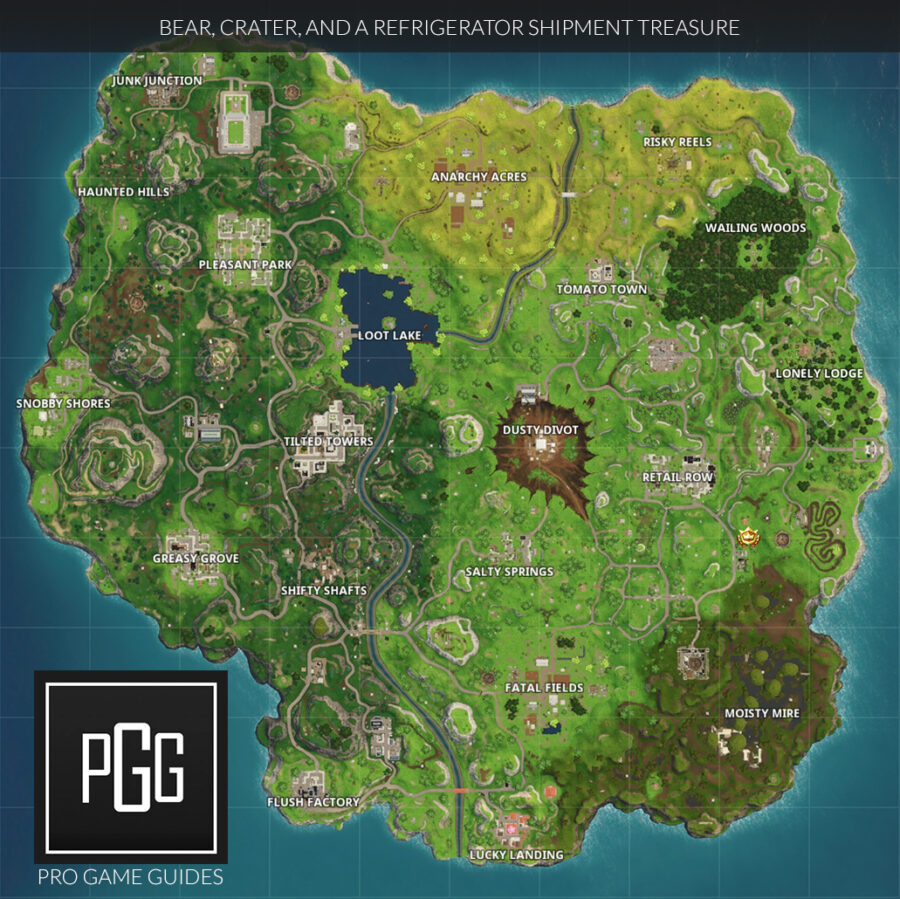 Get suppressed weapon eliminations
You have two options when it comes to suppressed weapons: Suppressed SMG & Pistol. They buffed the SMG a bit, so it's actually not nearly as bad as it was. I actually quite like the suppressed pistol, and will use it as an off-weapon at times. It's pretty solid and can deal damage very quickly and accurately to non-expecting opponents.
Eliminate opponents in Pleasant Park
Pleasant is another pretty popping area, so this shouldn't be too difficult for eliminations. Try to hit the edges and corners of the area and avoid the frequented house. The house with the dog house that's on the north eastern edge of Pleasant is a hot spot, especially when the bus is coming from the east. Whatever you do, avoid the northern most center house. This is known as the NO LOOT house. For some reason, this particular house just rarely has anything in it. I have run through it and have literally found nothing inside of it.