This week's multiple location challenge is locating ten whole rubber duckies that are scattered across the map! So be sure to throw on your scuba gear, it looks like we might be heading into the water to find these ducks!
These are pretty similar to the gnomes you had to find in the past. The duckies make a quacking sounds, and you might need to destroy an object to reveal their location.
Fortnite Rubber Duckies Locations
Here's the map with the majority of the rubber duckie locations. If we find more of them, we'll be sure to update it. If you have found one that isn't on the list then be sure to let us know in the comments. You don't need to get these all in one run, so it's usually best to keep the map up somewhere while you play the game and grab them if you are in the area.
If you want to check out more information on the rest of this week's challenges, check out our Fortnite Battle Pass Season 4 Week 3 Challenge Guide!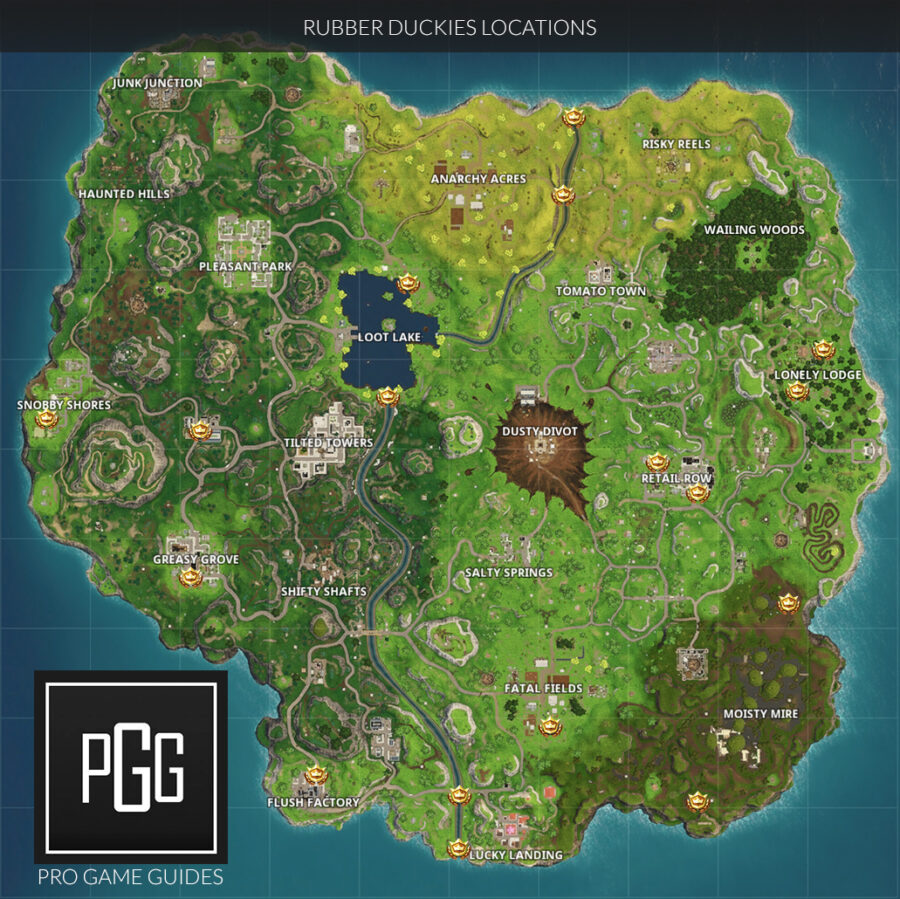 Flush Factory: You'll find this duck under the large toilet. Knock down this salute to the porcelain throne, and you will find the duckie!
Greasy Grove: There's a brick enclosed water pump, break the pump and nab the duckie!
North of Lucky Landing Bridge: Down below the bridge, you'll find the duck floating near the ice cream truck.
South West Lucky Landing Waterfall: Find a duck contemplating life near this southern most waterfall.
Soccer Field (West of Tilted Towers): Head to the indoor soccer field area, and in the locker room you'll find shows. The ducky is in there waiting for you!
North Moisty Mire: You can find this ducky to the east of the road leading to Retail Row. It's near a small hut surrounded by water.
Southern Moisty Mire: To the north of the crab statue you will find a duck floating in a pool of water.
North Lonely Lodge: In the rocky cave area, you'll be able to find a ducky floating in the water.
South East Retail Row: At the very edge of Retail Row near the water pump tower you can find yourself a duck!
North West Retail Row: In the house south of the two story brick, you can find a duck awaiting a bath in the tub of the broken down house.
East Anarchy Acres River: Right below the bridge here you'll find a duck hiding out in the rocks near the half buried car.
North East Anarchy Acres: At the very northern most portion of the map you can find a duck near a waterfall.
Loot Lake South Waterfall: At the bottom of the waterfall near some rocks you can find another duck!
Snobby Shores: In the pool of the second house from the bottom, you will find a duck.