It's the final week of challenges for Season 4! Check out all of them listed below as well solutions and tips on how to get them done faster. Be sure to finish this up if you want to get that Omega skin or level up to 80 to customize the lights on it!
This week we're searching chests in Junk Junction, dealing damage to opponents structures, searching a chest, ammo box, and a supply drop in a single match, skydiving through rings, searching between movie title, eliminating opponents in general and at Fatal Fields!
The next season is coming soon, check out our Fortnite Season 5 Guide!
Season 4 Battle Pass Challenges for Week 10
If you haven't already, be sure to complete your Week 9 Challenges! Also, check out our full overview of Fortnite Season 4!
Search Chests in Junk Junction
Junk Junction is a pretty chill spot, you don't get a lot of people wanting to head to the furthest outskirts of the map. However, it's actually a pretty decent loot spot if you are willing to go there. It's going to be popping now, due to this challenge, so be ready to land on a gun immediately!
Junk Junction Chest Locations Map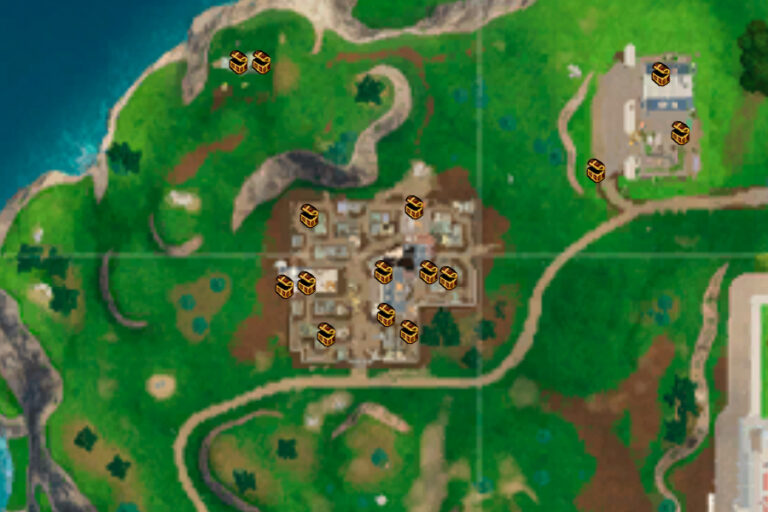 Deal damage to opponents structures
This one should be pretty easy, especially if you get yourself a rocket or grenade launcher! Maybe some remote explosives, grenades, sticks bombs or anything that goes kaboom. You'll need to do 5,000 damage, so it'll take a bit of time, but i'm sure you won't have too much trouble with this.
Search a Chest, Ammo Box, & Supply Drop in a single match
This one looks easy on its face, but you can go a few games without grabbing a supply drop. This still shouldn't be too difficult, I'd recommend heading to some low population areas and you should be able to locate a supply drop that isn't highly contested.
Skydive through floating Rings
You'll see these rings all around the sky. The worst part about these is that you'll have to divert your flights to grab them and likely give yourself a poor landing. You also need quite a few of these, you'll need to fly through 20 just to finish this one up! Try to grab a high one and a low one for two at a time when possible!
Search between movie titles (HARD)
This was kind of a weird one. At first I just thought they were referring to the sign at Risky Reels that displays the movies. The treasure isn't there, but that's the clue. The movies that are playing are: White Lion, The Orange Crusher, and TV Dreams. White Lion refers to the big Soccer stadium on the north west of the map. The Orange Crusher refers to Junk Junction, and TV Dreams is the film set location north east of Junk. This all adds up to a treasure that is located at the spot in the map below!
Eliminate Opponents (HARD)
If you aren't too bad at the game then you'll be able to take this one down pretty quickly. You need to eliminate 10 enemies, and if you are flying to Junk Junction or Fatal Fields then you will likely be adding to your body count pretty quickly. This might take a bit, but it's one you don't need to worry about because you'll complete it eventually.
Eliminate opponents in Fatal Fields (HARD)
Fatal Fields is one of the better landing spots on the map and is a favorite of mine. It has a lot of loot and allows for you to divert to many different spots if you see one is going to be grabbed before you. The forests on either side of area have loot, so head there if you get a band landing. You can go behind the big two story house where you can loot a couple of small shacks. There's a grey small barn next to the large red one that can have a chest. Stables can have two chests, and even the quarry area can have a chest! There's a lot of options for you, so have fun with this one!