Our Fortnite Week 10 Challenges List brings you all of the solutions and answers for the challenges you need to complete for the week. We have maps to treasure and item locations, as well as tips for completing all of them as quickly as possible!
For the final week of challenges in Season 5 we're searching for jigsaw puzzles pieces in basements, foraging for apples and mushrooms, eliminating a lot of opponents, searching for chests in Salty, dealing damage to enemies, searching between a covered bridge, waterfall, and the 9th green, and finally eliminating people in a series!
Week 10 Challenges List for Season 5
Free Battle Pass Challenges List
Paid Battle Pass Challenges List
Check out our Fortnite Season 5 Guide for guides on every week of challenges!
Search Jigsaw Puzzle Pieces in Basements (7)
We're puzzling away what's going on with this challenge. You'll be heading all over the map to grab at least seven of these, and the best area appears to be south-west near Shifty Shafts. Check out the map with all of the Jigsaw Puzzle piece locations below!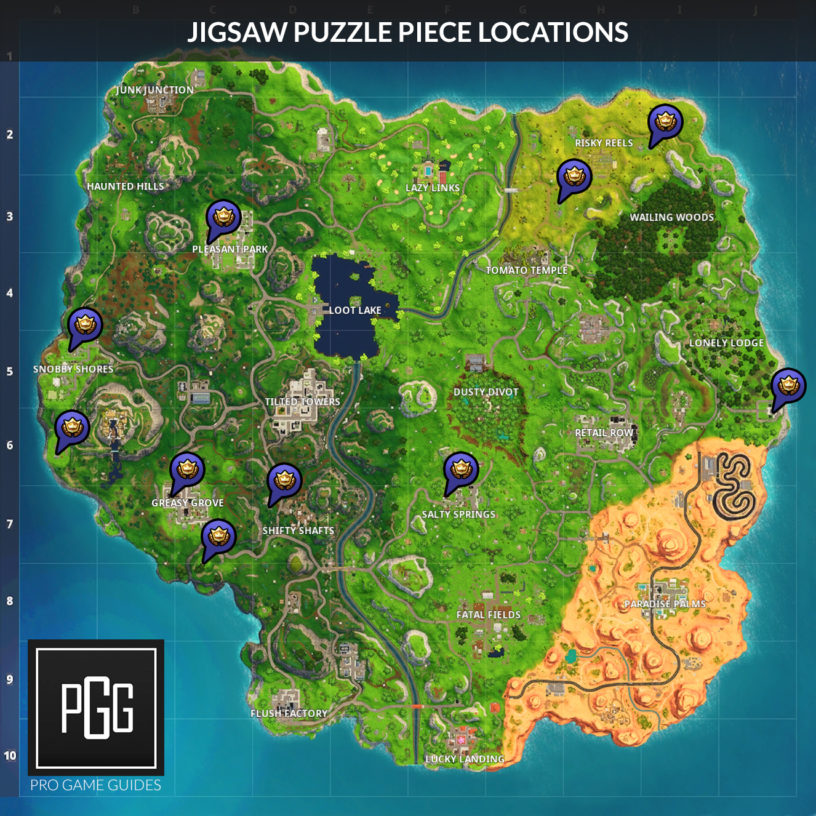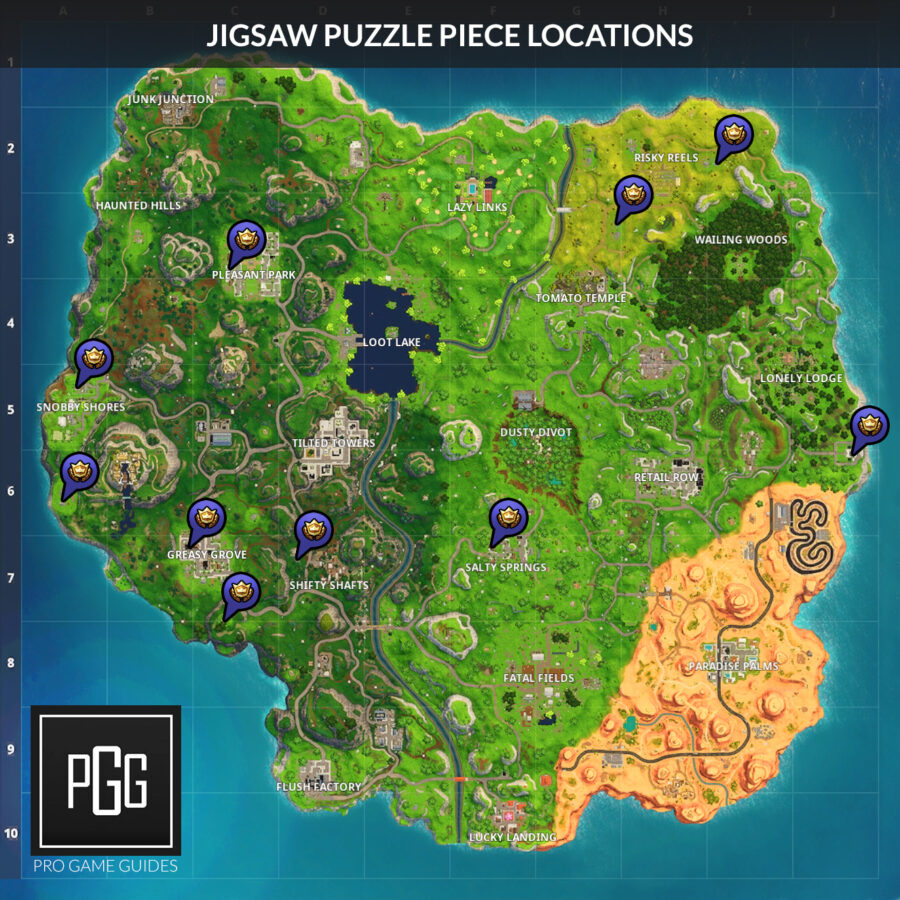 Consume Apples or Mushrooms (20)
This one shouldn't be too difficult, but it will be a bit time consuming. You'll find Mushrooms all over wooded areas like Wailing Woods or near Shifty Shafts. Apples are more towards the middle of the map and can be found in great supply south of Dusty Divot. I'm including a map from fortnitechests.info that shows a lot of apple locations, but the mushroom ones seem incomplete.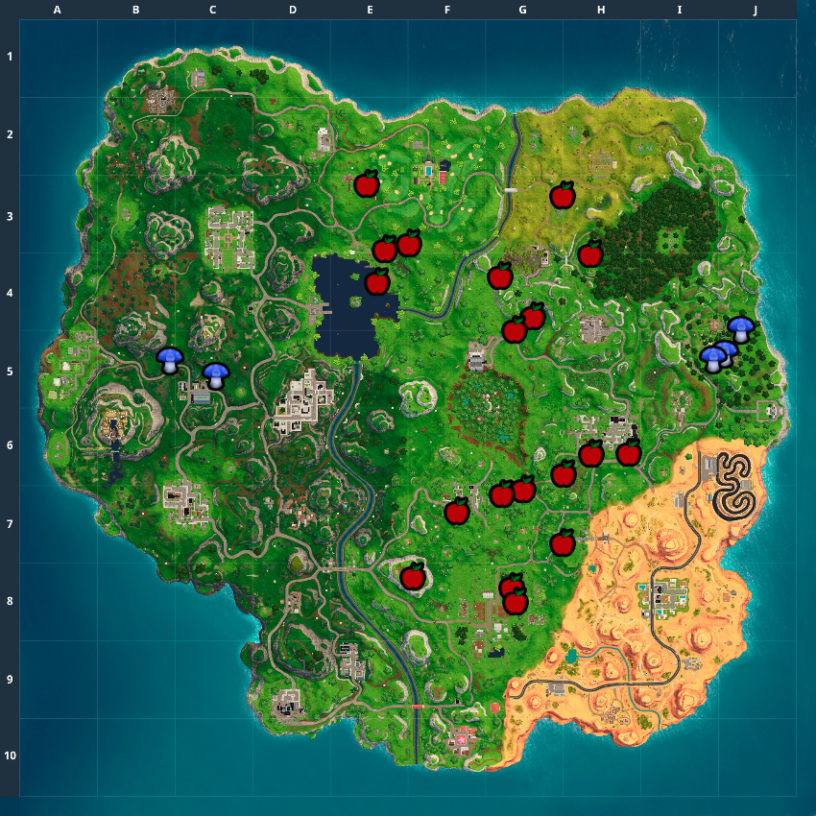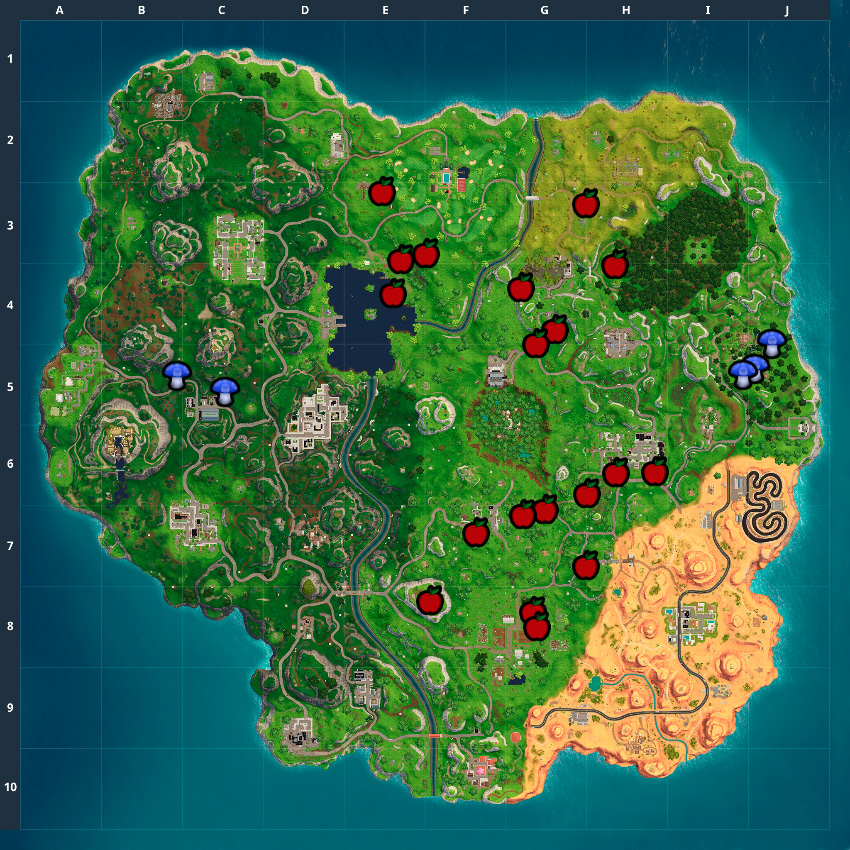 Eliminate Opponents (10) (HARD)
Hopefully you are good at slaying out, because you'll need to get 10 eliminations to complete this challenge. The good thing is that you won't have to do it all in one game, so you can do it over time. If you are struggling a bit, try out the 50v50 LTMs to get some easier eliminations. You can also check out our Fortnite Tips and Tricks guide for more information on how to improve your game!
Search Chests in Salty Springs (7)
Salty Springs can be a pretty popular drop location because it's right in the middle of the map. When these challenges come up it ends up being pretty crazy. I would wait a bit before attempting to complete it, but if you are desperate you should try to head for the west most blue two story house. This house has chests in the roof, but it also has a deep basement that can have multiple chests. It is a fairly known spot, but you can sometimes get luck and get them all before anyone shows up!
Salty Springs Chest Location Map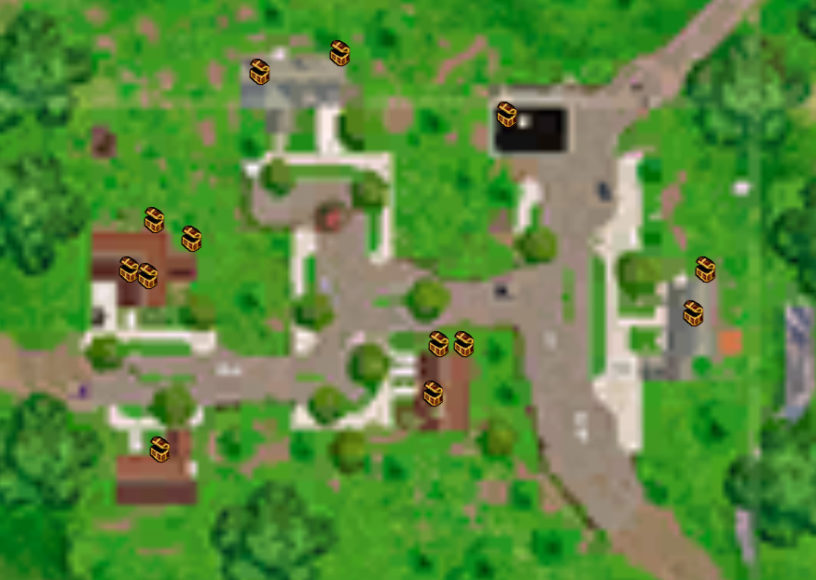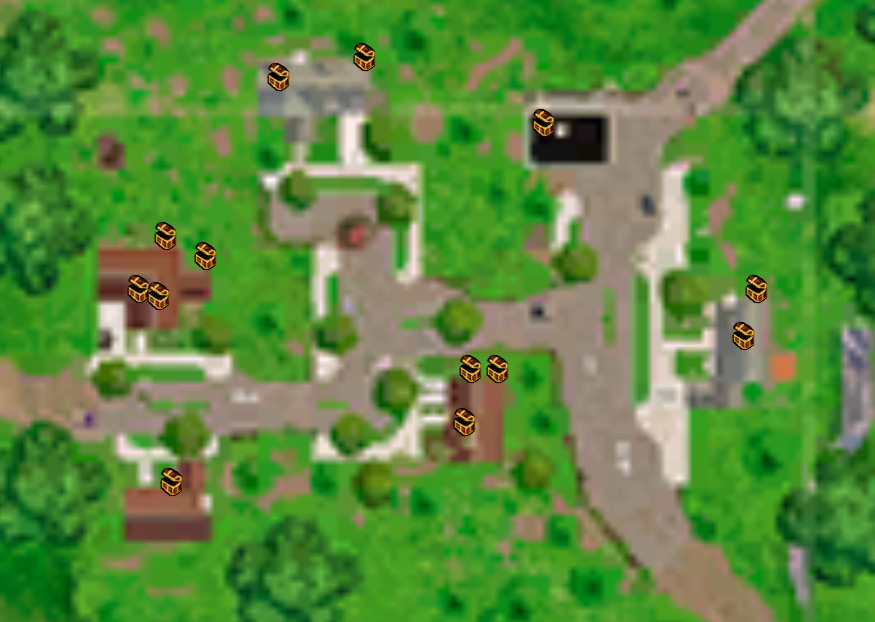 Deal damage to opponents (5,000)
You should pretty much get this done while trying to get those 10 eliminations for that challenge. If you are a big fan of the Sniper Rifle, you can use that to get some extra damage on people if you hit them in the head. Use this on downed opponents as well, you should get credit for the extra damage.
Search between a covered bridge, waterfall, and the 9th green (1) (HARD)
This one is easy once you know the location. Obviously it is going to be near Lazy Links, but you'll find the exact location on the map below. You will know you are in the right spot if you see a little hut and a brown dirt patch in the grass.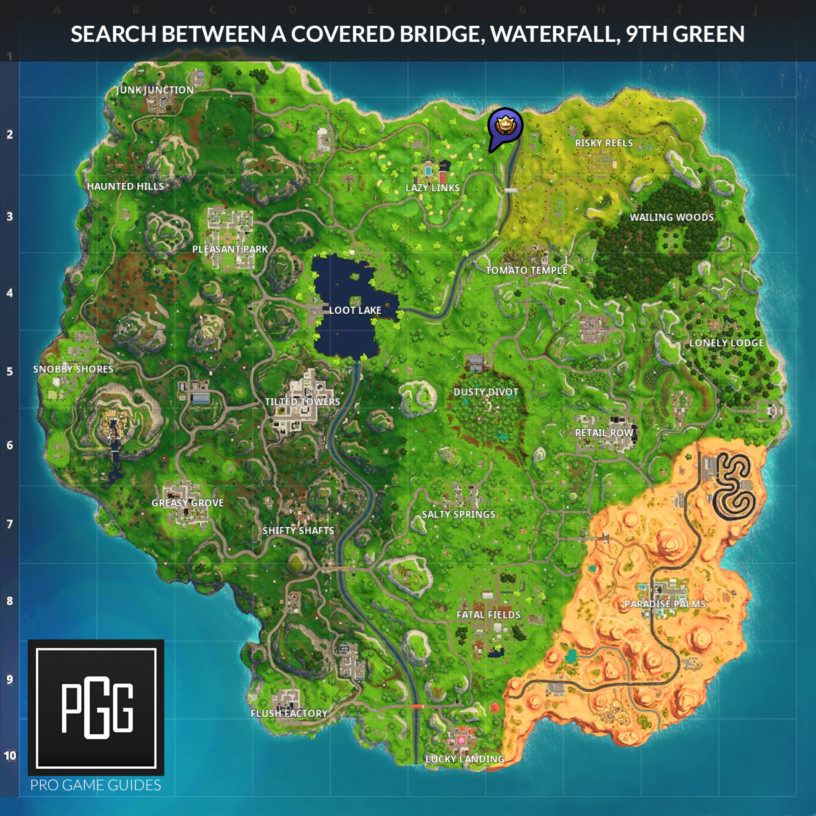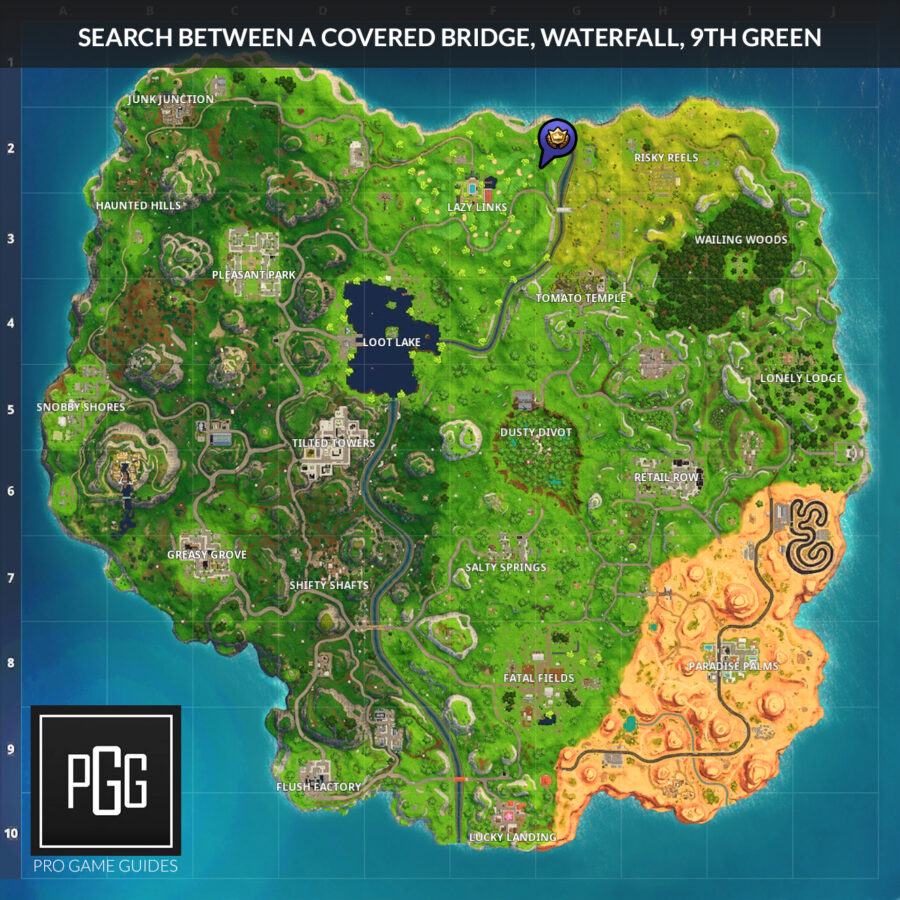 Stage 1: Eliminate an opponent in Pleasant Park (1/3) (HARD)
This is another one of those staged challenges where you'll have to go to multiple spots to complete. I'm not a big fan of these, but they do vary up the landing spots so certain areas aren't completely overrun with players trying to complete them.
Pleasant Park
Wailing Woods
Lucky Landing