Our Fortnite Season 5 guide will run you through the ins-and-outs of the new battle pass! It will feature all of the outfits, skins, pickaxes, gliders, and emotes from season 5. We are also featuring a full lists of all of the challenges with guides on how to complete them!
Fortnite Season 5 Guide
Here's our full guide on everything you'll need to know about in Season 5! Each battle pass season brings new skins and flavor to Fortnite battle royale. This season is no different, as we have the addition of a desert biome in the south east of the map and a golf course replacing Anarchy Acres!
Season 5 Starting/Ending Date
Season 5 started on July 12th at 4 AM EDT (08:00 GMT)!
End Date
Each season lasts about 10 weeks, so this should go all the way until some time in mid September.
Season 5 Cost - How-to Purchase the Battle Pass
The price will likely be the same as every season! You can pay $9.99 (1,000 V-Bucks) in real world dollars or you can use V-Bucks which will set you back 950. If you've been saving up your V-Bucks from the Season 4 battle pass then you will likely have enough to purchase this one.
Season 5 Challenge Guides
Season 5 Skins & Cosmetics
Here's a full list of all of the cosmetics coming with the season 5 battle pass!
Outfits
Emotes/Dances
Gliders
Pickaxes
Back Bling
Toys
Contrails
Emojis
Sprays
Season 5 New Map Locations
First things first, here's a look at the map now that Season 5 is live: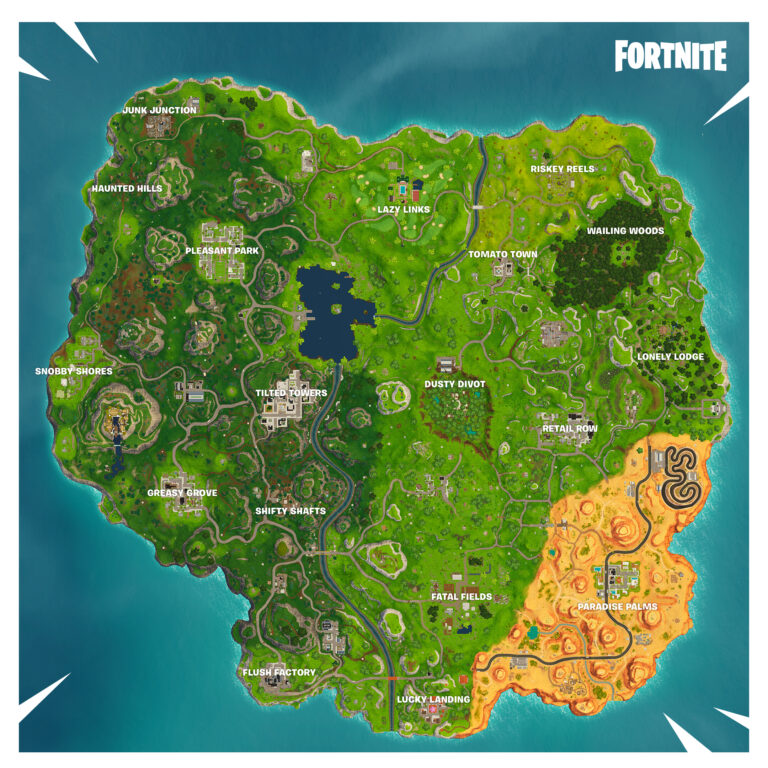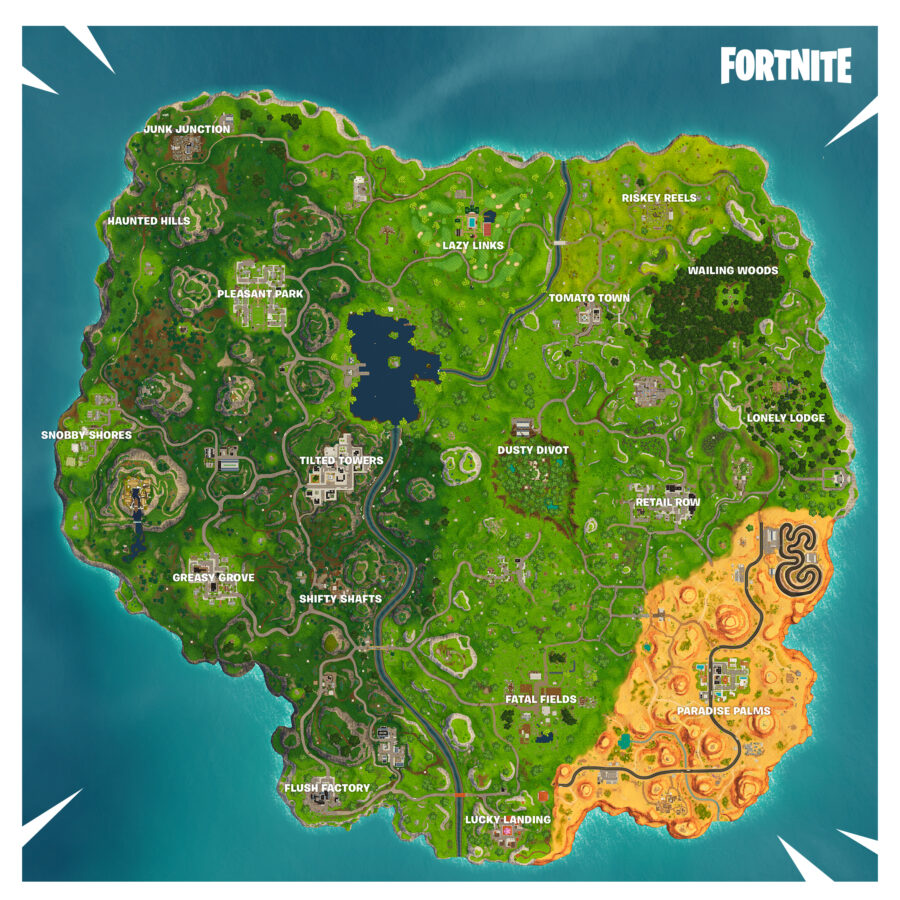 As you can see from the map, there's been a lot of big changes. First I'm going to focus on the major changes. High quality images of new locations from FortniteBR Twitter.
Paradise Palms & Desert Biome
This is the biggest change to the map, it completely replaces Moisty Mire and adds a desert biome to the map. If you were tired of the same old green color palette going on across the map, then heading here will be very refreshing. The main hub of this area is Paradise Palms, that features a large city in the midst of the desert. Think of Palm Springs as a comparison point.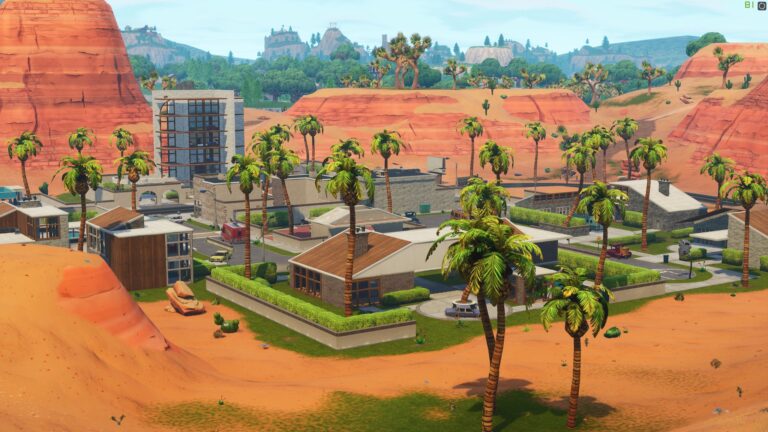 Racetrack
The racetrack also got a huge face lift. It is now paved, and features many of the newly added All Terrain Kart vehicles. This used to be a dirt track with shopping carts, but check out the huge difference a patch makes!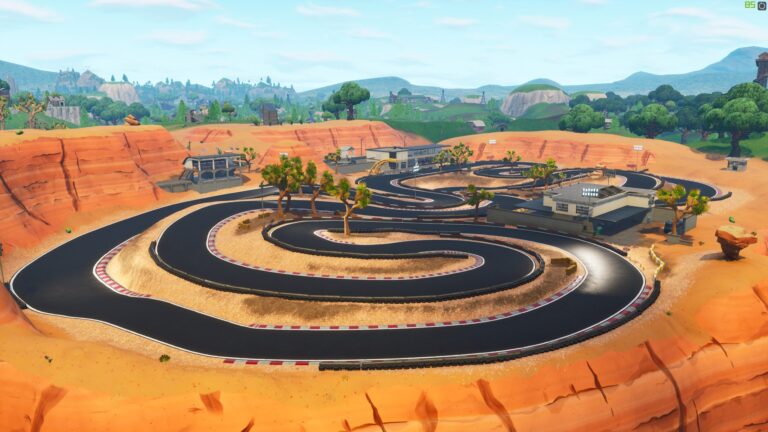 Lazy Links
Moisty Mire wasn't the only area to get completely replaced. Anarchy Acres has been overhauled for a new golf course area called Lazy Links. This area has a large center portion with a clubhouse and tennis courts that is similar to your standard country club. Once you get one of those golf ball toys you can use it and hit them into the holes that are on the golf course!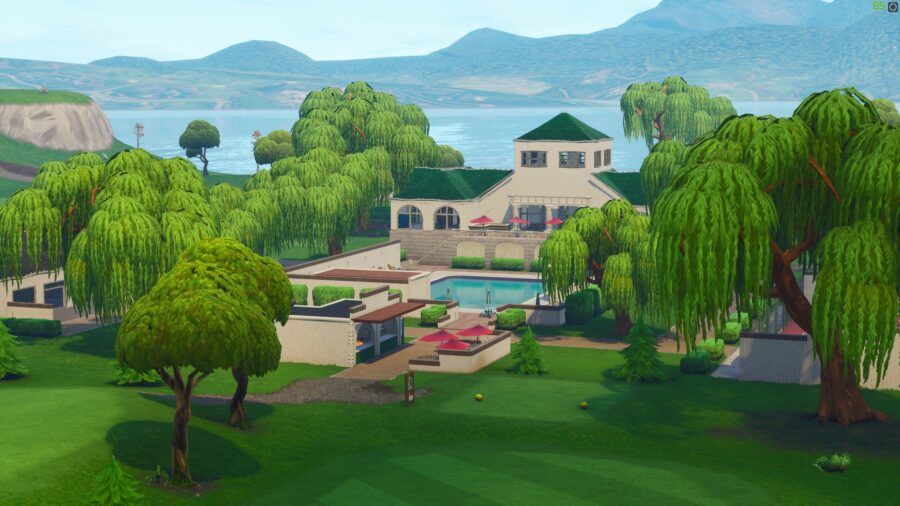 Viking Mountain
This doesn't have an official name on the map yet, but the mountain south east of Snobby Shores now features a large viking area with a waterfall. The area is really interesting and is totally different from everything else on the map. This all connects to the viking skins you receive in the battle pass. The major vocal point of the area is the large viking ship that is position right over the waterfall.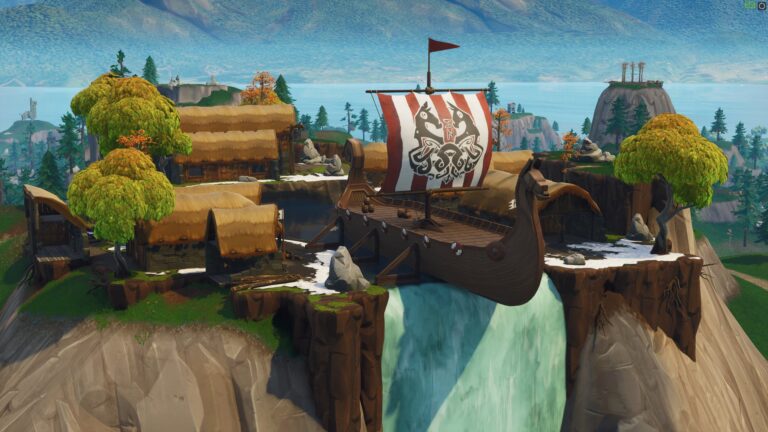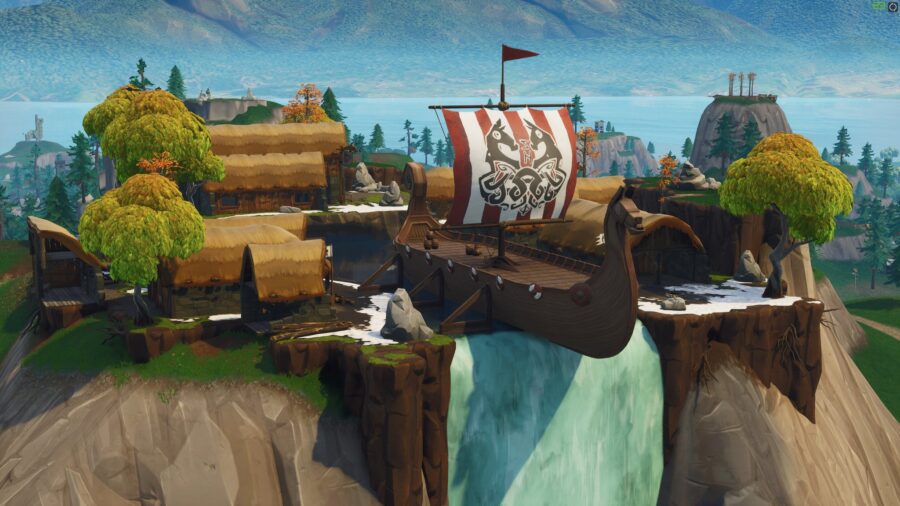 Dusty Divot
While this area is similar to it was before, it is now covered in a lot more trees. There's also small pond littered around it, and it is a great spot for grabbing mushrooms.
Season 5 Theme
The theme is WORLDS COLLIDE! The rift that was created by The Visitor seems to have pulled things from various time periods into the game. We've got Vikings, Golf Courses, and a full desert/beach area on the map now!
Teasers
And finally what is likely the last teaser for Season 5! WORLD COLLIDE, which is apparently going to be the tagline for this season. We've seen Fortnite items popout into the real world, and apparently be pulled into the map. We will finally get to see what it all means tomorrow!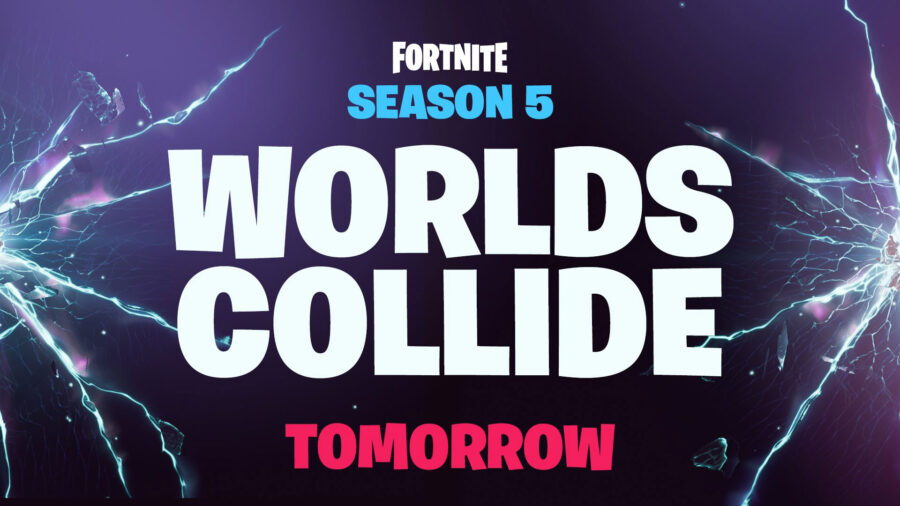 Here's the second teaser for Season 5. This one features what looks like a Viking axe, it reminds me of Kratos' axe from the new God of War!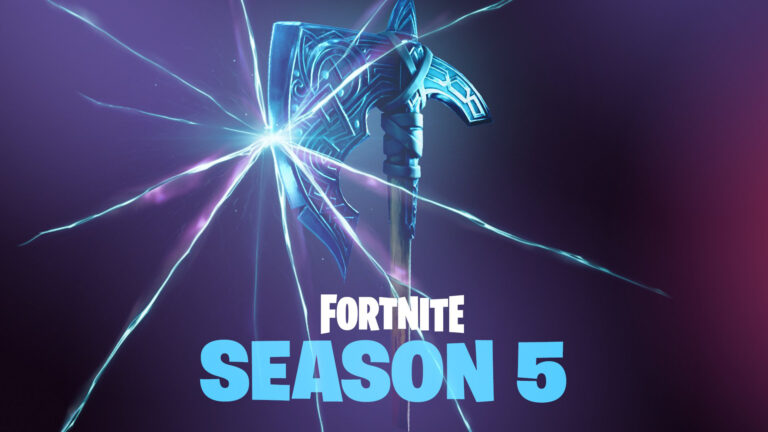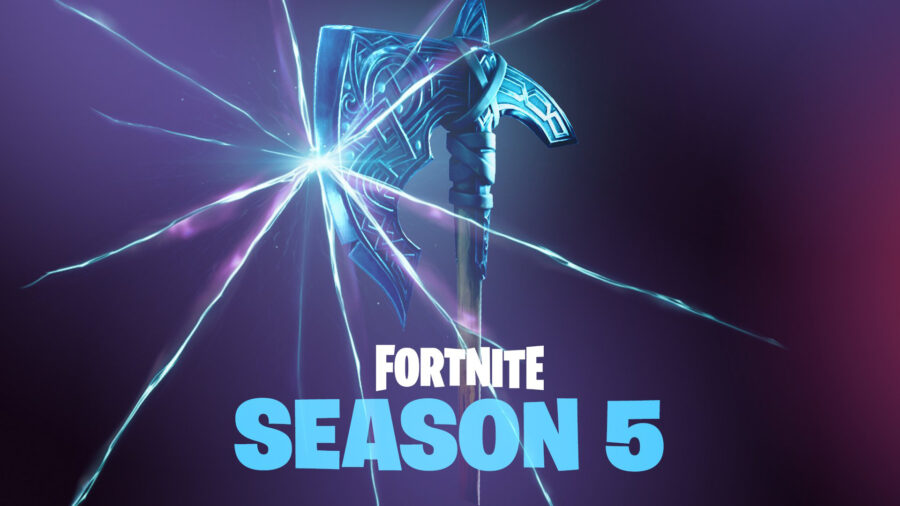 Now that we're closing in on the release of Season 5, we got our first official teaser to the new expansion. It features the big crack in what is either the sky or a dome that covers the island. along with a cat like mask. I've seen various possibilities of what this could be, such as Egyptian as it kind of looks like Bastet, to it potentially being a Kitsune mask.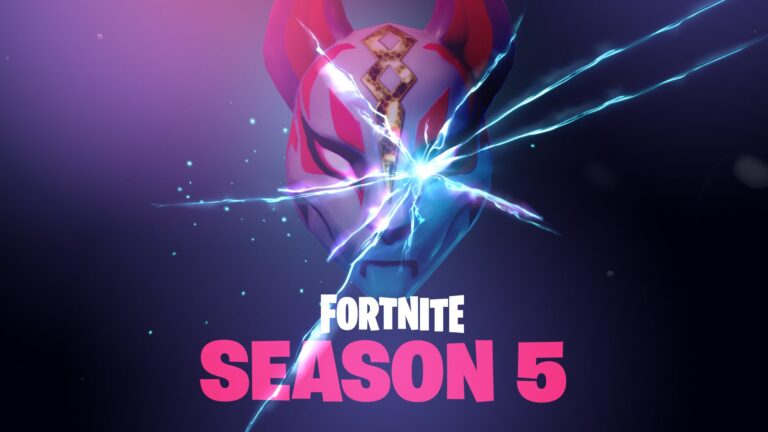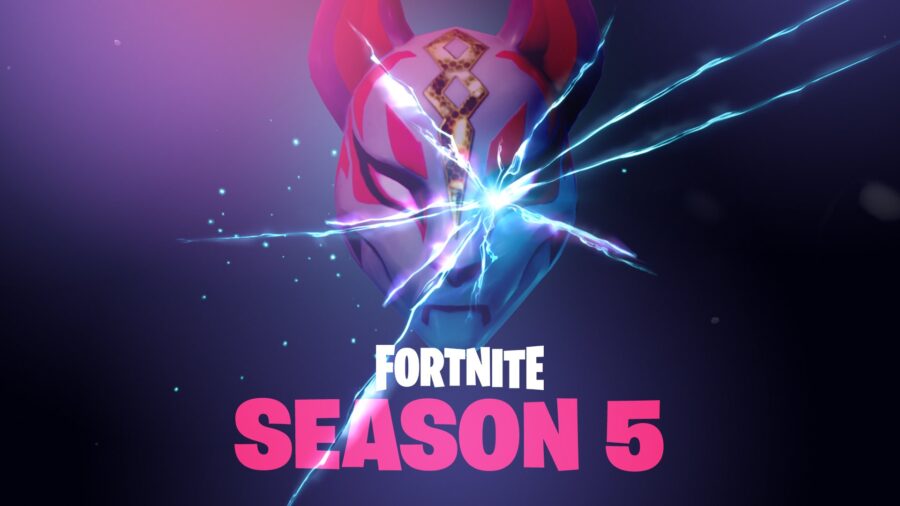 There was also a news story that added a bit more contest with the "Worlds Collide" tagline. Which world are we going to be colliding with?! That remains to be seen!


Llamas Have Invaded the Real World!
Supply Llamas have started to pop up in places around Europe! These were found by people on Reddit, credit to them for the images!
More Rifts and Map Updates
Now that we're further out from the rocket event, it looks like a lot more is going on. Things are disappearing and now stuff is being pulled into the map.
The big tomato or Uncle Pete has been sucked through one of the portals.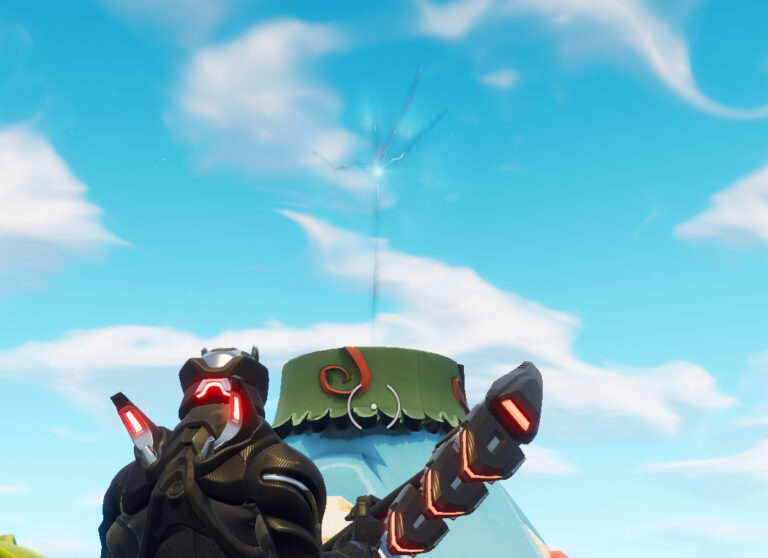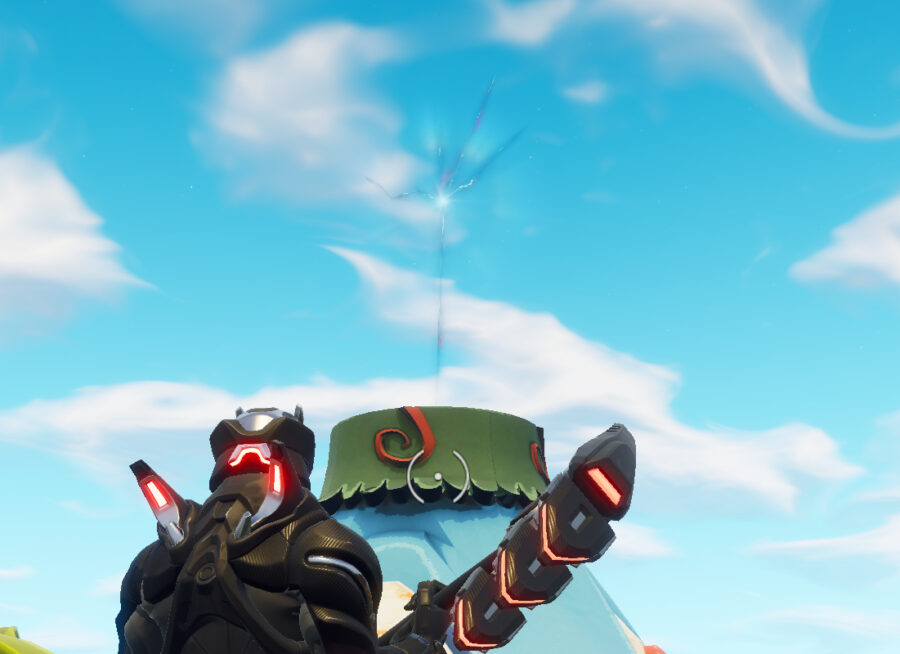 An anchor has shown up on the southern portion of the map. So not only do these portals/anomalies seem to be removing portions of the map, they are now drawing things from some other area INTO the map!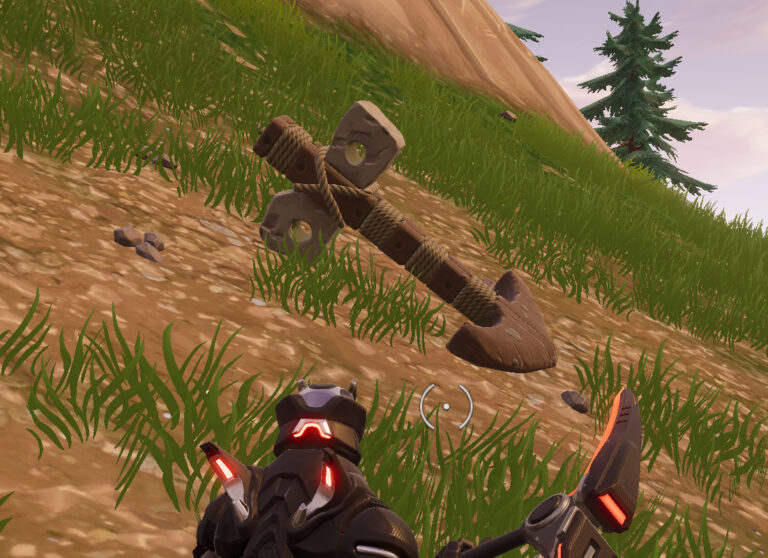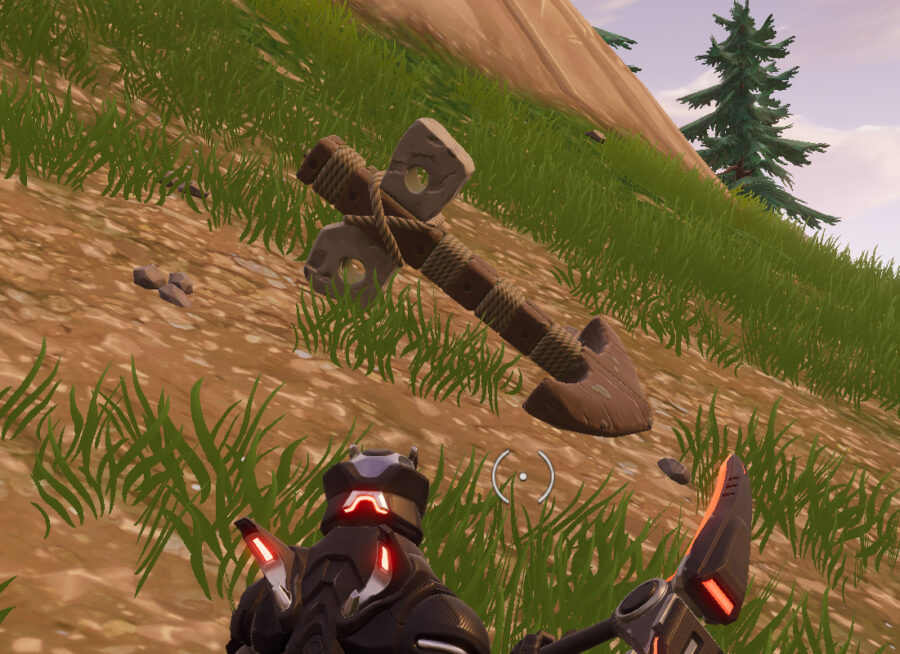 This all pales in comparison to the Durr Burger head going missing from Greasy Grove. While this by itself wouldn't be so remarkable, the fact that the head has appeared IN THE REAL WORLD is something completely unique.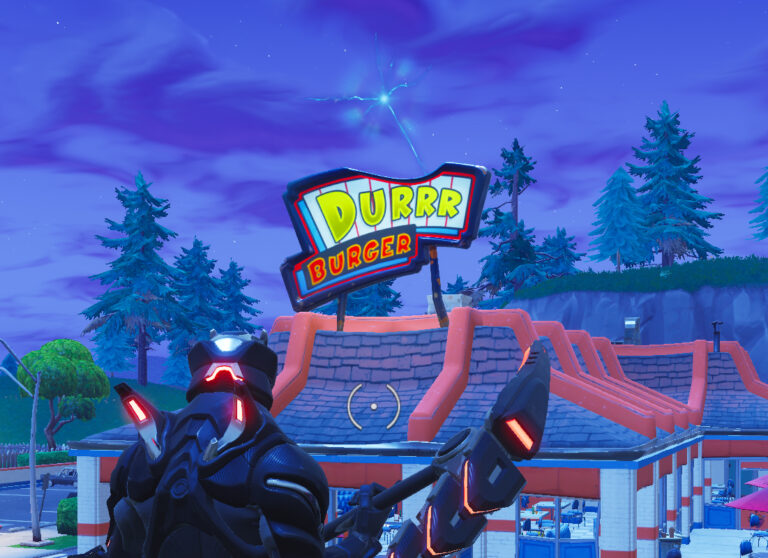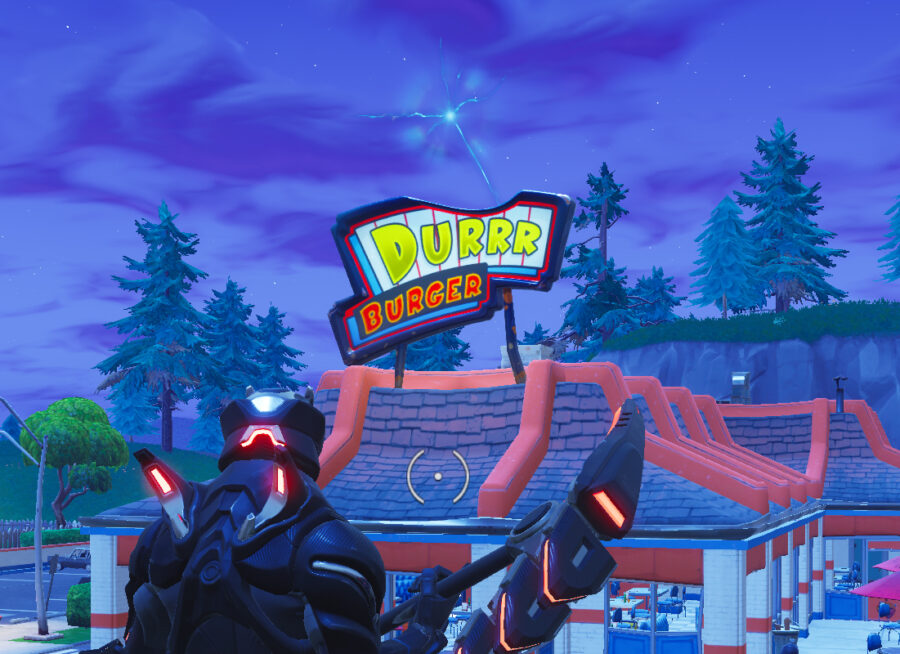 And here's the real life version! Credit for the photo goes to Sela Shiloni on Twitter.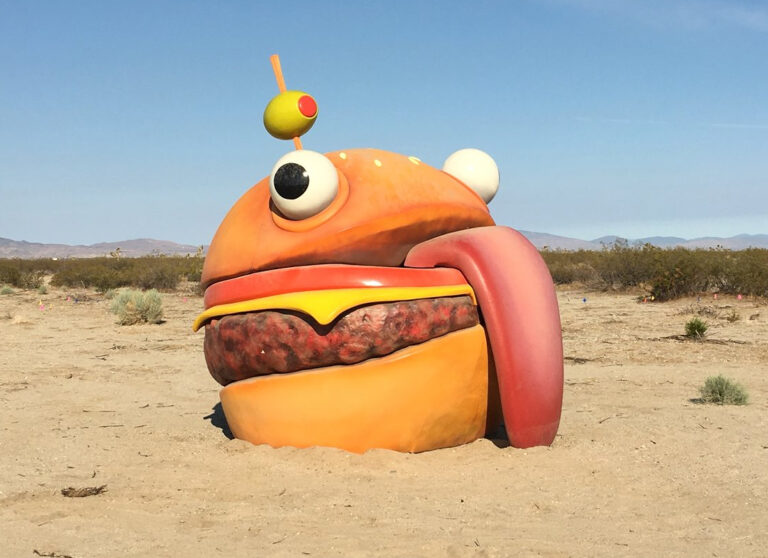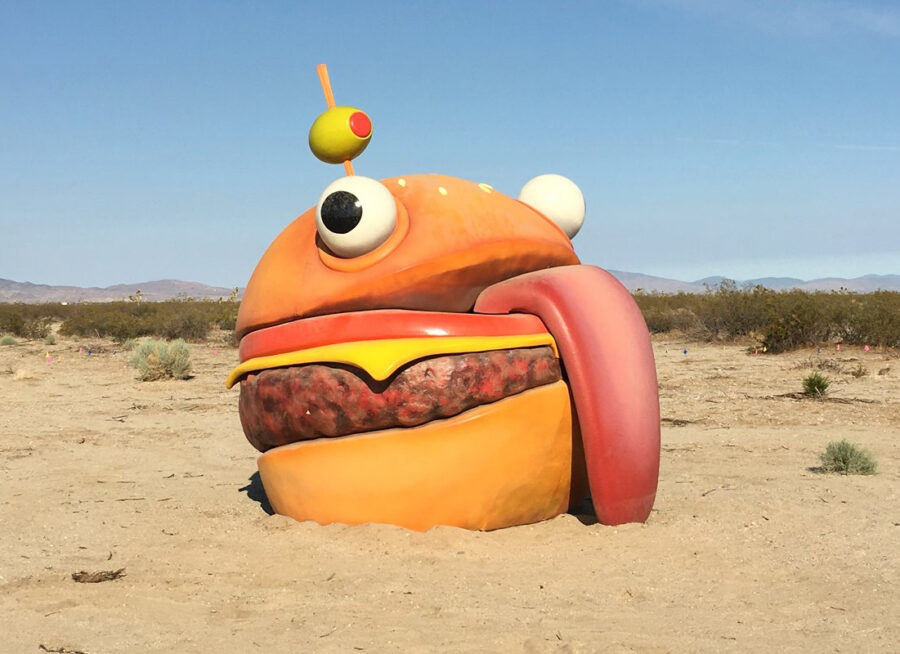 The burger appeared in southern California, north east of Los Angeles. Another person went there and the area now has a couple of more features. A cautionary sign, an old time-y looking police car, and an agent who gave him a business card with a phone number on it. Credit goes to A2K_Kilo on Twitter for these photos.
When someone called the number there was apparently some strange sounds which might have been the portal/anomaly sound. A spectrogram was enlisted, but nothing out of the ordinary was found. Be sure to check out that link, it features a lot of interesting detective work to try and figure out what it all means.
A carriage has now been spawned into the game near Moisty Mire!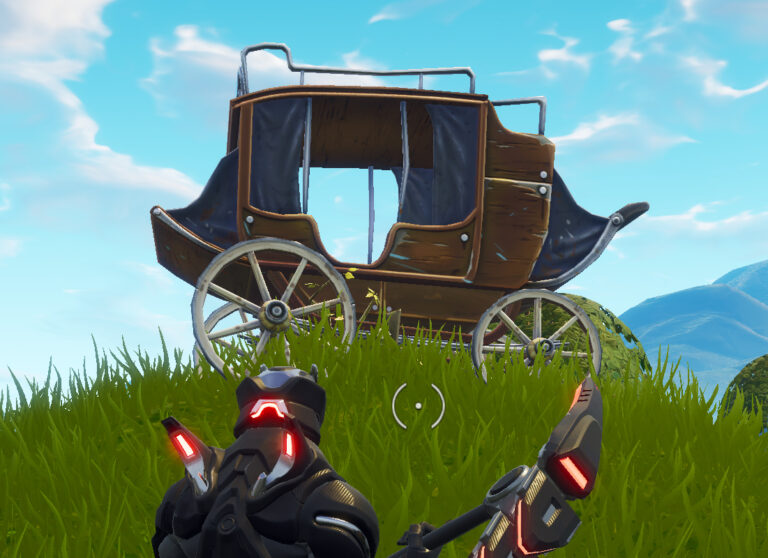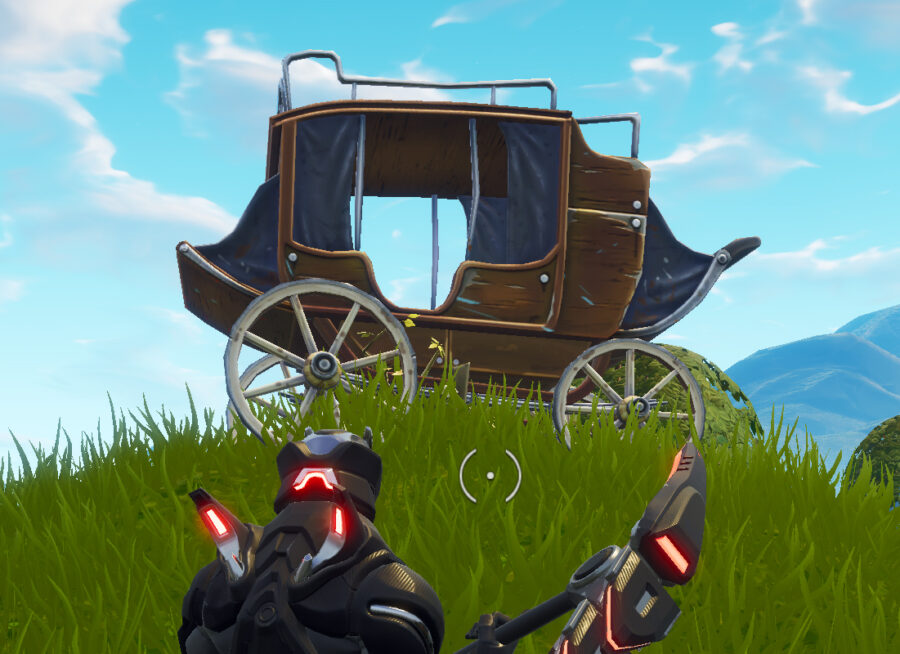 And what looks like could be the last anomaly is a pile of Dinosaur(?) bones spawning in Moisty Mire. There's a lot of activity around Moisty Mire, so I could see it as one of the main parts of the map that experiences some significant changes.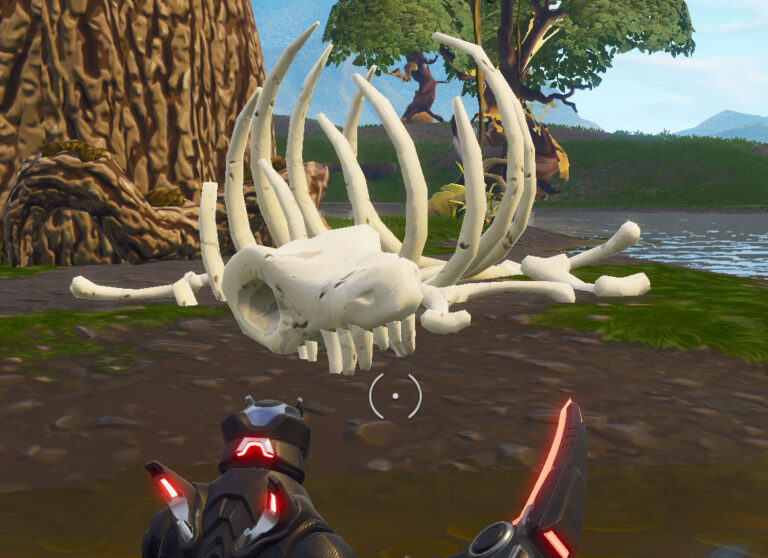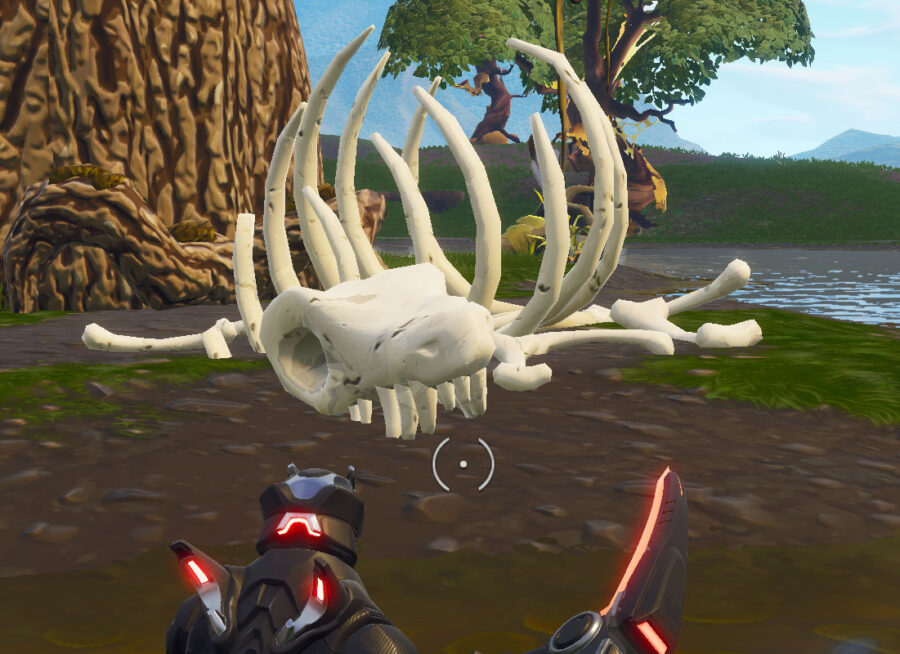 Rocket Event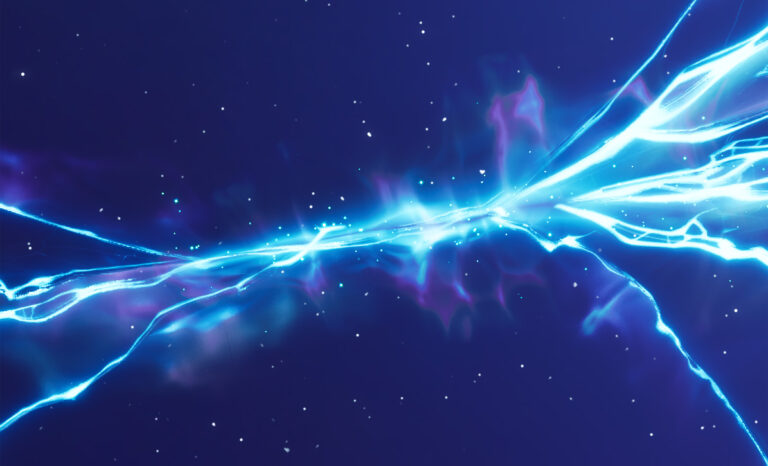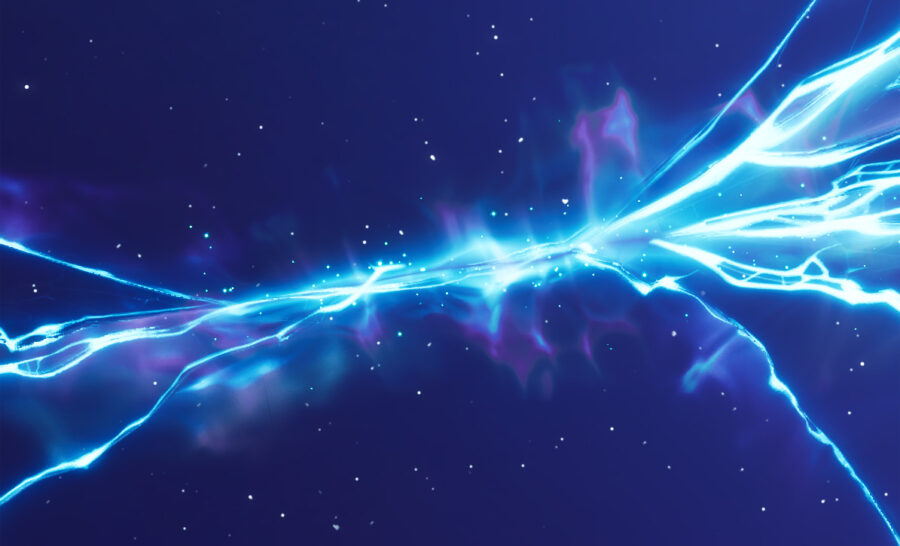 On June 30th, 2018 at 10:30am PST a rocket was launched from the evil villain base that is east of Snobby Shores. Once it launched, the initial rocket popped off and crashed into Anarachy Acres, then it stopped in mid-air and with red laser beams focused in on Tilted Towers. It burst quickly towards the area, but crashed through into some other dimension, came out again, traveled around, went through another dimensional portal, and finally shot upwards and broke through what appears to be a dome. There is now a large crack in the sky/dome (pictured above), and there's some kind of energy/portal manifesting in Lonely Lodge.
You can watch the entire thing in this awesome cinematic version:
Here's how the portal looks that is in front of Lonely Lodge (sign was seemingly consumed):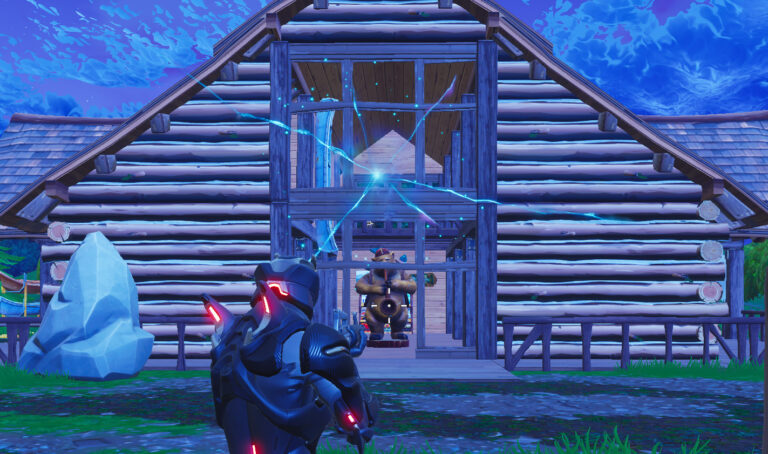 There's another anomaly outside of the hotel which is west of Anarchy Acres: