Time for week 7 challenges in Season 5 of the Fortnite Battle Pass! This week we're visting the center of four named locations in a single match, searching three supply drops, getting some SMG eliminations, dealing damage to opponent's structures with Remote Explosives, searching chests in Lucky Landing, following a treasure map found in Pleasant Park, and eliminating opponent in Lazy Links. Once you've completed all of that, we're looking for that hidden battle star to complete the week!
Season 5 Battle Pass Challenges List for Week 7
Free Battle Pass Challenges List
Paid Battle Pass Challenges List
Check out our Fortnite Season 5 Guide for guides on every week of challenges!
Struggling with Challenges?
If you are having any issues with the challenges, try heading to the 50v50 LTM. You get a lot more chance to loot areas that require chest openings without being shot. You can knock off a lot of these challenges in this mode, however, it's a bit more difficult to get location specific eliminations done. I'd try to do those in solo, duos, or squads.
Visit different Named Locations in a Single Match (4)
This one should be interesting, you'll want to head to a location that's pretty unpopulated and away from the bus. I like the look of Wailing Woods, Risky Reels, Tomato Town and Lazy Links. You could also opt for Lonely Lodge as an option and head north west. You could also try landing at Junk Junction and heading to Haunted Hills, Pleasant Park, and then to either Loot Lake or Tilted Towers. There's a lot of options, but you'll need to play it pretty safe to make sure you hit all of them in a single match.
Search Supply Drops (3)
This one might take a bit of time, if you are playing in the normal game type you won't find these as often as you might like. If you play 50v50, however, these drop in a large bunch and you'll have a much easier time of grabbing one or two in a match.
SMG Eliminations (3) (HARD)
The SMG eliminations used to be kind of a pain, but now they are an important part of your loadout. Remember that the Drum Gun counts as an SMG, so be sure to grab that if you get a chance because it's one of the best guns in the game still.
Deal damage to opponents structures with Remote Explosives (5000)
Remote Explosives were extremely strong for a while, but have been nerfed a bit to a tolerable level. They are still really strong, so try to find room in your inventory for them. The hardest part of this one is going to be finding them, but you shouldn't have too much trouble exploding structures once you locate some.
Stage 1: Search a Chest in Pleasant Park (1/5)
It looks like Epic is trying out some new challenges. Rather than having to gather a bunch of chests from one location, you'll now be traveling around the map grabbing a single chest in multiple locations. You don't have to do this all in one game, so don't worry about being eliminated early in the game. Here's a map with the locations of all five spots you'll need to hit in ORDER.
Pleasant Park
Retail Row
Lucky Landing
Greasy Grove
Paradise Palms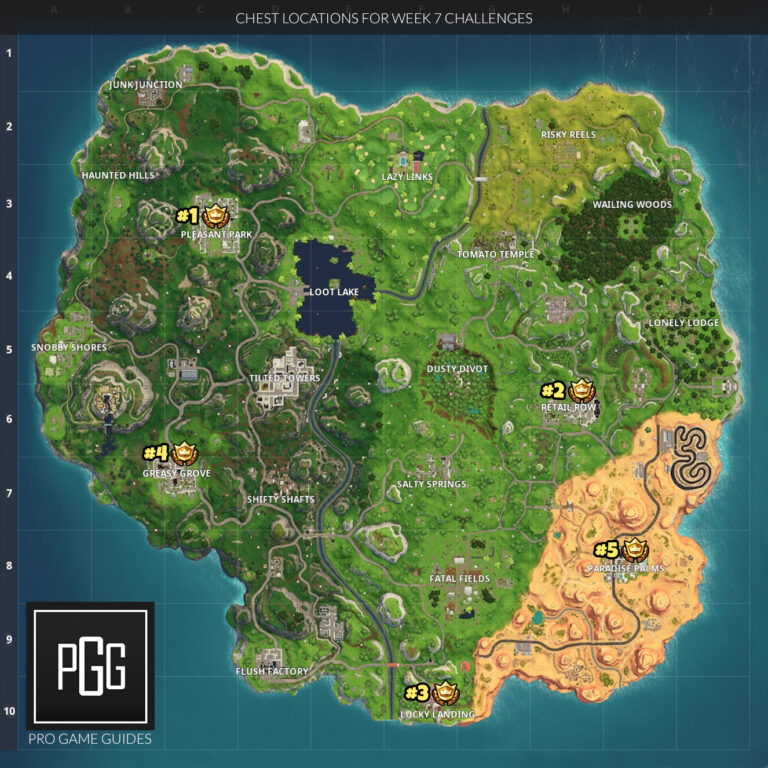 Follow the treasure map found in Dusty Divot (1) (HARD)
It looks like you'll find the treasure just north of Dusty Divot in-between three trees! I've thrown together a quick video to show the exact location.
Here's a map of the spot: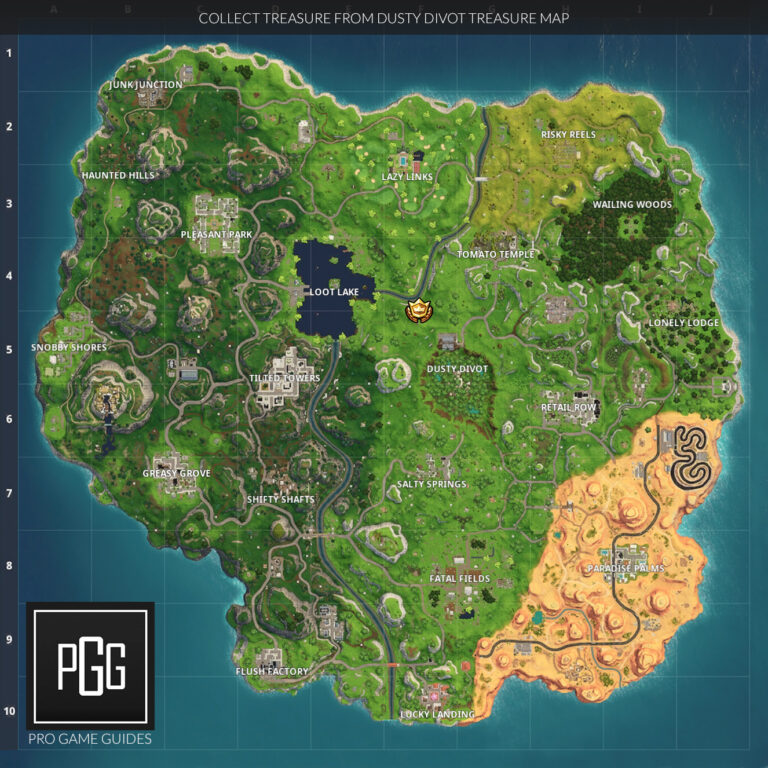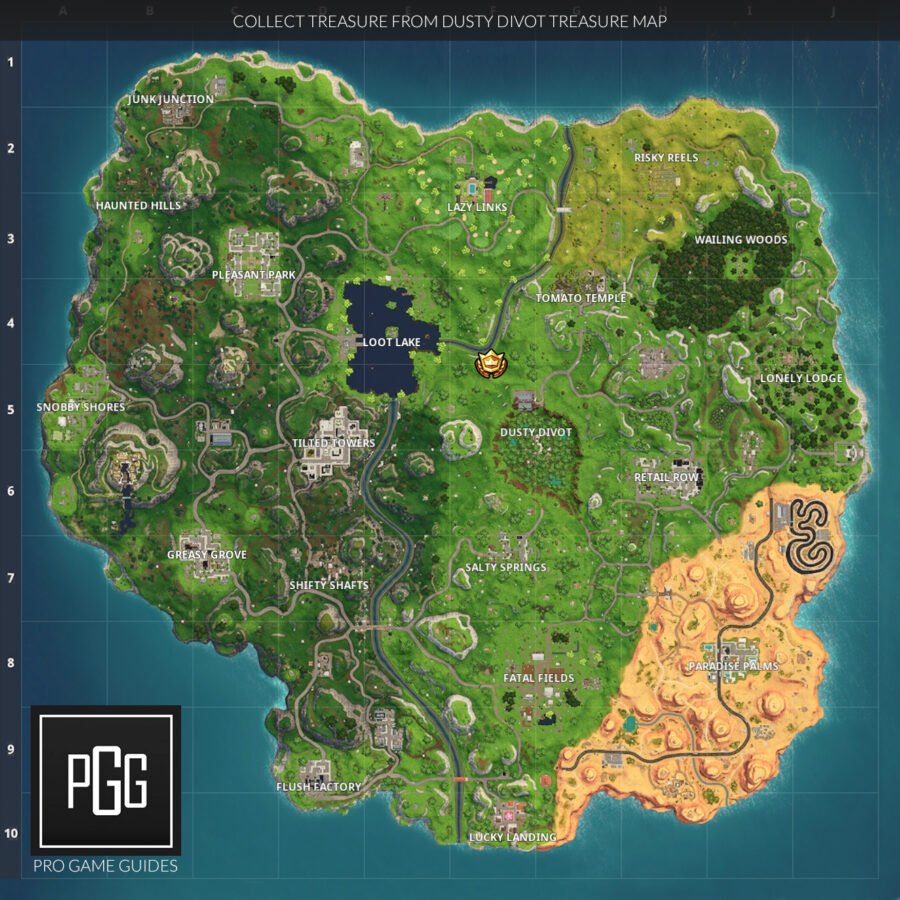 Eliminate opponents in Lazy Links (3) (HARD)
Lazy Links is one of the new areas introduced in the beginning of Season 5. It's a pretty interesting area, so heading here should be fun. You'll find quite a few ATKs littered around, so you can bail if things get too hectic. One key tip about this area is that if you feel you are landing slightly late, you should glide around the sand traps on the golf course and look for loot. Each of these traps can have a gun or two, so you can grab one real quick and then head into the action!
Hidden Battle Star for Week 7 of Season 5
Once you complete all of the challenges for the week you will be rewarded with a loading screen! This loading screen contains a clue to a hidden battle star. You can find the loading screen below.
Check out a full list with all of the hidden stars with our Season 5 Hidden Battle Star Locations Guide!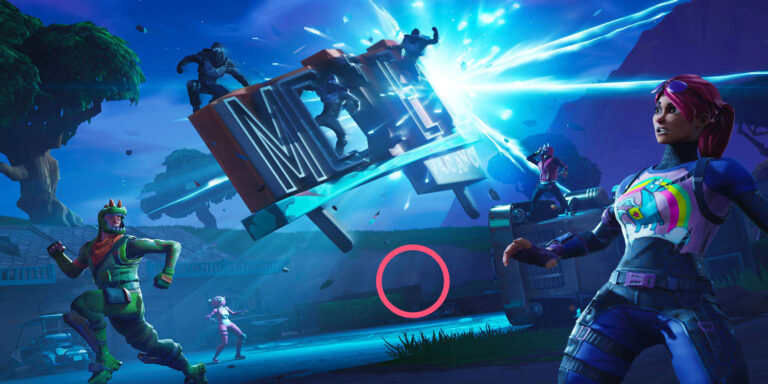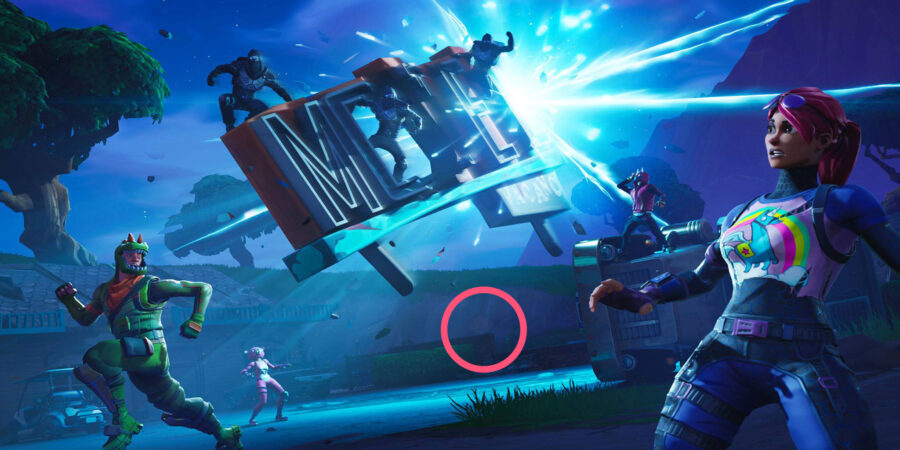 This one was pretty hard to see, but if you zoom in real good at the area circled you'll see it. You'll find the location at the unnamed Motel area that is west of Lazy Links. I've added a map below to the exact area!