Our Fortnite Week 9 Challenges List brings you all of the solutions and answers for the challenges you need to complete for the week. We have maps to treasure and item locations, as well as tips for completing all of them as quickly as possible!
This week we're dealing damage with explosive weapons, racking up points with an ATK or Shopping Cart, following a treasure map from Shifty Shafts, opening chests in various spots on the map, visiting different stone heads, eliminating enemies with an Assault rifle, and getting eliminations in the new Tomato Temple!
Week 9 Challenges List for Season 5
Free Battle Pass Challenges List
Paid Battle Pass Challenges List
Check out our Fortnite Season 5 Guide for guides on every week of challenges!
Deal damage with Explosive Weapons to opponents (500)
This one can be a bit annoying at times, but keep in mind that you can use all sorts of weaponry. You can use Grenades, Stink Grenades, Sticky Grenades, and Remote Explosives. This also included the traditional usage of the Rocket and Grenade Launcher as well as the Guided Missiles.
Get Trick Points in a Shopping Cart or ATK (150,000)
Getting trick points requires you to launch off of ramps and various hills and mountains while spinning around or banging off of things. You'll notice a points multiplier as you start to drive around. Keep in mind that you have to land safely to get the points from your fancy moves. You shouldn't need to do this in one trick, it's cumulative so don't fret about sticking the landing! Check out the ATK locations map below, and if you want to learn more about them check out our ATK Guide.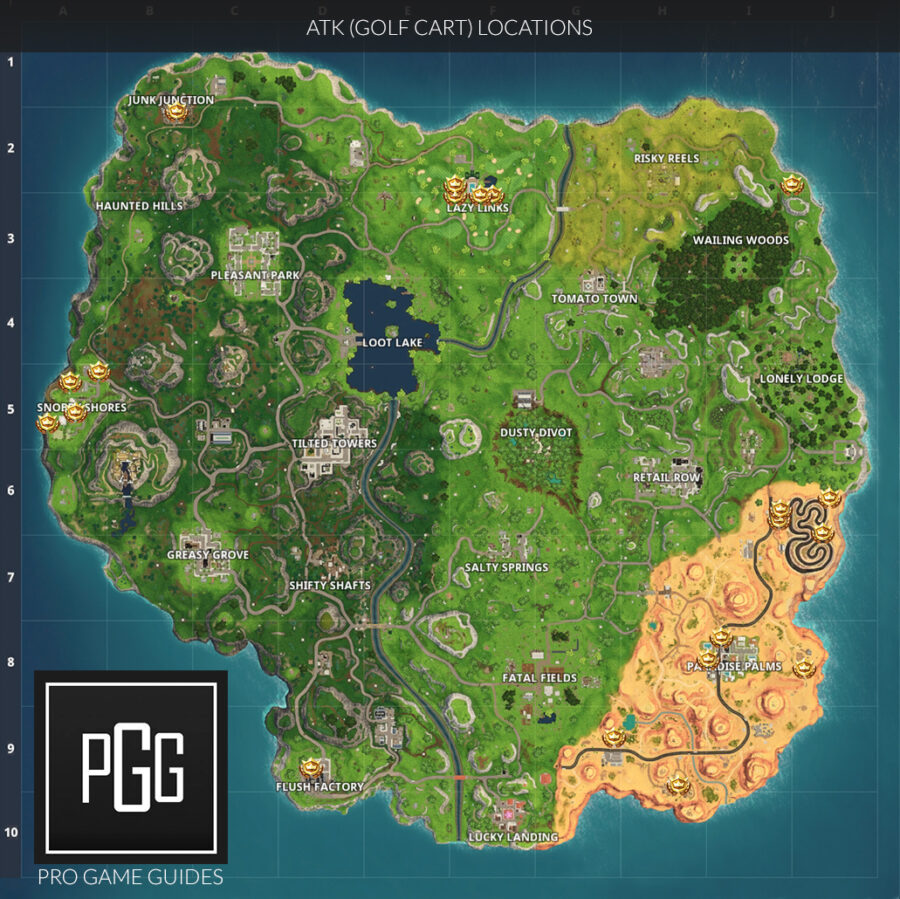 Follow the treasure map found in Shifty Shafts (1) (HARD)
You'll find the treasure from the Shifty Shafts map north of Salty Springs on the mountain. It's on the south-eastern portion, it's on the third level from the top of the mountain if you count each section.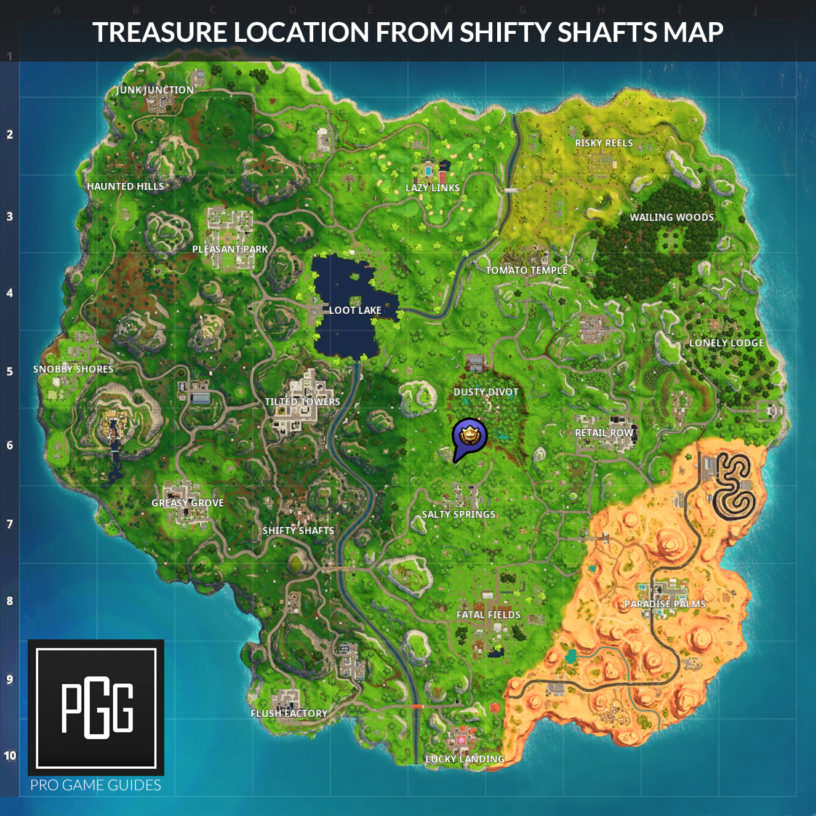 Stage 1: Search a Chest in Haunted Hills (1/5)
You'll be heading around the map to collect a chest from various locations. You will need to hit five different spots and open up a chest, here's a list of them in order:
Haunted Hills
Shifty Shafts
Lazy Links
Tilted Towers
Risky Reels
Visit different Stone Heads (7)
It's time to do some traveling around the map and hit up the different Stone Heads that are scattered all over the place. Most of these have rifts nearby, so you can actually bounce around from each one if you are lucky! I've included a map with all of the Stone Head locations below!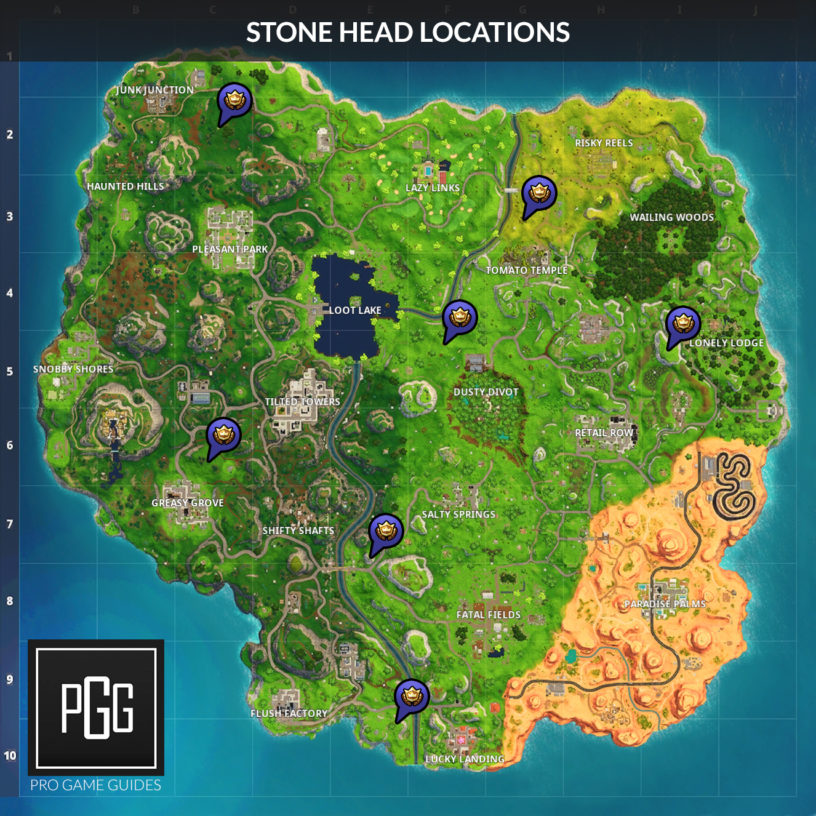 Assault Rifle Eliminations (5) (HARD)
This one should be fairly simple to do, but Assault Rifles have been a bit less popular now that SMGs and the Drum Gun have been taking over. If you want to learn how to manage your assault rifles better, check out our Assault Rifle Tips Guide!
Eliminate opponents in Tomato Temple (3) (HARD)
Tomato Temple is one of the newest additions to the map. The once lowly Tomato Town has been turned into a shrine for the great Tomatohead. The area itself reminds me of Shifty Shafts, so watch all of your areas high and low. There's multiple levels to this part of the map, and finding where someone is coming from can be a bit confusing.
Week 9 Loading Screen
Once you've completed all of the challenges for the week you will unlock the following loading screen!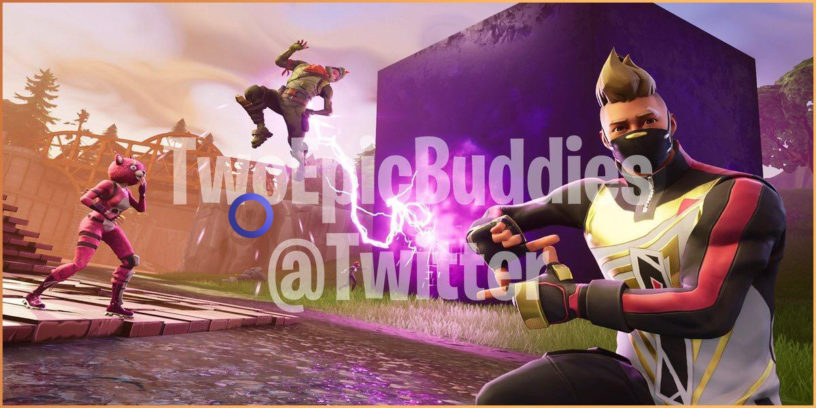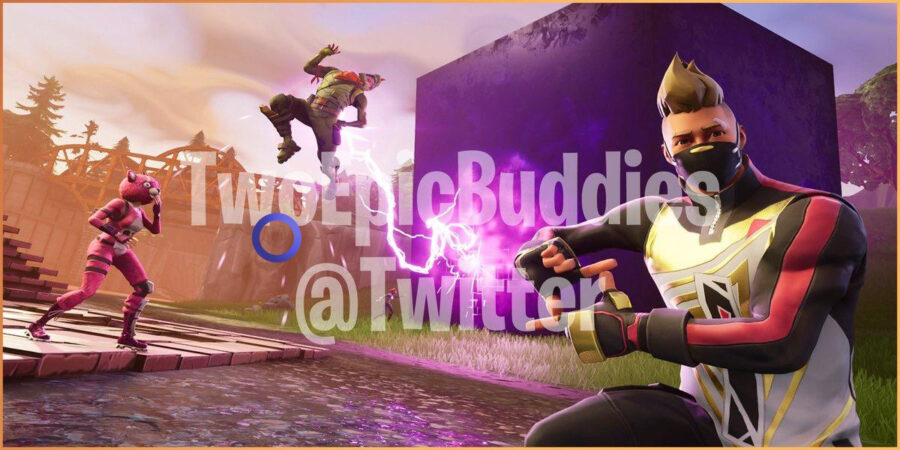 While this won't lead you to another battle star, it will lead you to a new banner icon! You can just barely see the outline of it in the stone below the bridge. This area is south east of Shifty Shafts right below the bridge. Here's a map to the location of the banner: