Week 2 of Season 5 of the Battle Pass is here! This week we're damaging enemies assault rifle, searching many ammo boxes in a single match, eliminating opponents in the new Paradise Palms, scoring baskets on different hoops, searching through chests in Loot Lake, tracking down a treasure location between an oasis, rock archway, and dinosaurs, and finally we're eliminating opponents with a sniper rifle!
Season 5 Battle Pass Challenges List for Week 2
Free Battle Pass Challenges List
Paid Battle Pass Challenges List
Check out our Season 5 Guide for guides on every week of challenges!
Deal damage with Assault Rifles to opponents (1000)
This would usually be one of the easier challenges, and likely it still will be, but some players have actually stopped even running Assault Rifles for the most part. Due to the power of the SMG, you can often go without it just by getting closer to your opponent or just running a Hunting Rifle as your long distance weapon. However, they are still pretty strong, so if you are struggling with using these be sure to check out our Assault Rifles Tips Guide!
Search 7 Ammo Boxes in a single match (7)
Be on the look out for those small green containers that have ammunition in them! These are often overlooked by players, in some cases you might just be rushing around early in the game and leave them behind. This is probably a good strategy early on, when you just want to get the best guns as quickly as possible. If you really want to complete this challenge, then I recommend looking for an area that is far from the bus path and just running around to quickly loot these with no one trying to eliminate you.
Eliminate opponents in Paradise Palms (3) (HARD)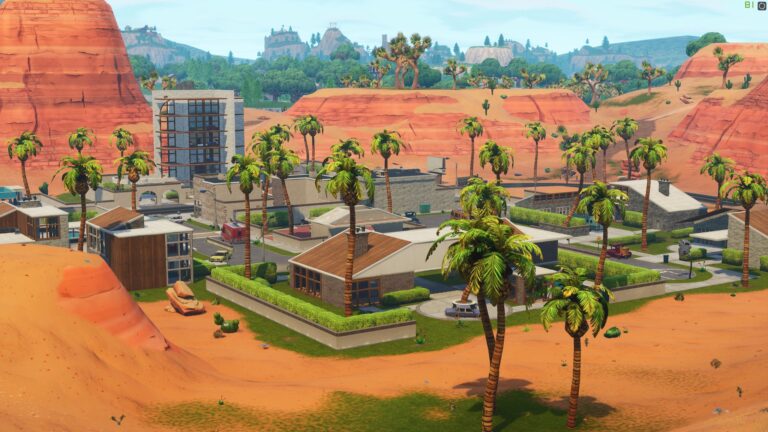 Paradise Palms is the large new named area that appears in the desert biome that used to be occupied by Moisty Mire. It's a pretty popular spot right now, so finding enemies won't be hard. However, this also means you will be fighting tooth and nail for weapons and loot. Try to land on the outskirts or corners of the area so you don't have to worry about getting pinched!
Score a basket on different hoops (5)
Here's a new challenge style that utilizes the new Fortnite Toys that were added in Season 5. You'll need to get to Tier 11 at the very least to unlock the first basketball toy. Once you've got this, head to your Locker and equip it to one of your emote spots. This will make it easier to access, because you might need to do some of these in a hurry. Now that you have that equipped, head to a basketball court. You have to make a shot into the hoop. How you aim with your mouse will determine where the ball is going to go. So go to around the free throw line and hurl a basketball at the hoop. Quickly adjust your aim if you miss, try to stand still and only adjust the height of your shot. This can get you killed, so you'll want to either clear the area or do it immediately while people are looting their weapons.
If you want more detailed information, check out our Basketball Court Locations Guide!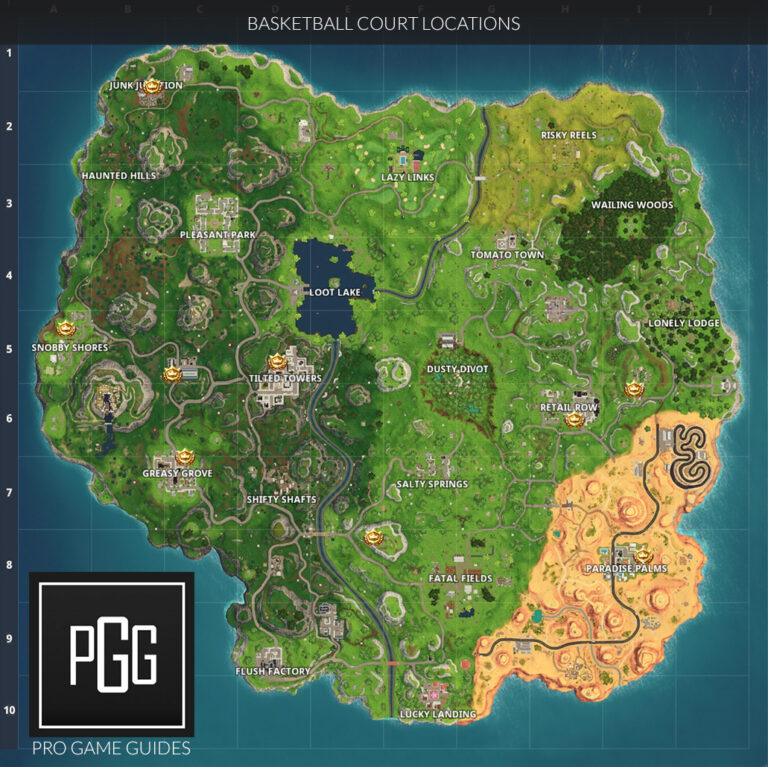 Search Chests in Loot Lake (7)
Loot Lake is probably one of my least favorite landing areas. I would recommend sticking to the outskirts and heading to the factory area if possible. If you happen to get the place to yourself, you can make your way to the big house in the middle of the lake. However, I imagine that area is going to be one of the most popular. If you are looking for less competition, I would head to the north portion where the modern house is and head to the east along the lake and grab those chests along the way.
Loot Lake Chest Locations Map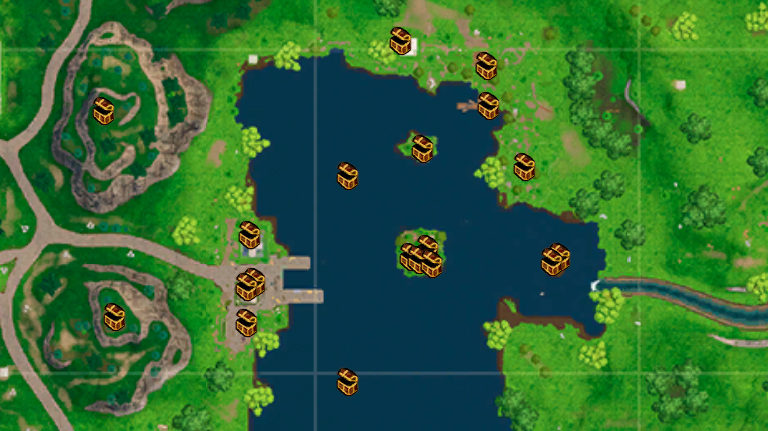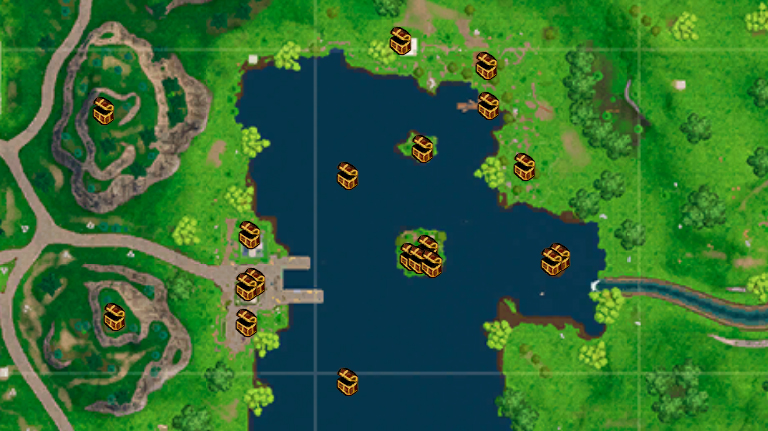 Search between an oasis, rock archway, and dinosaurs (HARD)
Head to the new desert biome for this treasure! I have marked the three clues below, and you will find the treasure at the BASE of the middle mountain, right next to the little stone pillar. Check out the map below for the exact location!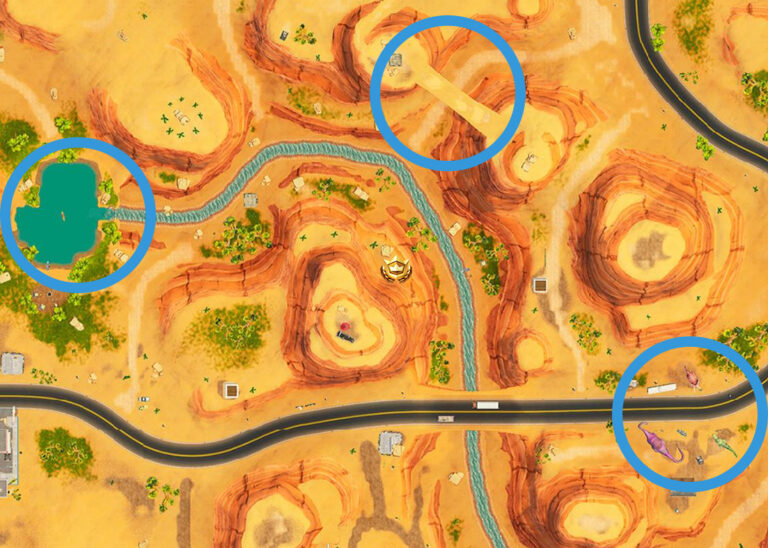 Sniper Rifle Eliminations (2) (HARD)
This one can be quite difficult for people who have yet to learn the sniper rifle. I highly recommend trying to use one more often, they are really strong in solo games where you just flat out remove someone from the game with one shot. In duos and squads, they can completely change the tide of a battle. If you are able to down an enemy from another group, this allows you and your teammate(s) to be aggressive and have a distinct advantage. In a lot of fights, players will immediately head to resurrect their teammate, you can then keep pressure on them and make it hard to do so.
An interesting thing for this challenge is that the Semi-Auto Sniper Rifle recently got a buff. It's damage was upped, and the gold version can almost one-shot a person from 200 hp. This makes the gun a bit more viable, and while I still would take the Bolt and Hunting Rifle over it, you can still do some work with this lesser used weapon.
If you want to learn more about sniping in Fortnite, check out our Sniper Tips Guide!
Hidden Battle Star for Week 2 of Season 5
Once you complete all of the challenges for the week you will be rewarded with a loading screen! This loading screen contains a clue to a hidden battle star. Week 2's loading screen is below, I've circled where the clue is in the image below.
Check out a full list with all of the hidden stars with our Season 5 Hidden Battle Star Locations Guide!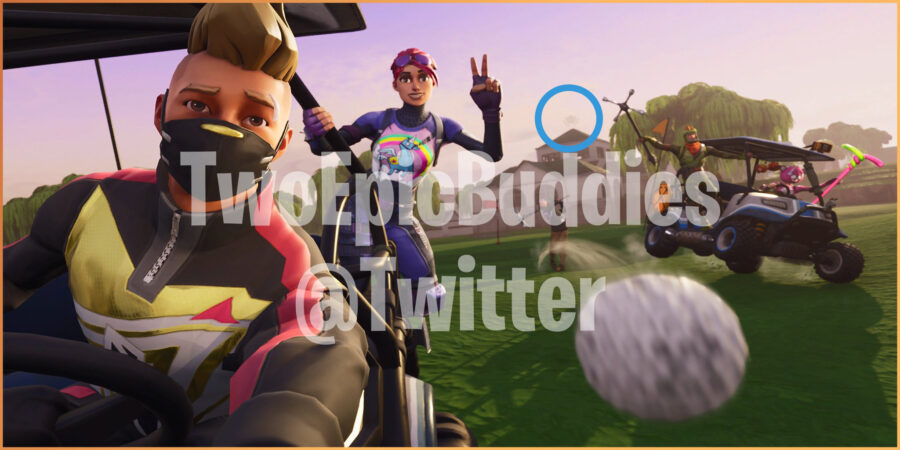 Head on over to Lazy Links and the main clubhouse area. You will find the hidden star on top of the roof!