Season 5 has finally arrived and we've got a full list of challenges awaiting us in the battle pass. This week we're dealing damage with the SMG, searching a Supply Llama, eliminating enemies with a clinger, stink bomb, or grenade in the free battle pass. If you've upgraded, you will also be searching chests in Snobby Shores, looking for floating Lightning Bolts, following a treasure map found in Risky Reels, and eliminating opponents in Retail Row!
Season 5 Battle Pass Challenges List for Week 1
Free Battle Pass Challenges List
Paid Battle Pass Challenges List
Check out our Season 5 Guide for guides on every week of challenges!
Deal damage with SMGs to opponent (500)
The SMG has gotten a lot of upgrades recently, so you should likely be running one as a secondary to your shotgun. You can rock the suppressed, tactical, and the Drum Gun to complete this challenge. Yes, you read that correctly the Drum Gun is actually considered an SMG even though it uses medium ammo!
Search a Supply Llama (1)
This one might be kind of annoying to get, but if you play enough games you should come across at least one. The best way to do this one, is to float around the middle area of the map and look for the bright pink pinata while gliding around. It should be fairly easy to spot and you can cover a lot of ground if you are gliding in the beginning of the game.
Clinger, Stink Bomb, or Grenade Eliminations (3)
I would say this one will be fairly difficult to accomplish. However, you can use the trick of knocking someone in duos and squads and then finishing them with one of the listed explosives. The Clinger and Grenade are going to be far easier to use. The Stink Bomb is an interesting option in general, but it's hard to actually get eliminations with it unless they are extremely low health. You are normally just using it to drive enemies out of certain areas.
Search Chests in Snobby Shores (7)
Snobby Shores is a pretty good location if you are looking for a more quiet game early on. People do land here in general, but it's manageable most of the time. The chest locations below might not be fully up-to-date for the new map, but there wasn't much change in this area of the map.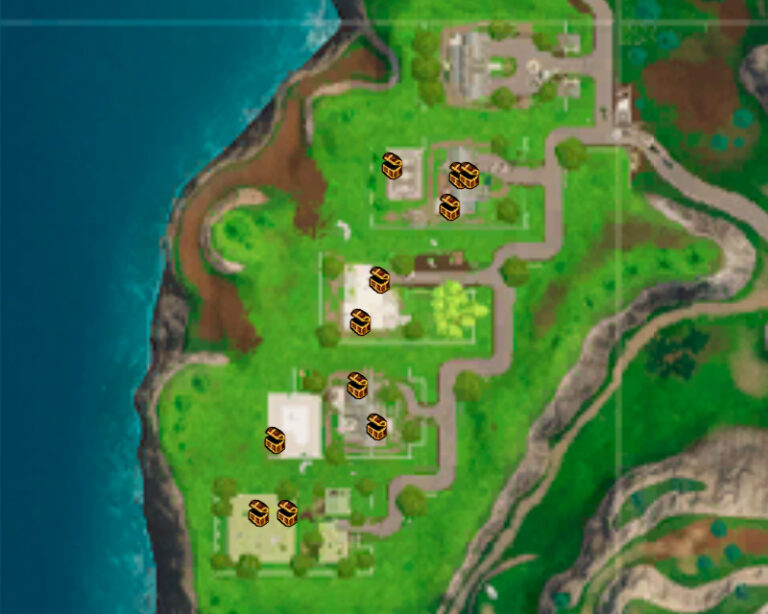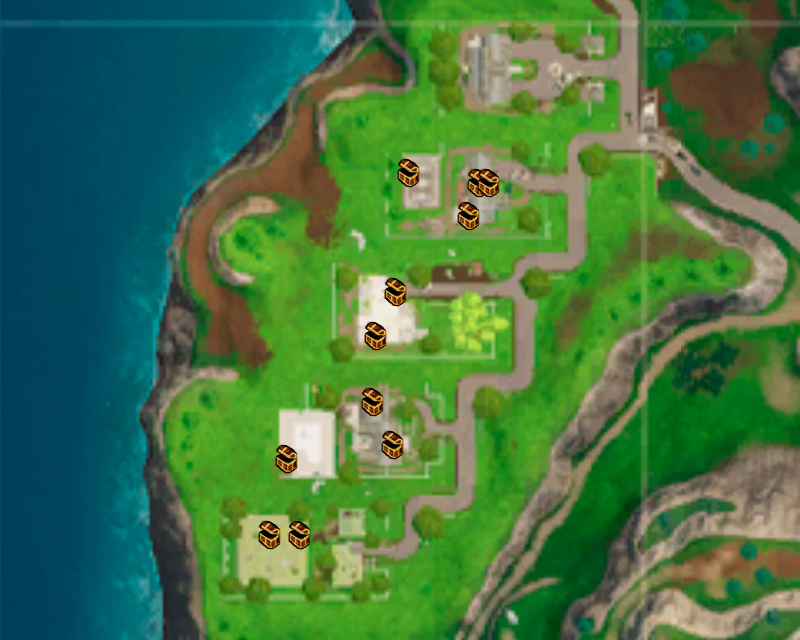 Search floating Lightning Bolts (7)
You'll find Lightning Bolts across the map in various areas. Just run up to them and hit your use key to grab one. Here's a full map of their locations below!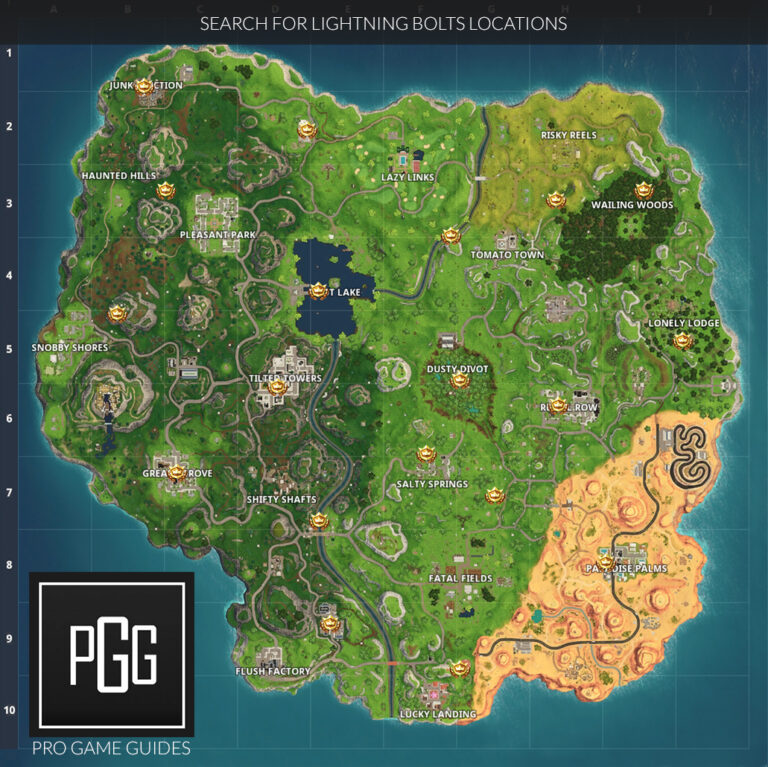 Follow the treasure map found in Risky Reels (1) (HARD)
You don't need to head to Risky Reels for the map, you can go directly south of Tomato Town and head to the location shown in the map below!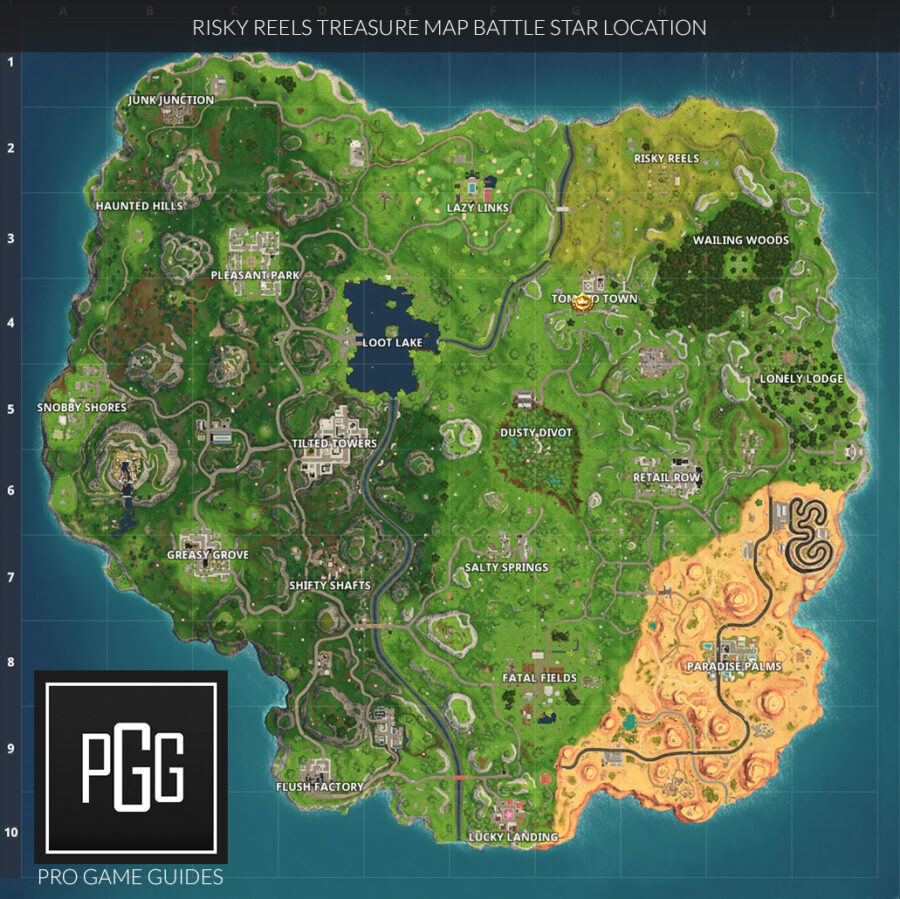 Eliminate opponents in Retail Row (3) (HARD)
Retail Row is a pretty popular spot, but right now with all of the new map locations it might be a bit quiet for the time being. It should still be pretty to easy to get your eliminations as long as you get a gun early on.
Hidden Battle Star for Week 1 of Season 5
Once you complete all of the challenges for the week you will be rewarded with a loading screen! This loading screen contains a clue to a hidden battle star. Week 1's loading screen is below, I've circled where the clue is in the image below.
Check out a full list with all of the hidden stars with our Season 5 Hidden Battle Star Locations Guide!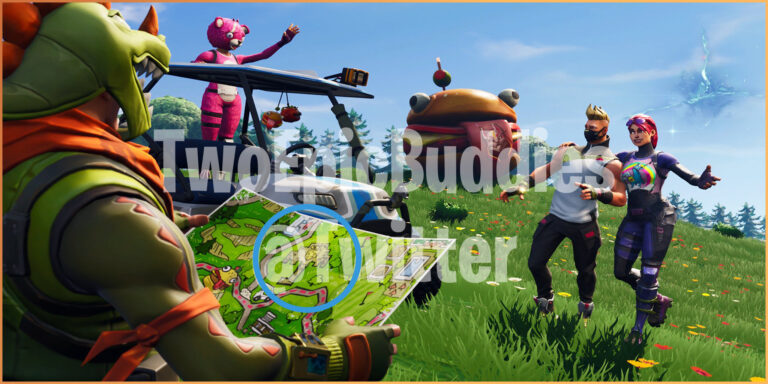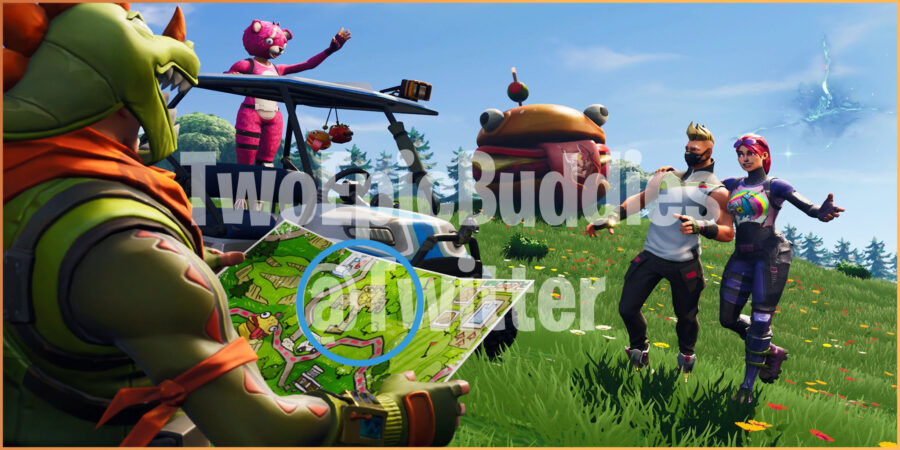 This map shows us the mining area that is to the west of Lazy Links (formerly Anarchy Acres)! Here's a map with the exact location: