It's week 4 of the Season 5 battle pass, and our guide will run you through the full list, locations, and solutions for all of the challenges! This week we're building structures, jumping through flaming hoops, eliminating opponents in Dusty Divot, dealing damage with sniper rifles, searching chests in Flush Factory, locating treasure between a gas station, soccer pitch, and stunt mountain, and finally we're getting eliminations with the pistol!
Season 5 Battle Pass Challenges List for Week 4
Free Battle Pass Challenges List
Paid Battle Pass Challenges List
Check out our Season 5 Guide for guides on every week of challenges!
Struggling with Challenges?
If you are having any issues with the challenges, try heading to the 50v50 LTM. You get a lot more chance to loot areas that require chest openings without being shot. You can knock off a lot of these challenges in this mode, however, it's a bit more difficult to get location specific eliminations done. I'd try to do those in solo, duos, or squads.
Build Structures (250)
This should just be something you complete while you play. I wouldn't stress too much on trying to get this done speedily, but if you want to do that. Head to a resource rich area like Wailing Woods. Hack away at the trees and gather up the resources, then build all the structures that you possibly can!
Jump through flaming hoops with a Shopping Cart or ATK (5)
Here's a full map of all of the flaming hoop locations. Lazy Links is going to be your best bet to not only find a kart, but you'll also have access to three locations pretty close together. The desert biome is also a great place to grab a kart, so you can head there as well. Flush Factory also has an ATK spawn, but Flush might be a bit crowded due to the challenge for chests being there this week.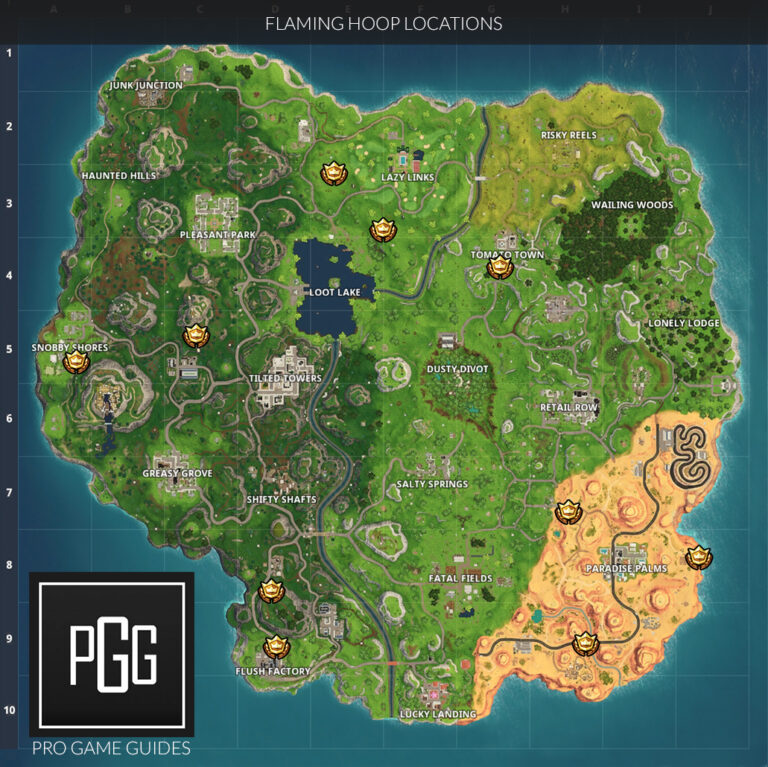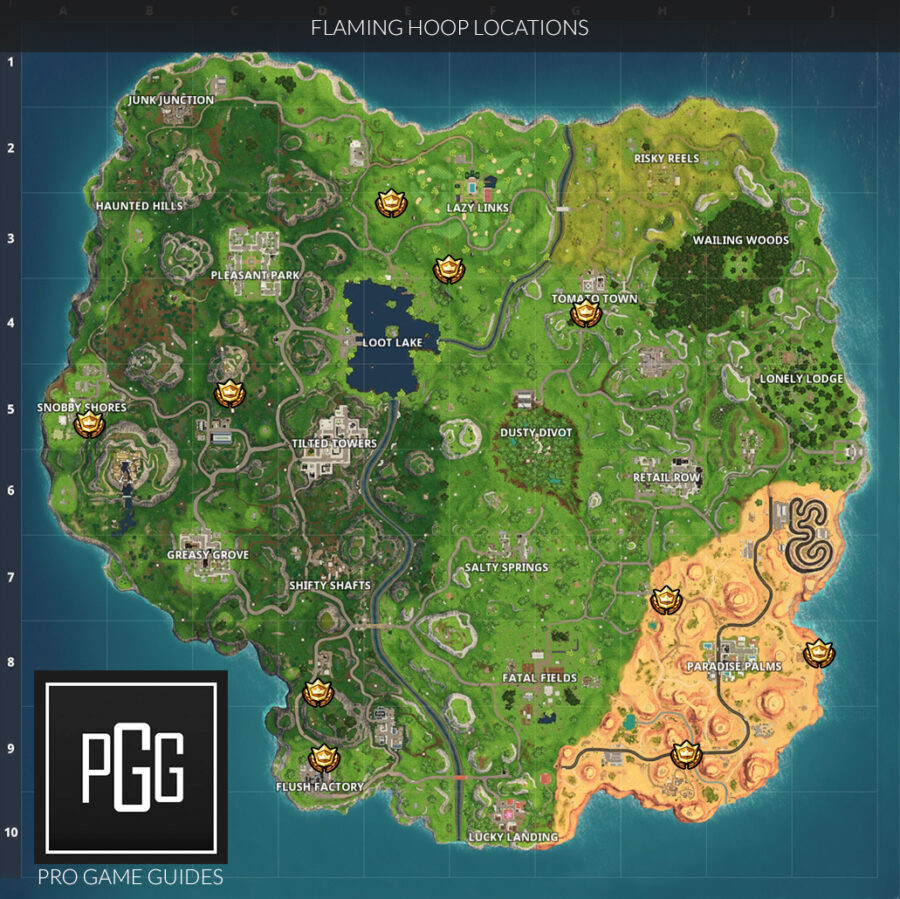 Eliminate opponents in Dusty Divot (3) (HARD)
Dusty Divot was a really popular place to land in the last season, but doesn't get a lot of action these days. It's actually a pretty awesome area with the trees and ponds. You can also have the benefit of a lot of shield mushrooms on the ground. Look to get a gun on the outskirts of the area, and head here to clean people up that are fighting it out!
Deal damage with Sniper Rifles to opponents (500)
This will be pretty easily done in duos or squads. If you knock down an opponent, you can then snipe them easily and get big damage on them. If you head to 50v50, enemies are prime to be sniped. You'll see a lot of people just standing around, this makes for easy eliminations. If you are struggling with sniping, then check out our Sniper Tips and Tricks guide!
Search Chests in Flush Factory (7)
We're headed back to Flush Factory again on the lookout for chests. Mostly this is a pretty weak landing spot, but it does have a fair amount of loot if you get it all for yourself. This will not be the case for now, so be ready to battle. You can always just flat out land on the big toilet area in front for a chest and hopefully a gun good enough to dispatch people before they grab any loot. There's always the main building area, you might get lucky enough to grab multiple chests.
Flush Factory Chest Locations Map
Search between a gas station, soccer pitch, and Stunt Mountain (HARD)
It looks like this treasure will be just south of Pleasant Park where there's a stunt mountain and gas station. The exact location of the treasure is marked below, just run around this area and it should pop up so you can grab it!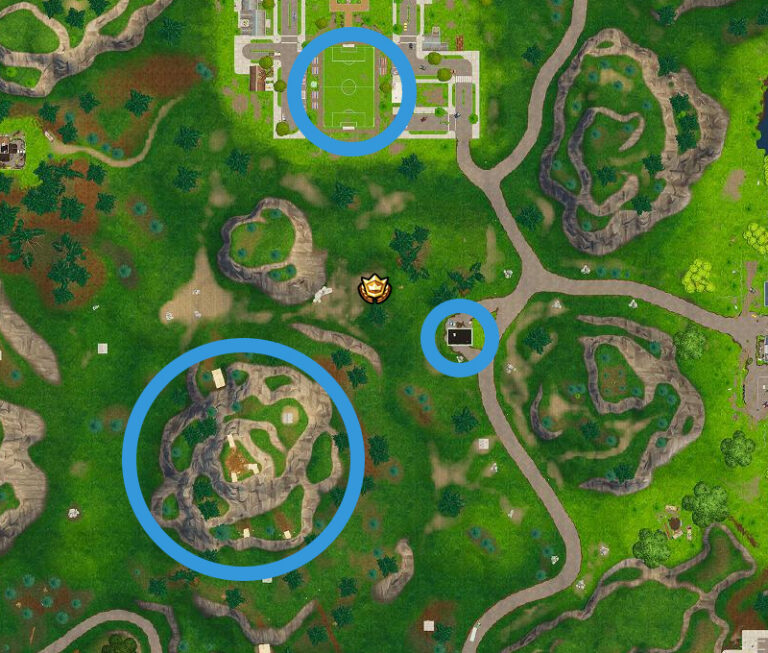 Pistol Eliminations (3) (HARD)
Pistols are pretty weak at the moment, but the standard and the suppressed pistol actually aren't too bad. You can also do work with the magnum and hand cannon if you have really good aim and the enemy is close enough. As always, you can always just keep a pistol with you and finish downed enemies with them to finish this challenge!
Hidden Battle Star for Week 4 of Season 5
Once you complete all of the challenges for the week you will be rewarded with a loading screen! This loading screen contains a clue to a hidden battle star. Week 4's loading screen is below, I've circled where the clue is in the image below.
Check out a full list with all of the hidden stars with our Season 5 Hidden Battle Star Locations Guide!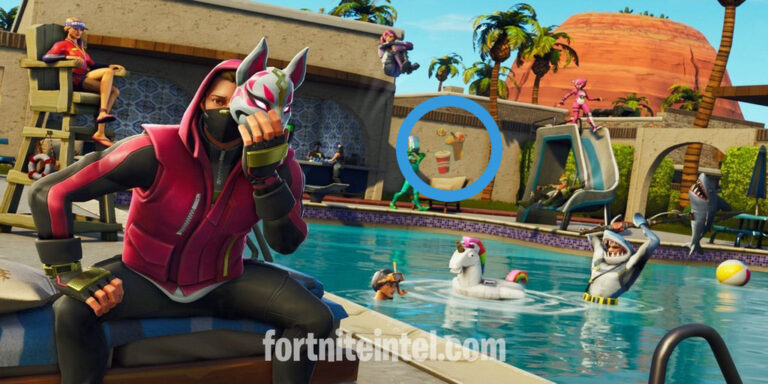 If you look closely at this week's loading screen that you get after completing all of the challenges, you will see a camel drinking a soda with a battle star floating over his head. This is odd, but it's not so odd if you've been frequenting the desert area of the map, because there's a camel statue drinking a soda stationed to the very south west of the biome. Check out the map below for the exact location!