Our Fortnite Season 6 Week 8 Challenges List and Cheat Sheet brings you all of the solutions and answers for the challenges you need to complete for the week. We have maps to treasure and item locations, as well as tips for completing all of them as quickly as possible!
This week we're visiting various places in a single match, dancing with fish trophies at different named locations, getting eliminations with the six shooter or the heavy assault rifle, playing on the Clay Pigeon Shooters, getting trick points in a vehicle, visiting different named locations in a single match, and using different items!
Fortnite Season 6: Week 8 Cheat Sheet
If you want to check at where to find all the challenges, here's a cheat sheet for you! Check below for more detailed information on these challenges. Credit to SquatingDog.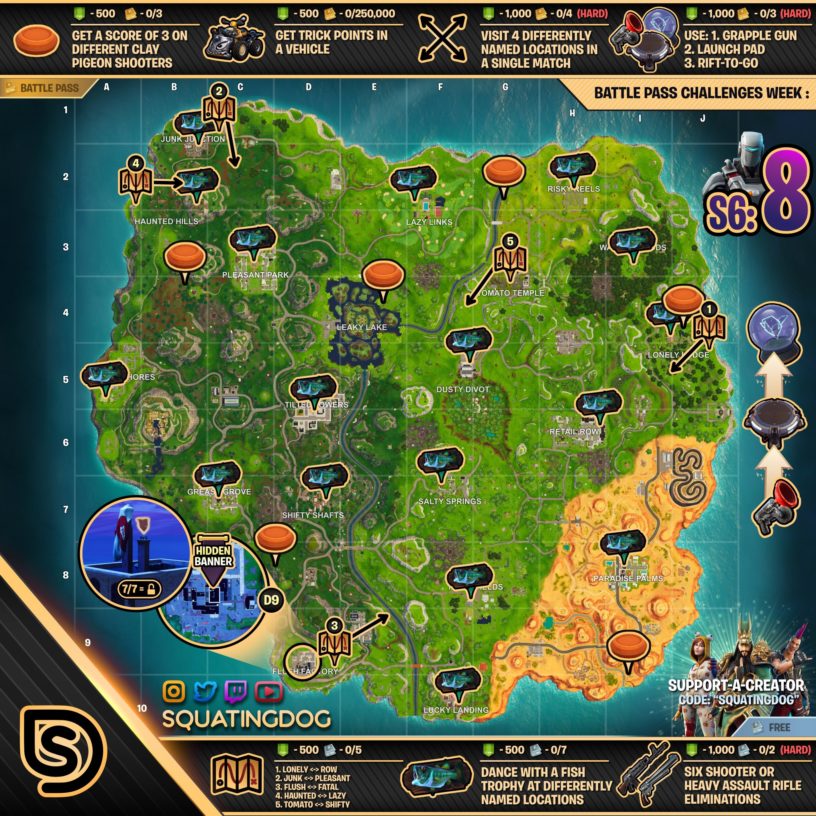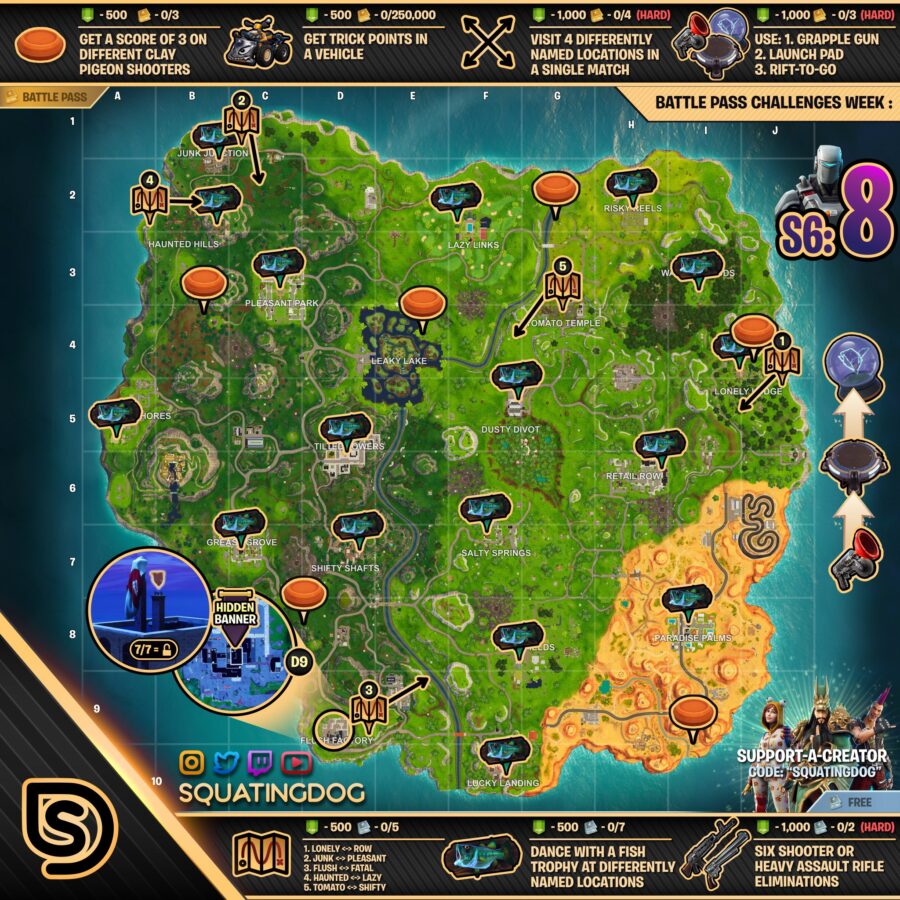 Week 8 Challenges List for Season 6
Free Battle Pass Challenges List
Paid Battle Pass Challenges List
Hidden Banner Week 8
Check out our Fortnite Season 6 Guide for guides on every week of challenges, and you'll find all of the hidden stars on our Season 6 Secret Battle Star Locations Guide!
Stage 1: Visit Lonely Lodge and Retail Row in a single match (2)
This one will have you running all over the place for five stages. The first is visiting Lonely Lodge and Retail Row, and from there you will have to hit Junk Junction to Pleasant Park, Flush Factory to Fatal Fields, Haunted Hills to Lazy Links, and from Tomato Temple to Shifty Shafts.
Dance with a fish trophy at different Named Locations (7)
You can find these fish trophies all over the map, check out the cheat sheet listed above for a map of all of their locations!
Six Shooter or Heavy Assault Rifle Eliminations (2) (HARD)
This one shouldn't be too difficult, but I'd opt for the Heavy Assault Rifle if possible. It's actually a really good gun, and the Six Shooter is a bit all over the place and can be difficult to get an elimination with.
Get a score of 3 on different Clay Pigeon Shooters (3)
Head to the locations listed on the cheat sheet above and start up the clay pigeon shooters. You'll need to hit three of the pigeons in the allotted time to complete the challenge, and you'll need to do this at three different locations.
Get Trick Points in a vehicle (250,000)
While you can use the Golf Cart for this, it will be way easier with the newer Quadcrasher. You can get a lot of height and do a lot of tricks with it by hitting the boost right as you are going up a ramp or hill. The main thing is attempting to stick the landing. You might want to build your own ramp to try to land on so you don't lose all of those points you just earned. Check out our Quadcrasher Locations guide to easily find some of these.
Visit different Named Locations in a single match (4) (HARD)
This one shouldn't be too hard if you head far off the bus path and just run around looting some of the nearby areas. You might want to grab a Quadcrasher to get around quickly. If you are playing just a general game and tend to make it to the end then you will likely just pick this up passively.
Stage 1: Use Grappling Hook (1) (HARD)
Another pretty easy one, but you have to do three different stages. You start off with the Grappling Hook, then go to the Launch Pad, and finally the Port-a-Rift!
Hidden Banner
Once you've completed all the challenges for the week you will be given the following loading screen. You can see the hidden banner location shown on the chimney right behind the A.I.M. skin.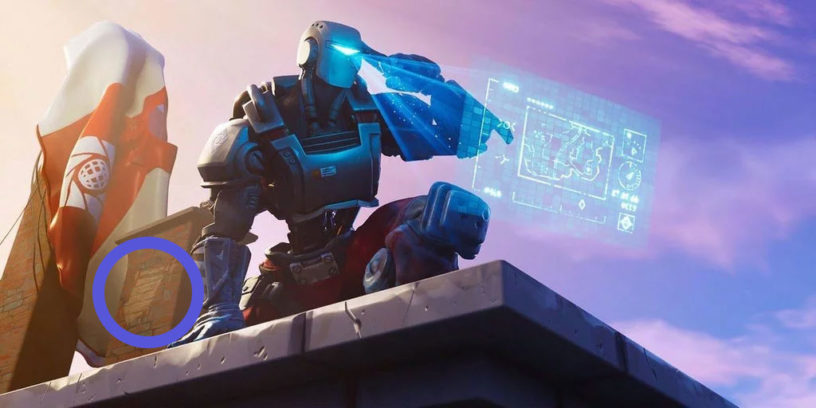 You can find this location at Flush Factory, and you'll even see the parachute featured in the image when you get there. Check out the map below for the exact location!