Our Fortnite Season 6 Week 9 Challenges List and Cheat Sheet brings you all of the solutions and answers for the challenges you need to complete for the week. We have maps to treasure and item locations, as well as tips for completing all of them as quickly as possible!
This week we are getting airtime in a vehicle, getting a high score on different Carnival Clown Boards, consuming mushrooms, dealing damage with various throwable explosives, dealing damage to opponent structures with Dynamite, getting Rocket or Grenade Launcher eliminations, and dealing damage with a variety of explosive!
Fortnite Season 6: Week 9 Cheat Sheet
If you want to check at where to find all the challenges, here's a cheat sheet for you! Check below for more detailed information on these challenges. Credit to SquatingDog.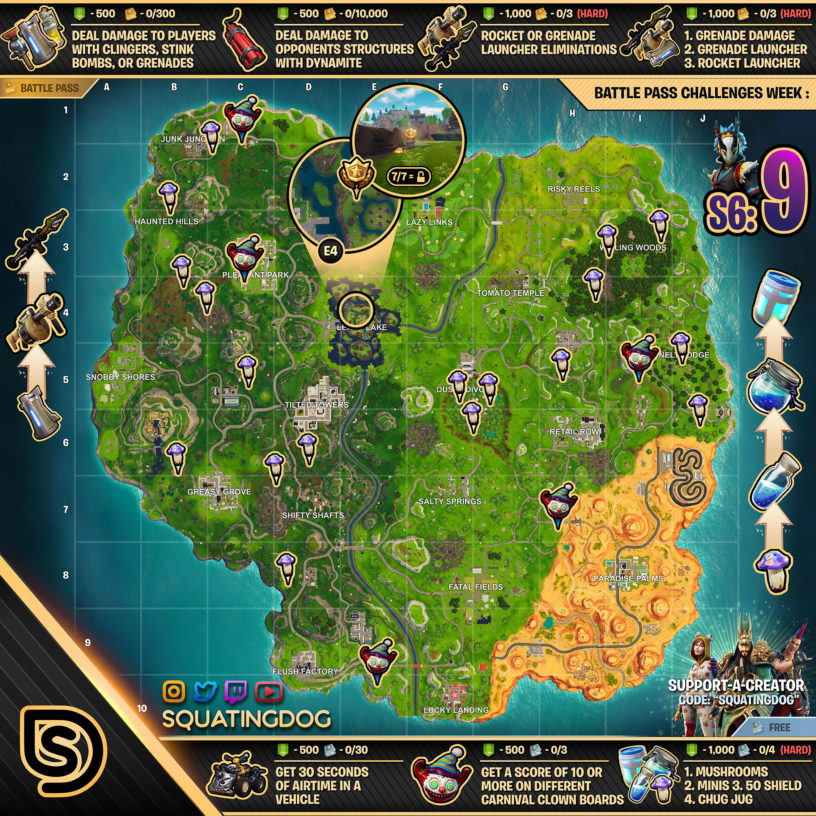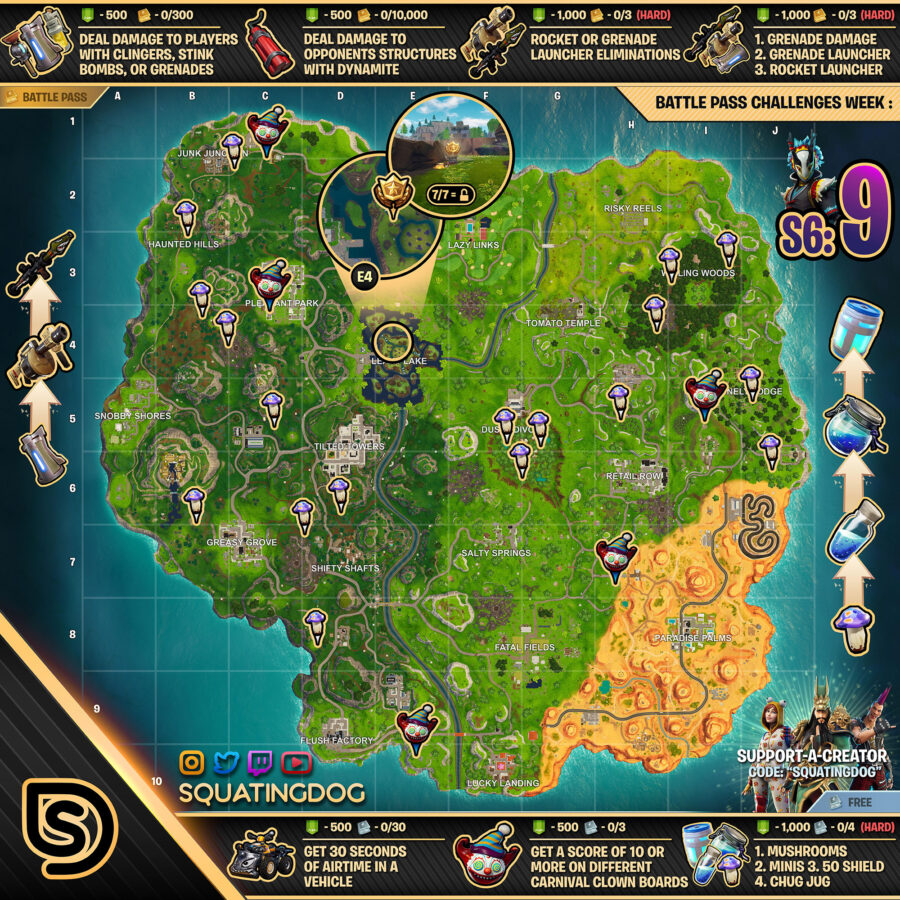 Week 9 Challenges List for Season 6
Free Battle Pass Challenges List
Paid Battle Pass Challenges List
Hidden Battle Star Week 9
Check out our Fortnite Season 6 Guide for guides on every week of challenges, and you'll find all of the hidden stars on our Season 6 Secret Battle Star Locations Guide!
Get 30s of airtime in a vehicle (30)
You might be able to do this in one try with how people are flying all over the map in those Quadcrashers. You can find all of their locations with our Quadcrasher Guide!
Get a score of 10 or more on different Carnival Clown Boards (3)
Check out the cheat sheet above for the locations, but you will need to get a 10 point score on these. The board has a bunch of holes on it, and once you activate it, balloons will start to inflate and you need to hit them with your pickaxe. If you are struggling, here's a video that shows you how it's done:
1/4 - Stage 1: Consume Mushrooms (5) (HARD)
Mushrooms aren't too hard to find, you can find them in most wooded areas or just check out the map above. After you consume the fungus, you'll need to drink down some minis, regular shields, and finally a Chug Jug!
Deal damage to players with a Clinger, Stink Bomb, or Grenade (300)
Pretty simple challenge, you just need to find throwable explosives and do some damage with them.
Deal damage to opponent structures with Dynamite (10,000)
Dynamite is a relatively new item, so it shouldn't be too hard to find. However, racking up 10,000 damage can take a while. Your best bet is to head into LTMs and lob this stuff at some of the huge structures that end up being built.
Rocket or Grenade Launcher Eliminations (3) (HARD)
These are very solid weapons but they can be hard to find. Open up a lot of chests and hit the supply drops when possible to find these. If you have the Rocket Launcher, try to hide it until you get an open shot and then switch to it quickly. If you have the grenade launcher, try to land the grenade either inside the structure or float it so it explodes right above it!
1/3 - Stage 1: Deal damage with Grenades to opponents (100) (HARD)
You might be able to finish this first stage by doing the damage to players challenge mentioned previously. The second and third, however, are going to require you dealing damage with the Grenade Launcher, and finally with the Rocket Launcher. I would try to pair these challenges with the previous one, so you can hopefully knock them out simultaneously.
Hidden Battle Star
Once you've completed all the challenges for the week you will be given the following loading screen. You can just barely see the transparent battle star right above the busted barbecue and below the creepy A.I.M. skin.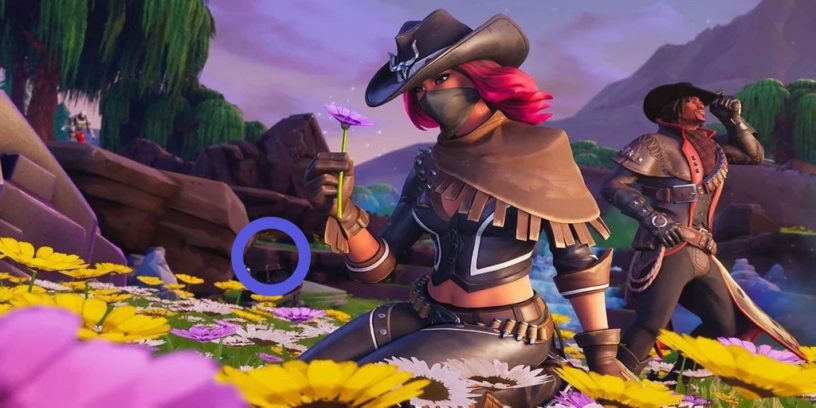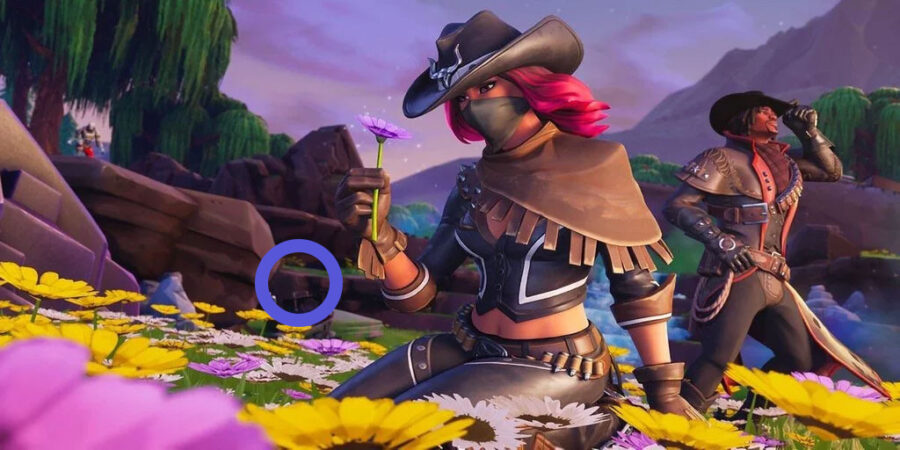 This location can be found in Leaky Lake to the north west part of it. Make sure you've finished all your challenges or it won't appear!