Our Fortnite Season 7 Week 6 Challenges List and Cheat Sheet brings you all of the solutions and answers for the challenges you need to complete for the week. We have maps to treasure and item locations, as well as tips for completing all of them as quickly as possible!
This week we're searching ammo boxes at different named locations, looking for chilly gnomes, eliminating opponents in various areas, visiting two different locations in a single match, sliding an ice puck over 150m, and finally dealing damage with various weaponry!
Fortnite Season 7: Week 6 Cheat Sheet
If you want to check at where to find all the challenges, here's a cheat sheet for you! Check below for more detailed information on these challenges. Credit to SquatingDog.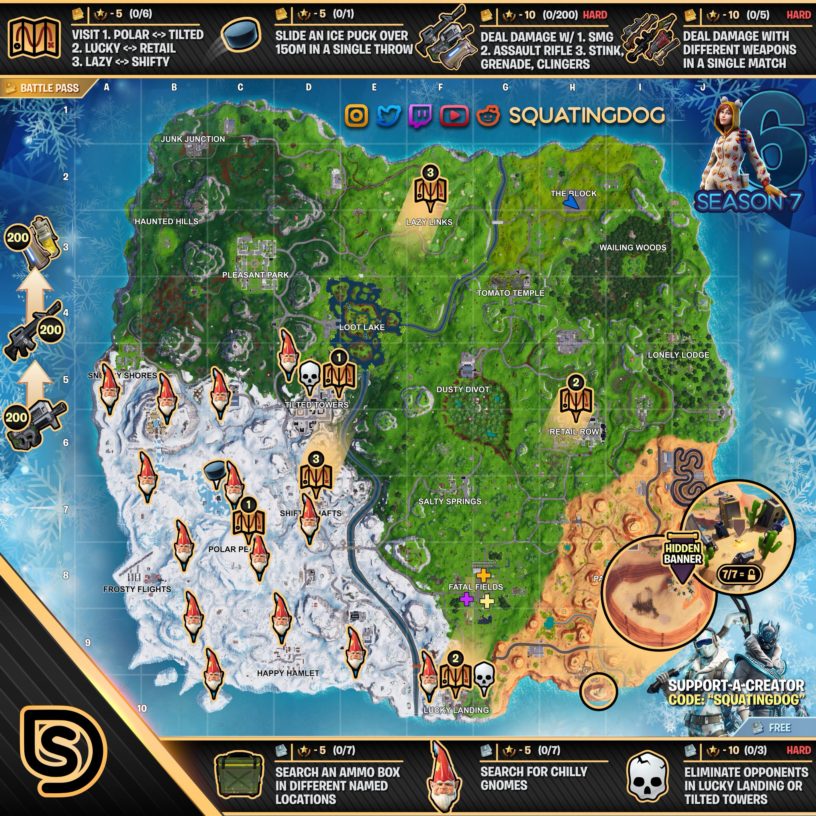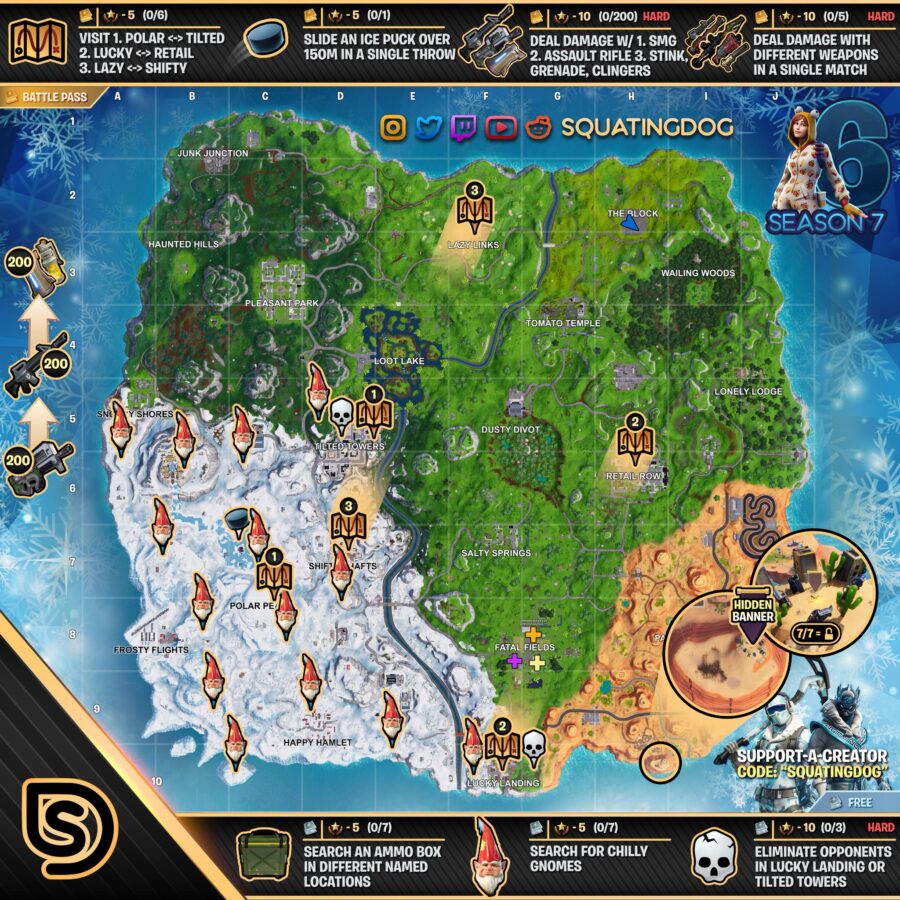 Week 6 Challenges List for Season 7
Free Battle Pass Challenges List
Paid Battle Pass Challenges List
Hidden Banner Week 6
Check out our Fortnite Season 7 Guide for guides on every week of challenges, and you'll find all of the hidden stars on our Season 7 Secret Battle Star Locations Guide!
Search an ammo box in different named locations (7)
Should be a pretty easy one to do, just make sure not to miss the ammo boxes that players seem to skip so often.
Search Chilly Gnomes (7)
You'll find Gnomes all over the snow biome that have been locked in ice. Run up to these poor little guys and free them from their icy prison! You can find their locations on the cheat sheet above, or check out the video below.
Eliminate opponents in Lucky Landing or Tilted Towers (3) (HARD)
Pretty easy one, you're likely to get eliminations faster just heading to Tilted Towers because Lucky Landing is not a popular landing spot these days.
Stage 1: Visit Polar Peak and Tilted Towers in a single match (2)
You'll be doing three stages of this and start with Polar Peak and Tilted Towers. From there you go Lucky Landing to Retail Road, and finally from Lazy Links to Shifty Shafts. Try to grab a plane to make this journey a lot quicker.
Slide an Ice Puck over 150m in a single throw (1)
You'll need to have unlocked the Ice Puck Toy from the battle pass to complete this challenge. It's in tier 28, so if you've been doing a lot of the challenges thus far you should already have it. Equip that in your favorites so it's easily accessed. Head to the ice area near Polar Peak and chuck the puck so it can slide the distance required. Check the video below if you are having trouble.
Stage 1: Deal damage with SMGs to opponents (200) (HARD)
This is a three stage challenge that starts you out on SMGs. You'll need to do Assault Rifles next, and finally end the challenge dealing damage with grenades.
Deal damage with different weapons in a single match (5) (HARD)
This one could be a bit difficult, you'll need to switch your weapons up quite a bit to accomplish this. If you go somewhere populated, you should be able to switch your weapons up quite a bit if you survive long enough.
Hidden Banner
If you complete all the challenges in week 6 you will get this awesome Onesie loading screen with the creeper Tomatohead looking on with a telescope. You'll notice on the chalkboard on the left that has the banner location you can go and grab. This is the crown headed mountain that is located in the desert area.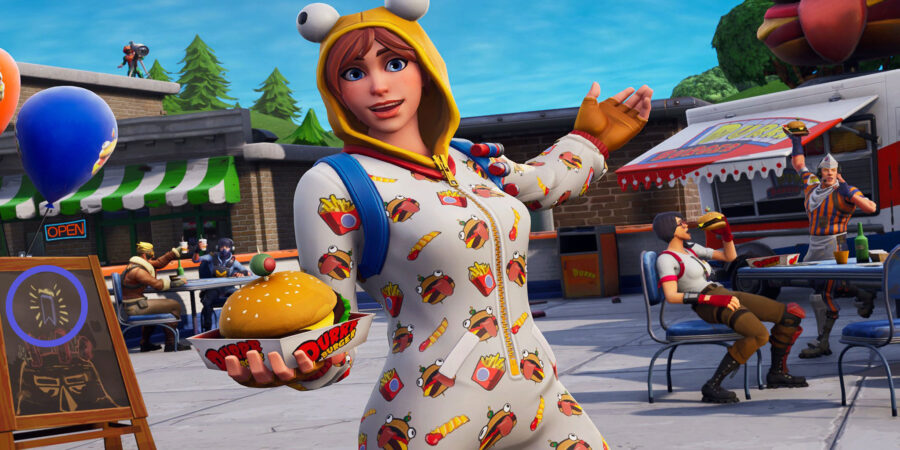 The exact location can be found to the very south of Paradise Palms. Grab an airplane, or just land there from the bus to get yourself a new banner icon!