We're taking a look at where-to find all of the XP Coins in Fortnite Season 2! Collecting these are a good way to gain some extra XP and level up your Battle Pass quickly. These are scattered all over the map, and they also come in multiple different rarities which give differing levels of experience.
It looks like XP coins will be added every other week, pretty much when a new set of challenges open up there will be new coins added to the map. If you haven't collected some of them, you can still go back to the previous week's coins and grab them. Once you collect one, it will no longer spawn in that location again! You can collect all of these BUT the orange one in Team Rumble. You need to have access to the Vaults for the Legendary Coin, so you can only access that in normal game modes.
If you're looking for coins in the new season, check out our Season 3 XP Coins Locations post!
Blue Coins
These coins appear to only show up on the map for a brief period and will disappear after a certain amount of time.
Purple Coins
Something you should be aware of is that when you grab one of the purple coins, it will explode into a bunch of smaller coins that you need to pick up immediately or they will fade away. You can prevent yourself from missing out on any by boxing around it and then running into it. You can then pick them up really quickly. Each coin fragment rewards +125 experience.
Orange Coins
Orange coins are the highest rarity of coin and will give you the most experience out of any coin. These can only currently be found in certain vault locations. It looks like when the challenges for a particular battle pass skin releases, that particular location's vault will receive a legendary coin inside of it. You can find out what challenges are available and coming up in our Season 2 Guide!
XP Coins Locations Map Week 1 & 2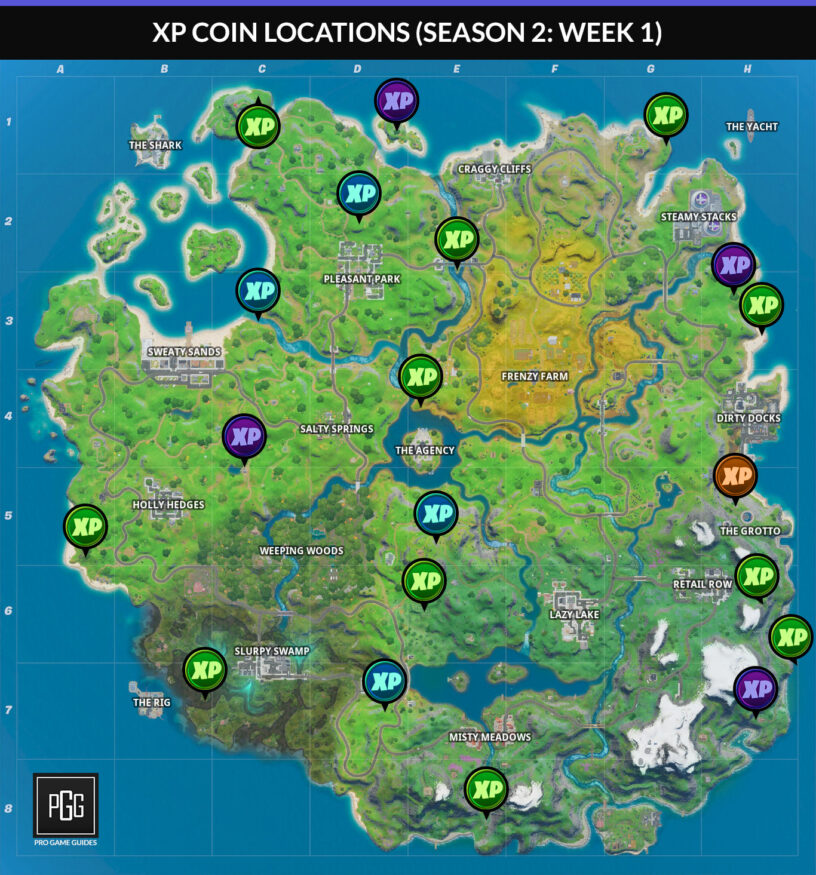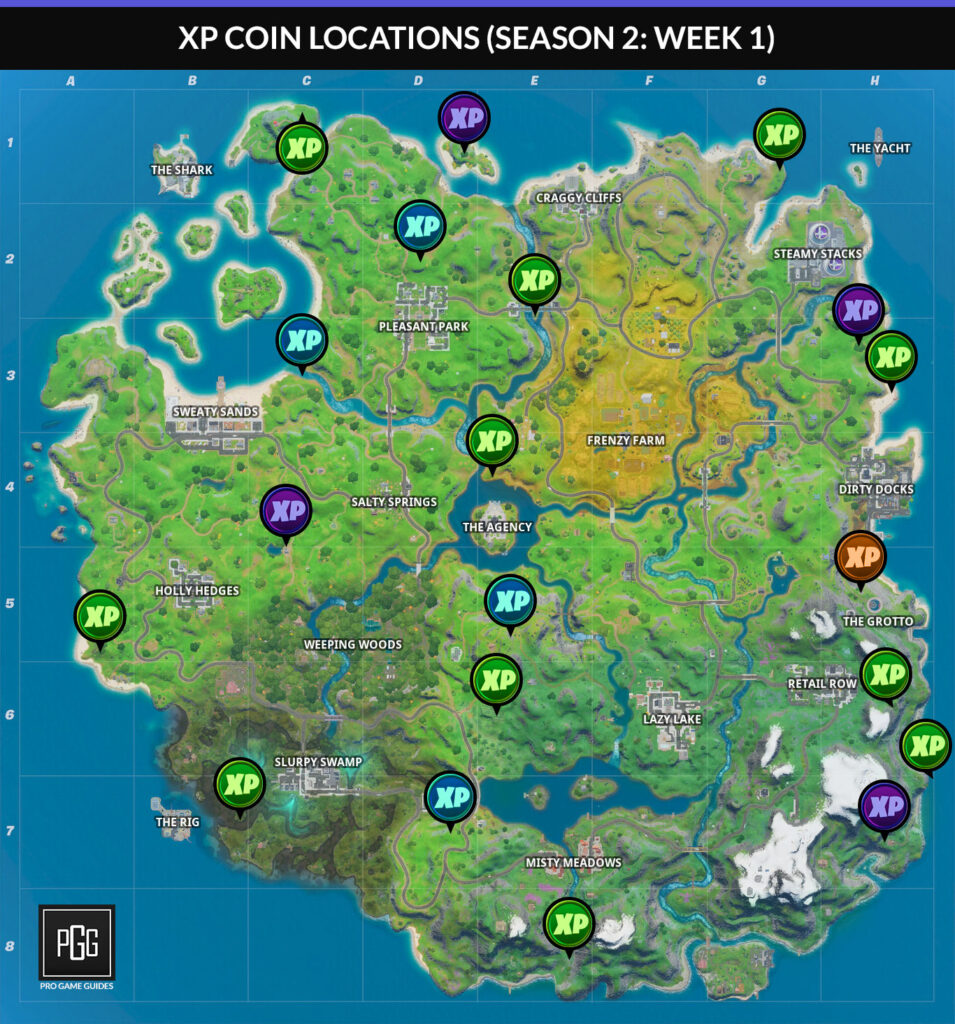 XP Coins Locations Map Week 3 & 4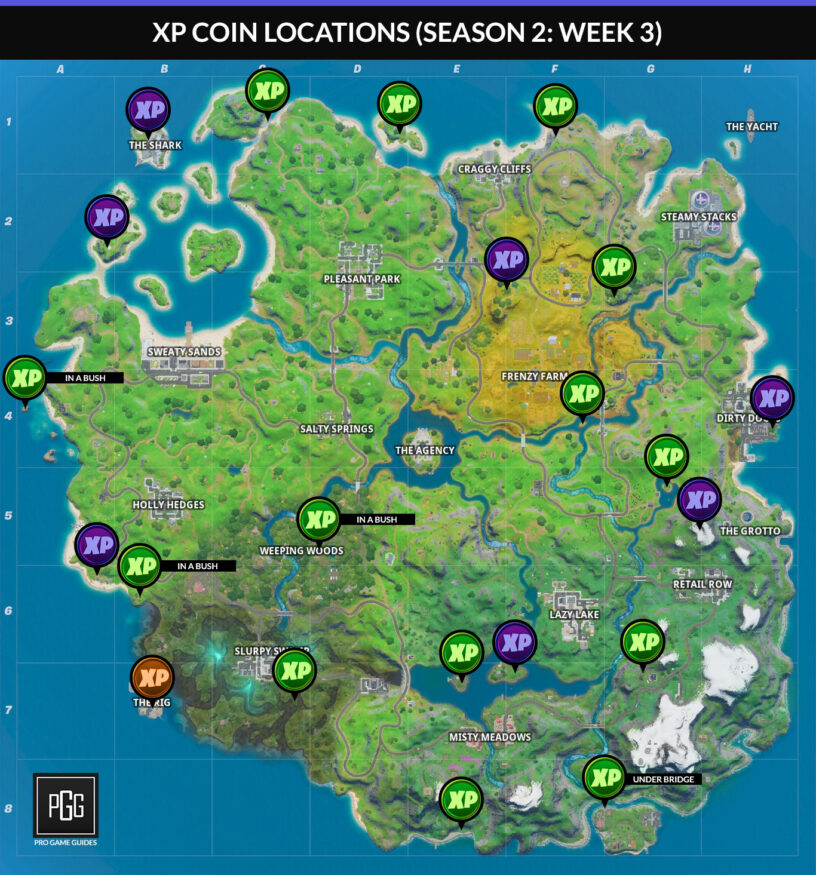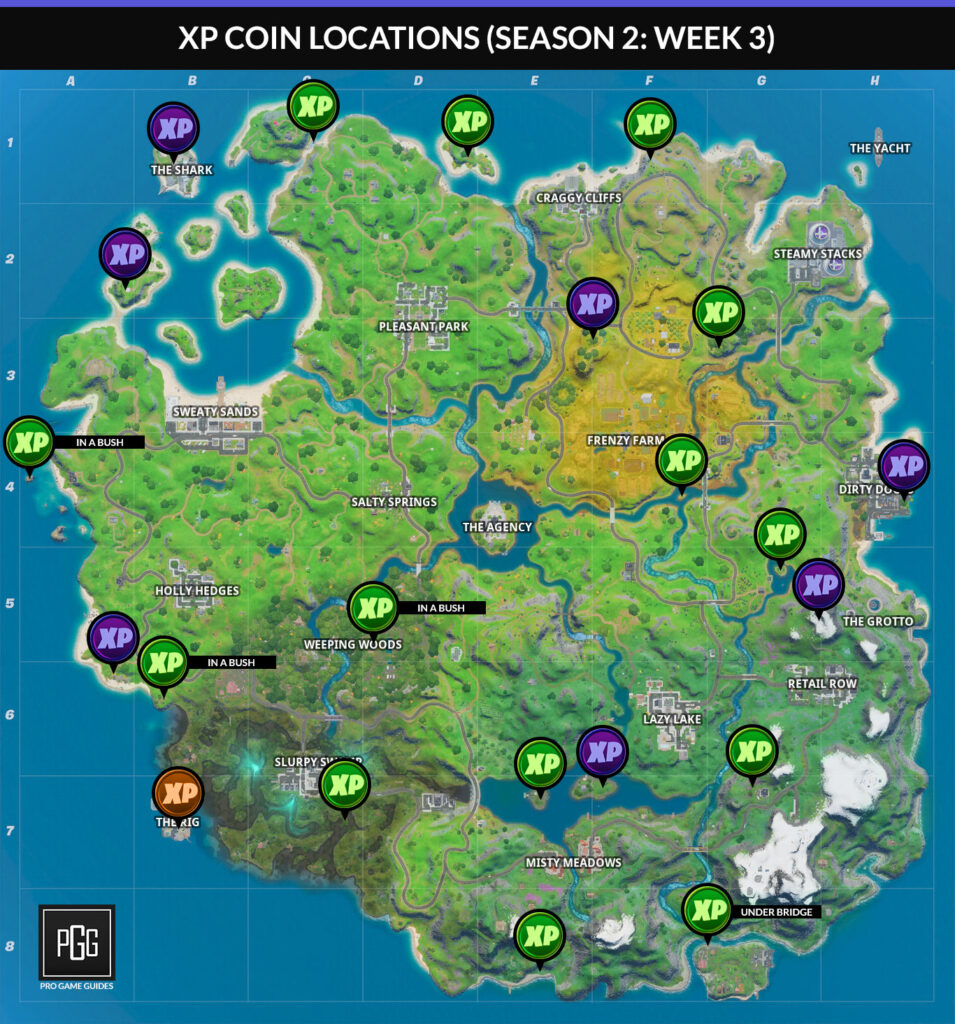 XP Coins Locations Map Week 5 & 6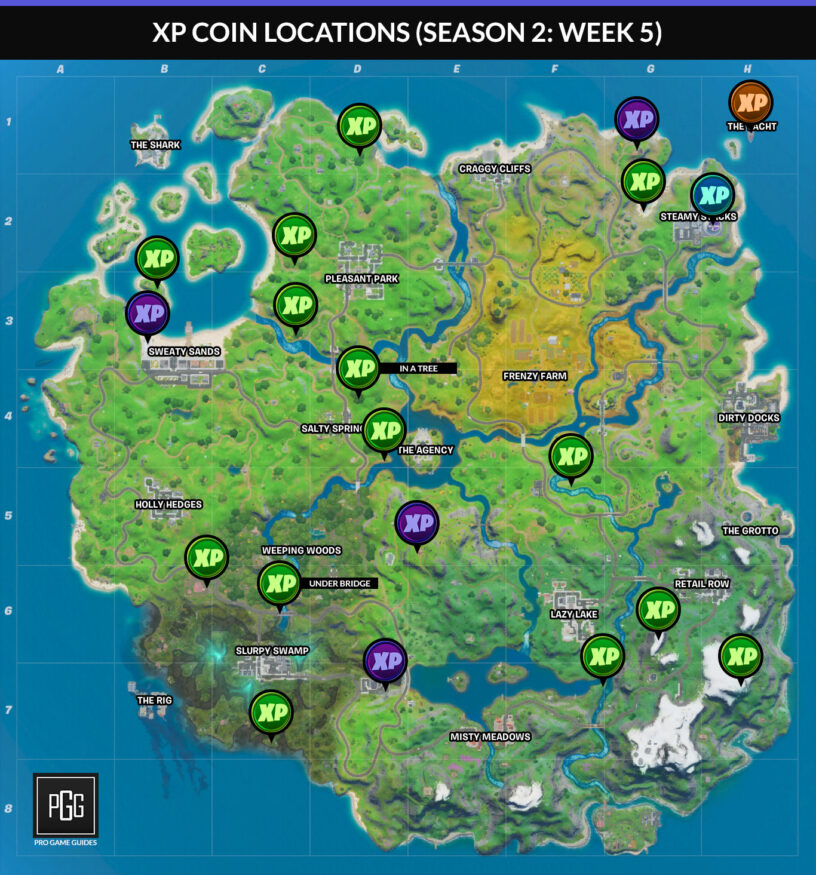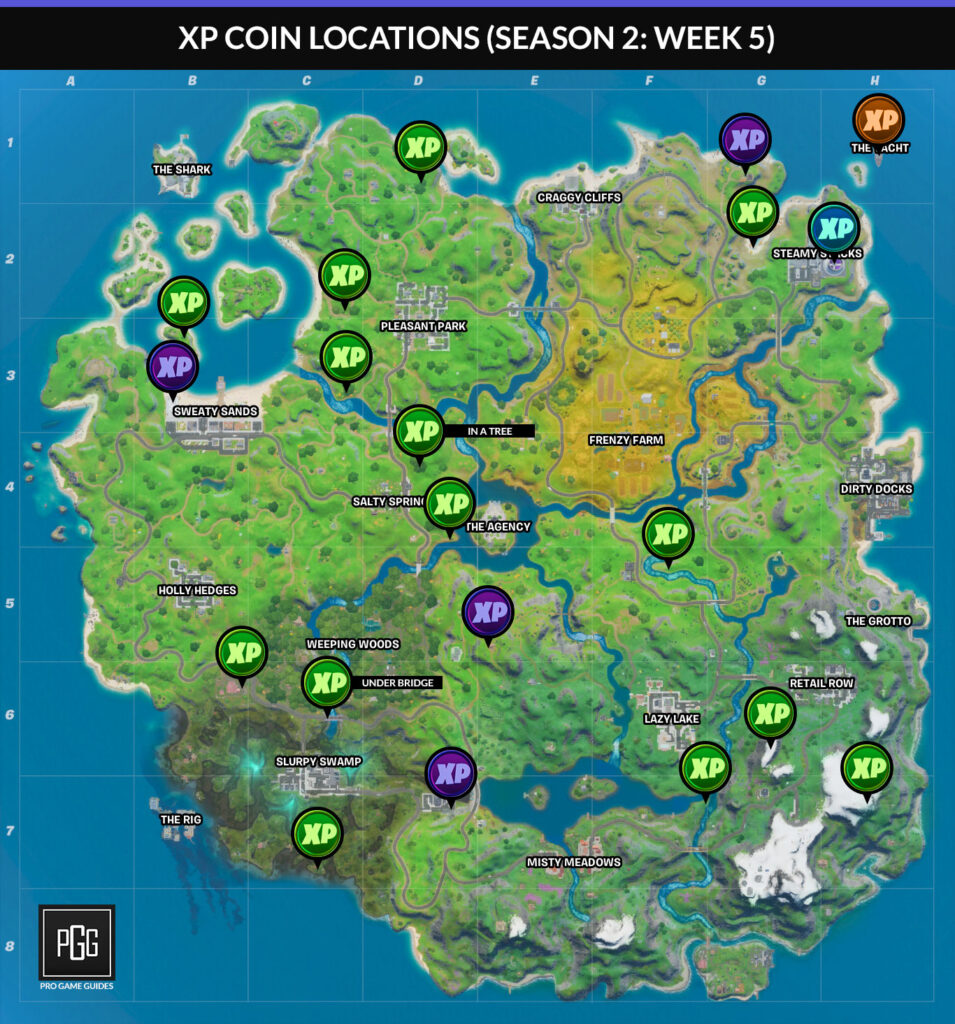 XP Coins Locations Map Week 7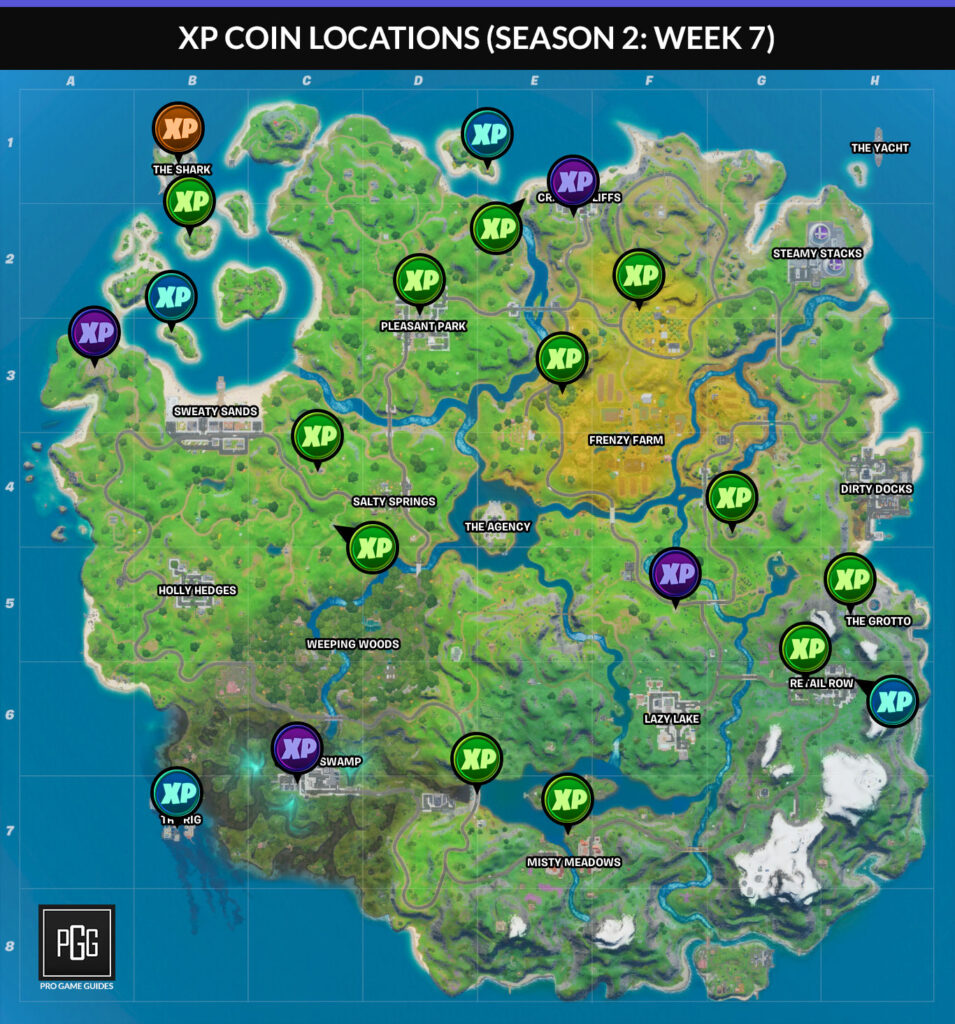 XP Coins Locations Map Week 8
Looks like Week 8 got some additional coins, it's not clear when they decide to add more into the game at the moment.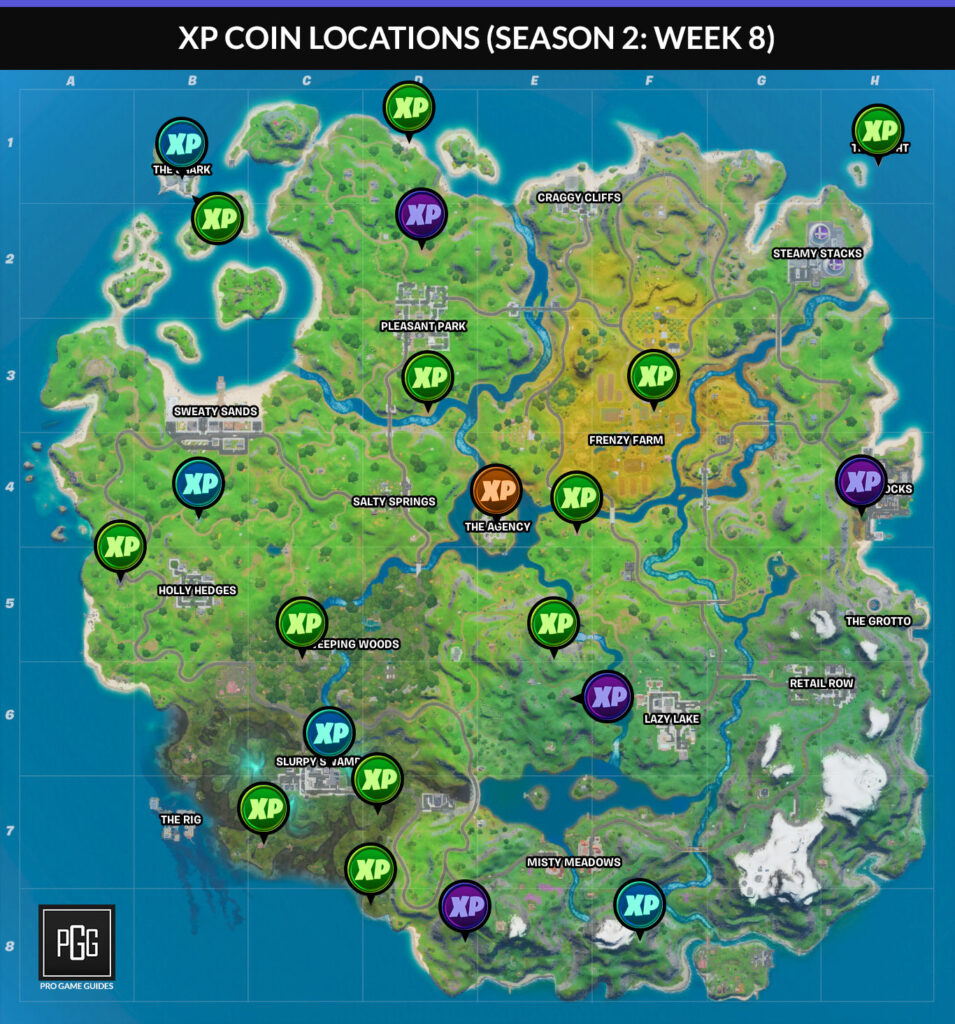 Week 1 XP Coins Video
Week 3 XP Coins Video
Week 5 XP Coins Video
Week 7 XP Coins Video
Week 8 XP Coins Video
That's all for the coins we've found in the game so far. If you find any XP coins that aren't listed on our map, let us know in the comments!