We're taking a look at where-to find all of the XP Coins in Fortnite Season 3! Collecting these are a good way to gain some extra XP and level up your Battle Pass quickly. These are scattered all over the map, and they also come in multiple different rarities which give differing levels of experience.
Coins might be a bit different in Season 3! So far, we've only seen green and purple coins, which means that the blue and orange ones may have been removed. It's possible they get added in the future, but we don't know for sure. Coins were added on either a weekly or bi-weekly basis in the previous season, so we'll be monitoring which is the case in terms of Season 3.
If you're looking for more information about the new season, check out our Fortnite Chapter 2: Season 3 Guide!
When Do New Coins Come Out?
Coins appear to come out each week along with the fresh set of challenges. This is usually going to be on Thursdays at 6am PT!
Green Coins
Green coins are the simplest and generally the most common. You will get 5,000 xp for collecting one!
Blue Coins
Blue coins are now available in the game to be collect as of July 2nd, 2020! These are different from Season 2 because they used to be timed, and now instead you will need to break a specific placed item that has a blue flickering light glow to reveal the coin. These can be hard to find, but we'll have all the locations for you as soon as we find them! Blue coins will give you 6,500 XP for each one you collect.
Purple Coins
Something you should be aware of is that when you grab one of the purple coins, it will explode into a bunch of smaller coins that you need to pick up immediately or they will fade away. You can prevent yourself from missing out on any by boxing around it and then running into it. You can then pick them up really quickly. Collecting all the coins quickly in a combo will increase the value, and you can get up to 10,300 XP if you get them all.
Gold Coins
Gold Coins are still not in the game yet, but will likely be added soon. Two new coins based punch cards were added in the files:
Blue is Better - Blue XP Coins Collected (3, 5, 10, 20, 30)
Gold is the Greatest - Golden XP Coins Collected (1, 3, 5, 7, 10)
Gold coins were only found in boss vaults, which can only be found in areas with henchmen. These gave the most experience points, so they were worth seeking out.
Season 3 XP Coin Map Locations
Once you collect a particular coin, it will no longer appear in that location!
XP Coins Locations Map Week 4
Looks like there's still no gold coin to be found yet. However, there's still quite a few blue coins to locate. Make sure to look for the blinking blue glow from the object and then destroy it to reveal the coin!
Green Coins
Blue Coins
Purple Coins
XP Coins Locations Map Week 3
Blue coins can now be found on the map! You need to break the item that they are hidden in, you will see that they periodically show a blue light under them. I believe you can find a blue coin in multiple different telescopes, but once you found one you won't find it in any others.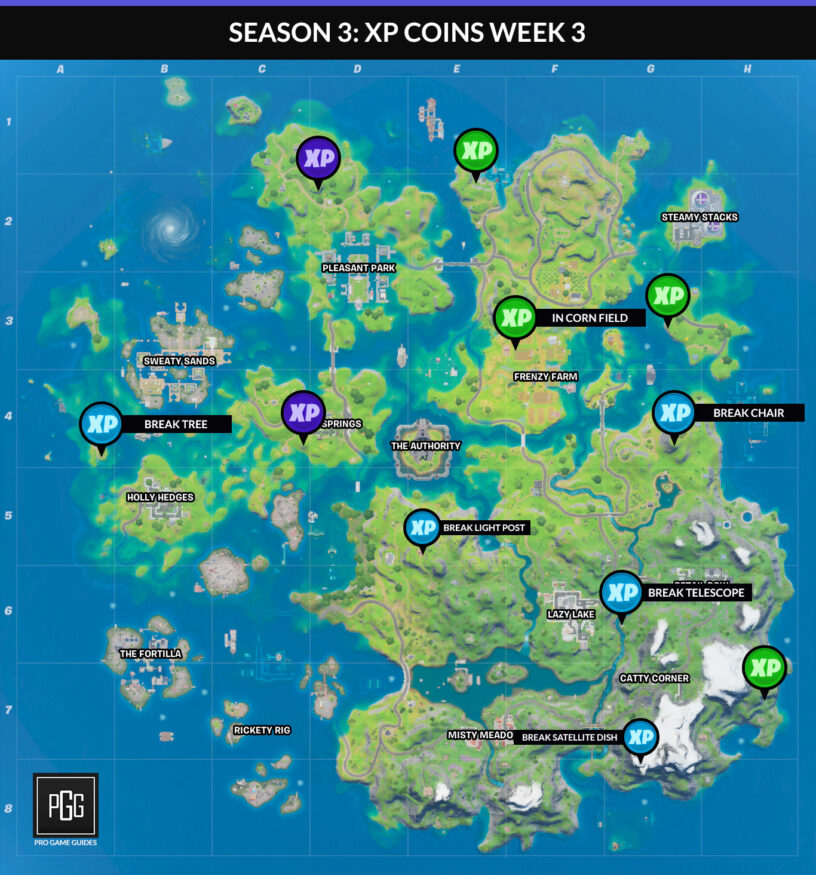 If you're having trouble locating one of the coins, here's a video that shows them all:
XP Coins Locations Map Week 2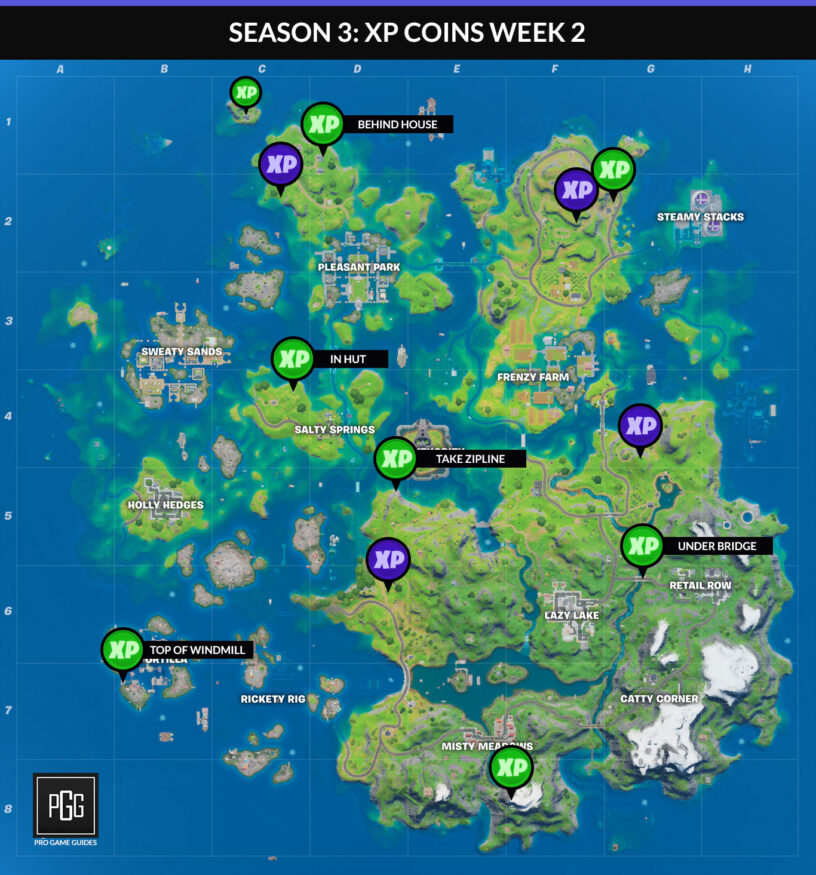 If you're having trouble locating one of the coins, here's a video that shows them all:
XP Coins Locations Map Week 1
If you're having trouble locating one of the coins, here's a video that shows them all: