We're taking a detailed look at how-to complete all of the Chapter 2: Season 3 Week 6 Challenges in this guide! Challenges seem to have been simplified for the most part for this season. They aren't really tied to the skins, and they have pretty standard requirements that aren't going to be foreign to you if you've done any in the past. You will get quite a bit of experience for completing them all, so I would make sure to do them if you want to max out your pass.
Season 3 Week 6 Challenges
Here's a list of all the challenges from week 6 of Season 3:
Deal damage at Rickety Rig (500)
Eliminations at Pleasant Park (3)
Land at The Authority and finish Top 25 (1)
Catch a weapon at Stack Shack (1)
Search Chests (10)
Search Chests (100)
Search Ammo Boxes at Salty Springs (7)
We've got information for everything going on in the new battle pass in our Fortnite Chapter 2: Season 3 Guide!
Week 6 Cheat Sheet
Here's a cheat sheet with all of the details on how to complete the challenges for the week (Credit to SquatingDog)! Be sure to check out our guide with additional details on how to finish the challenges below!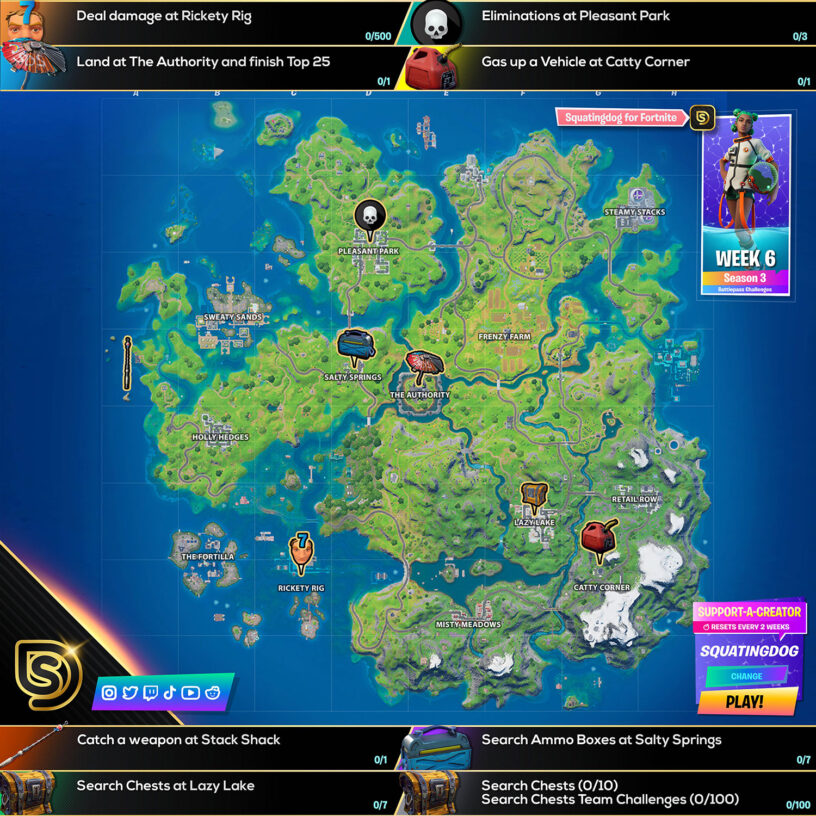 Week 6 Challenges Guide
Just like the previous season, make sure you do any henchmen, marauders, or vault based challenges in normal modes because they won't show up in Team Rumble!
Deal damage at Rickety Rig (500)
Rickety Rig is located on the southwestern portion of the map and it's a pretty small area due to it mostly being water. You'll have to hope you get some players to land here to dish out some damage, maybe even Marauders could help you out.
You can damage loot sharks and it will count towards the challenge!
Eliminations at Pleasant Park (3)
I don't think you'll have too much trouble getting eliminations at Pleasant Park. It's one of the longest standing locations in the game and is still a popular landing spot. You could probably do this one in Team Rumble, because it's possible to get a circle at the location.
Land at The Authority and finish Top 25 (1)
Another landing at a location and getting a top 25 finish challenge. There's a Team Rumble trick to this type of challenge that has hopefully not been removed. You can jump into a game of Team Rumble, land at the location, and then immediately leave. This should give you credit towards the challenge! If not, well you'll just have to do it the old fashioned way.
Gas up a Vehicle at Catty Corner (1)
Looks like no cars are in the game yet, so this challenge is not available this week!
We're not sure this will actually end up in the game, because cars may or may not be added once this challenge is live. There's a gas station just to the south of Catty Corner where you can fill up your car. There's quite a few henchmen in this area, so you will want to be careful!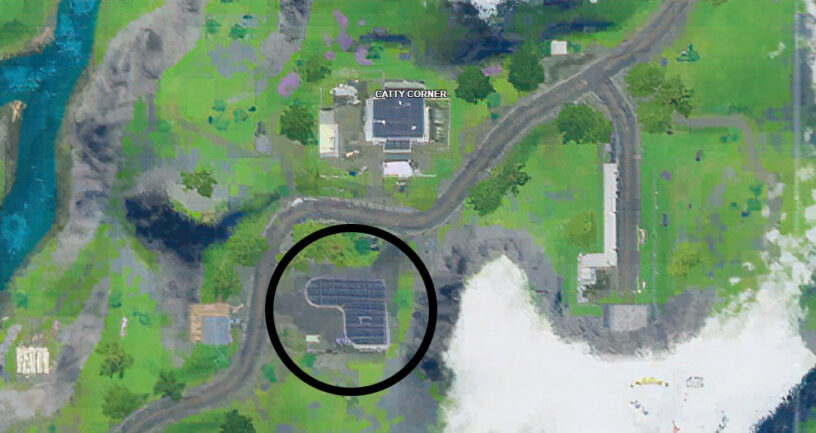 Catch a weapon at Stack Shack (1)
The Stack Shack can be found on the very western portion of the map between Holly Hedges and Sweaty Sands. It's a decent sized island that has some yellow leafed trees and a rundown shack on it. There's a barrel of fishing rods at the shack, so you don't need to bring one with you. Just fish wherever you want in the water because you can catch a weapon in an active spot or just calm waters.
Search Chests (10)
I'm not sure if this challenge is going to have a location that doesn't exist as apart of it, or if it's just a generic challenge to replace one that might not be working like the gas up your vehicle challenge. I would not focus on completing this challenge, you will be looting chests while you complete your other stuff so you should just finish it passively.
Search Chests (100)
It looks like you can complete this challenge with your friends to make it easier!
This is another head-scratcher, because not only is 100 chests quite a bit, this challenge will reward 80,000 XP instead of the usual 35,000 XP. I'm also not sure if you get this challenge after you complete the previous challenge or not. We'll have to wait and see how this one works once they are live.
Search Ammo Boxes at Salty Springs (7)
You can find ammo boxes in many of the houses around Salty Springs. there's a map below that shows you some of the locations, but there's likely others. I would check to the eastern part where the gas station and large build is located. Credit to Fortnite.gg for the map.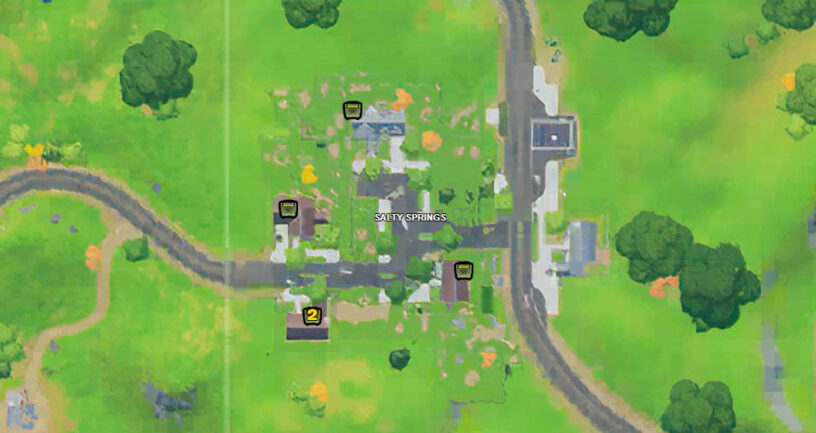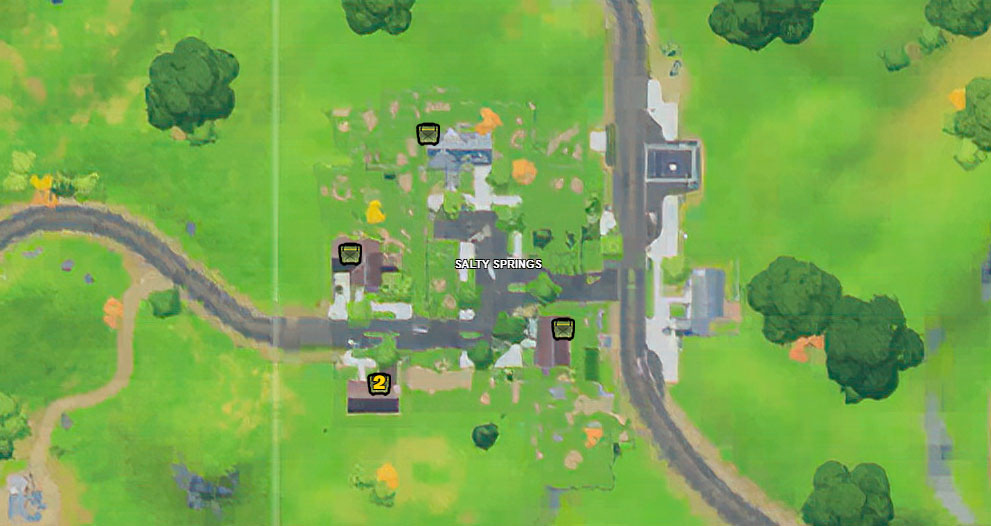 Search Chests at Lazy Lake (7)
This challenge was leaked, but was not included on the list!
Lazy Lake is a pretty large area, so it shouldn't be too difficult to collect all these chests. I always like Team Rumble for chest and ammo box quests, but the choice is yours! Credit to Fortnite.gg for the map.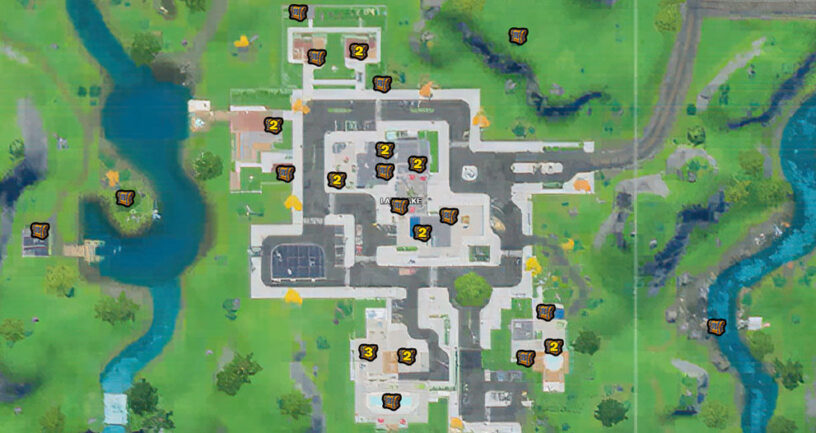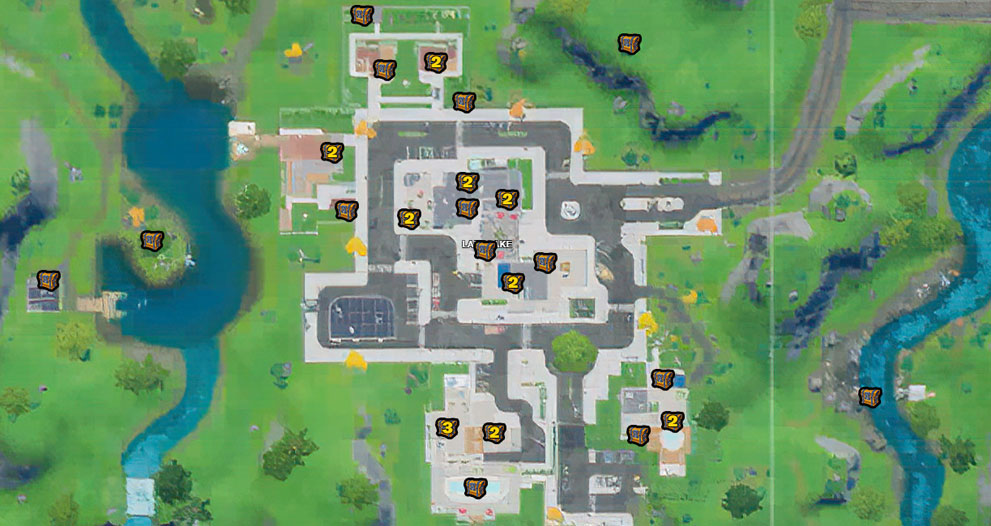 Don't forget to complete your Secret Challenges for Season 3! These can sometimes disappear off the map, so make sure to do them and collect some easy experience!