Fortnitemares 2019 is just around the corner, so we're gathering up all of the information that you'll want to know heading into the launch! We've got a look at the start date, leaked skins, and what's going to be apart of the event. This is Fortnite's big Halloween bash, so be sure not to miss out!
Fortnitemares 2019 Release Date
The Fortnitemares 2019 event will be releasing on October 29th, 2019 at 9am ET!
Event Details
The middle island on the Fortnite map has been corrupted and has some ghoulish creatures spawning on it. If you want to earn some sweet cosmetics, you can enter the Storm King LTM to fight the evil ghouls and the big Storm King boss! If you're able to defeat him, you will earn yourself a new Umbrella! There's also some challenges you can complete to get a loading screen, spray, and banner icon. You can find a full list of the challenges and a guide on how-to complete them right here.
THE STORM KING CHALLENGES YOU. Squad up with you Friends and face him in the Storm King LTM to stop him from destroying the Island! (Your courage and skill will be rewarded with a special Umbrella.)
There's also going to be special Creative maps that are Fortnitemares themed that you will be able to take part in! There will be at least four of these, and there's a whole set of challenges you can complete which will earn you a bunch of Back Board styles. You can learn all about these challenges right here.
Leaked Trailer
Leaked Details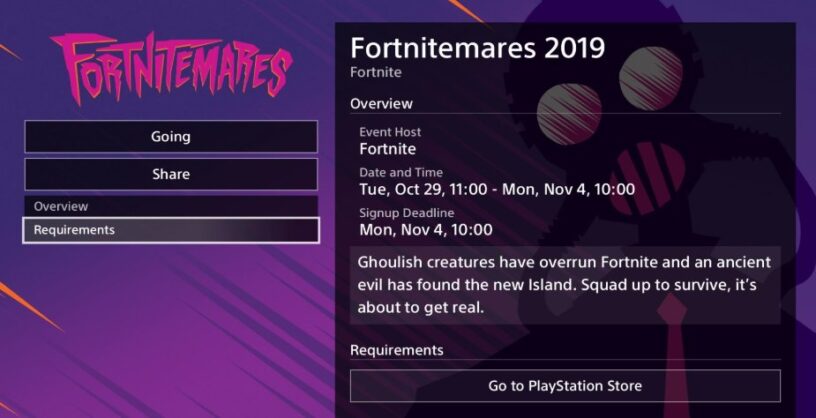 A bit of a leak of what's to come in Fortnitemares has come from the PlayStation Store:
Ghoulish creatures have overrun Fortnite and an ancient evil has found the new island. Squad up to survive, it's about to get real.
Fortnitemares 2019 Leaked Skins
A lot of the cosmetics from Fortnitemares has already been released, but there's still some stuff to look forward to. There's also the possibility of some encrypted skins that have yet to be revealed. The Zombie Soccer Skins were leaked only an hour before their release, so Epic might still have some surprises for us.
The Return of Ghoul Trooper
The long awaited return of Ghoul Trooper is likely going to take place at some point. The skin got two new styles, the pink one appears to be the "OG" skin that was given to players who owned the skin in the past.
Released Skins
These are all of the Fortnitemares related skins that have been released already. They are all likely to return to the item shop at some point, so don't worry if you missed out on them!
Fortnitemares 2019 Wallpapers
If you want to spruce up your desktop or mobile device, here's some wallpapers that should get you into the Halloween spirit!
Desktop Wallpapers
Mobile Wallpapers