Fortnitemares has finally arrived to Fortnite in October 2020, and along with it is some tasks for you to complete that will get you some free cosmetics that you'll be able to use! If you aren't flush with V-Bucks, this is a good way to get some Halloween based items that you can wear to get into the spirit of the season! The 14.40 patch brought a bunch of new things to the map and game, which means there's plenty of stuff to check out, including some new challenges to complete.
Fortnitemares 2020 Challenges List
Become a Shadow (3)
Travel 100 meters on a Witch Broom (100)
Eat Candy (25)
Deal damage with a Possessed Vehicle (100)
Detect players as a Shadow (10)
Eliminate Shadow Midas (1)
Eliminate shadows as Player
Visit Different Witch Shacks
Consume legendary loot as a Shadow
The first three challenges were released right at the launch of the patch. There will be three additional challenges available in 3 days after the release, and then the final three will be available 6 days afterwards.
Eliminate shadows as Player
Just head into a game and try to survive long enough for other players to turn into Shadows. Once they have, eliminate three of them to complete the challenge!
Visit Different Witch Shacks
There are six Witch Shacks in total, but you only need to visit three of them. You can find a map below of all the locations via Fortnite.gg.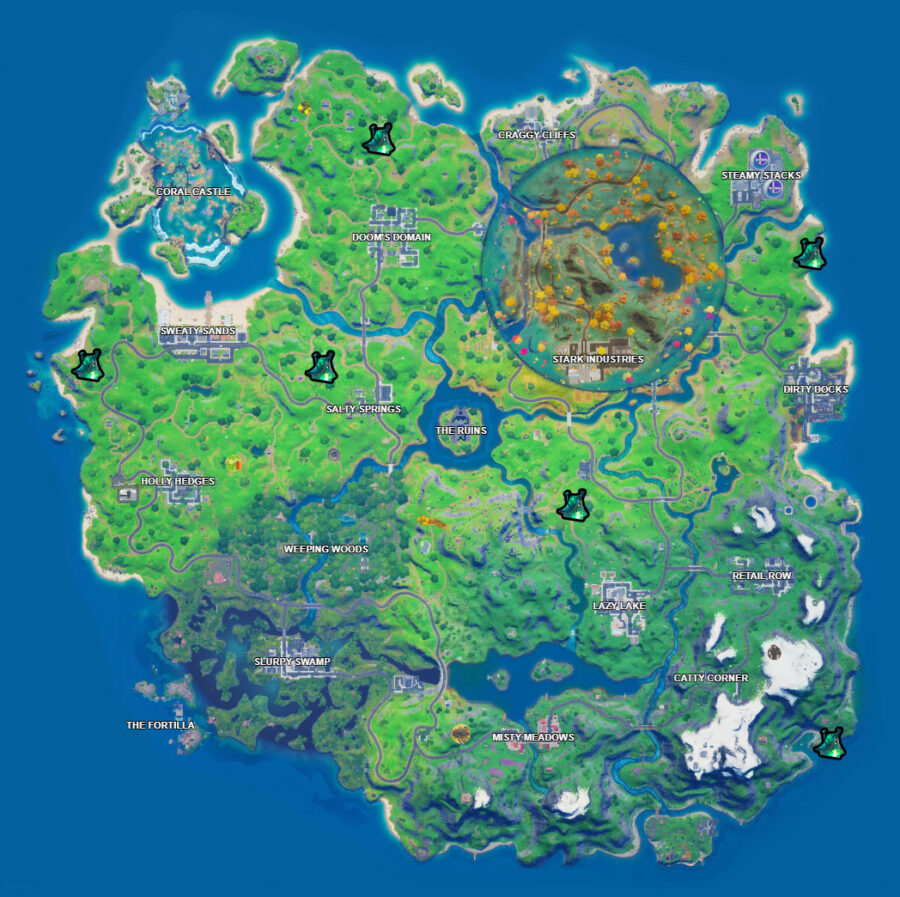 Consume legendary loot as a Shadow
This is kind of a difficult challenge, but there are ways to make it easier. What you'll want to do is find a legendary item, and then get yourself eliminated. Once you come back as a Shadow, just locate where you were eliminated and look for the legendary item. Once you find it, just hit the consume button on it and you will complete the challenge.
Eliminate Shadow Midas
Head to The Ruins, which is at the middle of the map. Be careful when fighting the haunted henchmen there because some of them have rocket launchers and you can easily get nailed by a rocket! He is usually at the lowest level of the area, but you can also shakedown a henchman to find out where he is located. If you are having trouble eliminating him, you can try it in a Bot Lobby. For a good strategy on eliminating him, check out the video below.
Detect players as a Shadow
Detecting players is one of your abilities as a Shadow. It's the one with the longest cooldown, it depends on what keybind you have in place on what it will be (R is default on PC, L1 on Console). This will be easiest at the beginning of the game where there will be a bunch of players in the same spot. Just hot drop, get eliminated, then land at the same spot as a Shadow and use your detect ability.
Deal damage with a Possessed Vehicle
The easiest way to complete this challenge is to just bring a car to a bot area like one of the Quinjets, Stark Industries, or Doom's Domain. Get eliminated to turn into a Shadow, and then jump into the vehicle and run into the bots. This counts towards the damage you need for the challenge. It does about 50 damage per hit, so you'll need to hit someone twice with the vehicle.
Become a Shadow
Becoming a Shadow is going to be a really easy challenge, because all you need to do is get eliminated! Each time you get taken out in a round of Battle Royale, you will become a Shadow. You float into the air and respawn and can land back on the map as a ghost of sorts. You have new abilities and can participate in the game. If you can take out all of the living players, you will win yourself a Nitemare Royale!
Witch Broom Locations
If you're looking for a Witch Broom, you can find a Witch's Hut location northwest of Lazy Lake. In this area there will be barrels that have a Witch Broom inside of them. This is a mythic item that will launch you in the air and allow you to glide. If you've used the Silver Surfer Surfboard in the game, it is pretty much exactly the same as this. Once you land the broom, you will have to wait 20 seconds before being able to use it again. To complete the travel 100 meters challenge, try to use it from high up so you can glide further in one go!
Here are some of the locations where you can find Witch Brooms: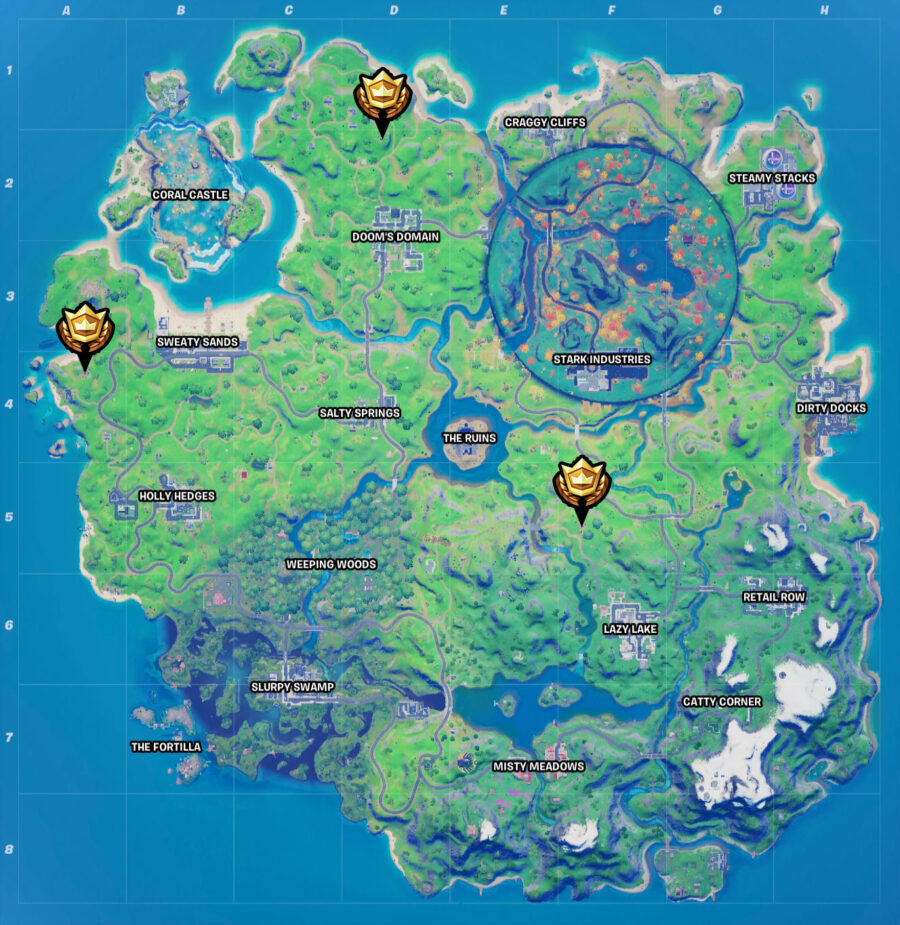 Eat Candy
If you're looking for candy, you can find it pretty much at any named location on the map. There will be buckets on the ground, and in front of houses on tables like this at Lazy Lake: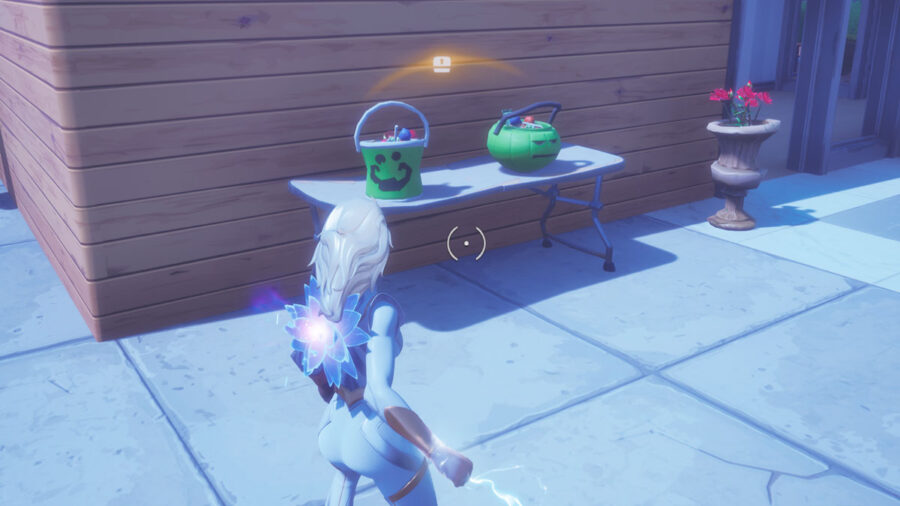 There's a bunch of different types of candy that you can find from these, here's a list of some of them:
Pepper Mint
Hop Drop
Candy Corn
Jelly Bean
Thermal Taffy
Once you get some candy, just shove it in your face as quickly as possible to complete the challenge!
Fortnitemares 2020 Rewards
You will be able to earn yourself a new pickaxe, some emojis, back bling, and a wrap!