With the recent news of Blade more or less confirmed to be coming to Fortnite, it's looking like an alternative cover for a Venom comic book could be pointing to the release of both Ghost rider and Daredevil skins as well! Comic books tend to sometimes have multiple artworks available for particular issues, and Venom's #29 comic has one that features four familiar Fortnite characters, as well as Venom, Blade, Daredevil, and Ghost Rider on it!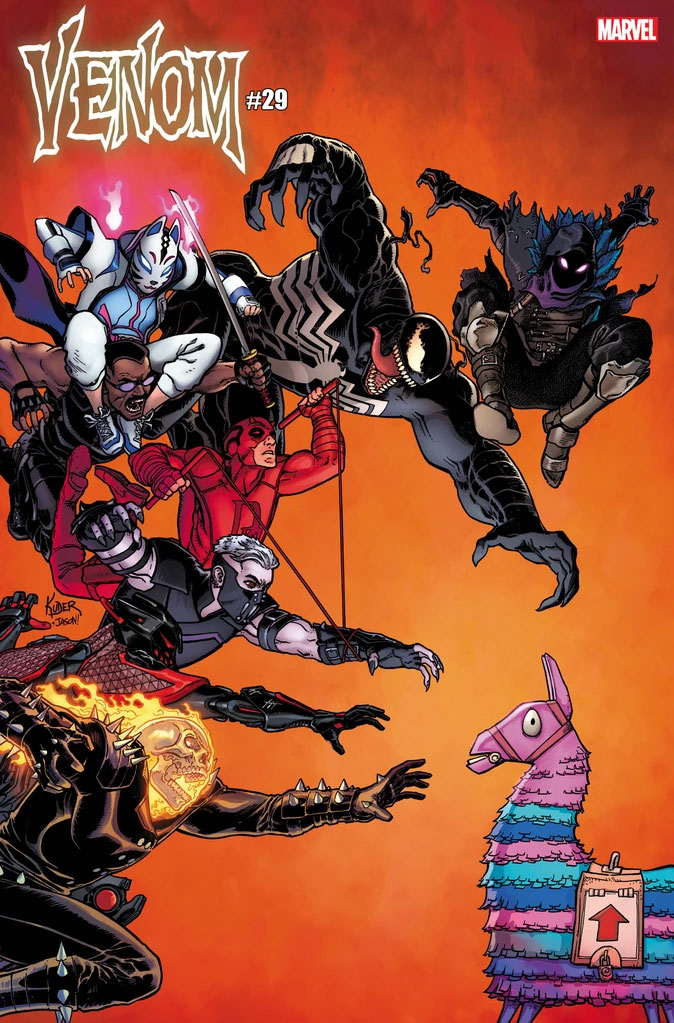 The comic book has yet to be released, but is estimated to be available in October 2020. You can pre-order it and get the version that includes this mess of familiar characters from both Fortnite and Marvel! While Ghost Rider got itself a movie a while back, he hasn't exactly been at the forefront of the recent explosion of Marvel's various superheroes. He is a very interesting looking character, and should make a pretty awesome skin. If he does end up in the game, it does make you wonder how it will look in China, due to their policy of not allowing skulls.
Daredevil has had a bit more fanfare due to the pretty popular television show that was exclusive to Netflix. While it did end up being canceled, it had a pretty memorable performance by Vincent D'Onforio as Kingpin. The show seemed pretty well-received, and kind of was doomed due to Netflix's policy of not really allowing shows to go much farther than three seasons. Honestly, a Kingpin outfit would make for a pretty good skin as well!
Venom is also a pretty interesting inclusion, we've known about his existence due to one of his superpowers being added to the game. I imagine he will be a pretty popular option due to his relationship with Spider-Man, and the fact that he has an overall menacing look! It's possible these four outfits end up as a pack together, but we will see if Epic just slow plays the Marvel skins throughout the season to stretch them out! We're still also likely to see Black Panther, although he isn't included on the cover of the comic book.