In Week 5 of the Seasonal Quests for Fortnite Chapter 3 Season 1, we are given the task to claim an abandoned Tent. Tents are fairly common around the map, but finding an abandoned one can be difficult if you don't know where to look or how to do it.
To claim an abandoned Tent, you first need to find one. Unfortunately, there is no specific area where you can find them, as their locations depend entirely on where players in your current match left them in previous matches. However, we have found that players can find most abandoned Tents in houses and buildings.
It's believed that players do this to avoid being seen or attacked while they are interacting with the tent. That all being said, to increase your chances of coming across one, you can land in an area with many houses or buildings and search through every room. You'll know a tent is abandoned because it is propped up completely, but it's gray instead of the usual blue.
Related: How to hide in tall grass for 10 seconds in Fortnite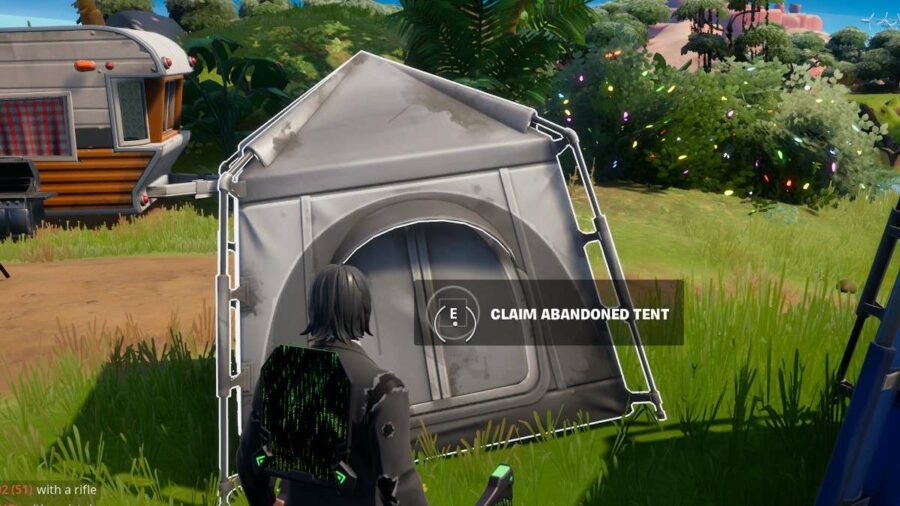 When you have found an abandoned Tent, approach it. When prompted, press and hold the primary interaction button, as shown in the image above. The list below outlines which button is the primary interaction button depending on your system.
PC: E
Xbox: X
PlayStation: Square
Switch: Y
Once you have followed the instructions above, the tent will be claimed in your name, and the task is complete!
Be sure to check out our Fortnite Chapter 3 Season 1 Complete Guide for more help on challenges throughout the season!