Something fishy is going around the map as Resistance Week 9 quests are revealed along with a new location. After a brief victory celebration, this battle may not be entirely over just yet. The Seven hope to get their defenses in order once again by rebuilding their Mech, and they need your help to do it. You'll have to put your fishing skills to good use because these Mech Parts can be found around the map in various fishing holes.
Fishing hole locations in Fortnite Chapter 3 Season 2
Fishing holes are bubbly circles within the water, with several fish revealed. Sometimes they can also be seen jumping out of the water from the spot. This is where you can usually catch fish that can be used to heal you or give you other helpful effects.
You can find fishing holes spread all around the map in various bodies of water, but some spots carry more than others. These spots are some of the best locations to look for fishing holes because they have a large quantity within that radius. Although, anywhere around the edges of the island, you will probably be able to spot a one or two as well.
Related: Where to find Sideways Rifle and Sideways Minigun in Fortnite?
How to fish for Mech Parts in Fortnite Chapter 3 Season 2
To begin collecting the Mech Parts, you will first need a fishing tool. A harpoon or a fishing pole are both capable of using to fish. You can usually find a barrel on docks or near the popular fishing areas where you can search for a pole. Once you have one, make sure you have it equipped.
Some fishing holes allow you to catch multiple items, while others can disappear after one catch. Heading to a spot with plenty of fishing holes is the better bet for completing this quest all in one go. Once you locate a fishing hole, cast out your line with the right trigger on console controllers or M1 on PC, and wait for a tug. Make sure your line is directly on the fishing hole spot. When you feel that tug, pull back the line with the same control and collect your catch.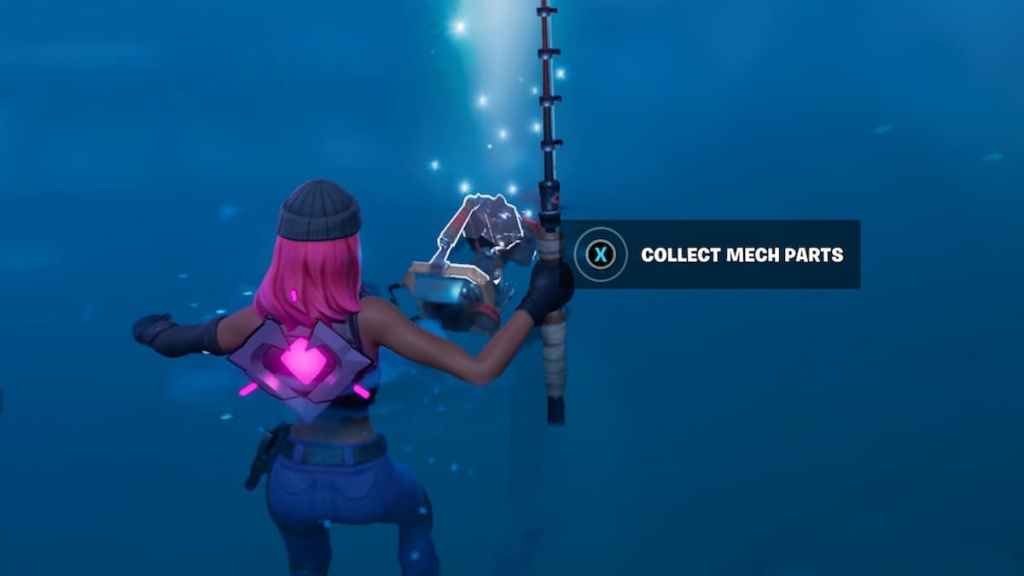 When you pull back your line, you should see some shiny Mech Parts pop up on the water's surface. If you're lucky, you will be able to use the fishing hole multiple times and get all three Mech Parts that are required. Once you see them in the water, swim out to collect them by holding X on the Xbox controller, square on the Playstation controller, or E on your PC.
Looking for more Pro Game Guides Fortnite content? Check out our guides on How to survive at Collider in Fortnite – tips and tricks or How to get the Zuri outfit & enter the tattoo contest in Fortnite!