As a part of the latest DBZ Fortnite collaboration event quests, you are supposed to complete a desert time trial as a part of your agility training. To start the time trial obstacle course, you must land in the southeastern part of the Rocky Reels landmark and collect the timer icon on a small hilltop near the riverbed.
Where is the Rocky Reels Landmark in Fortnite?
Related: Where is the Kame House in Fortnite?
As mentioned earlier, you will need to jump at the barren parts of the Rocky Reels POI to start your agility training. If you do not know the landmark, use the below image for a pictorial representation of the exact location.
How to start the Desert Time Trail course in Fortnite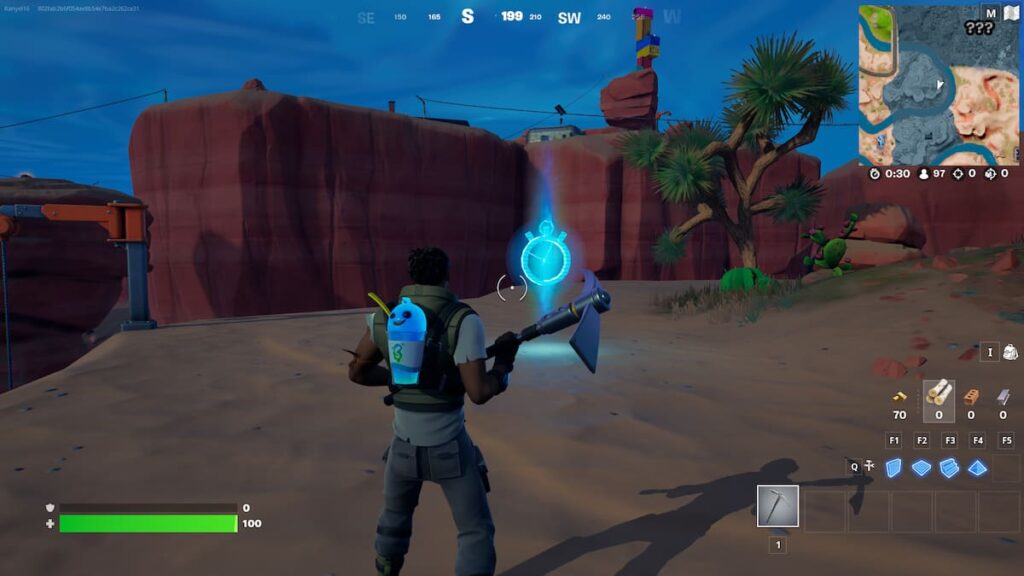 After landing at the prescribed location, look for a blue stopwatch-like icon on the hilltop. Interact with the icon using your default interaction button, and the time-trial course will begin immediately with a tense fast-paced music beat.
How to finish the Desert Time Trail course in Fortnite
As soon as the trail begins, collect the blue-colored clock icon on the screen before the primary timer runs out. Please do not skip any clock icons and sequentially acquire all the icons, one behind the other. Use your stamina bar to its fullest extent throughout the trail course, as you need to run constantly. If you manage to collect all the icons within the given timeframe, you will complete the desert time trail mission.
For more on Fortnite, check out How to get the free Dragon Ball Z Glider in Fortnite & collect all seven Dragon Balls or How to watch Dragon Ball Super in Fortnite's Dragon Ball Super Episode Festival on Pro Game Guides.