With the newest patch for Chapter 2 Season 7 of Fortnite, we have been introduced to a new feature: we can now be abducted by the Alien Mothership that is hovering ominously over the island. Getting on the ship is relatively easy and leads to a fun mini-game with other players. In the guide below, we explain what you need to do to be abducted by the Aliens.
When you first begin a match, you will notice there are large, floating Alien ships at different points on the map. Go to one of these floating Alien Ships and camp out underneath them for a few minutes. Your primary goal here is to just survive until the abduction happens.
Related: All Cosmic Summer Challenges and Rewards in Fortnite Chapter 2 Season 7 - Pro Game Guides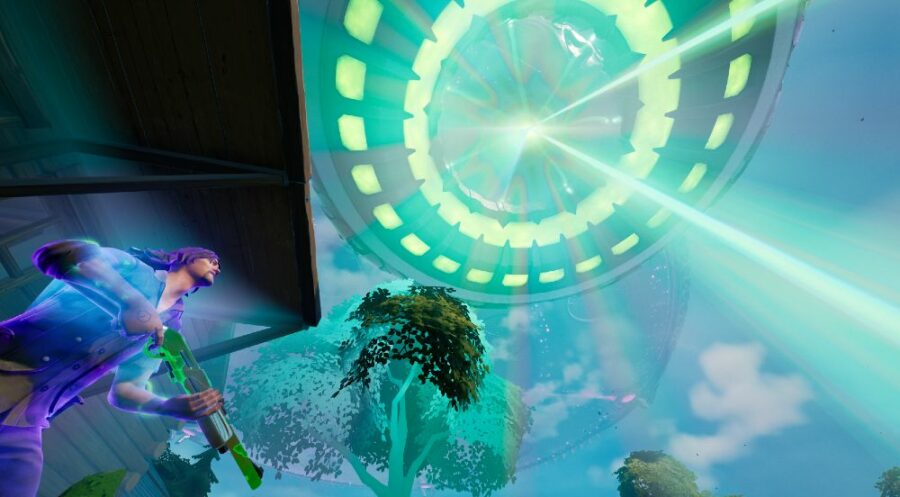 After a few minutes, the alien ships will shine a bright light underneath them. When you notice this, immediately go outside and head towards the center of the Alien Ships spot on the map. The bright light you see radiating off of it is actually a tractor beam. Place yourself within range of this tractor beam and after about 30 seconds, your character will phase out and teleport to the Alien Mothership!
Once you're up there, you can complete a mini-game where you can collect five orbs to gain access to an area with legendary loot chests. Afterward, you'll be transported back to the Fortnite island to complete the match.
Video Guide
Alternatively, you can use the video guide below see how to get abducted.
Don't forget to check out our full Fortnite Chapter 2 Season 7 Guide, which covers all updates, mechanics, and features of Season 7!