The latest Fortnite update brought the Resistance Week 10 Quests to the game, and one of the challenges requires players to Patch the Imagined into a Loudspeaker in the Sanctuary. The war between the Imagined Order and the Seven is coming to its climax as the two forces of nature are gearing up to face each other. Players will have to complete Resistance Week 9 Quests, and then establish the device uplink near the Sanctuary POI to start this Quest.
How to Patch The Imagined into a Loudspeaker in Sanctuary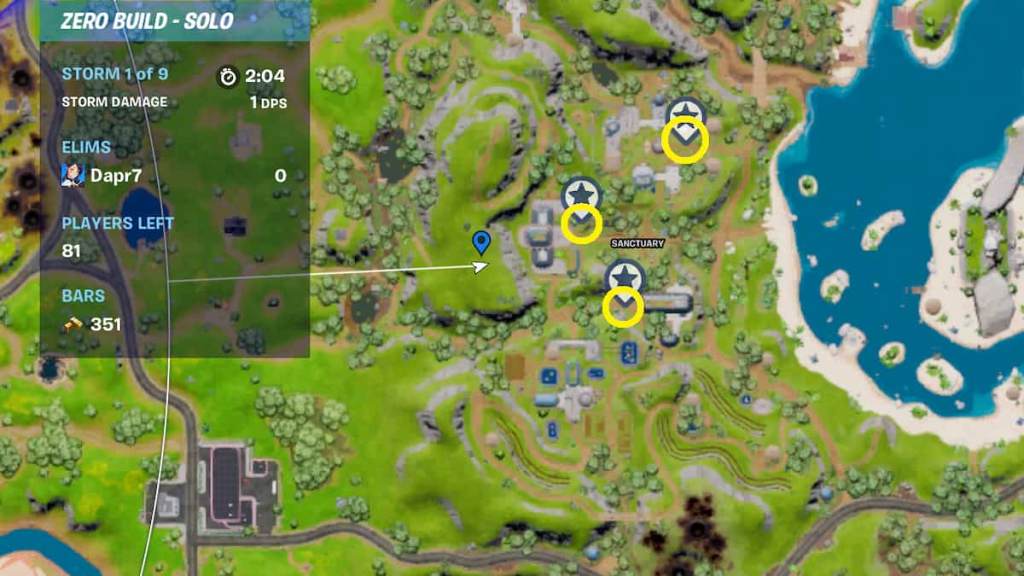 After establishing device uplink at any one of the three hologram communicators at the Sanctuary, players can head to search for the Loudspeakers. These are attached to huge grey metal posts, and you can follow the yellow circles on the map reference above to locate the Loudspeakers.
Players will simply have to stand in front of one of the Loudspeakers and press the interact button (E for Keyboard, Square for console) to complete this Quest. You will be rewarded with 23,000 XP after completing this Quest. The Imagined sends a clear message to the Seven troops, and it's safe to say that the Paradigm will play a big role in the war to come.
Related: When does the Fortnite x Pac-Man collaboration begin?
Where to Establish Device Uplink near Sanctuary in Fortnite
There are three device uplinks around the Sanctuary. Players can follow the yellow circles on the map reference above to locate any of them. Simply walk towards the hologram communicator to establish device uplink. Once you have completed this Quest, head over to the Collider or Command Cavern to establish the device uplink for the next challenge.
Wondering how to complete all the Milestone Quests in Season 2? Check out All Milestones in Fortnite Chapter 3 Season 2 on Pro Game Guides.