Fortnite has added a new LTM that is dedicated to Martin Luther King's "I Have a Dream" speech. This was a sudden release with little notice ahead of time, so many players are struggling to figure out how to play. Luckily, there is a simple process to get in and celebrate the Civil Rights movement with one of the world's greatest heroes.
The March Through Time LTM mode can be accessed from the Game Mode selection screen in the main menu. It is on the row for Creative Game Modes, and has Martin Luther King's face for the LTM image. You can see an example of this in the image below. Select the March Through Time game mode and click Apply to set the game mode.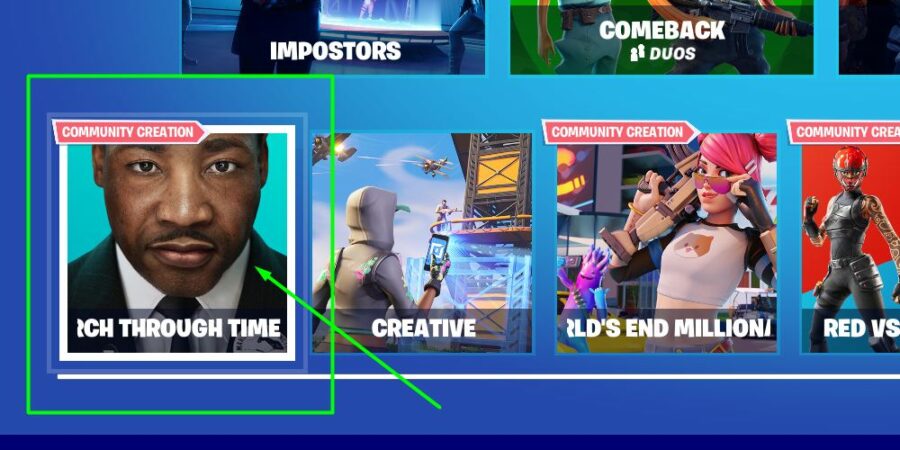 When you return to the main menu, press Play! on the right to search for a match. When you enter a match, you see that there is a variety of information to uncover about our history and the Civil Rights movement placed throughout the map. Alternatively, you can watch the inspiration speech from Martin Luther King on the steps of the Lincoln Memorial. We strongly recommend watching the speech if you haven't seen it already!
Placed throughout the map are different tasks that you can perform with your friends and other players in the match. Some of them require two to four players, so it's encouraged that you join the March Through Time game mode with friends. After all, the more people learn about the Civil Rights movement, the better.
That covers how to get into the game and explore some features it offers! Bring your friends!
Don't forget to check out our full Fortnite Chapter 2 Season 7 Guide, which covers all updates, mechanics, and features to Season 7!