In Chapter 2 Season 6, Epic Games brought back the Reboot-a-Friend event to encourage the Fortnite player base to bring back older players. With this event, you can earn some fantastic rewards, including a Wrap, a Pickaxe, a Glider, and a Spray! This event only lasts until April 26, 2021, so be sure to take advantage as soon as you can!
How to Reboot a Friend in Fortnite
Before we begin, we want to mention that this is not a guide on how to Reboot your teammates in-game. In this guide, we're explaining how to bring back players to your game that haven't played in over 30 days, which is a task specific to the Reboot-a-Friend event.
Currently, there is only one way to bring your friends back and have it count toward the event. The first thing you need to do is go to the Reboot a Friend website and log in to your account using the login button on the top right of the page. Once you have logged in, you will what is shown in the image below.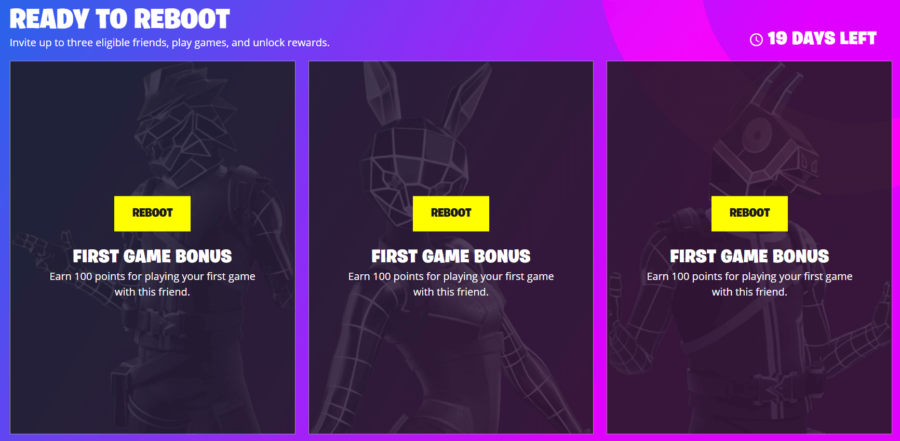 This is where you will select which friends you want to bring back to the game. Click on one of the Reboot buttons on the page to make a new window pop up. This window will show you your entire list of eligible friends. For your friends to be eligible for the Reboot a Friend event, they can't have used their Fortnite account for at least 30 days. Any players that have logged in within the past 30 days will not be listed here.

Select the friend you'd like to Reboot and click on the Reboot button across from their name. If you did it correctly, you will see their name listed in your selection and it will tell you to play a match with them to confirm that you've rebooted them.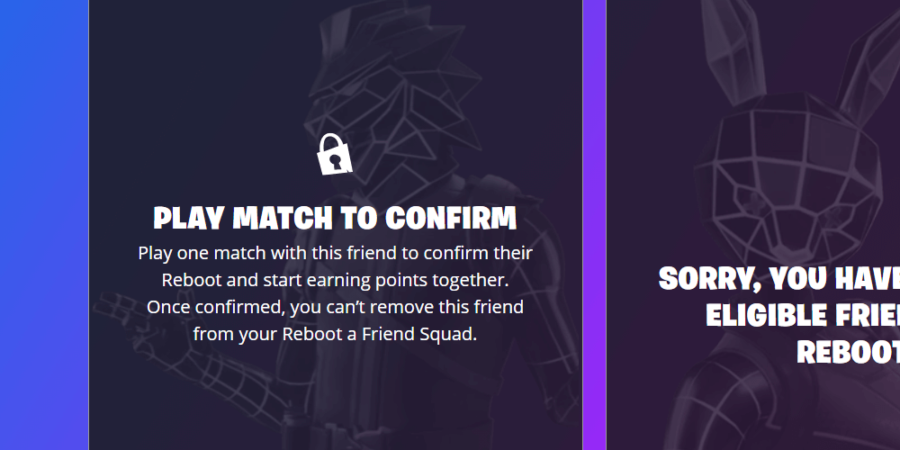 Related: Fortnite Reboot Van Guide - Van Locations and More for Season 2 Chapter 6 - Pro Game Guides
Rewards
As we mentioned above, there are rewards for bringing your friends back to the game! For every player you Reboot and play a match with, you'll receive 100 points towards your goal. Continue reading below to see how many points you need for each cosmetic and other ways to get them.
When you play your first match with a friend you rebooted, you'll receive 100 points, which automatically unlocks the Reboot a Friend Spray. Listed below are the different tiers you must reach and the rewards for each.
Reboot a Friend Spray: 100 Points
Heartbeat Wrap: 200 Points
Toxic Flash Glider: 300 Points
Plasma Carrot Pickaxe: 400 Points
Since each friend you reboot can get you a quick 100 points, the fastest way to get them is to reboot three different friends and play a match with each of them. However, Fortnite thankfully has options for people who don't have friends that haven't played in 30 days. An alternative method to earn points is to play matches with people on your friends list!
For every match you play with someone on your friends list, you'll earn 10 points towards your total. As long as you play at least 40 matches before the event ends on April 26, you will have done enough to collect all the rewards!
Did you know we had these items in our list of leaked cosmetics? Check out our Full List of Leaked Cosmetics and Skins to see what else is coming to Fortnite!