On December 15th, the latest Fortnite update went live, and of course, with it came an array of leaked data mined information almost instantly. The leaks revealed some very amazing skins, including Marvel and DC characters, and we all know crossovers are no new thing to Fortnite. So it should come as no surprise that Black Panther, Captain Marvel, Taskmaster, and Green Arrow will be coming to Fortnite in a future update.
The Marvel set of heroes will be part of a "Marvel: Royalty & Warriors Pack," which we don't think the in-game currency will be able to purchase this pack - only real-world money.
The description of the set reads, "Warriors can be formed for any reason, whether it be a king's responsibility, a soldier's duty, or a hired gun's price."
In the Pack you will get the following:
3 Skins

Black Panther w/ Style
Captain Marvel w/ Style
Taskmaster

3 Back Blings
3 Pickaxes
2 Gliders
We are unsure if you'll be able to purchase these outfits separately, but at this moment in time, they are only available in the bundle.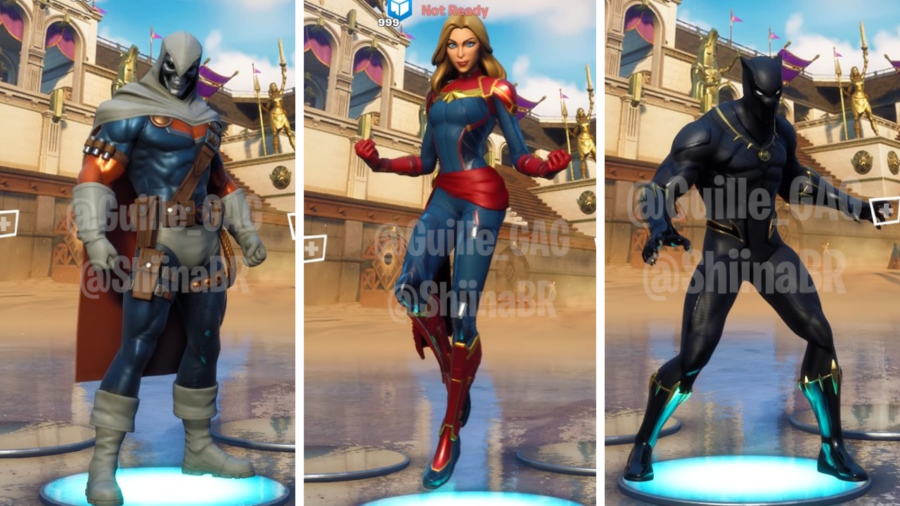 Epic is also continuing the Monthly Crew Pack, and this time it is Green Arrow from the DC Universe. Like the other outfits here, Green Arrow was also leaked. Green Arrow is exclusive for those who pay for the monthly pack; those who don't, cannot wear the Green Arrow.
These were the main outfits leaked today, but a plethora of other skins and items were also leaked, so if you want to find out about them all, head on over to our Leaked Skins page and take a look. For those who want to know what the 15.10 update was about, we've got you covered.