A few of Week 5 challenges consists of finding Gnomes! We can't see a problem with that? This quest is straightforward, so a quick way to get that 20000 XP!
Where to dig up Gnomes at Fort Crumpet and Pleasant Park
To dig up Gnomes at Fort Crumpet and Pleasant Park, you need to head to those two locations and find the two Gnomes buried in each location. However, like the Buried Blue Coin quest, when you get closer to the location to find them, the ground will start glowing blue to indicate you have found them! Then hit them with your harvesting tool, and quest complete.
To get to Fort Crumpet, you must head east of Sweaty Sands. It's a stone fortress, many years old, which looms over Coral Castle. Pleasant Park is easy to find as it's located on the map, to the north! In each location, there are two Gnomes to find. However, you are in a race to get to them before other people, as if all four a dug up, you cannot complete this challenge until the next game.
Upon getting closer to where the Gnome is buried, a blue glow will appear in the ground, and this glow is where you have to hit with your harvesting tool to dig up the Gnome. Whack it a few times, and it's yours!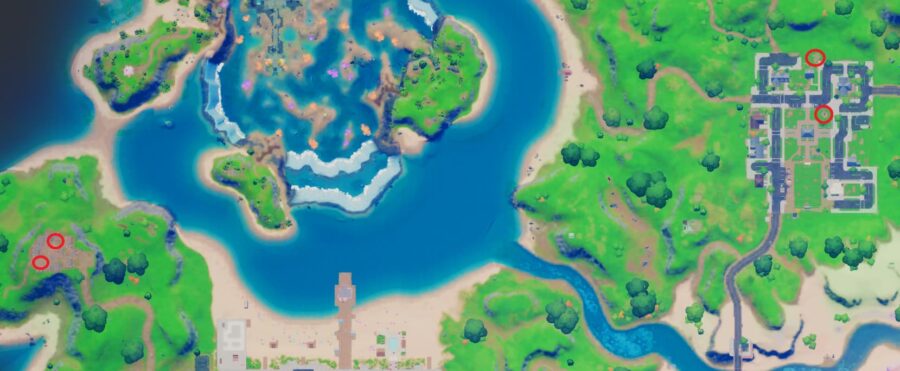 Pleasant Park

Gnome #1

The first Gnome is located in Pleasant Park's park, head to the northeast corner of the and next to a little tree is a dirt mound.

Gnome #2

The second Gnome is to the north of the first. Keep to the left of the road and head north. You'll eventually see the blue glow in the corner of some fences.

Fort Crumpet

Gnome #1

Enter Fort Crumpet from the east side and head to the north side of the Fort. You'll see the glowing mound pretty easily.

Gnome #2

From the first Gnome, head to the southwestern corner, and you'll see a gap in the wall to the left of a red bench. The Gnome is buried in that gap in the wall.
If you are having trouble locating any of the four Gnomes, check out this YouTube video of where to find them.
The full list of challenges is available here, at our Fortnite Chapter 2: Season 5 Guide – Challenges & Information article! Why not stop by and see what leaked skins have been data-mined