Fortnite Chapter 2 Season 7: Invasion introduced a new form of currency called the Alien Artifacts. Players could use these materials to unlock new Kymera styles to customize their ideal aliens in the game. There is a wide range of options for different head shapes, armor, eye color and more.
Alien Artifacts are purple in color and they look like shiny containers having a strange specimen in them. Players can find these aliens artifacts in various locations on the island. They are five in total now, but they will increase over time as the season moves forward.
Here is a map by Fortnite.gg to showcase the exact five locations of the Alien Artifacts on the island.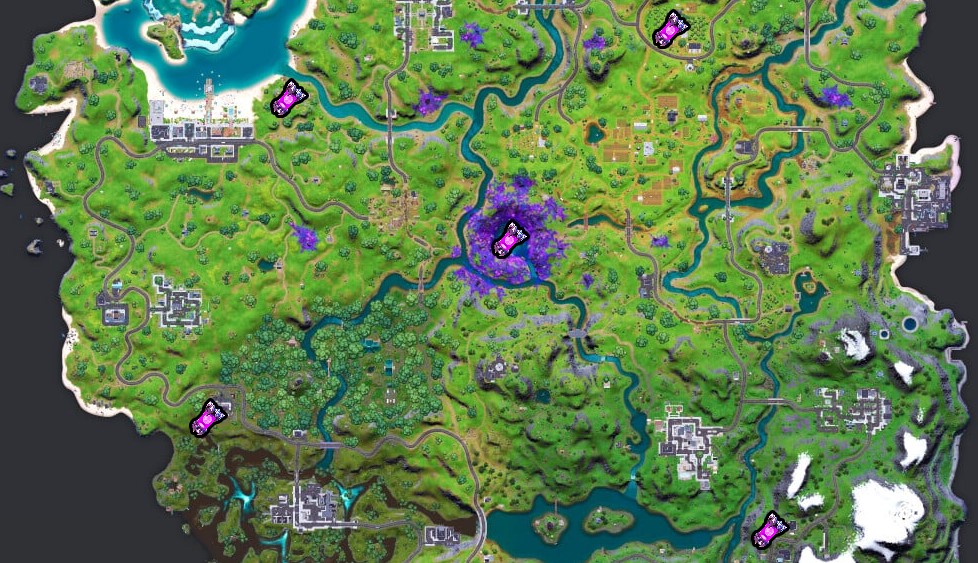 The first Alien Artifact is located at the center of the map, just over the water.
The second Alien Artifact can be found on the eastern side of Believer Beach. Players can find the item lying on the stairs of the Spire building.
The third one can be found in the factory near Weeping Woods. Players can find the Alien artifact lying in the storage of wooden planks.
The fourth one can be found near Catty Corner. The alien artifact sits just on the wooden watchtower with a head of Fishsticks on it.
The last alien artifact can be found at the farm located north of Corny Complex. After reaching the farm, players need to look near the fences and the artifact should be near the Red Barn.
Each of these purple Alien Artifacts provides four fragments to use, with the gold Alien Artifacts rumored to give seven, but are currently not yet in the Battle Royale.
Moreover, the newest Cosmic Chests also drop alien artifacts, but they spawn all around the map. Therefore, having the eyes peeled to the mini-map should be a great way to find more Alien Artifacts in Fortnite.
While collecting these items, players need to be careful as other players would also like to grab their hands on this material. Thus, be prepared to take gunfights and a vehicle to move around the map quicker.
Don't forget to check out our full Fortnite Chapter 2 Season 7 Guide, which covers all updates, mechanics, and features of Season 7!