Aliens are spreading rapidly over the island of Fortnite and the parasites are everywhere on the map. Week 7's legendary quest also asks the players to mark these Alien eggs' location, which gives rise to the parasites on the map.
While finding these alien eggs isn't hard to find in many places, handling them with care is harder to achieve. As going near them will make the parasites inside excited and leave the alien eggs. Therefore, players need to be very careful to not go too near the alien eggs.
Let us dive into the primary locations for the alien eggs then we will be talking about marking them in the game. Here is a map to assist your way to find these alien eggs easier.
Related: Where To Construct A Wooden Hatchery in Fortnite Chapter 2 Season 7 Week 7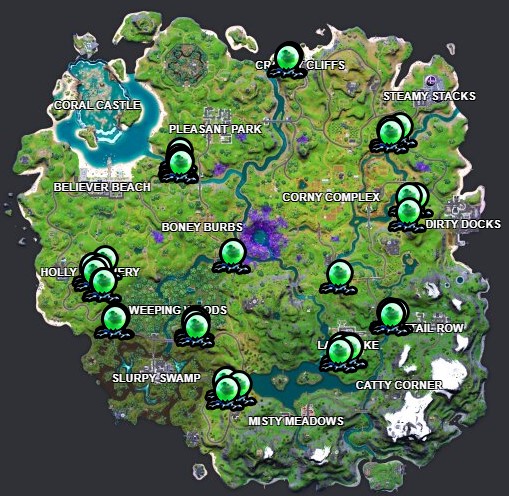 After coming close to the alien eggs, players will have to ping their location to complete the legendary quest. If you are an active Fortnite player, you should know how to ping items. If you're not an active player and confused about marking items in the game, you can use your middle mouse button and point at the object to ping it in Fortnite.
The ping should read Alien eggs and your quest will be completed. You will also receive a huge 30,000 XP for simply marking an alien egg in Fortnite.
If you'd like to use a video guide for this quest, check out the video shown below!
Check out our Fortnite Chapter 2: Season 7 Guide – Challenges & Information on Pro Game Guides.