Chapter 2 Season 7 of Fortnite has brought IO Guards back to the map, who have been absent from the game since Chapter 2 Season 5. This time, they're more powerful than ever, with established bases, better weapons, and silent vehicles to help you gain an edge on your opponents. That is, of course, if you can walk away from the IO Guards unscathed.
Many players are looking for the best locations to go to grab IO Guard weapons and vehicles. In the map below, we have outlined all the areas where you can find them. If you'd like additional detail about where to find them, refer to the directions beneath the map.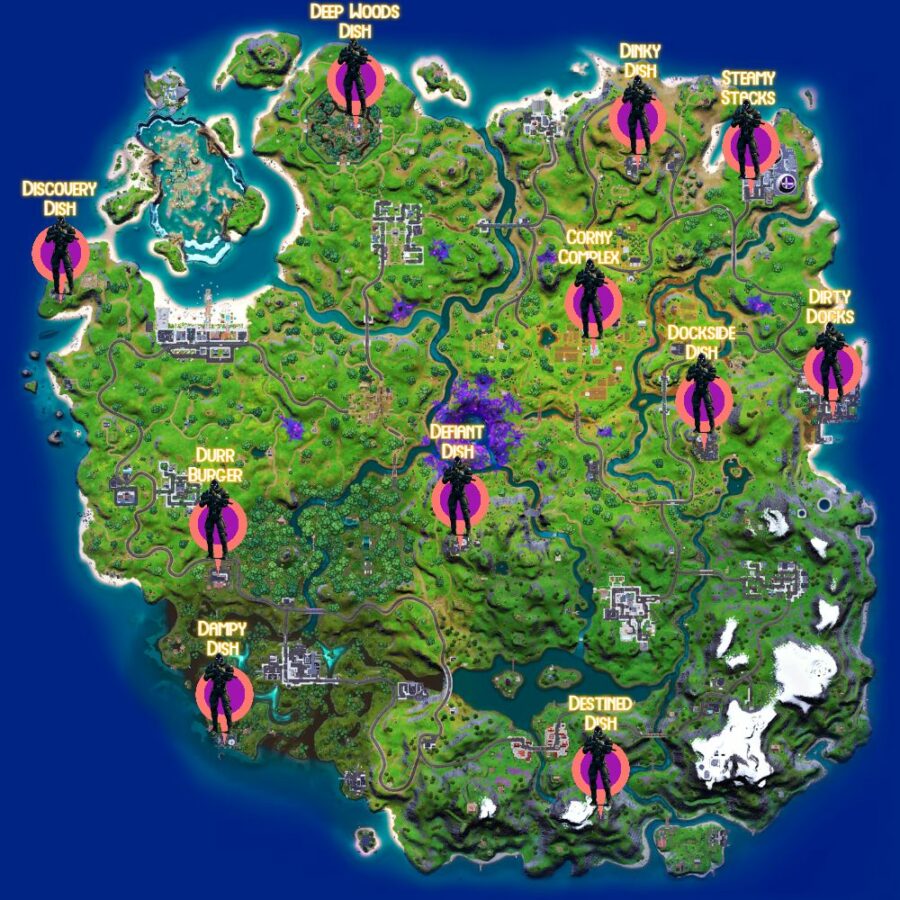 Related: How to Use a Rail Gun in Fortnite: Tips to Get an Elimination With the Rail Gun - Pro Game Guides
Corny Complex: Northeast of the center of the map. The primary base is underground, but the IO Guards are walking around above.
Dampy Dish: Southwest of the major complex in Slurpy Swamp, on the far southwest corner of the map.
Defiant Dish: South of The Aftermath (the middle of the map), in the large hilly area.
Deep Woods Dish: On the northern edge of the map, in the area that has, until now, been called Stealthy Stronghold. The game does not currently have a name for this area.
Destined Dish: On the large mountain directly south of Misty Meadows.
Dinky Dish: In the hilly area in the northeaster section of the map. Southwest of Craggy Cliffs.
Dirty Docks: On the eastern edge of the map, in the middle.
Dockside Dish: West of Dirty Docks, barely northwest of Canoe Lake.
Durr Burger: At the middle point between Holly Hedges and Slurpy Swamp.
Steamy Stacks: In the northeastern corner of the map.
Those are all the IO Guard locations discovered so far! We expect this to change throughout the season to accommodate for story changes. We will update the map when that happens!
Don't forget to check out our full Fortnite Chapter 2 Season 7 Guide, which covers all updates, mechanics, and features of Season 7!